Before her success as one of the judges on Channel 4's Great British Bake Off, Prue was known as a caterer, restaurateur, a best-selling novelist and cookery writer. Now suddenly she has become something of a fashion-icon, known for her love of colour, her quirky statement necklaces and her new range of multi-colour spectacles, selling all over the country; she now gets as many questions about dress and accessories as about cakes.
But it's not all work and business. Prue loves her five-acre garden in the heart of the Cotswolds and has given OX Magazine a brief glimpse of what she loves most about her garden.
When Prue and her late husband, writer and historian Rayne Kruger, were looking for a family home with land over forty years ago, they finally came across Chastleton Glebe, a former rectory house. At the time, Prue was running both her eponymous Michelin-starred restaurant in London as well as a cookery school and she was keen to find a property that had enough land on which to set up a duck farm. As duck was a firm favourite on the restaurant menu, using on average 56 ducks per week, her aim was to keep production closer to home. However, having found the rambling old Cotswold stone house with suitable acreage, her plans quickly changed when they recognised that the duck farm was not a financially viable proposition.
So, with a large garden whose previous owners were botanists and very limited gardening knowledge herself, Prue began a life-long project of turning the garden into one that would meet the needs of her, her husband and two young children.
"We inherited an old garden with mature trees, hedges and lawns. All we changed over time were flowerbeds, as the bones of the original garden were good. Over the years bits of the garden have contained a toddlers' playground, which turned into our red garden when the kids grew up. Now their children play in an adventure playground compete with zip wires and climbing wall, built by my husband John."
Whilst Prue's first husband, Rayne, did not care for a garden full of colourful flowers, she loved colour and flowers. A compromise was reached. The couple kept the view from Rayne's study simple with a view of water, grass, stone and trees whilst she developed other areas of the garden to suit her likes and needs.
When asked what her favourite part of the garden is, Prue replied: "The pond at the bottom of what once was a boggy field. It now has a mini-lake, with an island, pagoda and Chinese bridge, and even a huge swan pedalo."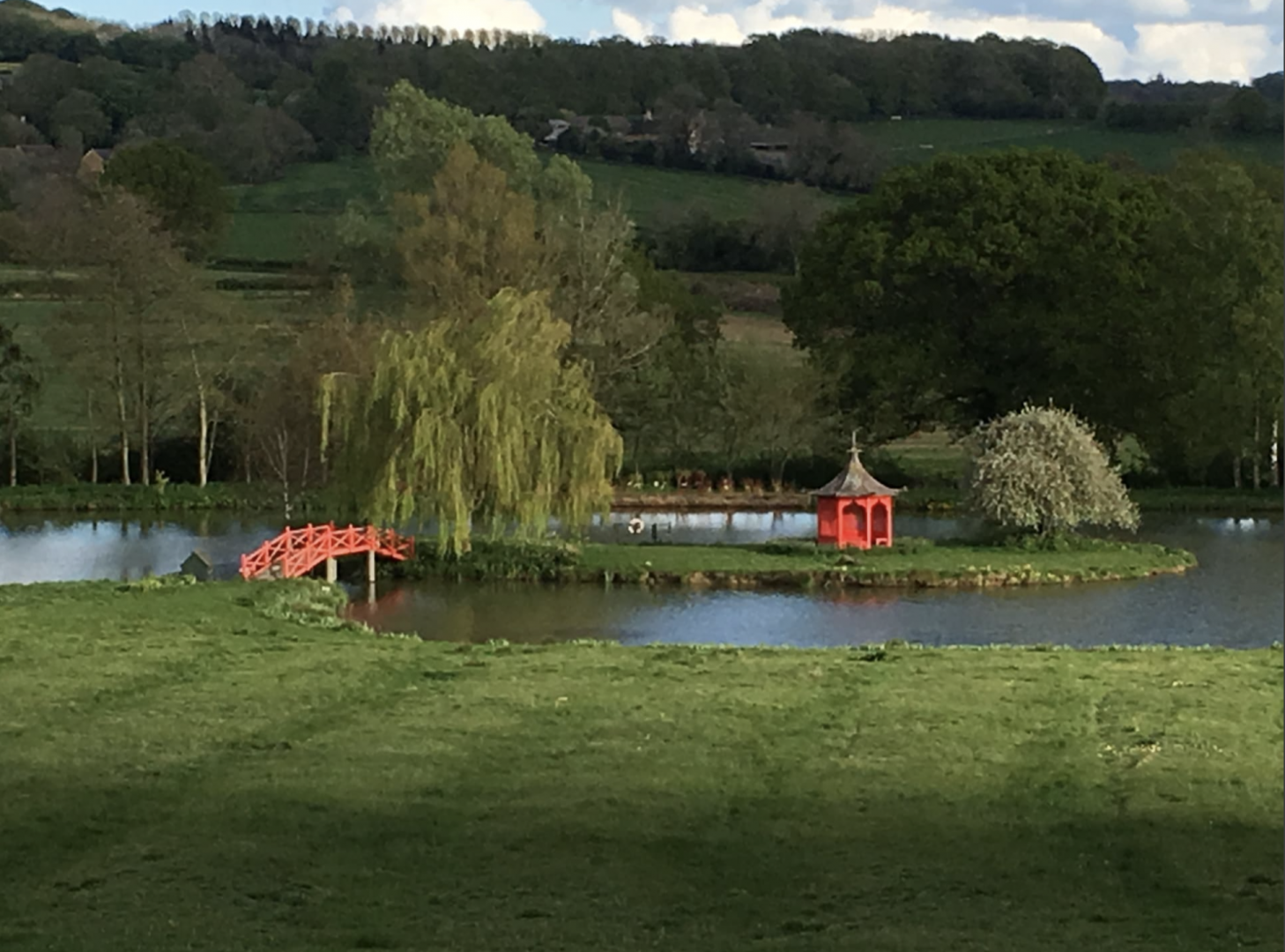 In fact the lake, an acre in surface area and ten feet deep, was created by the couple, and the red pagoda which sits on the island is a place where she and her family enjoy entertaining.
There is no shortage of vibrant reds in her garden either. Apart from a trend setting 'Red Shed' she has introduced strong brash colours in lots of other ways.
"There's a lot of vulgar colour!" Prue explains. "The bridge and pagoda on the lake are Chinese red; there are masses of red bird cages hanging in the pergola, a blue and white bed, a pink terrace, white tubs in the courtyard, and a mass of yellow daffs in the spring."
The red garden was inspired by memories from her childhood home in Johannesburg, South Africa. She has used various shades of red, burgundy and plum with plants such as 'Bishop of Llanduff' dahlias, the shrub Cotinus coggygria 'Royal Purple' and Crocosmia 'Lucifer'.
Does Prue wish when she first acquired the garden, she knew then what she knows now about gardening and plants? If so, would there be any areas she wishes they had constructed differently? "No, I did learn as I went along. But gardens should change to suit the circumstances. When I was younger a huge wide herbaceous border was a joy. I recently got rid of it as it is much too much work. Once our enclosed east garden grew produce and flowers for my restaurants, then I planted a parterre with domestic scale veg. Then when the children left home, I replaced the veg with flowers, and last year I whipped them all out and replaced the area with nothing but David Austin roses."
Prue loves to have flowers indoors and these include: "Grasses and wild-looking daisies in summer, Japanese anemones in autumn, sweet peas for the bedroom."
Whilst Prue's garden must look truly beautiful during the summer with its glorious 80-foot-long rose arch covered with blue Clematis 'Perle d'Azur' and white rambling 'Sander's White' roses, as well as a parterre garden with home grown box edges inter-planted with 'Little White Pet' roses and pale pink 'New Dawn' climbing roses, it is actually in the autumn Prue gets the most joy from her garden.
"In autumn our thoughts turn to tidying up and ripping out and bedding down. Also, autumn days can be clear and balmy, and I love to see the apples trees heavy with fruit."
The garden at Chastleton Glebe has also given her inspiration for one of her novels, The Gardener.
"The garden in the novel is a huge affair with a series of lakes, a large wood, rolling lawns and parkland and great walled garden. However, it's based on my own tiny lake, few trees, lawns and modest veg garden – all expanded with my imagination as an author."
Prue, together with her niece Peta Leith, former pastry chef at The Ivy and lifelong vegetarian, have collaborated to produce a gorgeous vegetarian cookbook. The Vegetarian Kitchen features simple, meat-free vegetarian and vegan family dishes from main courses to delicious desserts and cakes.