"Believe me, my young friend, there is nothing - absolutely nothing - half so much worth doing as simply messing about in boats." Kenneth Grahame - The Wind in the Willows
Every wedding venue has it's own individual character and unique style, but when you add the River Thames something magical happens: the backdrop of a river adds more charm and sophistication to a setting than anything else.
At 215 miles, The River Thames winds its way through Oxford and towns such as Henley-on-Thames, Wallingford, Windsor and Abingdon. Since we launched OXweddings at the end of 2016, we've always wanted to stage a bridal shoot on the river, so when the opportunity came this season, we jumped at the chance. Our photographer Nicola Belson captured the day, bringing her own style to every photo.
The shoot was staged on board the Charles Cooper Henderson, a beautifully restored, 40' Dunkirk ship, which in its day was a genuine hero. Built in 1933, it was Britain's longest-serving lifeboat and is now a luxurious private charter which seats 12. Intrigued to know more, we asked Richard from Vintage Days Out how many lives the boat saved:
"During her 41 years in service, she took part in 171 rescues and saved 63 lives, but her finest moment was during the evacuation of 338,000 Allied troops from the beaches of Dunkirk during World War II. She is semi-retired compared to what she used to do!"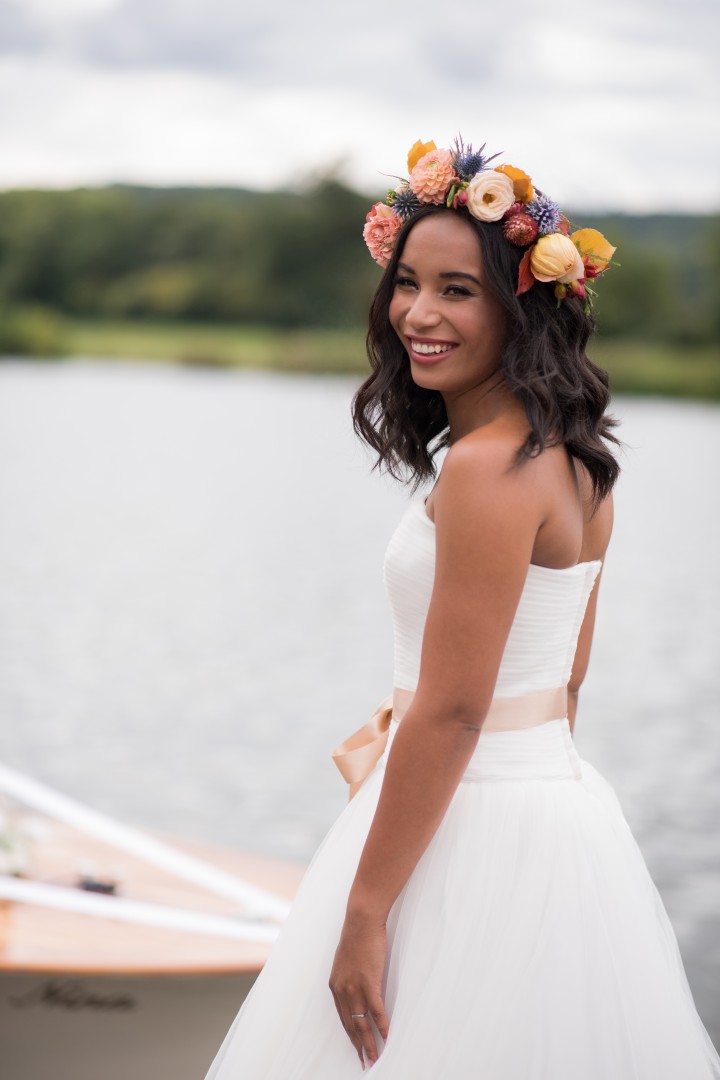 This beautifully crafted modern yet romantic gown is by iconic bridal designer Jenny Packham. A figure-hugging strapless bodice with layers of soft tulle skirt in an A-line silhouette.
Flower Crown: Pom Pom thistles, dahlias and carnations finished with autumnal leaves and herbs.
Button Hole: Pom Pom thistles, a mix of hypericum and rosehip with rosemary and autumnal leaves.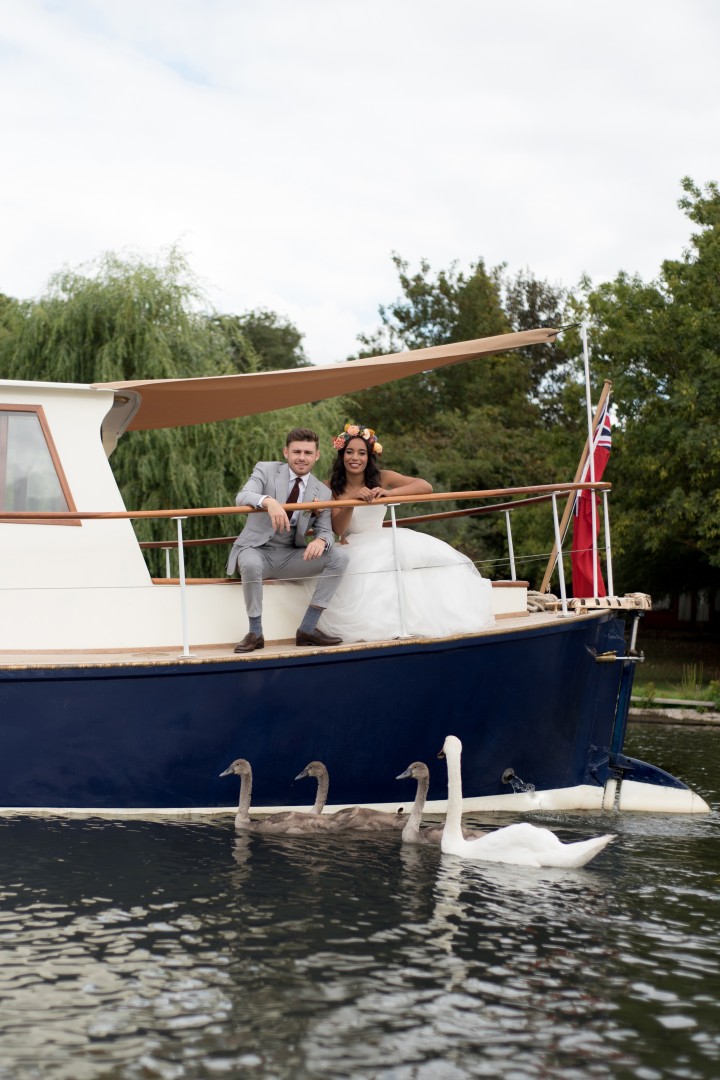 Sorcha Herbert from Herbert and Isles says "I love this time of year as seasonally there are lots of great flowers to work with such as Dahlias, they come in many different colours and shapes. I particularly like the Café au lait, which is a real show stopper and is popular with brides. This time of year there is a good selection of berries such as Viburnum and Rosehip is another nice one to use. If you want to really capture the feel of autumn then use the rusty, golden coloured leaves as much as you can in your floral arrangements. Another firm favourite autumnal flower that I like to work with are Ranunclas and Anemones, both these flowers are available until early spring.
Natural Beauty, golden glamour with a hint of the 1920s set amongst inquisitive swans, all whilst simply messing about in boats.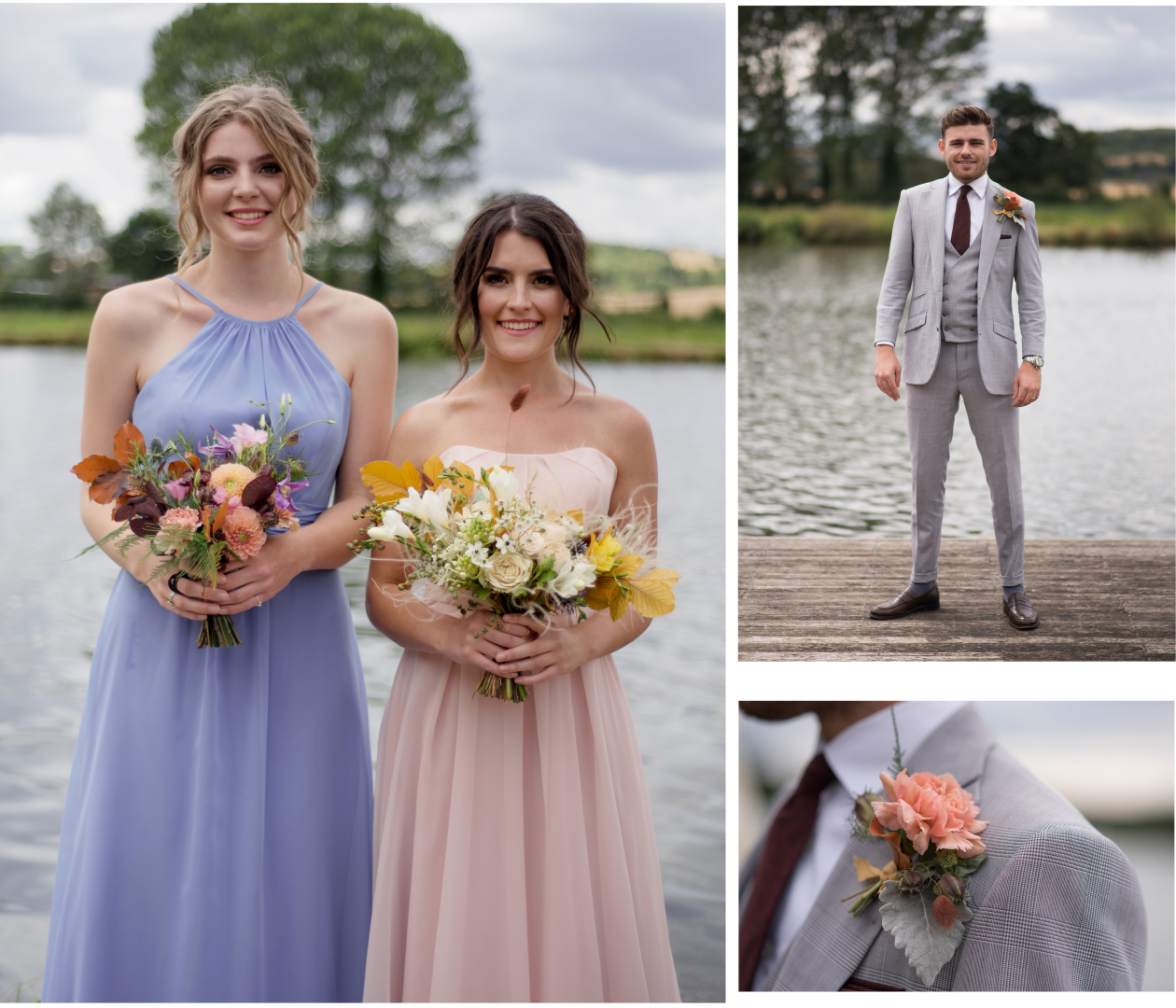 Bridesmaids bouquets: Left - dahlias, seasonal foliage and clematis and lisianthus. Right - dahlias, seasonal foliage and clematis, lisianthus with freesias and roses.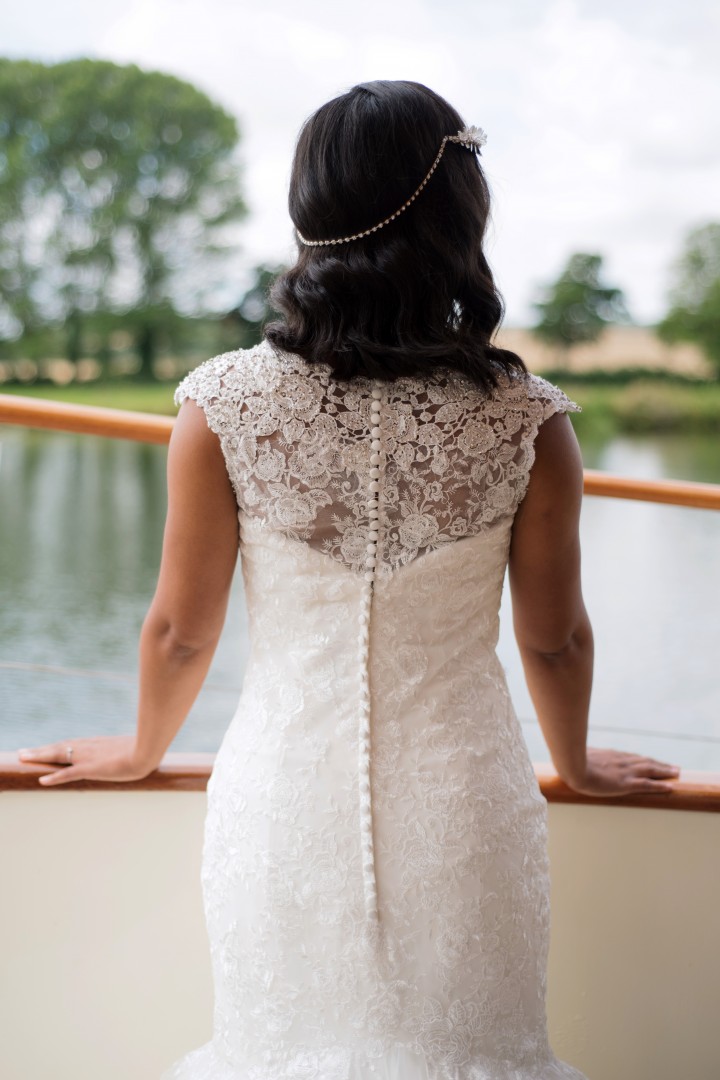 This mermaid gown is by Allure Bridals and created from a delicate lace applique throughout. The crystal and pearl embellished bodice has a scooped neckline that flows into cap sleeves. The back, fully covered in sheer lace while a soft tulle skirt finishes this style, a super elegant almost art deco style.
PHOTOGRAPHY
Nicola Belson │ nicolabelson.co.uk │ nicolabelson_photography
Fresh and contemporary with an editorial influence, Nicola's photographic style is natural with a creative approach deriving from her Fine Art Photography background.
BRIDAL
Styled by Lee Griffin from Bridal Reloved, Wallingford │ bridalreloved.co.uk/shops/wallingford
Lee and her team at Bridal Reloved in Wallingford not only sell high-end affordable designer wedding dresses they also stock and sell a large selection of bridesmaid's dresses, veils, tiaras and other bridal accessories. The large selection of dresses at Bridal Reloved are either brand new, ex-sample or worn once and professionally cleaned.
One of the best things about their dresses is that they are sold at a fraction of the original price tag, so you can spend less on a wedding gown without compromising on design, style or quality and with the money saved, you can purchase a second dress for the evening reception! Their award-winning designer labels include Jenny Packham, Maggie Sottero, Ian Stuart, Justin Alexander and Claire Pettibone to name just a few and new wedding dresses come in every week so keep your eyes open!
HAIR
Rachel Capocci │ rachaelcapocci.com
MAKE-UP
Melissa Gaunt│ melissa-hairandmakeup.co.uk
JEWELLERY
Rosie B Millinery │ rosieb.co.uk
FLORIST
Herbert & Isles │ herbertandisles.co.uk
MENSWEAR
Clements and Church (Oxford) │clementsandchurch.co.uk
BOATS AND CARS
Vintage Days Out │vintagedaysout.com
WEDDING CAKE
Dolce Lusso Cakes │dolcelussocakes.com
MODELS
Special thanks to Charmaine and Jordan and bridesmaids, Freya and Mem.