The Oxford Shakespeare Festival – a consistent and iconic fixture of Oxfordian summer culture – is back for its 12th year, and after BHM Production's performances of Hamlet (20 June-2 July), I was thrilled to be invited to Wild Goose Theatre's opening night of A Midsummer Night's Dream. Formerly known as Tomahawk Theatre, Wild Goose promise to 'combine the skills of city and university actors and crew, to produce good quality shows with high production values', and that they did in this dynamic performance.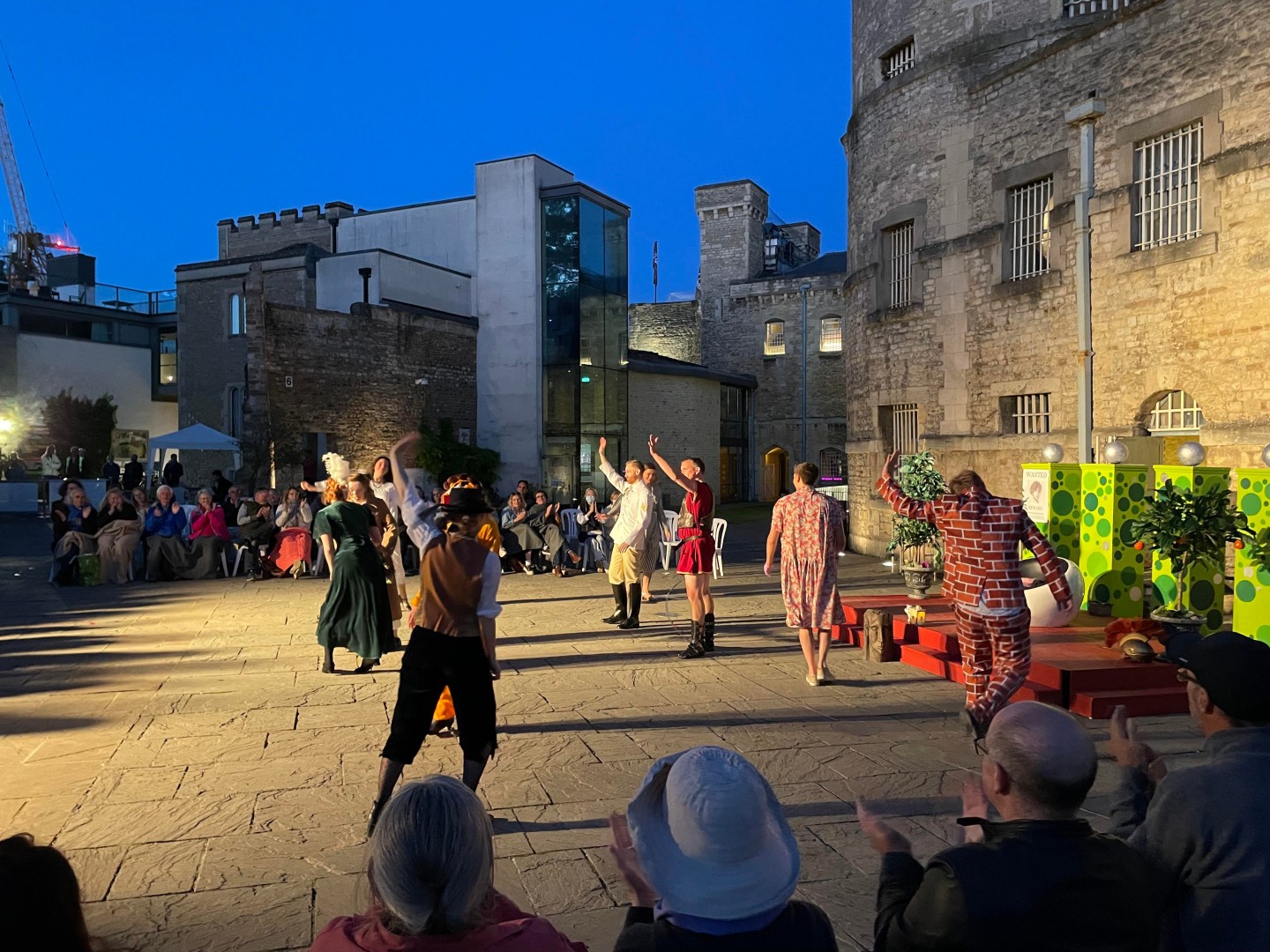 At the time of writing, we're heading into a heatwave in Oxford – though I can imagine by August this may well be a distant memory. We were lucky with the weather though, meaning my umbrella stayed in my bag and a golden glow adorned the castle walls behind the stage. The beautiful setting paired with the raw talent and captivating energy of the cast members meant there was no need for extravagance when it came to stage or costumes; instead, our chairs surrounded a small but highly utilised backing stage and patch of ground in front of the grassy mound. This closeness allowed just the right level of audience interaction and meant you couldn't help but feel immersed within the story – especially when Theseus (Edward Smith) and Hippolyta (Bethan Draycott) sat among us during the play-within-a-play, Pyramus and Thisbe.
For those who are unfamiliar with the story, it's Shakespeare's best-loved comedy and one of love, magic, and confusion. Set in Athens, forbidden lovers flee to a nearby forest in order to be together, the same location having already attracted a group of workmen seeking a private place to rehearse their play. The group of Athenians are met by fairies who throughout the play, wreak havoc on their lives in different but equally humorous ways, all with the power of love.
Directed by Paul Alex Nicholls, this rendition – while remaining true to the original – offered a fun, captivating, and energising reawakening of my personal favourite of Shakespeare's plays, carrying consistent enthusiasm throughout. "Midsummer Night's Dream is always such fun to produce as it gives us the opportunity to work with actors of all ages", stated Alex Nicholls when he spoke with OX. "Likewise," he continued "the classic situation comedy continues to appeal to audiences of all age ranges. Shakespeare's beautiful poetry combined with great slapstick is a pleasure to perform."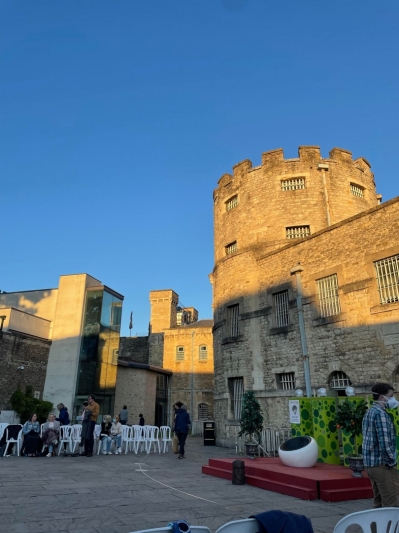 Arguably the most enduring of Shakespeare's comedies, A Midsummer Night's Dream is packed with subtle digs and witticisms, the importance of which were clearly deeply understood by all the actors who delivered them flawlessly. The cast bounced off each other brilliantly, thanks to the patent chemistry they shared – perhaps most obvious between Hermia (Martha Ibbotson) and Lysander (Cyd Cowley), neither of whom would be out of place on the West End. Their connection paired with impeccable comedic timing and personalised emphasis on such a familiar script provided a midsummer night of fun, excitement, and genuine laughter. It was an absolute pleasure to watch from start to finish. Adam Wakely's portrayal of the hilariously overt Bottom effortlessly transported Shakespeare's wit and frequent quips into the modern-day.
Wild Goose Theatre are clearly very at home on the castle grounds, their ease reflected in a seamless performance in spite of it being the first one of the season. On the opening night, one would expect at least a small slip up – a stumble that we all pretend to ignore – but everything went perfectly, at least as far as the untrained eye of the audience was concerned.
It was nice to see the varied audience which the Shakespeare festival always seems to bring; from the young to the old, everyone seemed to enjoy the evening as much as we did. I even caught two young girls mouthing 'this is so good' to each other towards the beginning of the performance, followed by 'can you pass me a sweet'. (Please don't mistake my potentially intrusive attention to lipreading as boredom, I am just very nosey).
If you're looking for an excuse to soak up the sun and the culture of Oxford at the same time, this festival is one of my favourite annual events, and each year, it never fails to remind me how much I love where I live. While A Midsummer Night's Dream only ran for the month of July, make sure to catch King Lear on stage at the Oxford Castle and Prison (until 13 August). Don't miss out on this ultimate Oxford experience.