Caryn Hibbert, Founder and Creative Director of Thyme is our new columnist writing seasonal features reflecting on country living throughout the year.
Since Thyme was founded in 2008 as a Cookery School, we have always had productive gardens growing vegetables, herbs, fruits and flowers. It was an essential part of our founding ethos - to slow down and reconnect with the land, the seasons and to nature.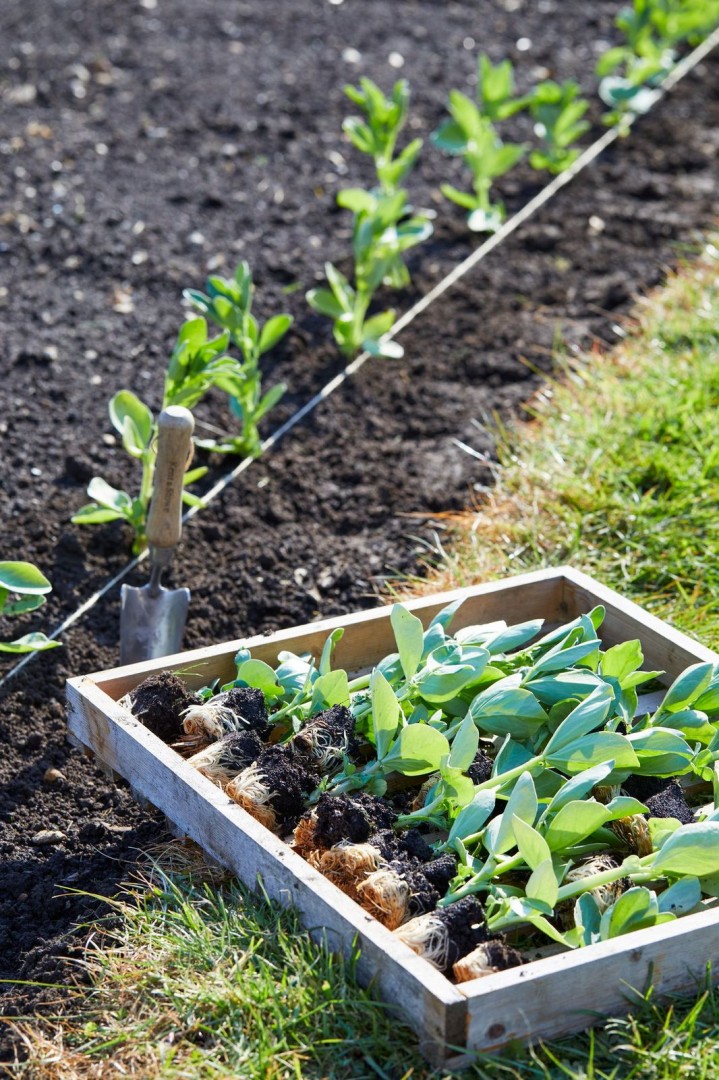 Back then, it was a moment when the slow food movement was gaining pace and people were really starting to ask where their food was coming from. The connection between people and produce was significant, and we were on a mission to begin to bridge that gap.
Situated adjacent to the water meadows of the river Leach our kitchen gardens are a joy. The soil is alluvial meaning it is truly excellent for growing vegetables. Deposited by the river as it meanders through the farm the soil consists of sandy loam, with thankfully only a few areas of thick river basin clay. High in organic matter and with a naturally good propensity to hold water makes for excellent growing conditions.
The journey from seed to plate is a labour of love; every seed has been sown, watered and nurtured by the gardeners. Harvested by the chefs and gardeners together each morning, they are cleaned and prepared to go to the kitchens where they are washed and prepared again by the chefs. The freshest, simplest of seasonal home grown vegetables taste sublime, are good for us and most definitely are rather beautiful.
Throughout Thyme's evolution, a connection to the land has been at the forefront of every decision; from the creation of the experience in our botanical spa and Bertioli Beauty range, to the interior design of our botanical bedrooms. This is as true today as it ever has been, as we slowly start to refresh some bedrooms at Thyme, we are incorporating our new range of Bertioli interiors to the design. Pear Tree cottage is adorned with cherry blossom and buttercups, establishing a connection the meadows and woodlands as you are tucked away in this cosy, quintessential cottage.
However, it is the latest refurbishment that perhaps best showcases our celebration of garden produce in all its glory. As you step into the Gardener's Cottage, you are immersed immediately in a world of vegetables – a sitting room enveloped by rows upon rows of carrots, radishes and onions lines the walls. Upstairs, curling bean flowers and climbing tomatoes vines grow up the walls to the beams. It is eclectic, a bit of fun, and has been an utter joy to create.
 Our daily celebration of the seasons is showcased in our restaurants with the chefs working in close collaboration with the vegetable gardeners. The Ox Barn terrace is in full summer swing, serving small plates at lunch with a selection of dishes designed to be shared. Letting the vegetables sing we have the freshest radishes served simply with butter, fried artichokes with lovage aioli, a deliciously light vignole. 
There is no better time to join us at Thyme for our celebration of vegetables.
Charlie Hibbert, Head Chef at Thyme share one of his favourite seasonal recipes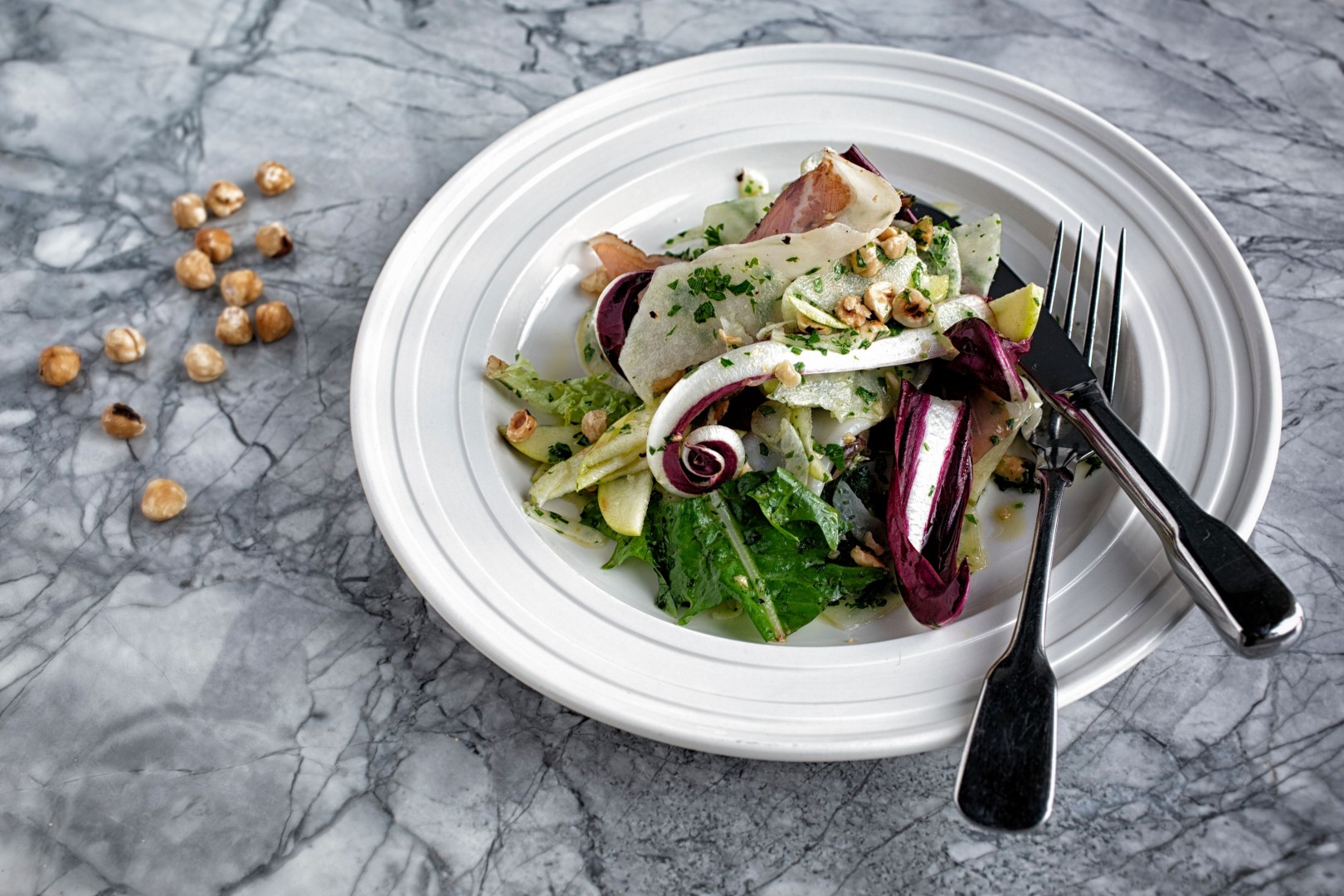 Apple, Kohlrabi, Speck, Hazelnut
This is an easy, fresh salad with plenty of crunch from fresh vegetables and my favourite bitter leaves, full of interest. We buy our hams from local Cotswold company – Saltpig Curing Co –and the speck is a wonderful stalwart on the menu, amongst other fine things from them. You will need a vegetable turner or mandolin for this recipe. If you don't have one, you can use a sharp knife, but it is harder to cut the vegetables into wafer thin slices which fold through the salad.
Serves 4
Ingredients:
1 eating apple

1 kohlrabi

1 fennel bulb

8 slices of speck

60g hazelnuts

Assortment of bitter leaves, such as puntarelle, castelfranco, radicchio, tardivo etc

1 lemon

Olive oil fordressing

Sea salt flakes and freshly cracked black pepper
Method:
Preheat the oven to 160°C (normal) | 140°C (fan) | gas mark 3.

Chop the hazelnuts and put them into the oven to toast for eight minutes or until golden brown. 

Once done, put them to one side and allow to cool. 

Meanwhile prep and wash the leaves, allowing them to drain in a colander. 

Now, peel the outer skin of the kohlrabi away. Using your vegetable turner, cut the kohlrabi and then the fennel into lovely thin strips and dunk them into iced water. 

Finally halve and core the apple. Slice it into thin half-moons using a sharp knife. 

Ensure all your salad ingredients are well drained before assembly. 

Place all the vegetable ingredients in a bowl and dress with the lemon juice and olive oil, a good crack of pepper and salt.

Tear through the speck and scatter the nuts over the leaves then toss the salad.

Gently tumble the salad onto your waiting plates, serve and enjoy