Down the Rabbit Hole Kristjana S. Williams
Although we in Oxford think of Alice as one of our own, the impact Lewis Carroll's fantastical tale has had since it was first published over 150 years ago is extensive and arguably unparalleled. Indisputably, she is a worthy subject for the Victoria & Albert Museum, who have built a reputation for curating headline-grabbing, must-see exhibitions, including 2019's 'sell-out' Dior: Designer of Dreams. Carroll's original Alice's Adventures Under Ground, was written five years before the South Kensington Museum (now known as the V&A opened its doors). The museum's first director, Sir Henry Cole originally hoped visitors to the museum would 'marvel, learn and imagine'; Alice-fans are now invited to follow a similar trajectory.
Alice in Wonderland: Curiouser and Curiouser opens on 27th March and reflects the various ways in which artists across the years, globe, genres and generations have taken Alice as their muse. The exhibition guide dedicates a chapter to each of her manifestations: from ballet to Pirelli calendar; in fashion, art and film. Illustrated by London-based Icelandic artist and designer Kristjana S Williams, the guide is, in itself, something of a portal to a magical world thanks to the intricate beauty of William's work. As ever, the Museum's shop has been stocked to reflect this major work and I was eager to learn more about what might be involved in managing a project of this magnitude. So, I felt very fortunate to get the virtual ears of Margaux Soland, Senior Buyer and the V&A retail team.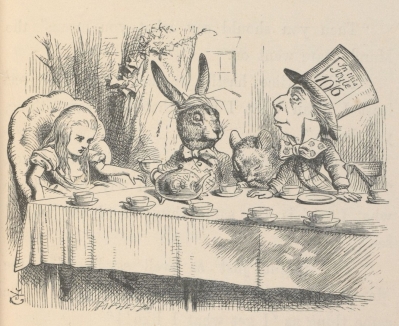 Alice at the Mad Hatter's Tea Party, Illustration for Alice's Adventures in Wonderland by John Tenniel
What does your job entail?
As senior buyer, I head a small team of dedicated buyers and together we source and develop all the merchandise sold in our shops. We work collaboratively and each of us looks after specific product categories, in order to weave together the range of products you see on offer, often working to a theme or exhibition subject. We often work closely with colleagues from other departments to inform our research and make use of our extensive archive for inspiration.
Our work is multifaceted, it requires a good dose of creativity and flair but crucially, keen attention to detail. A lot of planning and research goes into the sourcing or production of a new product, and this expertise is reflected in the stories we tell with our ranges on the shop floor. We've also been working hard to ensure our offer is more ethical and sustainable, researching the latest innovation and working closely with our suppliers to deliver high-quality products you can trust.
Buying for a museum shop like the V&A shop is truly unique. We get to be inspired by such a vast and varied collection, it's a dream situation for a buyer. With such fantastic source material to play with, we get to create pieces that are unique to the V&A and respond to the collections in a way to connects with our audiences on a personal level. We aim to complete the visitor experience by offering enchanting and unique gifts that tell the story of our museum and its collections so that each customer feels that they are taking a bit of the V&A home with them.
What was your aim in determining the merchandise for the Alice exhibition?
We aimed to celebrate the offbeat originality of the story of Alice's adventures and really, to enchant the visitors. Lewis Carrol's world is so full of details that can be interpreted in a myriad of ways, and this richness is reflected in the range we put together: from Kristjana's intricate designs, full of anecdotes and references, to the reproduction of key pieces from our collections, such as the wonderful work of John Tenniel. We hope the range will satisfy our visitor's curiosity and offer them a selection as playful and inventive as Alice's adventures.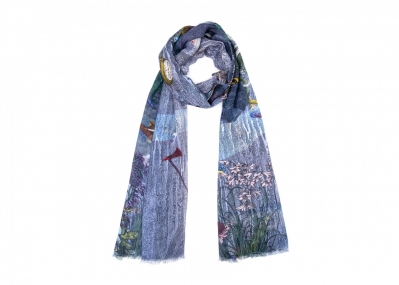 Down the Rabbit Hole modal scarf £60
What was the decision process when deciding which of Kristjana S Williams' illustrations would be used to create pieces for the shop?
We wanted to represent as many of the book illustrations and to match as many as we could to appropriately scaled product types. We have worked with Kristjana on Print for many years and it has been fantastic to be able to work with her and the team across several new products for the Alice collaboration.
 Tatty Devine and Alex Monroe are both iconic British designers, but what specifically drew you to work with them for this exhibition?
There is so much talent around us and it is a privilege to be able to work with such well-loved brands. The story of Alice has been reimagined and reinterpreted over the years and we knew that  Tatty Devine  would be able to bring a contemporary take on  Lewis Carroll's Alice in Wonderland cultural phenomenon with  such  an incredible sense of fun, clever use of materials and real statement pieces. We are delighted to see the level of detail considered across the range with the articulation of acrylic pieces really bringing the Alice story to life.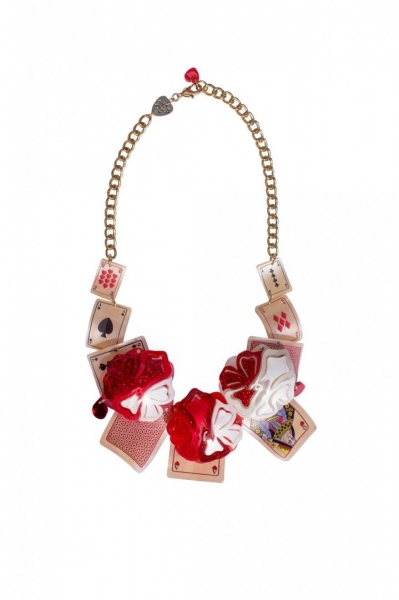 Queen's garden necklace £275
In comparison, Alex Monroe was keen to return to his own archive and to reinterpret many charms previously inspired by nature and his fondness for British eccentricity. This selection has been created through the reimagination of tumbling miniature charms depicting keys, animals and nature which brings Alice to life through 22kt gold plated sterling silver. Each intricate design is infused with a magical, otherworldly essence to reflect Alice's fall into Wonderland.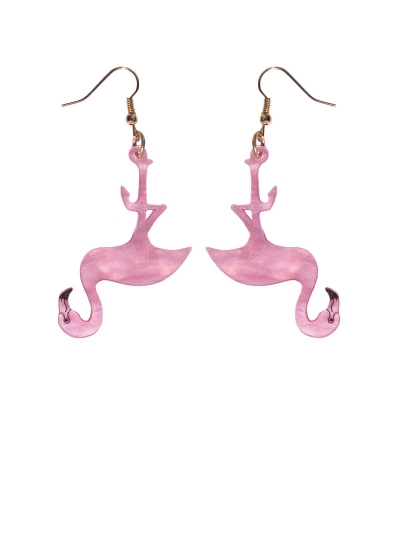 Topsy Turvy Flamingo Earrings £35
Have expectations been met? Exceeded? What has surprised you?
We have had a fantastic response to our shop range online already. Tatty Devine's collection has certainly captured our customers' imagination and we can sense that people are eager to come to see the show and visit our shop. It is heartening to see such an appetite for our museum during what is a challenging and uncertain time for all of us, and when our doors have to be shut. We can't wait to welcome everyone back and see them enjoy the exhibition.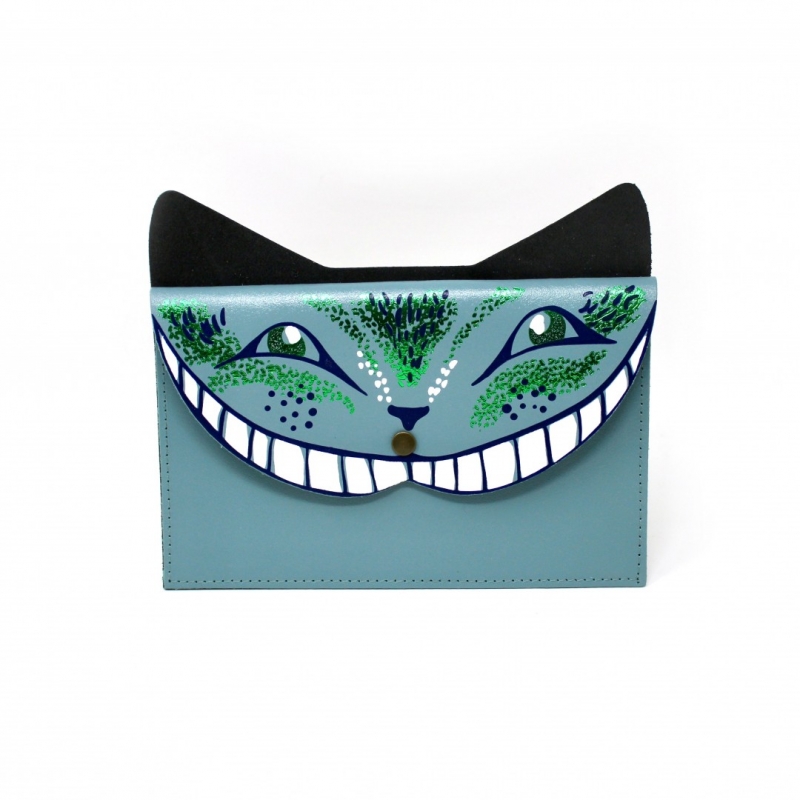 Cheshire cat clutch £28
Which other designers worked on this project? 
We have a fantastic in-house design team, and together with them, we come up with product design ideas that suit the themes of an exhibition and complete the offer with our very own V&A branded merchandise. Our designers are experts at interpreting our collections in order to create truly bespoke pieces you won't find anywhere else.
For this range, we also worked closely with independent UK brands such as Ark Colour Design based in Scotland. They created wonderfully quirky leather accessories in their colourful house style especially for us. As we were dealing with a literary subject, we also commissioned the Printer's Devil Letterpress to produce a set of witty typographic posters, printed by hand in their London studio. We love working with independent brands and designers that have a unique voice, stories of craftsmanship and creativity are at the heart of what we do.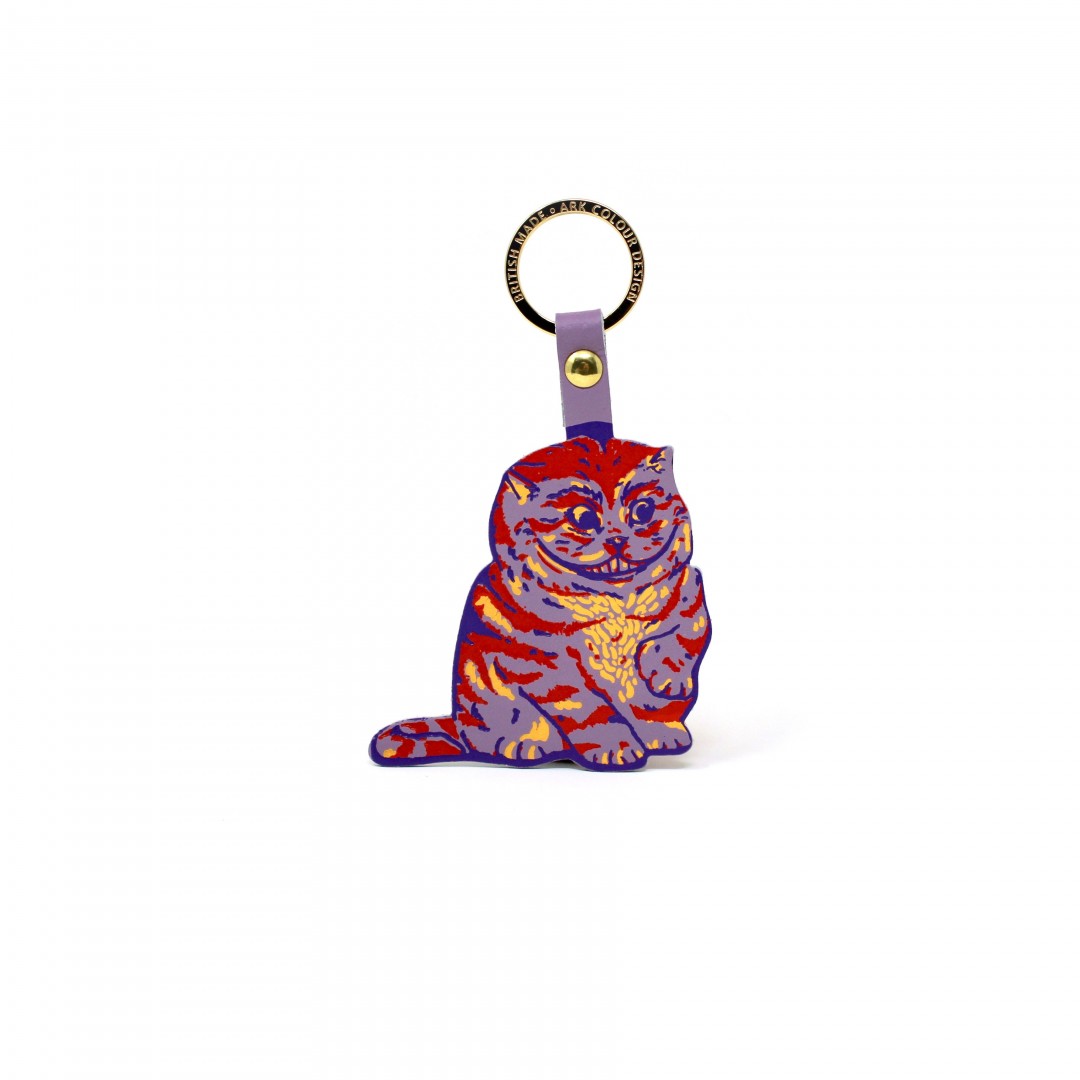 Cheshire cat keyring Lilac £10
Finally, to ensure we had something in the range for everyone, we also sourced a variety of unique pieces to sit alongside our exclusive offer. These hand picked products stood out to us because of their relevance to the theme and quality as a product. Some lovely examples include a set of four brass page markers depicting Alice and key motifs from her adventures, classic games and toys bearing an Alice design twist and collector's greeting cards featuring vintage playing cards. This curated selection adds the finishing touches to our richly layered range.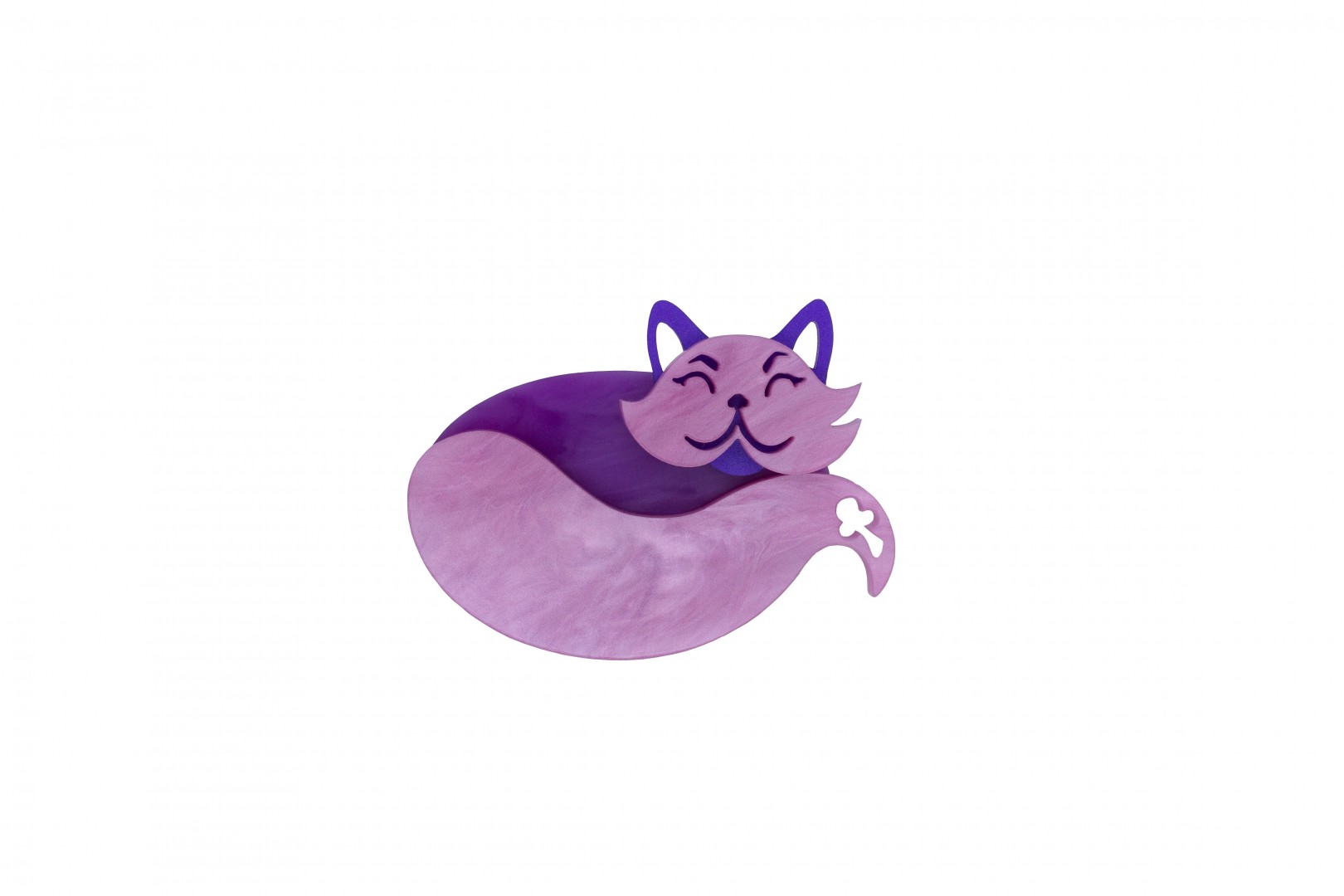 Cheshire cat brooch £45