A trip to Japan has inspired a new series of art for Artweeks, by printmaker Alexandra Buckle, who works from her home studio in Bicester. Her linocuts are impressionistic in style; she focuses on colour, contrast, depth and detail using a 'reduction' method which involves repeatedly cutting and printing from the same block of lino to create a series of handmade prints all at once, as the block is destroyed in the process.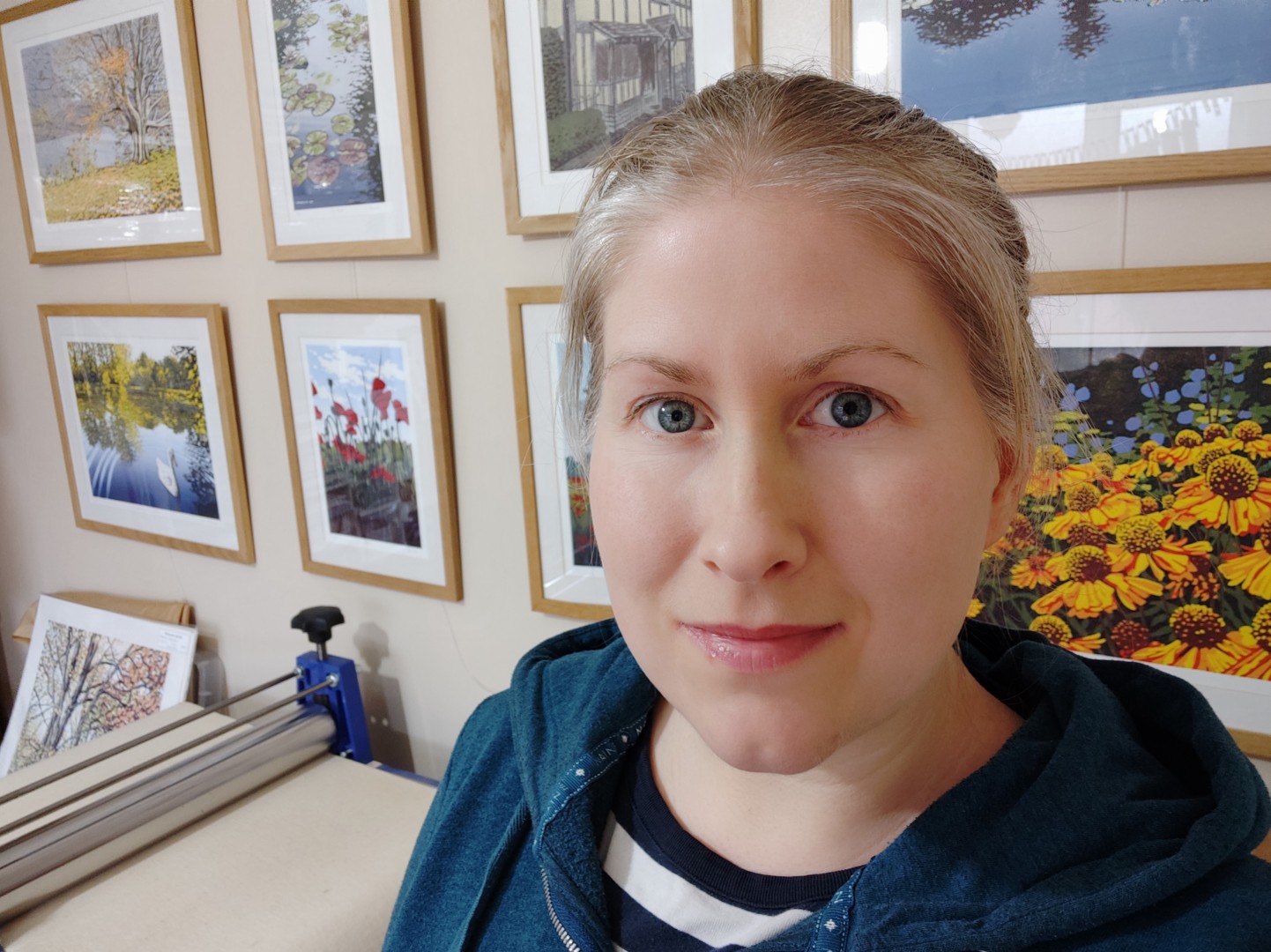 "When I was still new to printmaking one of my friends went to Japan and came back with an amazing array of photos and Japan shot straight onto my bucket list," she recalls. "At the time, inspired by the Japanese aesthetic, I made a print of Kinkaku-ji (or Temple of the Golden Pavilion) in Kyoto, but it wasn't until last September that I finally realised that dream and went to see it for myself. It's a site of great national importance and beauty, it sits in a beautiful garden next to a large pond and the building is extensively covered in gold leaf. I was so awestruck by its shimmering exterior." Once back in the UK, armed with hundreds of reference photos, she got to work on a new linocut of the pavilion. It took her over 50 hours to complete and it serves as both a wonderful reminder of her trip to Japan and also documents her progression as a printmaker over the last ten years.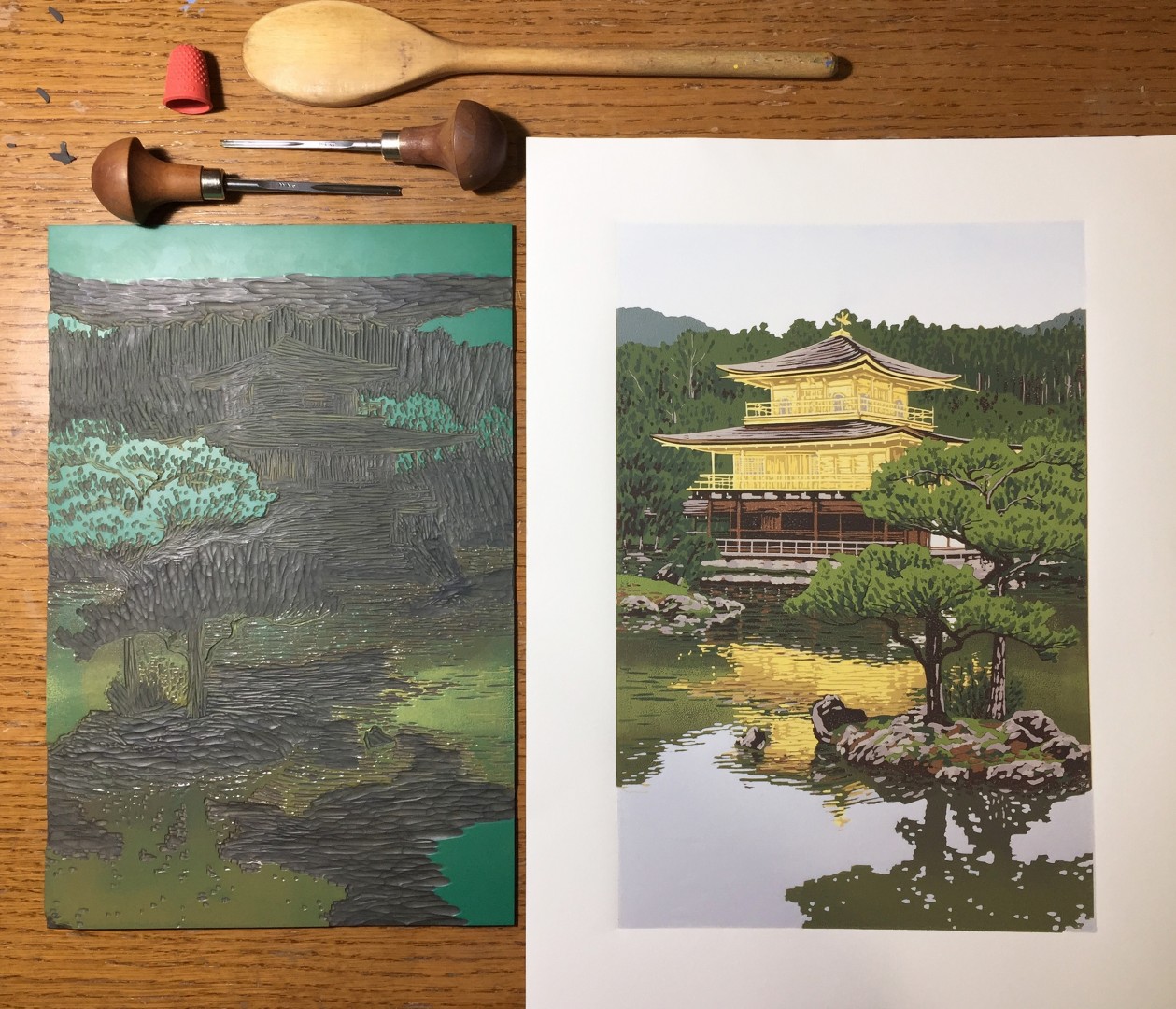 "I've always been keen on the Japanese style," she explains. "The unusual shapes of the architecture fascinate me. The traditional Japanese prints are very complicated and yet they are so precise which gives them an extraordinary delicacy and elegance. It's an ethos that carried through into everything in Japan – even the rocks and plants in their gardens are organised with a sculptural exactness. Everything is so perfectly arranged and yet they exude a gentle peace.
"We travelled the length of the country by train and saw the changing countryside dashing past, the landscape, the mountains and the sea. Mount Fuji, sadly, was blanketed in cloud and it was the wrong season to enjoy the blossom, so I'll have to go back," she laughs.
"We stopped at Hiroshima, which is on the coast. The city is synonymous with the nuclear bomb for most people, and we stopped to reflect in the Peace Memorial Park. Hiroshima is an incredibly pretty place, with bright blue water against the greens. One of the new prints I will have on show for Artweeks is the torii gate on the nearby holy island Miyajima, to which we took a boat trip from Hiroshima, looking back at the mainland. Torii gates mark the transition between mundane and sacred at the entrance to Shinto shrines: there are lots of them and they are often red painted wood. Since I came back from Japan I have found I am using more red than I did previously. In another print, of Sensoji trees, where I enjoyed their shade on a very hot day, there's a splash of the red building in the background amongst the dappled light. For me, printmaking is very much about colour, and choosing the right selection of ink colours to create the finished picture.
"When we went to Japan, I expected to be most taken by the traditional scenes while my husband couldn't wait to see the cities with their dynamism and illuminated streets. The city of Kyoto was full of the elaborate buildings I'd longed to see. However, I found Tokyo and the modern Japanese cities fascinating too. I took photos to remind me of the way the pavements were colourful in the rain and the lights reflected in the water that ran across the pavements or, in Osaka, rippled over the surface of the river. I'm also planning prints of bamboo forests, Japanese gardens, and lanterns at night. Then everyone can enjoy the breadth of sights that we did!"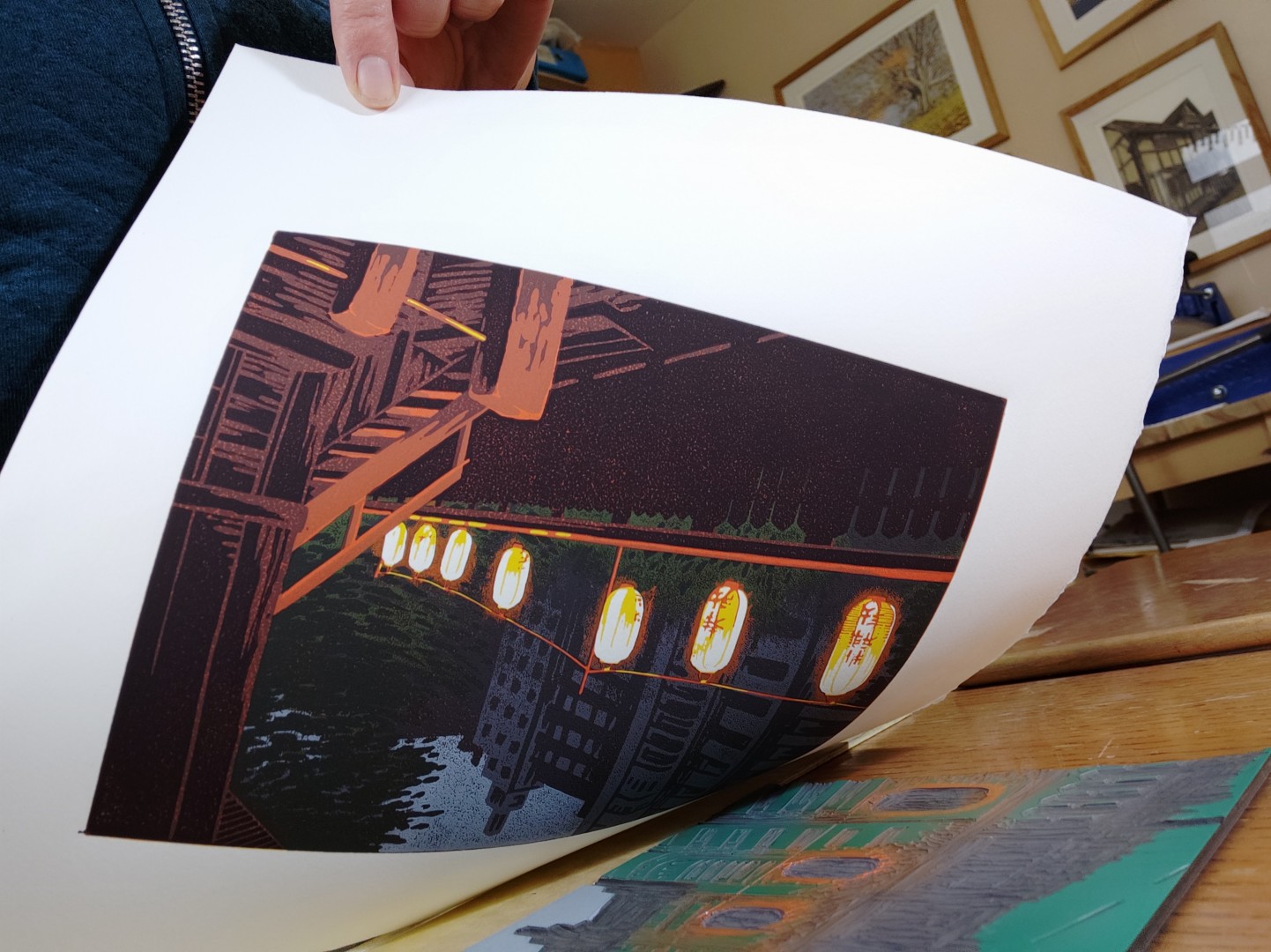 Back in 2011, she was delighted ("and astonished") that her first Golden Pavilion linocut was accepted into the prestigious Royal Academy Summer Exhibition, a London exhibition that has run without interruption since 1769 and is renowned for being the world's largest open-submission art show, bringing together art in all mediums – prints and paintings, film, photography, sculpture, architectural works and more – by leading artists and household names as well as new and emerging talent.
She is equally thrilled that her new Golden Pavilion print has also been accepted into this year's Summer Exhibition along with a second Japanese-themed print. Her work has also been exhibited at the Bankside Gallery and Mall Galleries in London and sells widely to collectors in the UK and internationally. You can see more of her work in the Artweeks festival (artweeks.org) and at alexandrabuckle.co.uk