When Adam Henson took over Cotswold Farm Park from his father Joe in 1999 he didn't just carry on his father's legacy in farming; he also followed in his 'wellington-booted' footprints by combining farming life with television presenting. In addition to his work on Countryfile and his popular YouTube channel, Adam is also author of five books and a sixth – Two for Joy – is to be published in October. We were delighted he was able to make time for us and fascinated to learn more about his sustainable and very modern approach.
Within this issue of OX, we are celebrating the heritage of the region – how does Cotswold Farm Park reflect this?
The collection of rare farm animals that we showcase at Cotswolds Farm Park are all British native breeds of rare and traditional livestock. Amongst them are Cotswolds breeds, so Cotswolds sheep, Gloucestershire old spot pigs and Gloucestershire cattle are our three county breeds. Also, in the Park we talk about our wider work on the commercial farm which is where we grow crops and sheep producing lambs and wool. We show people information about the wider production of crops and what we do for cultivation and wildlife.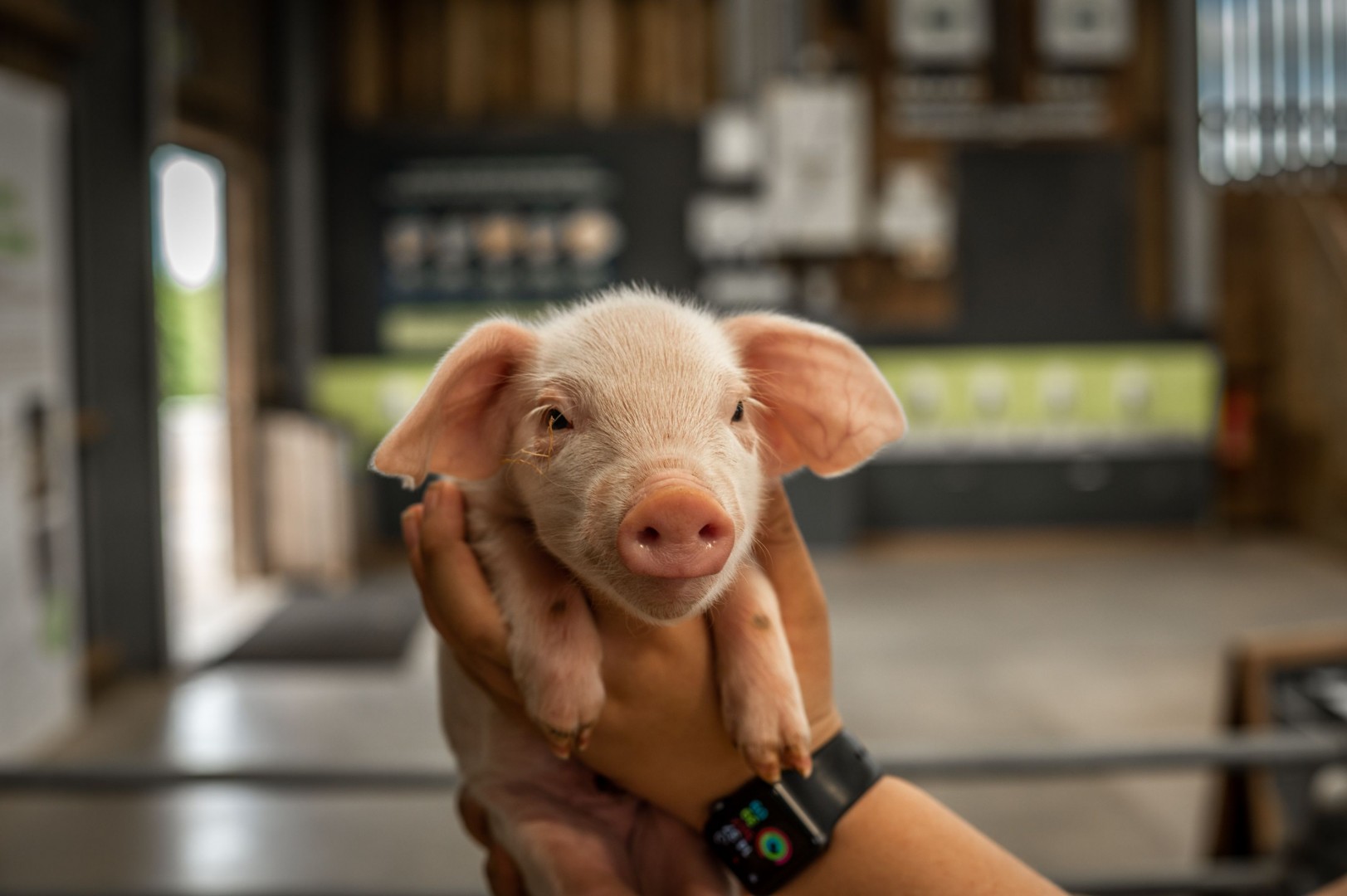 I grew up on the Farm – I was born here, succeeded the tenancy from my dad and also took on the legacy and business of The Cotswolds Farm Park. I now run that with a business partner and friend of mine, Duncan, so we are joint directors. We have grown and developed both our farming concerns and The Park very much carrying on my father's legacy. We are a large employer of local people and we're getting around 180k visitors a year, so we're a very important tourism enterprise. We also have Cotswolds Farm Park Holidays which is something we have developed that's grown over the years. When we are full we might have around 350 people staying on site with touring vans or tents, and we have safari tents and lodges. We continue my dad's legacy of rare breeds conservation at the core of our business.
We're tenants of the farm – we don't own it. It's owned by my neighbour who has his own separate farm that we also run for him on an annual agreement. We have a 15-year tenancy on a 650-hectare farm and The Cotswolds Farm Park is 50 acres of that, which we have on a commercial lease. It's sensible to farm a larger area so we're in a joint venture with our neighbour and share machines and operators.
Is that quite standard?
No, a lot of farmers will keep their own kit but there are a growing number of farmers collaborating. The French are very good at it, but British farmers less so. I think as the pressures have squeezed onto us we need to think of viable alternatives to make our farms sustainable; to make it last. Sharing kit and expensive machinery is a very good way to do that, but it also means if you're spreading the expensive cost over a larger acreage, you can buy very good machines with all the latest technology. This will improve your crop's stability but also ensure you're caring for the environment at the same time.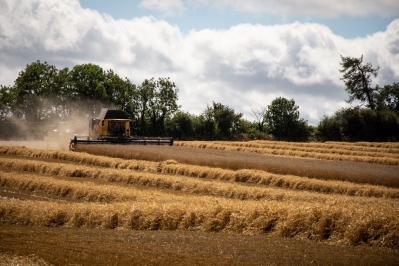 There are a number of family-friendly farms in the area, but yours really stands out with so many extra elements; the play area, the trails, the talks, the music. What inspired you to 'think big'?
My dad was very keen on setting up camping, so we have had a campsite on the farm now for about 20 odd years. He was alive when we developed that, and we used his guidance and advice. Campers used to use the farmhouse toilets to clean their teeth and have a shave in the morning, so things have grown and developed as me and Duncan have tried to push the business on, to increase the quality and the standards and the customer experience. If we stayed standing still it would have withered on the vine. We've looked to improve our catering; we have opened a bar in the evening, and we do music and pizzas as well. Over the last three or four years we have invested in new play equipment so it's more fun for the children.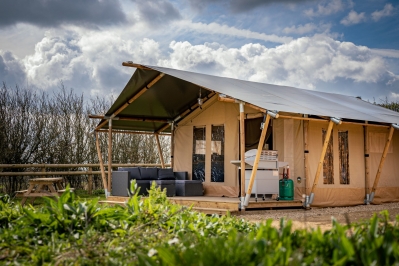 And what about the challenges in farming? How have you managed to adapt?
By being as efficient, accurate and professional as possible. Using technology in agriculture is key. The way in which modern machinery works is all computer generated; satellite navigation steering systems, radars to talk to the onboard computer that can then talk to whatever thing you're pulling behind. There are robots now that can milk cows and pick strawberries: technology in agriculture is extraordinary. You need to be switched on.
Brexit is a big pressure; the government have decided that by 2028 the base payment scheme will be removed. This is the support scheme that used to come from Europe. They have the opportunity now to build their own agricultural policy and what they are doing is putting support funding in towards environmental land management, so managing the land for biodiversity, for soil, for air and for water quality. However, one of the problems is they haven't developed this yet, so they are taking away one but not yet handing out another. There will be a change in the agricultural landscape as those schemes come into their own right.
Our carbon footprint is being measured, and agriculture in the UK is aiming to be net zero by 2040. We try to soak up as much CO2 as we emit. It is the way forward, and my business partner and our team are very much into sustainability and conservation of rare breeds. We have a huge amount of biodiversity and wildlife and actively encourage this. We're thinking in an environmentally sensitive way but producing good quality food and maximising the output from the land we manage. That might all be a bit deep but, as farmers, what we don't want is the government to allow cheap food in from abroad which doesn't match any of our environmental criteria.
On a very different note, how about the joint roles you hold as farmer and a TV personality. How do the two work together?
Yeah, so I love the diversity of my life and all the different things I do; the places that I get to visit and the people I meet through my television career. I also enjoy doing bits of corporate work and the writing books but in my heart I'm still an absolute farmer and when that telly world drops me in the bin, I'll go back to being a proper farmer. I love being out on the land, I love being out with my dogs and working with livestock but in reality, I'm not out there driving a harvester at two in the morning or landing sheep at midnight. I have surrounded myself with really good people. First of all there's Duncan – he's a brilliant business partner, fantastic at all the things I'm not good at. Then we have a livestock manager, a general manager at the farm park and she has all of her managers; shop, cafe, maintenance. The key to make your own life easier – and perhaps being more successful – is to surround yourself with good people. That's what I've done and I'm very grateful to all those people for supporting the business. 
That's good advice for anyone. When you're filming do the cameras ever get in the way of managing the animals?
The animals always come first. We would never compromise anything we are doing whether it is a physical job or an animal task. It's filmed carefully with health and safety in mind. Sometimes it can be quite observation, documentary-style with the camera fitting around the action. There are only two people in the team; the self-shooting director and often an assistant who uses a second camera or operates a drone. I know them well, they know the farm well and before we do anything they will explain what they want to achieve and I'll explain how we are going to make that happen.
Tell us about your writing career.
My book coming out in the autumn, Two for Joy, is all about the countryside and what's going on with wildlife and conservation. I have written five other books; Like Farmer, Like Son which is a memoir to my dad and about my life. I've got a book called A Farmer and His Dog, all about dogs and what they mean to me including service dogs. A book about rare breeds all over the country, and then last spring I brought out a book called A Year on Adam's Farm which is a children's book, very fun and educational about food and farming.
Thinking about the kids, we love coming for lambing season in the Spring; what's your favourite time of year?
I love all the seasons but I, too, particularly love Spring. Coming out of a cold hard Winter which is always quite tough on the farm, particularly with livestock, as the Spring comes you get the new leaves on the trees, the grass grows, and the ewes are giving birth. You can take the ewes and lambs out in the day to feed from the growing grass, so they produce lots of lovely milk. In the Easter holidays when the Farm Park is busy is definitely my favourite time of year.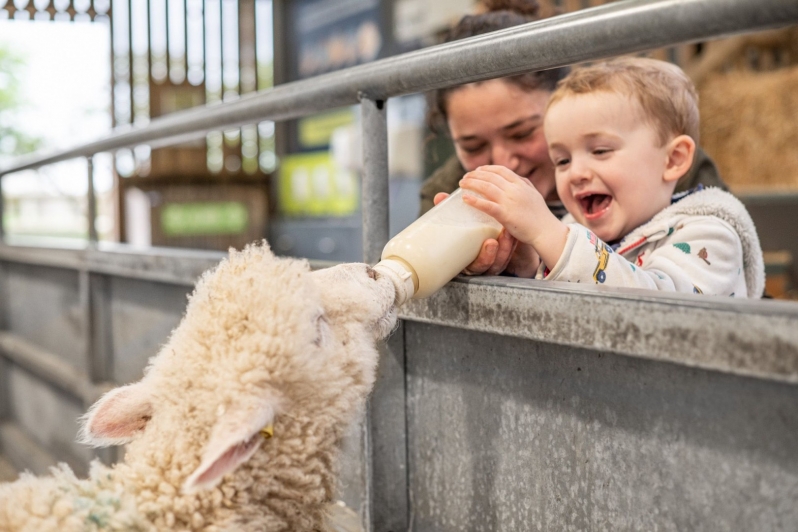 Finally, do you ever switch off and what do you do then?
Our kids are grown up now. I have a 24-year-old in Australia and a 19-year-old in university. When they are around, I love spending time with them but my wife and I also have a great group of friends locally – we both grew up around here and went to school together. I used to play quite a lot of sport but I'm too old for that now. I go up to London occasionally, I like the theatre and cinemas and getting away. We're going up to Scotland in a few weeks with some friends.
Having said that, for me there's no greater place than home. I love being here. I walk out of my back door and I'm in the countryside. I go for a walk every morning or evening with the dogs, just around the farm. I don't listen to anything but the birds. I open my eyes and ears and nose and just love it.