Exhibiting at the Stonor Park Country Craft Fair is going to be the highlight of my working summer. As a small business, it's an exciting opportunity for me to network and meet new customers. Its reputation precedes it – as The Craft Event of the Season – set against the backdrop of the magnificent Stonor Park family home and gardens.
I have not exhibited at Stonor before, but it was an opportunity I didn't want to miss this year. There is great camaraderie amongst the small business community. A bad day – where your stock gets soaking wet, your gazebo blows away, and you can count your customers on one hand – can be turned into a great day by making a new, small-business-best-friend. My small business friends have recommended Stonor to me countless times. With two young kids, it is always a stretch for me to exhibit at a big craft fair. There is a huge amount of work involved. I had Stonor on my wish-list from January, but it took me until May to be confident that I could make it work.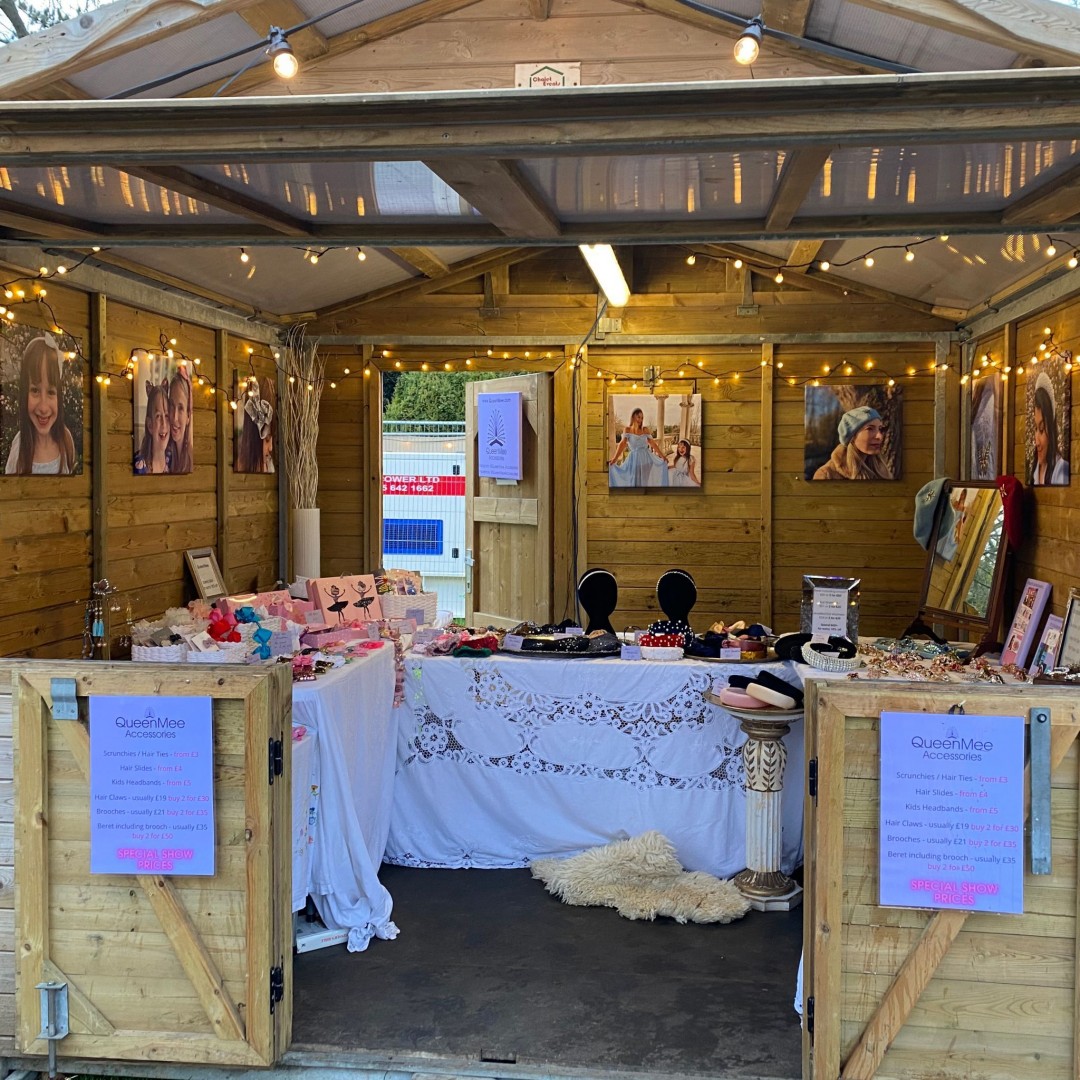 The first thing you need to consider is the cost of exhibiting, and how much you will need to sell to break even (and hopefully make a profit). You need to have enough stock to sell. Will you have enough time to make the stock, and source the materials, before the big day?
Then, there is the pricing. It's so easy to under-value your collection. You are just happy that someone else loves your designs and wants to part with their hard-earned cash to buy them. But you need to be careful here – the enthusiasm and passion needs to be underpinned by a business head. I still try to keep my collection as affordable as possible, but I have learned the hard way that it's very important to factor in the cost of your time as well as your materials.
You need to carefully plan how you will display your wares to attract visitors to your stand. When you're exhibiting for the first few times, it's best not to buy lots of merchandising equipment (you need that business head on again). What do you have at home already that you can use to create a magical display? A vintage tablecloth? Granny's silver tea pot? The first time I exhibited at Waddesdon Manor Christmas Fair, all I had was some folding tables and my mother's dressing-room mirror. I arranged my stock around it, greeted customers with a warm smile, and hoped for the best.
Stonor is such a huge opportunity, that I want to build on my experience at Waddesdon and create the best display I possibly can. A little upgrade on the dressing-room mirror. I am planning to create a tiered display, with distinct colour-groups, so that customers can easily shop my hair accessory collection by their favourite colour. My vintage-inspired brooches will have their own little display area – I will use an heirloom silver tray, plus a beautiful new mirror that I spotted at my local charity shop. (My dressing-room mirror sadly got run over by a van whilst packing up at Henley Market - the frustrations of small business life).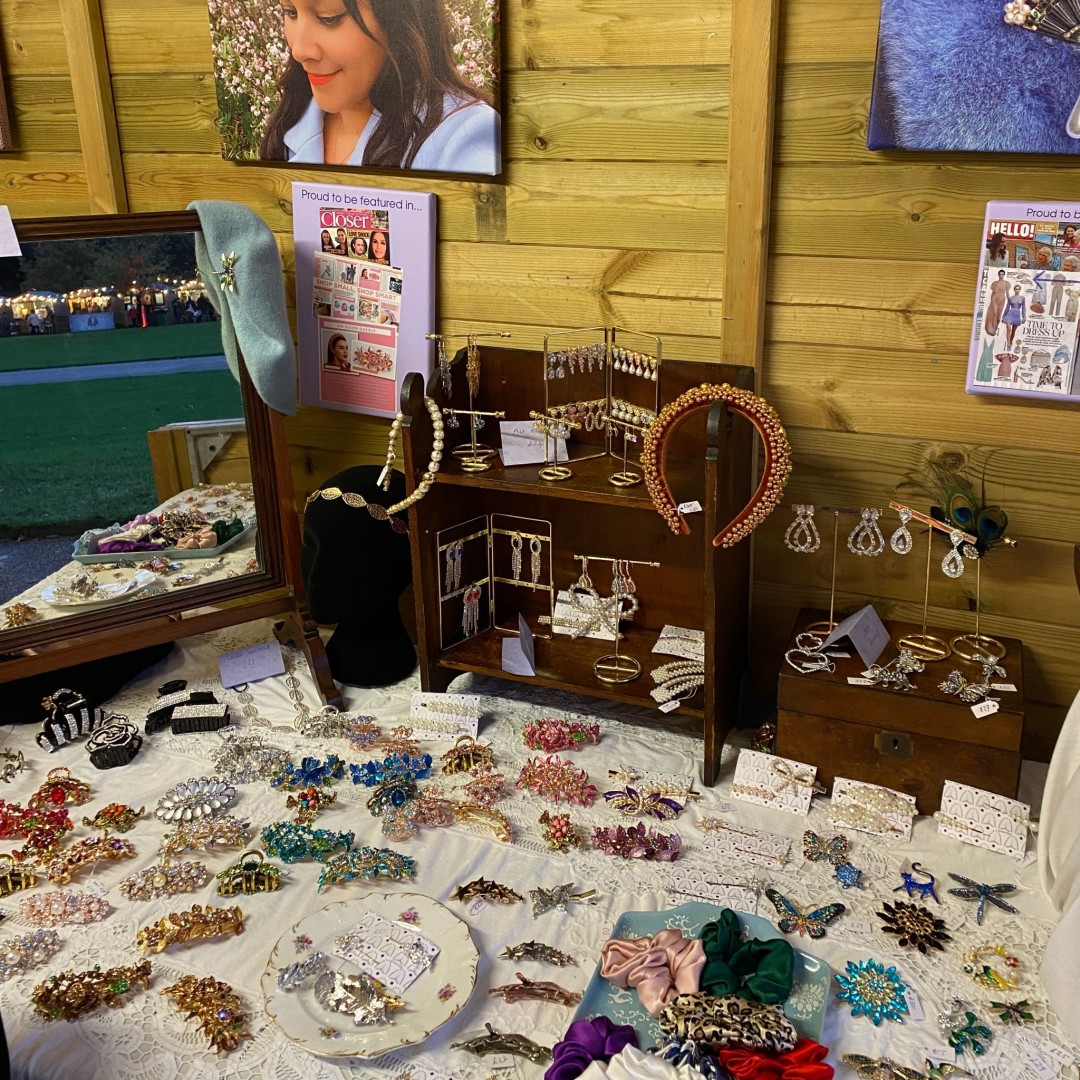 Whilst the event involves lots of planning and hard work, it will be the pinnacle of my year so far. An opportunity to talk to and meet a host of supportive craft enthusiasts (and other small business owners too). I have been selling online for several years, and it has its benefits, but nothing beats the exhilaration of a real-life event.
It's a magical experience when you feel the love from customers – when you get chatting to a passer-by, explain your story, and they offer their support and kind wishes. It's the fuel that gets me through the hard times of small business life.
This event is particularly magical because of the beautiful Stonor grounds. To exhibit my hair accessories and jewels within sight of Stonor's 17th Century Italianate Pleasure Gardens, is uplifting and inspiring for me and my team. A wonderful high on the roller-coaster ride of small business life. After all, this is the spot that the Late Lord Gibson, former Chairman of the National Trust described as "Possibly the most beautiful setting for any house in England".
Amanda Waterstone Carthy is the owner of Queen Mee, a glorious collection of wearable yet statement-worthy contemporary headpieces and jewellery. Browse her collection at QueenMee.com  or find Amanda on Insta: @AmandaWaterstoneCarthy
The Henley Country Craft Show in Stonor Park in Henley-On-Thames, will be taking place over the August bank holiday weekend from Friday 25 – Monday 28 August 2023. Earlybird discounts apply and visitors can also get entrance for the house and gardens for just £5 when booking tickets for the show. thecraftshows.co.uk