Ruby Hammer is one of the industry's most respected and revered makeup artists and was awarded an MBE in 2007 for her services to the cosmetics industry. For some readers she'll be instantly recognisable as one half of innovative 90s brand, Ruby & Millie. Others may know her for her many television appearances on shows including This Morning, Ten Years Younger, Britain's Next Top Model and The Clothes Show. Moreover, on Instagram (@rubyhammer), she has amassed a devout following of fans eager for tips and insights. She has created looks for magazine editorial, photographers, designers, advertisers, and runways the world over. Her eponymous line was launched in 2019 and continues to grow. An eclectic but considered capsule collection of tools and products, each new drop is guaranteed to be beautifully designed, expert, essential and straightforward to use. 
When Ruby & Millie launched it genuinely revolutionised the industry. What key learnings did you bring from that to the Ruby Hammer line?   
The Ruby & Millie range was great, and it helped me learn the ins-and-outs of business: what are the dealbreakers and dealmakers. Everything I learnt helped in some way, but the biggest thing it made me realise was that this time round I didn't want a big range like that. This time, I wanted something more personable, something I was more in-control of, and more edited. The range is really an extension of my entire working career. It's been a work in progress for a long while and it's an evolution of what I've done in the past and what is happening right now. The idea was something more edited and expertise led. A range that reflected products I felt I needed and wanted right now. 
How have you selected the products? 
I like luxury, but I don't like over-the-top. I wanted something affordable but that feels like a treat, and I hope that comes across. I wanted products that made life easier, and made people smile.  Tools were a natural area for me, and I wanted to create tools that help you use the other wonderful brands out there. Ruby Hammer is an 'as well as' brand, not an 'instead of'. You still use all your favourite products, but what I've created will make using them easier and more enjoyable.  
There are so many great makeup brushes on the market, but I wanted my brushes to be hygienic, travel-friendly, and multipurpose. My magnetic brushes offer everything you need in one place. I call my brush pots my 'Pots of Joy' because they brighten up any room. I used colours that make people smile! My Foot File and Nail Kit are handy tools done in a chic way, so that you enjoy using them.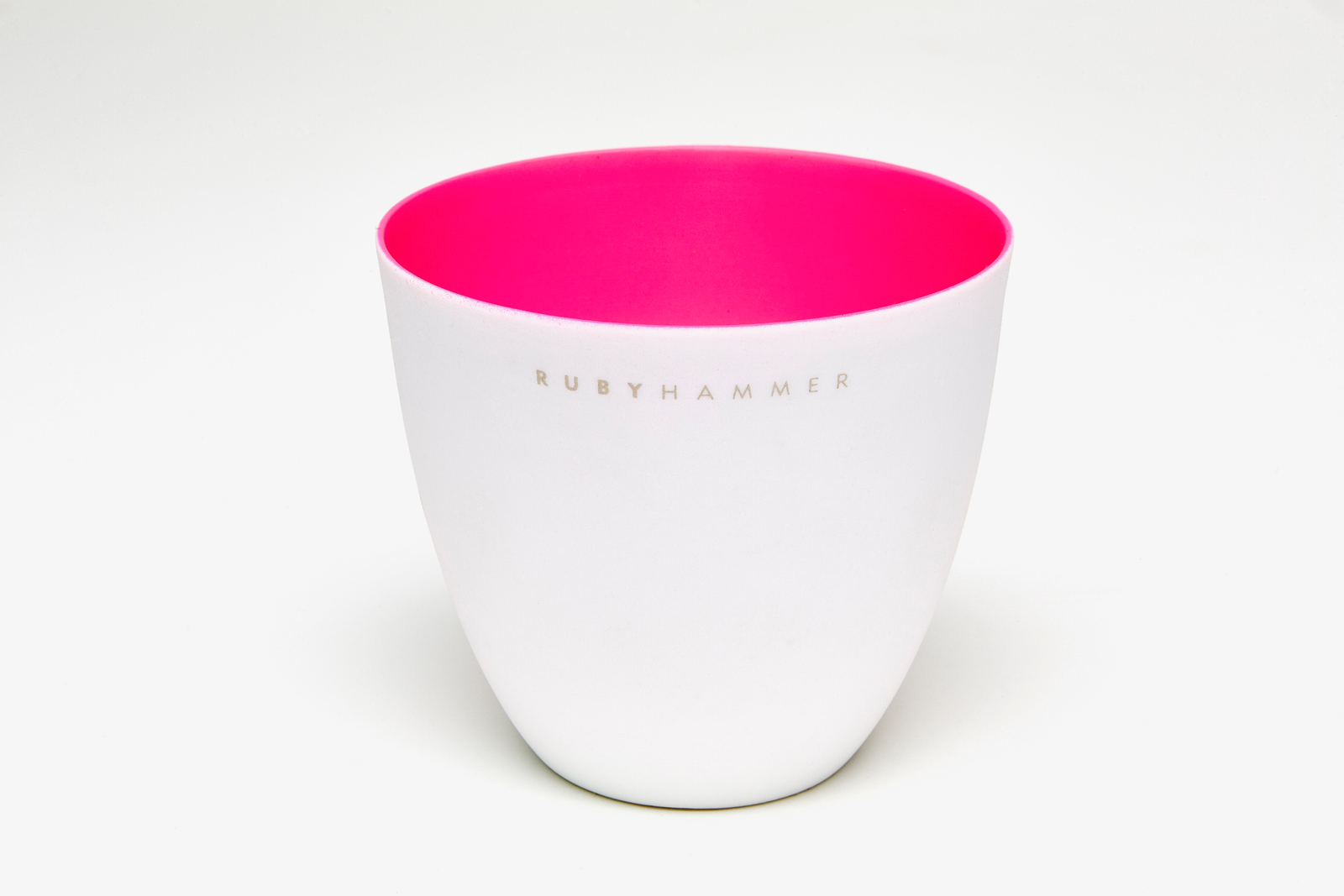 Can you let us know what you plan to introduce next? 
I've actually had a busy couple of months. Towards the end of 2020, I introduced two new eyeliners to my range, and this month I just launched a new Magnetic Brush Set 02. However, as much as people love my tools, I can see what people really want from me are colour products, and I like listening to my customers… so watch this space!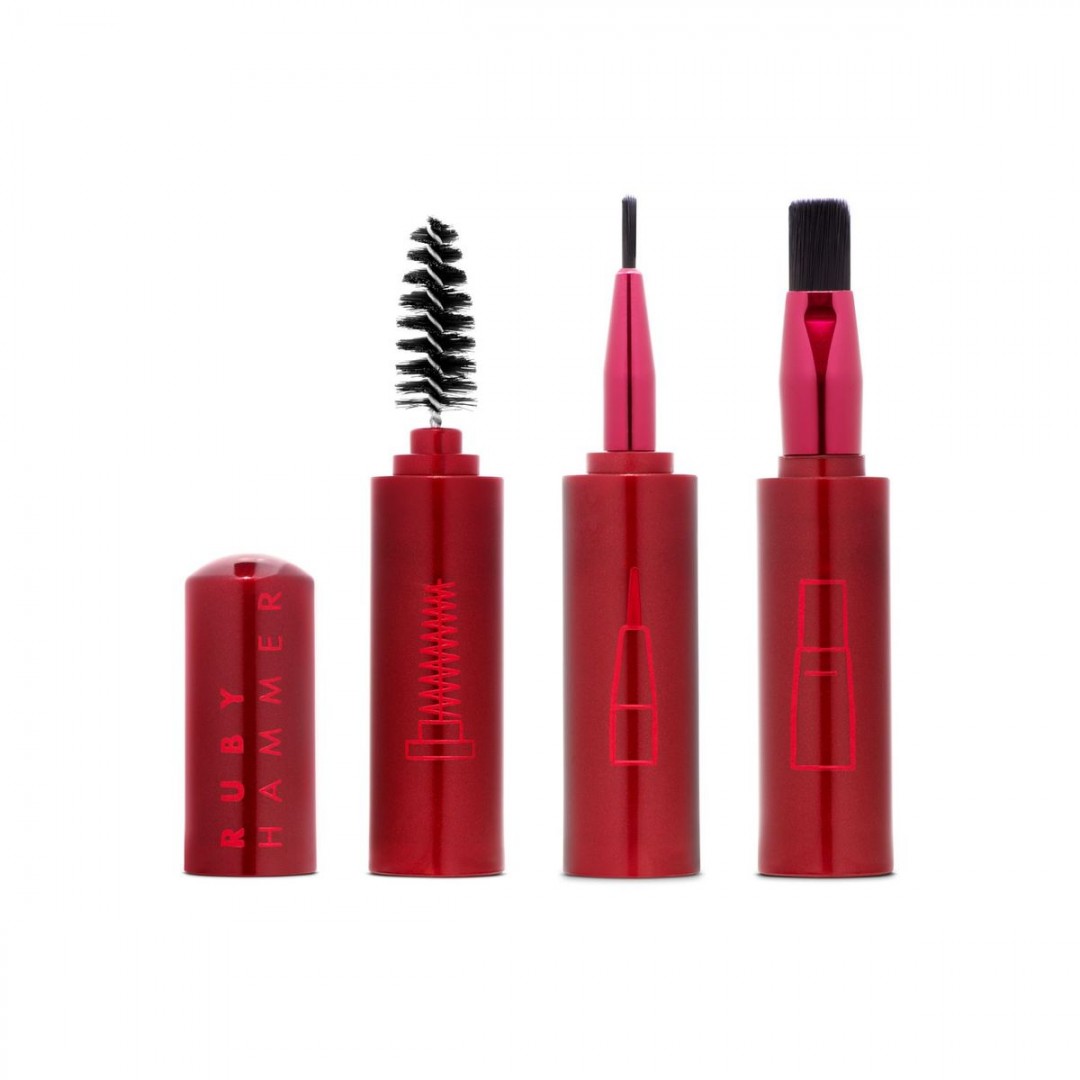 What's your opinion on makeup trends? Who is exciting you at the moment?   
At the moment, I'm really missing shows and the distinct trends that come from them. With lockdown, we're limited to looking at Instagram for inspiration, which is great, but it's not the same as real life and you don't get the same buzz as a big show. Plus, when you are out people are wearing masks, which limits it even more! The focus is definitely on the eyes, but that makes me more interested in the lips. I get excited when I'm on a zoom and someone has a bold lip on, it's just nice to see people experimenting at home, people have the chance to start their own trends! 
How did you feel on being appointed MBE? 
I was awarded my MBE in 2007 and it's still one of my career highlights, and probably always will be. It meant so much more to me than just a work highlight. As I'm not British born, it really helped reiterate that this is my home, and my adopted country has accepted me for who I am, and welcomes me. It makes me immensely proud thinking about it.  
How do you define beauty? 
As a makeup artist, people always assume I'd think of beauty as what I can achieve cosmetically, but true beauty reflects the spirit and the person. Makeup is just a tool to help highlight beautiful features. Beauty is ageless and sexless, and inner beauty is reflected outwardly. It's kindness, selflessness and compassion. Beauty is in a smile that goes from ear to ear and lights up your face.  
Whose face would you love to work on? 
I would love to get back to working with my usual clients as I am so missing just practicing my craft. Getting my hands on anyone's face right now would be a treat! But if I had to pick someone no longer around, I would have loved to work with Ava Gardner, and for someone I've yet to work with, Kamala Harris would be the dream! 
Ruby Hammer's 5 Product Face 
"All my makeup looks are underpinned by good skincare"   
Concealer (NARS @narsissist) – under the eyes and on the pesky dark spots on my chin  
Blush – I use a rosy cream blush to add colour to my cheeks (Daniel Sandler @danielsandlermakeup)  
Brows – I use a spoolie through the brows to separate the hairs and make the eye area look more awake. If I feel I need to fill any gaps I do so using my RH Brush and some powder (Anastasia Beverly Hills @anastasiabeverlyhills) 
Lashes – a lightweight mascara 
Lip – I like using a lip balm hybrid, something really moisturising with just a hint of colour – that way you can reapply throughout the day without being too precious (Trish McEvoy @trishmcevoy)