This November not only marks World Vegan Day on 1 November, but for the whole month people all over the UK are challenging themselves to go meat-free to raise money for Cancer Research UK. Not only is this contributing to a fantastic cause, it's also a great opportunity to add variety into your diet and strive towards a healthier lifestyle. We've provided our top tips to make this easier, including meat alternative recommendations, a delicious vegetarian recipe, courtesy of … and the benefits – should you need further incentive.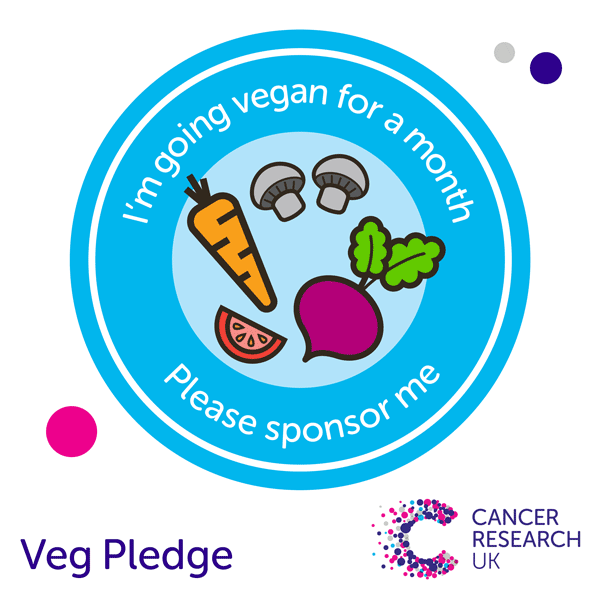 Meat Alternatives:
- Jackfruit – this tropical fruit's stringy shredded texture makes it great for mimicking pulled pork or chicken.
- Chickpeas – will take just about any amount of seasoning you can throw at them; a great, protein-rich filler to add to soups or stews, or try it crushed.
- Tofu – the most versatile of alternatives, tofu can be the perfect addition to curries, noodle soups, burgers or even pasta dishes and it you're experimenting with vegan, can be a great alternative to eggs or even grilled haloumi.
- Seitan – this is a particularly convincing meat substitute if you're looking for a direct replacement, and is best served fried, baked, or grilled, with heavy seasoning.
- Quorn – coming in all shapes and sizes, from chicken style chunks to minced meat, Quorn can be used as a direct swap and is easily used to recreate family favourites.
- Eggs, cheese and nuts – obviously eggs and cheese are still meat by-products so would only work for a vegetarian and not a vegan diet, but nuts are a great source of protein and traded ethically, are cruelty-free.
The Benefits:
- Health: A vegetarian diet can reduce your risk of colorectal cancer by as much as 22%. It also vastly improves heart-health.
- Money: A recent survey found that around 26% of the UK have 'reduced their meat intake' and in doing so, saved an average of £209 each, per year.
- Environment: The animal agricultural industry is "one of the top two or three most significant contributors to the most serious environmental problems", say the UN.
Top Tips to Take the Pledge:
It doesn't have to be all-or-nothing…
If instead of going fully vegetarian, you decided to cut most meat out of your diet, and introduce more plant-based meals, that's still an improvement! Some things will take longer to let go of, and some things you might want to give up. Whether it's #meatfreemondays or eve #weekendcarnivore, find your own balance.
Go at your own pace…
You may find it difficult going vegetarian all at once, and this could negatively impact your experience, making you resent your new diet. A gradual introduction of vegetarianism may create more of a positive relationship between you and meat-free food, increasing the chances of you sticking to it.
Read the label…
Things like gelatine (often pork-derived) or L-cysteine (hair-derived) are present in popular and seemingly veggie food items, like sweets or bread. Depending on how strict you want to be, always read the label on any food items before you buy if you're concerned about these hidden ingredients.
Follow a recipe…
Start off by browsing some vegetarian recipes for inspiration or ideas to help your meal planning. If you particularly like a certain type of cuisine a quick online search will probably yield loads of yummy looking dishes. Once you're confident cooking with these new ingredients you'll find it easier to create your own recipes.
Meat alternatives aren't for everyone…
While some may find tofu, seitan and tempeh really helpful in filling the gap that meat once did, some might find that they don't enjoy these foods. Don't worry – if you don't like tofu, it doesn't mean you don't like vegetarianism!
Gaz Oakley's Braised Chestnut and Grain Wellington with a Charred Red Pepper Dressing and Caramelised Red Onion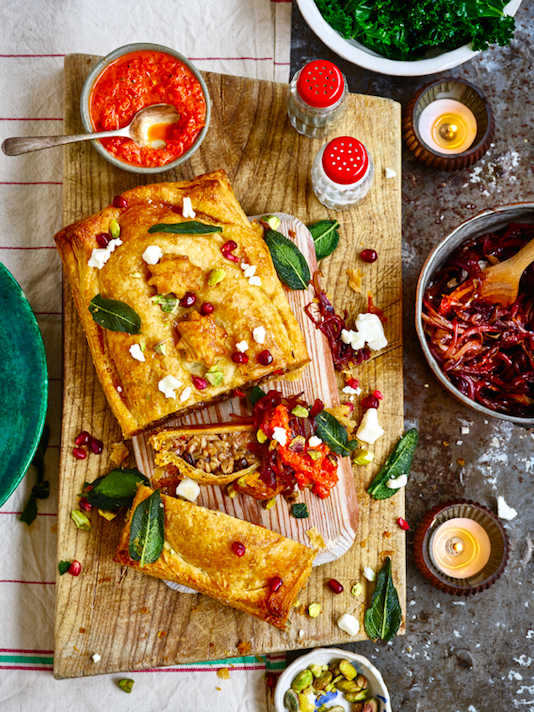 Cooking times: 90 minutes
Serves: 6
Ingredients
1 Leek, chopped roughly
4 Cloves Garlic, peeled
1 Red Pepper, deseeded
10 Shiitake Mushrooms
2 Carrots, peeled & chopped roughly
1 tsp Cracked Black Pepper
1 tsp Sea Salt
3 tbs Tomato Puree
1 tbs Dried Sage
1 tbs Dried Rosemary
1 Bay Leaf
2tbs Plain Flour or GF Flour
1/2 cup/125ml Vegan Friendly Red Wine
3/4 cup/195ml Vegetable Stock
2 tbs Soy Sauce
1 tbs Miso Paste
2 250g Pouches of Merchant Gourmet Spiced Grains & Chestnut
1 tbs Cranberry sauce
Pastry
1 Roll Ready Rolled Puff Pastry
1/4 cup/30g Plain Flour
Glaze
1/4 cup/60ml Milk
4 tbs Maple
4 tbs Oil
Pinch Sea Salt
Red Pepper Dressing
2 cups/350g Roasted Red Peppers, from a jar, drained
2 tbs Olive Oil
1 tbs Tahini
1 tsp Dried Sage
1 tsp Dried Rosemary
1/2 tsp Smoked Sweet Paprika
1 tsp Sea Salt
Caramelised Red Onion
2 tbs Rapeseed oil or water
3 Red Onions, peeled, halved & sliced fine
4 tbs Coconut Sugar or Brown Sugar
3 tbs Balsamic Vinegar
Pinch Sea Salt & Pepper
2 Sprigs Fresh Thyme, chopped, plus extra for garnish
Garnish with
Crispy Sage Leaves
Vegan Feta (optional)
Pistachio Nuts
Pomegranate Seeds
Method
First up, make the filling (which I usually make the day before serving). Add the leek, garlic, red pepper, carrots & mushrooms to a food processor & blitz until they're chopped small. Pre-heat a large saucepan over a medium heat & add the oil. When it's hot, add the leek mix to the pan & sauté for 3 minutes or until golden.
Stir in the tomato puree, sage, rosemary, bay leaf, salt & pepper then add the flour. Cook the flour out by stirring constantly for about a minute.
Then, de-glaze the pan with the red wine & vegetable stock. When the liquid comes to a simmer add the merchant gourmet chestnuts & grains, soy sauce, miso paste & cranberry. Let the mix bubble away for 10-15 minutes or until the liquid has really thickened up, then transfer the mixture to a container to cool completely.
The day of serving, add all the glaze ingredients to a small bowl and whisk together. Dust your surface with flour & roll out your pastry approximately 30cm x 30cm then cut it in half.
Making sure your filling is completely cool (ideally fridge cold) spoon the filling into the centre of one of the pastry rectangles, leaving a 3cm boarder around the filling. Brush the boarder with a little of the glaze then place the other pastry rectangle neatly on top. Seal the boarder together with your finger, then trim the edges to keep it neat. You can crimp the edges with a fork and use Christmas themed cutters with any off-cuts of pastry to top the wellington. Brush over a little glaze. Then set the wellington aside until you're ready to cook it.
Meanwhile, add the red pepper dressing ingredients to a food processor and blitz until it forms a chunky paste. Set the dressing aside until serving.
To make the caramelised onions, in a heavy based saucepan over a medium add a touch of oil followed by the onions. Cook for 3-4 minutes stirring often until they start to soften & colour. Add the sugar, vinegar, seasoning & thyme. Stir well and turn the heat down very low. Cover the saucepan & allow the onions to caramelise for 15 minutes, stir/shake the pan every now & then.
To cook the wellington, place it onto the middle shelf in a pre-heated oven set at 180°C for 30 minutes. Apply extra glaze 25 minutes through cooking.
Serve your wellington with lots of dressing, caramelised onions, crispy sage, pomegranate seeds, pistachio nuts & vegan feta + all your Christmas garnishes.
Credit: Gaz Oakley in partnership with Merchant Gourmet
If you're interested in joining Cancer Research's Veg Pledge, please visit their website cancerresearchuk.org