This year's on form promises much for visitors to this Cotswolds institution.
If Asthall Manor sounds like it's straight out of a novel, it's probably because it was immortalised in literary form by Nancy Mitford as Alconleigh, family home of the Radletts from Mitford's much-loved series of books, starting with Pursuit of Love. Asthall was the Mitford family home between 1919 and 1926 and – forgive the cliches – but this is quintessential, archetypal England at is very finest. The rambling Jacobean manor, with its gabled windows and pleasing proportions gives way to some of the most beautiful organic gardens in the country, never mind the Cotswolds. Although privately owned, it is possible to visit when the house and grounds open for on form, the biennial – Covid years excepted – acclaimed stone sculpture festival.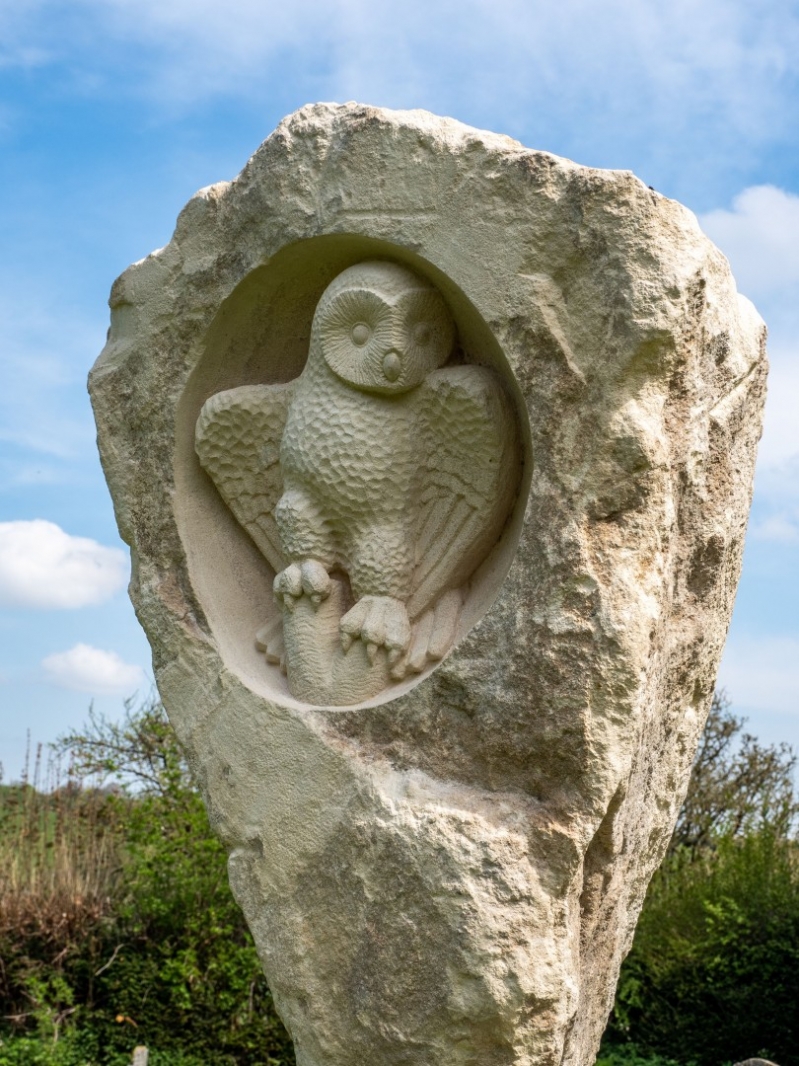 Present owner, Rosie Pearson, moved into Asthall in 1998 and, with sculptor Anthony Turner, founded on form in 2002. Curated by Anna Greenacre since 2006, its reputation has grown exponentially. "There is so much that still excites me about curating on form; it is a very special exhibition and close to my heart." Anna continues, "As a team, we are always looking for fresh ideas. Creating a sense of fun and surprise for our visitors is one of my top priorities – I want to find spots which make the sculptures zing both in isolation and in relation to other exhibits." Anna has the Herculean task of finding the right place for each of the stone pieces and her considered placement within the landscape echoes the juxtaposition between form and fluidity found in the garden's design – in itself, a work of art, and sensitively maintained by Head Gardener, Owen.
The extensive grounds were designed and planted in the late 90s by the renowned Julian and Isabel Bannerman (described as the Bonnie and Clyde of gardens). One of its joys is the sense of discovery; a hidden lake, a gypsy wagon, treehouses galore, a lakeside hut and a natural swimming pool are all waiting to be revealed. Displayed amongst this bounty are works from the artists carefully chosen by Anna; "I love travelling around the country making studio visits for the on form selection process. It is an inspiring and humbling experience to see the skill of sculptors working in stone and wonderful to come across original forms and ideas. The endless variety of stone is breath-taking, from the pure white marble of Carrara to the rich greens of Irish Connemara."
The hope is visitors will talk, pause, and be inspired by the beauty on show as they wander through the different outdoor sections, or rooms. The exhibition reaches beyond the gardens to the adjoining water meadows of the Windrush Valley. Some pieces find their way into the next-door church, St Nicholas, as well as into the house itself; the windows of the Ballroom are lined with work in alabaster, allowing the light which shines through the leaded light windows to illuminate pieces to great effect. Further, one end of this long room has been transformed into a facsimile of a sculptor's studio, giving a fully immersive sense of the creative process.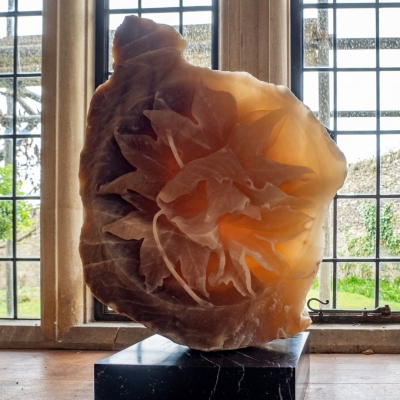 A theme with which all the exhibits will grapple this year is concern for the natural world, and specifically the truth about climate change and the ensuing biodiversity loss. Rosie Pearson has long been committed to raising awareness and, on a personal level, to living as sustainably as possible. In the walled garden vegetables are grown on permaculture principles, and in the Potting Shed café information is available on the impact that the different foods we eat has on the environment. Further, she is eager to encourage visitors to find 'greener' ways of accessing this year's edition, with incentives for arriving by 'bus, foot or canoe'. "Love of the natural world has always been at the core of the exhibition" she explains, "Nature is supposed to comfort us (hiding amongst green leaves has always comforted me) so when it is nature itself that is in peril, where do we look for solace? I still believe that joy and positivity are our most powerful tools, but we need other tools too: scientific truth telling, and an imaginative call for some radical changes in human behaviour. Finding our way through can seem impossible if we try to look straight on. The oblique view that art can give helps to promote healing and constructive conversations. I love the way that touching the sculptures slows people down and enables conversations, even scary ones, and sometimes between strangers. I want to do what I can to reduce the footprint of the exhibition, without cutting into the joy."
The 'please do touch' policy in operation is just as well; instinctively you may find your hand reaching out to make contact with the stone, worked variously into smooth-as-silk or even surprisingly roughly hewn textures. Anna adds, "on form is a huge collaborative effort. I don't know of any other show which instals hundreds of stone sculptures for just a month. We want to delight, surprise, and engage our visitors and our 'do touch' policy really encourages them to feel the sculptures in a way that they just can't in museums and galleries."
In addition to the works on display, there is a café, workshops and guided walks. Further, on form are this year collaborating with four Oxfordshire charities reflecting a concern for climate and nature recovery, refuge, and mental health; Refugee Resource, Bridewell Gardens, The Wychwood Forest and Wild Oxfordshire.
On form 22 exhibiting sculptors:
Sergio Baroni, Joscha Bender, Marcia Bennett-Male, Aly Brown, Regis Chaperone, Luke Dickinson, Kim Francis, Mel Fraster, Rob Good, Conor Hurford (on form bursary winner). Jantien Kahn, Benji Lowsley-Williams, Christine Madies, Bridget McCrum, Joshua Locksmith, Alyosha Moeran, Tania Mosse, Jason Mulligan, Vanessa Paschakarnis, William Peers, Richard Perry, Louise Plant, Jordi Raga, Peter Randall-Page, Gabriele Risso, Ana Ruiz, Ben Russell, Jaya Schuerch, Guy Stevens, Mark Stonestreet, Richard Strachey, Johnny Sunter, Anna Cecile Surga, Lotte Thuenker, Anthony Turner, Paul Vanstone, Dominic Welch, Alex Wenham, Ko Yamazaki
On form 22 at Asthall Manor, Asthall, Burford, OX18 4HW, 12 June – 10 July. Booking is essential, for tickets and further information visit onformsculpture.co.uk