Briony Lawson first discovered the delights of working with clay when, in her mid-20s, she returned to her family home in Welcombe, North Devon, from London where she was making a career for herself at the BBC. Whilst working on her parents' farm, she took time out to attend a pottery class in Bideford where – under the tutelage of Harry Juniper – she made an elephant which remains in her possession some fifty years later. Having found the joy that modelling clay gave her, Briony's interest in sculpture grew. When she saw a piece about Rodin's The Cathedral in a book, she realised that sculpture was what she wanted to do. She went on to attend various courses, finally embarking on a full-time three-year course at the City and Guilds Art School. Here she was only one of three students studying sculpture and she ensured she made the most of all the facilities that were available to her.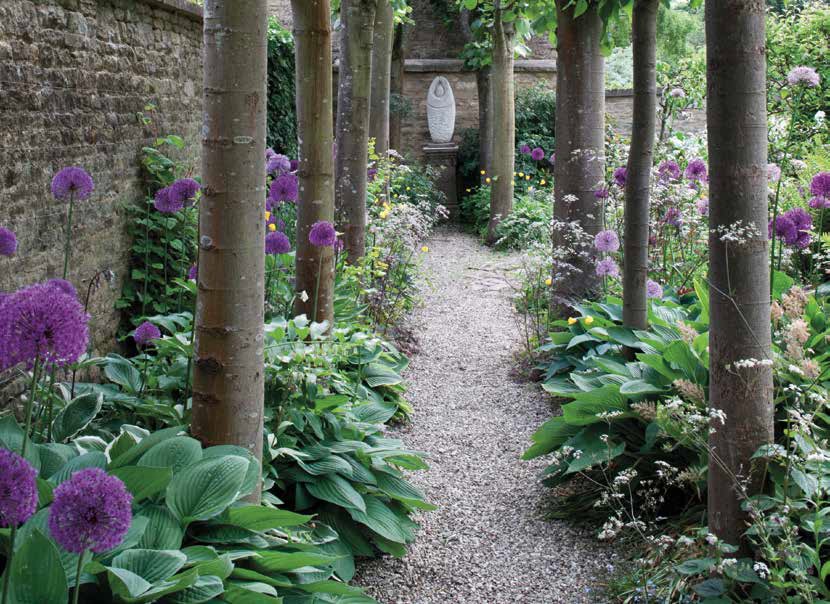 During her time as a student in London, Briony met Andrew Lawson who was himself studying art at St Martin's School of Art. He helped her with her work and so began a lifetime's shared vision of working together and supporting each other, both in their creative pursuits and in their marriage.
Working in clay, wood and stone, many of Briony's sculptures are inspired by the landscape of her birthplace in North Devon and the beautiful garden that Andrew has created in their Charlbury home. "I like to work with old wood," Briony explains. "Salvaged oak beams are the ideal material for me. I try to respect the particular character of each piece of wood and aim to retain some of its history in the final work." Many of the pieces of sculpture in the Lawsons' garden are made from stone. "Stone is the hardest and most intractable material for sculpture. Its fine grain allows detailed work and enables a contrast between rough and smooth finishes."
When walking around Andrew and Briony's wonderful and atmospheric home, you see several pieces that Briony has created in clay that have then been cast in bronze or resin. "Modelling with clay is the freest of all mediums. You can build up the forms but also cut back through them by carving. Clay is a fragile material and the finished sculpture needs to be fired as terracotta or cast in bronze or resin."
For anyone thinking of buying a piece of sculpture to adorn a special place in their garden, a visit to Briony's website will be truly inspirational and will give you an insight into how effective sculpture can be in a garden.
As well as being a professional photographer, specialising in garden photography, Andrew has been a passionately keen gardener and painter with an insight into how to create focal points for sculpture within the garden. Around each corner you find one or more of Briony's carefully created works, each one given a special place from which to be viewed. Before entering her studio that overlooks the garden, Briony always takes a few minutes to walk around the garden, looking for inspiration and ideas from Mother Nature.
To find out more about the work of Briony and Andrew Lawson, their book 'Shared Visions Shared Lives' is available from Amazon.

Photos supplied by Andrew Lawson