AT The Bus is a charity which provides group-based art as therapy to support children aged 5-16 who are struggling. It began at The Cherwell School in Oxford, where the brightly painted bus is now located. This year AT The Bus has helped over 900 children in 10 primary and secondary schools across Oxfordshire, and more recently London, and they hope to expand the service to make it available to more young people in need.
Most parents are aware of the long waits needed to access CAMHS (Children and Adolescent Mental Health Services) and cuts to education mean that schools are limited in the help they can provide. Qualitative work with Bath Spa University has demonstrated the positive effect AT The Bus has had on attendance, behaviour and attainment for its attendees – and also the benefit of this to the whole school community – and the University of Oxford is working with the charity to further explore evidence of impact. Their work is based on The Beattie Method, developed by Founder and Joint CEO, Juli Beattie. I spoke with her to learn more.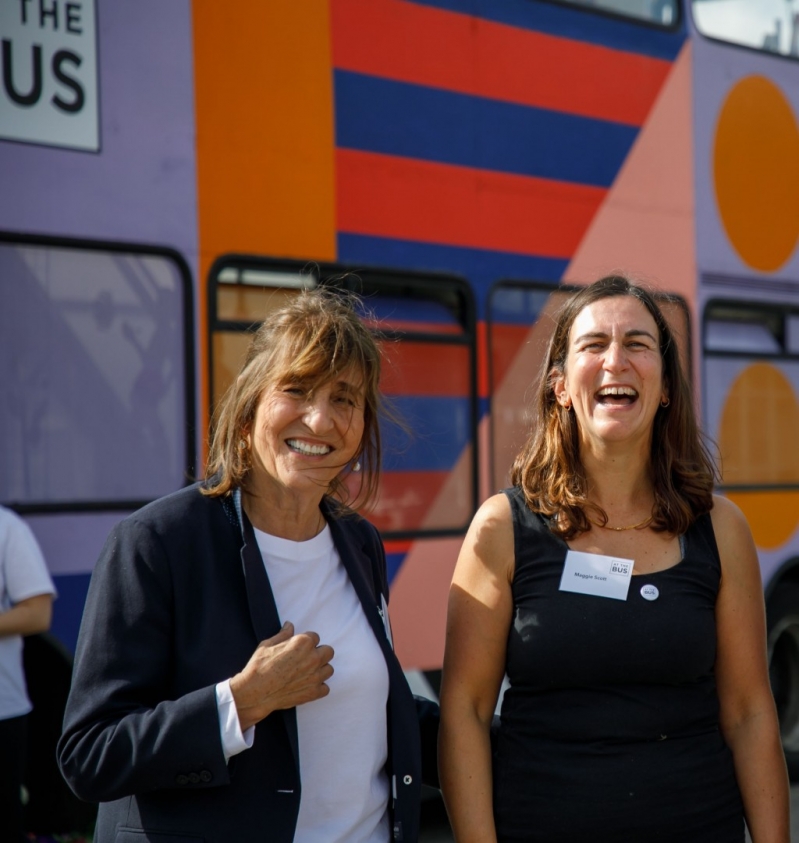 How did you come to develop The Beattie Method?
I trained as a Montessori Teacher and worked in schools where I was often asked to work with 'naughty children'. I never found any of the children to be 'naughty', more often than not, they were anxious, or neurodiverse, or disengaged and struggling to cope in mainstream classes. I realised that drawing, painting and creativity reduced anxiety. As a result many of my lessons started and finished with art.
I then went to work with the psychiatric team at Great Ormond Street Children's Hospital, supporting children facing major illnesses. Art became the key factor in each child's daily life. My early teaching experience and my experience working in hospitals and specialist schools encouraged me to formalise The Beattie Method. Whatever challenges a child is facing; if they do not want to talk, or cannot talk, or are vulnerable, anxious, disengaged, lacking in confidence, recently arrived in this country or experiencing loss, every child will, at some stage, engage and play using art. The moment the brush touches an object the therapy begins.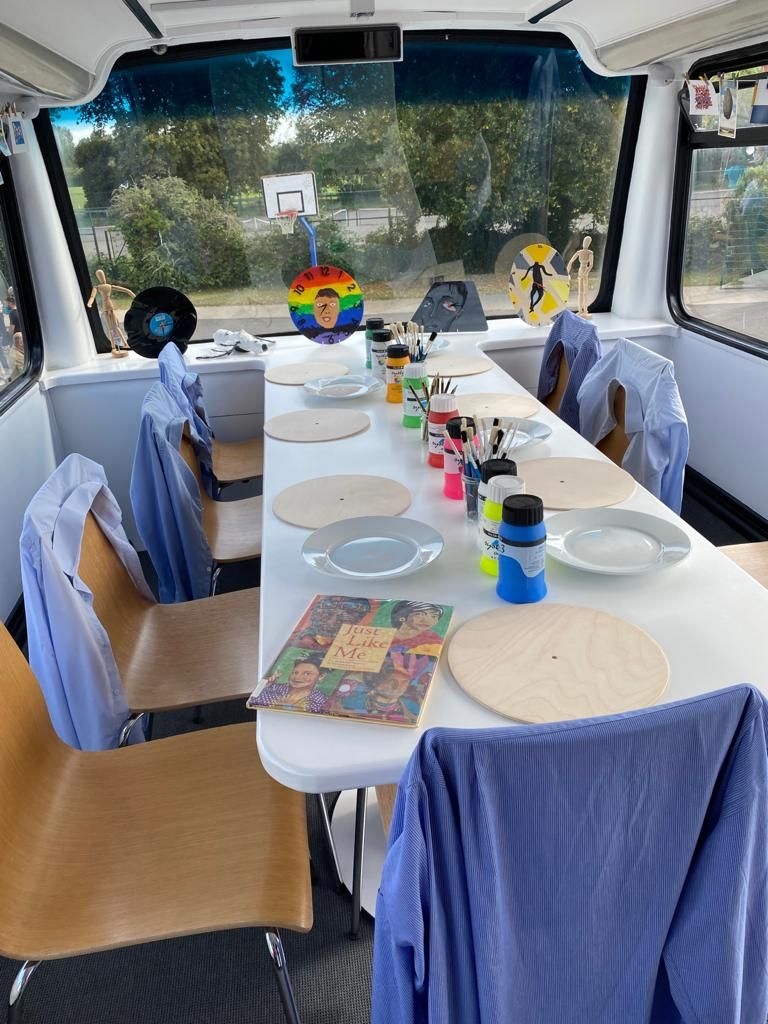 Kevin Gordon, Director of Children's Services at Oxfordshire County Council talks of a 'tsunami of mental health problems' faced by children and young people. Do you have insight into the cause?
So many children have had their lives interrupted by the Covid pandemic. We are also beginning to realise now that adults were affected in the same way. This triggered fear in many (especially the fear of people dying) and they may not have always been able to provide the reassurance sought by children. These have been unprecedented times and we are still living through the shockwaves.
 How does the referral process work? 
We rely on schools to make referrals and working with the schools we may suggest further intervention from AT The Bus or other agencies. Our aim is to give each child a minimum of a term of art as therapy. To give them the tools to manage their daily lives, to give them a voice, to be able to ask for the right help, to make good choices. To give them confidence and self-esteem, alleviate anxiety and to re-engage into school.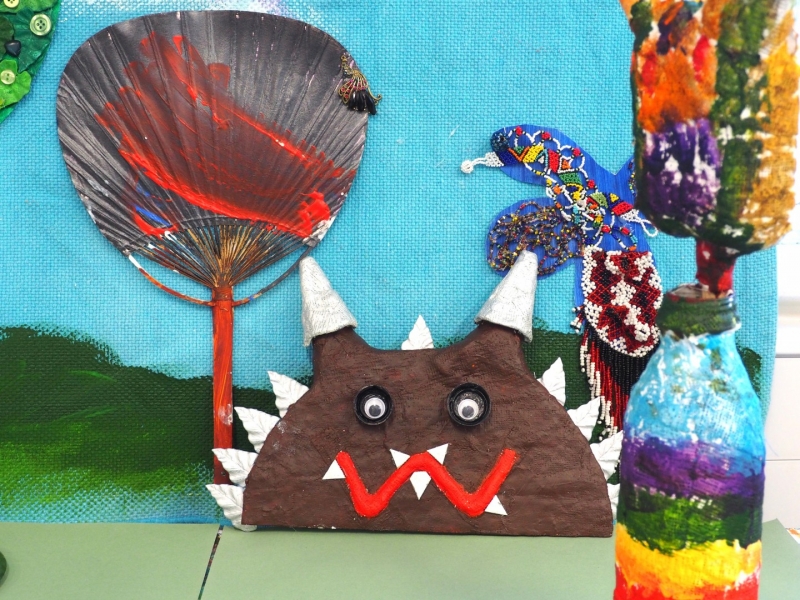 I understand there are three parts of the session – sofa time, then some food followed by the creative work. What does each element bring to the overall experience? 
We work as a 'group'. We sit together. We eat together. We share together. What can be more powerful than that? The children are encouraged to listen to each other, to share their challenges as well as their joys and successes. They form friendships and come to realise that they are not the only ones facing challenging situations. In small groups they are able to talk about what is on their minds. The children help each other, and facilitators encourage them to work together – learn from each other and problem-solve together.
Our studio spaces share the same structure. Children are welcomed on the sofas which are spotlessly clean, with cosy cushions and soft toys - all very sensorial. Holding soft toys is soothing and many older students also find them a source of comfort. It is on the sofas where we introduce the topic for our artwork: subjects like identity, growth, environment, travel, challenges, nature, artists and much more. We add inspiration to the topic by reading a relevant story aloud. Children of all ages - from primary and secondary school - enjoy being read to.
Food is vital. Whenever we can we make toast and offer fresh fruit. The smell is inviting and soothing. We serve the food on china plates, often edged with gold (all bought in charity shops). Some of the children may be hungry physically and/or emotionally. Sharing food together is essential to the therapy. 
To make creative work we all sit together at an adult-sized table – even the smallest five-year-olds sit on adult-size furniture. Facilitators sit alongside the children and support them in conversation, listen and encourage them as they work.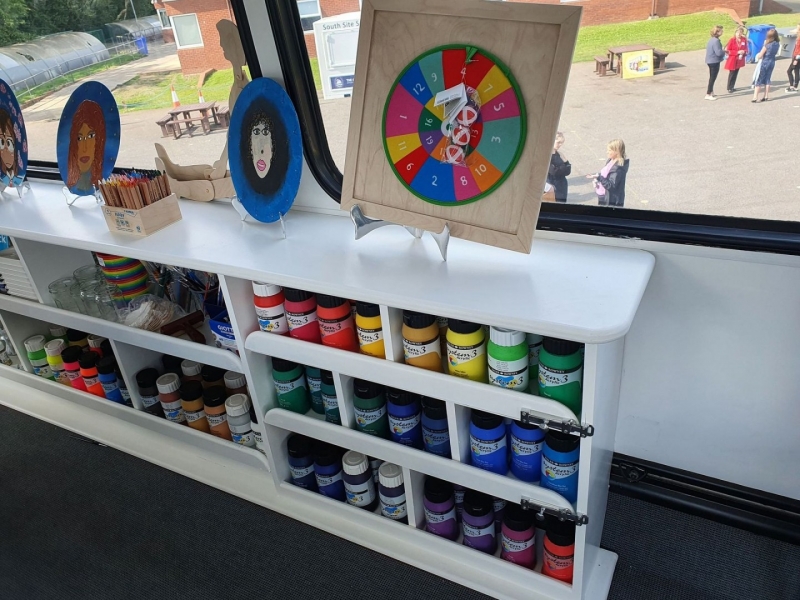 How to you encourage the groups to bond? 
The positive bond is developed by talking and listening. We encourage students to talk and listen to others in the group and to think about what we can do as a group to support each other. We give students the opportunity to see that at certain times we all need help, support, advice, nurture and ultimately attachment.
If we have less willing group members one facilitator might focus on them, sitting with them on the sofa. We never hurry but quietly suggest that they come and join the group and give it a go. It can take a little time, or it can take weeks. So long as everyone feels safe we can wait for the child to come 'into the group' when they are ready. They usually do.
How do you overcome the inevitable comparisons that children make when assessing their work next to their peers? 
We might talk about Picasso and his style, or Frida Kahlo and her style, or Van Gogh and his. We talk about how every artist has their own unique style. Of course they want it to be good, and we want them to feel pride in what they have made. But who is the judge of good art?
We use tangible objects such as clocks, chairs, coffee tables, lampshades, boxes, stools. The object becomes wanted and therefore making their mark comes more easily. The first thing we do is ask them all to draw a picture of themselves onto a wooden clock shape or an old vinyl records to encourage recycling. We encourage them to take their clocks home after the mechanisms and the batteries are fitted.
They understand the object and they imagine where it might go in their home and the use it will have. As they transform these everyday objects into something special, a transformative process happens about how they can achieve success, feel pride and a sense of achievement in themselves.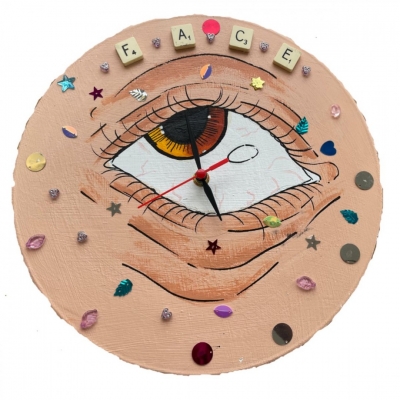 What are your plans for the future - and how do you think these can be achieved?  
We need to sustain the bus and studios we already have, and to continue to support the children we are seeing. Some of our headteachers believe every child in their school should have the benefit of AT The Bus and we agree with them. We also get regular requests from other schools for our support and are ambitious to work with more children. Our plans are to double provision by 2025 and we are working hard on fundraising.