So many things have had to change due to the Covid pandemic, and this year's RHS Chelsea Flower Show, sponsored by M&G, was another casualty due to the late spring restrictions.
However, RHS organisers, exhibitors and garden designers are looking forward to welcoming visitors to the first autumn show in the event's 108-year history, to be held from 21-26  September at the Royal Hospital Grounds in  Chelsea. To celebrate the outstanding work of the NHS and the scientists who have been working so hard since early in 2020, this year horticultural tribute will be paid to the thousands of NHS workers who have cared for millions of people and kept the health service running throughout the Coronavirus pandemic across the UK.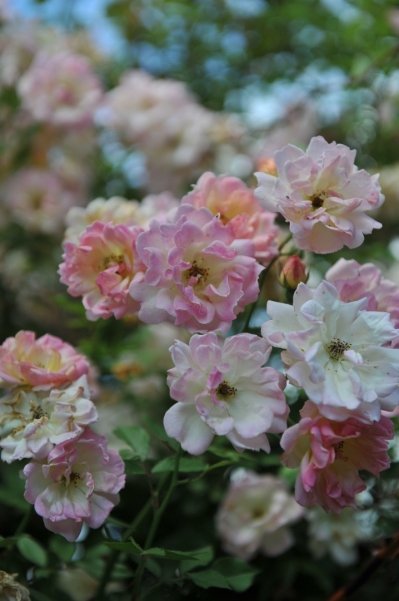 One of the Sanctuary Gardens at this year's show 'Finding Our Way – An NHS Tribute Garden' is being presented by Oxford University Hospitals NHS Foundation Trust and the Oxford University. Designed by Sussex-based landscape and garden designer Naomi Ferrett-Cohen with Professor John Frater from the University of Oxford, the garden is a celebration of the efforts of the people who have been affected and are still fighting the pandemic on our behalf. It is not just the frontline nurses and doctors who we have to thank, but also the pharmacists, physios, porters, therapists, technicians, caterers and other unseen and unsung staff who have all had to face their personal challenges in saving lives and keeping us safe. Alongside these incredible people are the scientists and university research teams who worked unstintingly to produce life-saving treatments and vaccines in record time. The UK celebrates this unique partnership between our hospitals and universities, and Oxford has played a key role.
  Tackling a difficult brief, the 'Finding Our Way' garden aims to offer a space where people can reflect on their own experiences, remember those who they have lost, and above all provide a special place to imagine a better future. As you enter the garden there is an interesting vertical structure – the timber canopy cleverly represents the sharp descent into fear we faced at the outset of the pandemic. Water is a key theme; it flows through a series of rills and pools representing peoples' joint efforts of working together in different roles but all with a common goal. Shallow rills run the length of the garden linking small pools of collective effort. Where the rills meet, joining together in one larger pool, this represents a bigger collective working together towards a common goal. Depending on visitors' own experiences, each may take meaning from the water in different ways.
  As you step down into the garden you find an immersive central space within the planting; as the water gently trickles past, one can reflect on one's own experience and also the shared response. Planting has been selected in warm shades using soft textural plants providing a safe space for reflection and contemplation, bringing optimism and hope of a better future. Originally planning a palette of warm earthy tones with soft apricot colours – using plants such as Acer griseum, Rosa Phyllis Bide and wild roses like Rosa glauca – the challenge when changing the planting scheme for September was to keep this softness. To do this, grasses have been introduced to bring movement, light, and texture.
   Whilst designing gardens and landscapes is within Naomi's comfort zone as she has been a keen gardener all her life, Naomi previously worked in the care sector, helping people with mental health problems and learning disabilities. She passionately believes that horticulture plays a significant importance in restoring people's mental and physical health. In 2018 she was part of a team – again with Professor Frater – who designed an RHS Silver-Gilt winning garden 'Life Without Walls' to help raise awareness about young people living with HIV in the UK and beyond. 
  Professor John Frater works as a Professor of Infectious Diseases at the University of Oxford  and as a Consultant Physician at the John Radcliffe and Churchill Hospitals. He was one of many doctors and nurses redeployed to the Covid wards at the John Radcliffe Hospital when the pandemic struck in 2020, witnessing first-hand the huge efforts made by so many of the staff to keep the NHS running and care for their patients. Driving home after work listening to the radio about the cancellation of the 2020 Chelsea Flower Show, the idea of developing an NHS tribute garden for 2021 came to mind. Naomi was on board straight away and the financial sponsors of the 'Life Without Walls' garden, Gilead Sciences, were immediately keen to support the project. "There is something incredibly special about a Chelsea Garden and I'm delighted to be involved with 'Finding Our Way', and to see the amazing work of Naomi and the team. It is a chance to reflect on the last 18 months and consider how our lives and the world has changed so dramatically. Everyone has had such different personal experiences of the impact of Covid and lockdown and this garden is an opportunity to take stock, think about how to move forward, and consider the amazing efforts of so many thousands of people all working together to get us all through this."
  Dr Bruno Holthof, Chief Executive Officer at Oxford University Hospitals NHS Foundation Trust said: "This is a wonderful gesture to say thank you to all of the NHS staff who have worked tirelessly during this pandemic. The sentiment applies to so many – those on the frontline, and those who work behind the scenes.  Everyone has played their part and this garden is a beautiful way of showing gratitude."
  To find out more about Chelsea Flower Show 2021, which runs from 21-26 September 2021, please visit
rhs.org.uk/shows-events/rhs-chelsea-flower-show/plan-your-visit