The new year is often seen as an opportunity to embark on a new hobby, and arts and crafts are popular choices to explore. Whilst drawing, jewellery-making and working with textiles are arguably the most obvious options, Judith Blacklock, author and owner of the Judith Blacklock Flower School in London's Knightsbridge, suggests that learning to work with flowers is a wonderful skill to learn. Flowers bring joy into our homes, boost one's mood, awaken the senses and positively impact one's mental health. We caught up with her to learn more.
"My mother was an avid amateur flower arranger and would disappear at regular intervals till the early hours competing with her flower club at flower shows around the country, including Chelsea. I grew up in the Lake District so there was always lots of space and a huge garden to pick from. I had no intention whatsoever to go into flowers but after 12 years living abroad, I returned to this country with two small children, joined a flower course at the local college and was hooked. After teaching for many years in college I was offered the most wonderful premises in London to start a flower school. I was extremely lucky with timing. I had inherited a small amount of money from my father, my children were 16 and 18, so were independent, and I was raring to get going. Life really did begin at 50!"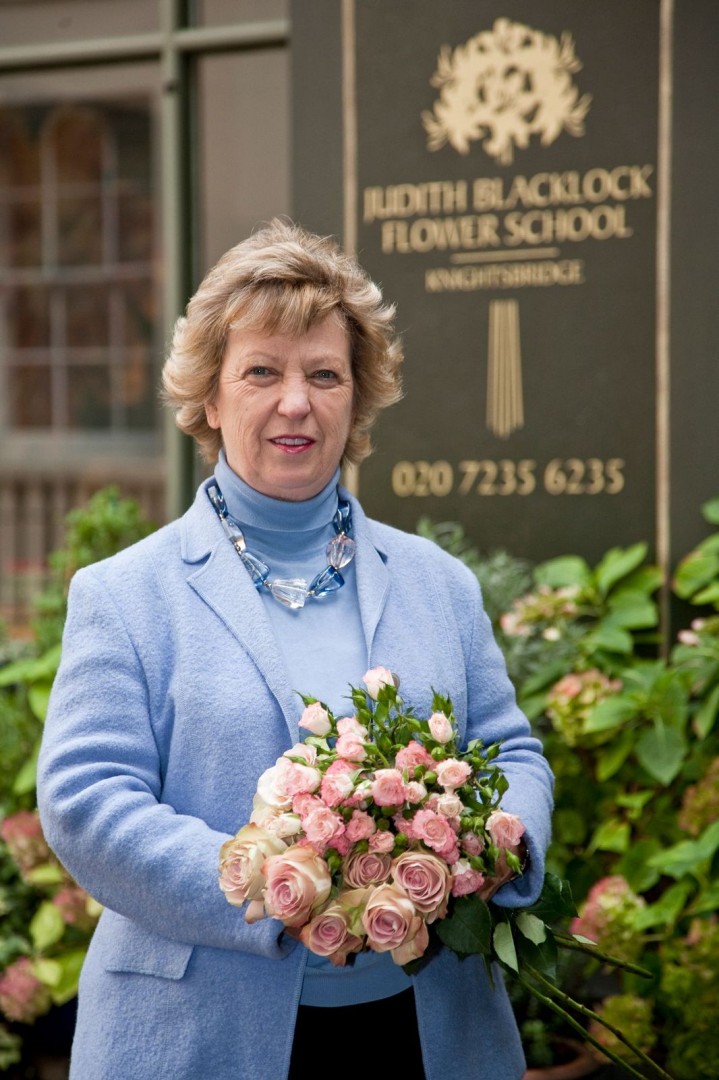 Tell us about The Judith Blacklock Flower School
The flower school is in Belgravia, a lovely part of Knightsbridge - a ten-minute walk from Victoria Station and the buses that run to Oxford in a flower-filled mews. My students come from greatly different backgrounds - nurses, teachers, doctors, housekeepers, carers, lawyers and just about every other profession. Many have been out of the workplace for some years, brought up their children and now have the time to start another career and do what they have always wanted! United by their passion, students of all ages form strong friendships that last. I like to think everyone leaves the classes happy and knowing more.
I offer two kinds of classes - recreational that are designed for those who love flowers and want the calm, peace and pleasure of working with natural plant material. Students often have gardens - from small patios to large estates and also want to know what to grow. Other students are looking for a career change and come to the professional course. Perhaps they have worked in a stressful environment for a decade and want to engage with their creative side. It is possible to work with flowers, on a professional basis, and not give up a well-paid profession. The two can work together in harmony. I arrange work experience for all who come on this course. Over the past 20 years many of my students have gone on to open their own business in just about every country in the world and I am proud of every one of them.
How does working with flowers boost your mental wellbeing?
Flower arranging is totally absorbing - rather like gardening. You can lose yourself in creating, and as a result feel relaxed and happy - it is the perfect antidote to a stressful job.  For many a sense of personal achievement is realised when they have previously only worked as part of a larger team. Both flower arranging (the hobby) or floristry (the profession) have an overwhelming effect on general mood by smoothing away cares and concerns and enhancing positivity. It brings people back to the enjoyment of the natural world and shows how easily beauty can be created inside the home, even on the most basic of budgets.
What's the biggest misconception with flower arranging?
That it is difficult, and it is not. I offer structure and guidance that builds up confidence. Once the confidence is there, I encourage students to add their own touch and develop their own personal style. It does not have to be expensive and that is why I love foliage. You can use garden prunings and simply add flowers from a supermarket bunch or a few flowers from the garden. Get the proportions right and the right height vase and you are away. People are often nervous about buying flowers, but I teach people how to recognise those that are fresh and of good quality and that will last.
Which are your favourite flowers? 
In my home I love tulips, garden roses and the subtle beauty of chocolate cosmos with its wonderful fragrance. Hydrangeas are wonderful in the garden and in the home. They are perhaps the most useful flower in large-scale designs, either fresh or dried. Dahlias are fantastic. I grow them in a hot mix of colours and love every one of them.
I always have a vase of fresh flowers in the entrance which I can see as soon as the door is opened. I love all flowers but I tend to choose flowers of one kind - perhaps two stems of lilies, 20 tulips or a big bunch of daffodils. I really don't mind as long as they are fresh! I have a great range of containers.
Do you have any top tips?
Perhaps my favourite tip for readers would be not to buy vases that are too tall. Place your flowers in a vase that is half the height of the stems you are arranging, and it will be hard to go wrong. Do remember to cut the stem ends immediately prior to placing in water.
Judith's latest book, Simply Flower Arranging; a step-by-step guide, is out now and features a wide selection of arrangements, from contemporary to classic with seasonal suggestions, clear diagrams, and handy hints. We are delighted to share All About Evergreens, an inexpensive, long-lasting design.
Long Lasting Evergreens
As the year comes to a close, evergreens come to the fore. Here two stalwarts, ivy and pine, form a long-lasting background that only needs the addition of a few flowers and berries to look splendidly festive.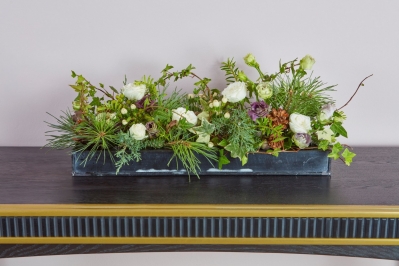 YOU WILL NEED
Hedera helix  (ivy) trails
Cryptomeria, Cupressus or other evergreens
Pinus  (pine)
Taxus baccata  (yew)
Handful of fir cones
5 Hypericum  'Coco Uno'
3  Eustoma  'Rosanne Black Pearl' (lisianthus)
3 spray  Rosa  'White Bombastic'
 And
Long rectangular container – this one is 50cm long and 10cm wide
Chicken wire with a 5cm gauge
HOW TO
Scrunch and fold the chicken wire so that it fits inside the container
Ensure there is some chicken wire above the rim of the container. Add water.
Weave the ivy trails through the chicken wire making uneven loops. Make sure the ends are in water. 
Add the other foliage throughout. Make sure all the chicken wire is covered.
Add your flowers.
THE TRICK
It is important that the chicken wire used does not have a small gauge (hole size). Once scrunched, the smaller gauge does not provide sufficient space for the stems to be threaded through.
THE TWIST
Fruits impaled on kebab sticks could be substituted for the flowers.
Simply Flower Arranging is available from booksellers including Waterstones and Amazon or visit
Find Judith on Instagram @judithblacklockflowerschool