If you are a top professional chef, working long, unsociable hours at a frenetic pace, what happens when – due to COVID-19 – the doors of your restaurant close and time hangs heavy on your hands? Four of OX Magazine's favourite chefs gave us an insight into how they have spent their time over the past year when lockdowns were imposed.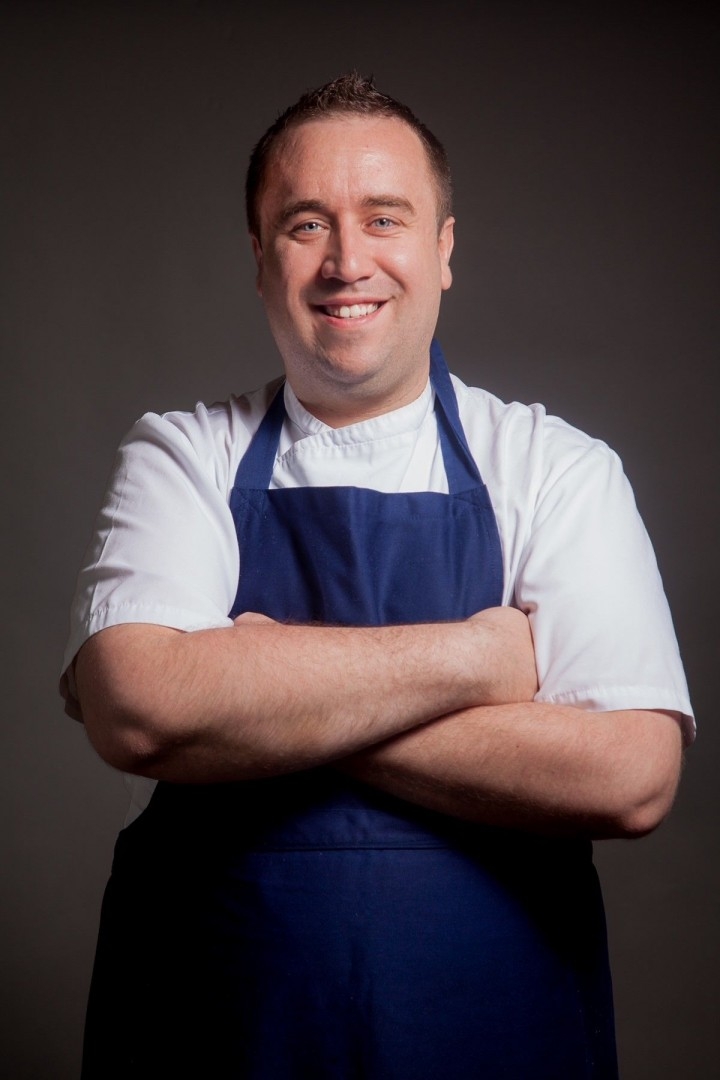 Former executive head chef from Faringdon's Sudbury House Hotel and 3 AA Rosette Restaurant 56, Andrew Scott, was working as head development chef for Miele GB in Abingdon when the pandemic struck. He had been in the process of taking up a new position just before the hospitality industry was turned on its head. "After the first lockdown in March, I was lucky enough to go back to my old job at Miele mid-summer, helping them redesign all their customer experiences. For the last quarter of 2020, I took Miele GB to the digital market. Then, when the job which had fallen through at the start of the year came back in for me, I took the opportunity with both hands as it is a dream position working for Wiltshire based Wadworth & Co. In my new role as executive development chef, my brief is to create new menus and food offering for over 18 managed house pubs. I will also be a food consultant/support for the 132 tenancy pubs which the company owns. In the short time I have been in my new role, I am enjoying the new challenge of re-writing the menus, so we hit the ground running once we are allowed to re-open.
During the first lockdown in 2020, the only thing that kept me sane was cooking and listening to music. Neither the extensive list of desserts I made nor the food I barbequed, learning to cook on wood, brining meats for extra flavour and juiciness and making homemade pizzas on the BBQ pizza stone, helped the waistline! I did, however, manage to burn off a few calories getting stuck into home improvements – something I had not had the time to do previously. I tackled painting the staircase, laid a path in the garden and gave the fences a fresh coat of paint. Whilst 2020 was a nerve-wracking time, worrying about paying bills and the future, it did give me time with my wife Jodie and our dog Dave. Having time to go for sunny walks and spending time in the garden, taught me that money isn't everything and we can cope on a lot less. Now we are looking forward to the birth of our daughter and I can't wait to take baby Scott for walks in the woods when she arrives in the summer."
To find out more about Wadworth & Co. visit wadworth.co.uk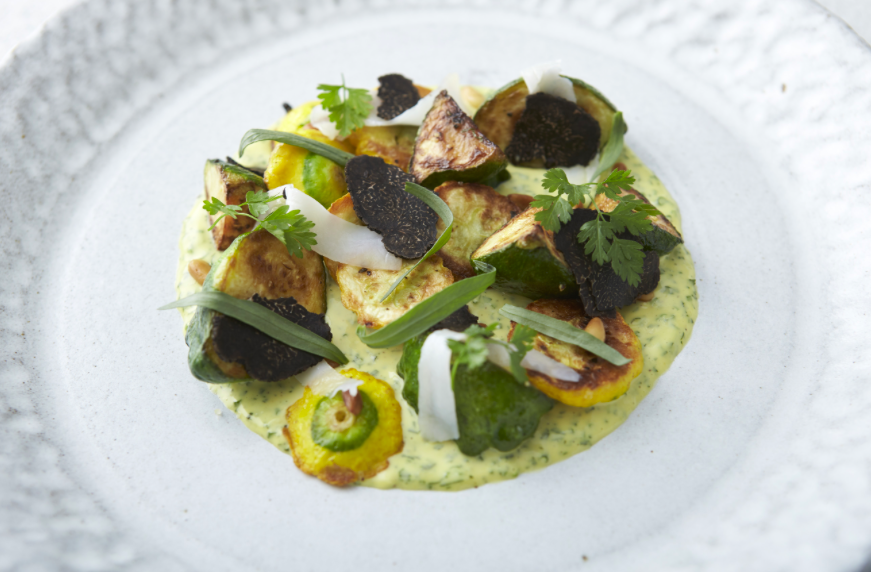 Salad of roasted patty pan, herb mayonnaise, Wiltshire truffle and lardons.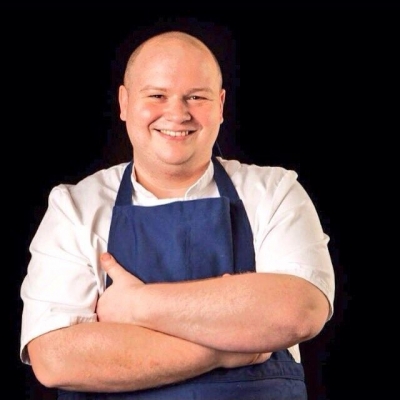 Nick Bennett, MasterChef: The Professionals finalist in 2015, worked with Andrew for many years before taking up a new position as head chef at the Old Downton Lodge Restaurant with rooms near Ludlow. Awarded 3 AA Rosettes and listed in the Michelin Guide since 2015, Nick moved to the restaurant in the autumn of 2019. He only had a few months to settle into his new role before the pandemic struck.
One would expect, with time on his hands, an award-winning chef to get creative in his own kitchen. "Sadly not," says Nick. "I've got two young boys, so I don't think they'd appreciate a more refined dinner! I have been going a bit stir crazy and presenting their food a bit more as I would at work, just to entertain myself! My wife and I have, however, used our time to be with our children. We have built swings and trampolines and gone on long walks with the dogs. Like Andrew, I've also got into DIY. I wouldn't say that it is at the top of my preferred activities."
Nick has also used his time to develop a new business during the early 2021 lockdown. "I was looking at using some left-over ingredients at work and thought I would sell some brownies locally. Having got the thumbs up from my two sons, I launched "Bennett Bakes" and posted a few photos online. Within a short time, there was a demand to do postal brownies and we are selling over 40 boxes a week. I have always loved baking and it's a fun thing to do; it also tops the eventual holiday fund up!"
With two young sons, Nick has enjoyed being able to spend quality time with his wife and family. "It'll be hard to re-adjust once we can re-open the restaurant, but I can't wait for that day to come!"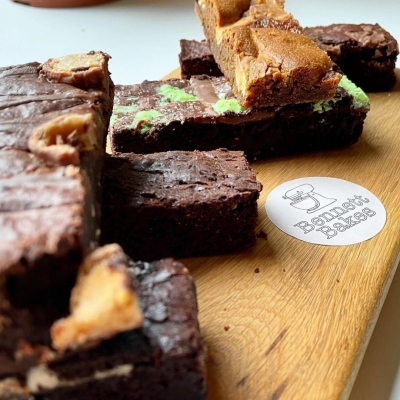 To find out more about the Old Downton Lodge visit olddowntonlodge.com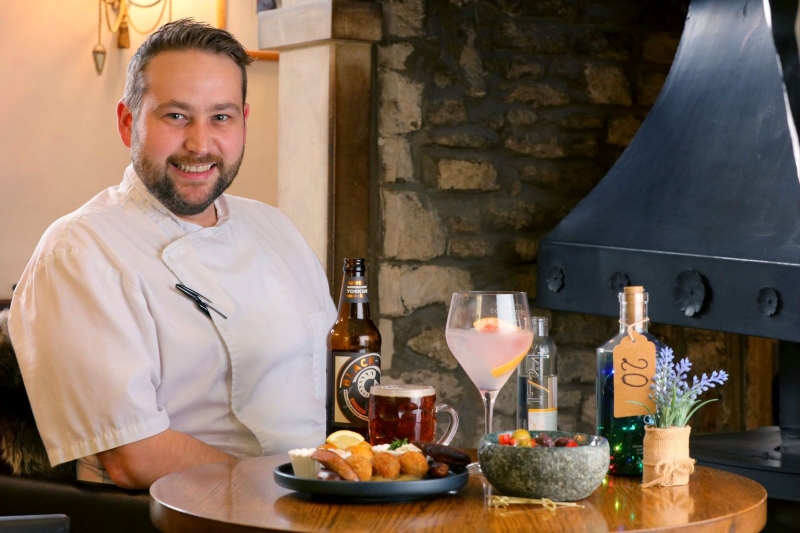 Our third chef is Ben Bullen, head chef at the 2 AA Rosette and AA 4-star Feather's Hotel Restaurant in Woodstock. During his career, Ben completed 3 years in a Michelin star kitchen and worked his way up from 1 AA to 3 AA Rosette restaurants. Ben competed in the 2017 MasterChef: The Professionals but prefers to be in his own kitchen rather than a TV studio kitchen. "It is probably the most nerve-wracking thing I have ever done!"
Used to delivering high quality and seasonal menus, Ben took advantage of his time out of a professional kitchen to re-landscape his garden and complete all those jobs around the house that had previously got neglected due to time constraints. "During my time away from work, as I have a very fussy stepson, I have not been overly committed to creating new dishes in my own kitchen. I have, however, done some cooking via facetime with my sister-in-law, showing her new and different dishes from around the world. It has been enjoyable spending time with my wife and children and I even started running in January 2020. With Blenheim Park on my doorstep, I pushed on with getting fit during the first lockdown."
When the third lockdown was announced and restaurants and pubs were once again forced to close their doors, Ben's boss at The Feathers installed an online ordering system enabling the kitchen to offer an extensive online take-away menu. "It's proving successful, particularly the Sunday roast lunch which has been remarkably busy. It has been good to get back into a work environment in the knowledge that our customers are enjoying the food we create once more. Whilst the past year has been difficult, I am extremely grateful to have had the time to spend with my family and watch my youngest daughter grow and change in so many ways. I'll never get time like that again and I have embraced every minute."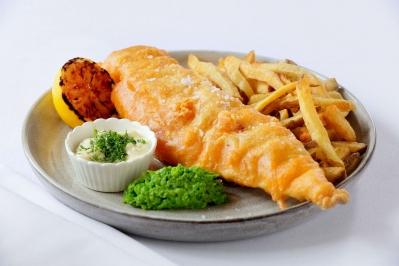 To find out more about The Feathers, visit feathers.co.uk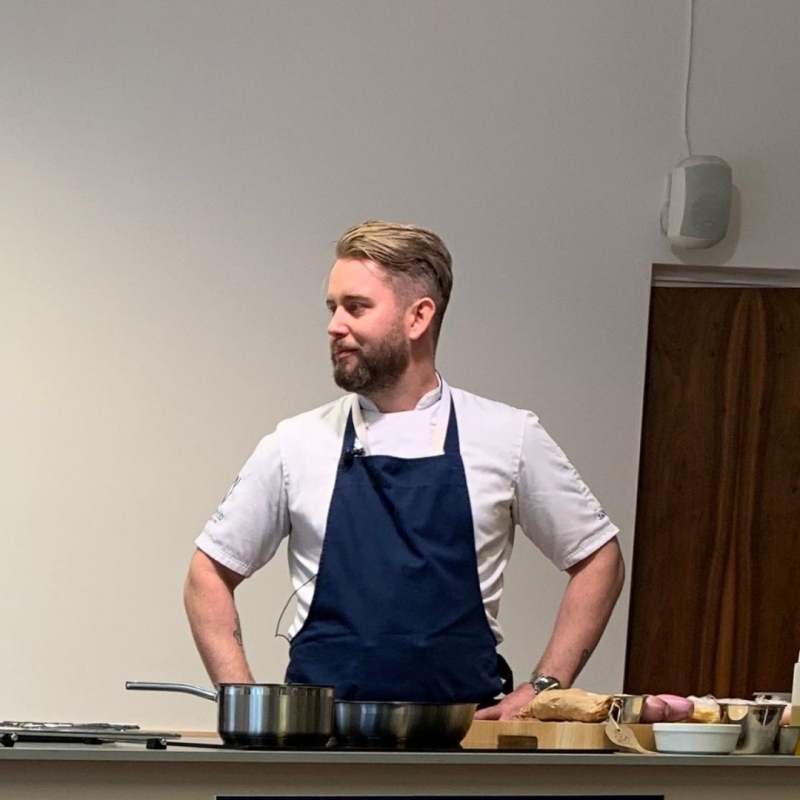 The final chef we spoke to is the talented Joe McCarthy who works as head chef at the AA 4 silver star Wychwood Inn at Shipton-under-Wychwood near Burford. Not only does the Wychwood Inn cater for diners in its restaurant, bar and al fresco dining area, but it also offers accommodation.
So, what has Joe been up to during the periods of lockdown?
"I was bought a pizza oven which has been great fun as together with my wife and two young daughters, I have been making lots of pizzas with different toppings. As pizza is one of my favourite foods, I have enjoyed the challenge immensely. I have also started to create an e-book attached to my social media including recipes, methods and tips. This should be available by the end of April. I have also enjoyed getting involved in the extremely successful 'Wycheroo' takeaway service which we ran during the 2020 lockdowns. We stopped it during the quieter winter months, but service will be resumed in spring and is likely to carry on when we can re-open our restaurant and welcome diners back to the Wychwood Inn. With so many negatives linked to memories of the pandemic, I would like mine to be positive. Spending time with my wife and two beautiful daughters is something I will always cherish."
To find out more about the Wychwood Inn visit thewychoodinn.com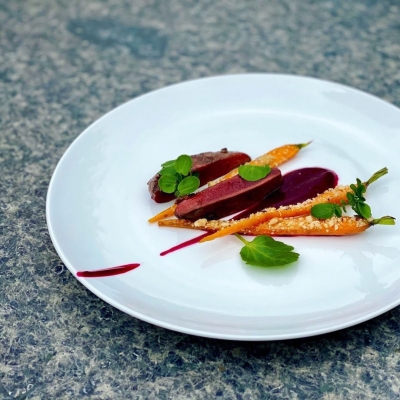 Pan-fried pigeon, baby carrots, roasted hazelnuts, beetroot purée & watercress