Bollox Underwear was born with a mission to raise men's cancer awareness and to get us guys to talk more about it, to get conversations started. As it's our 10thAnniversary we wanted to really shout about that mission and to create an event where we could muster loads of guys to become warriors in raising men's cancer awareness and while we are at it raise some much needed funds for Orchid Cancer Appeal.
So this year we are launching our first ever Bollox & Boots Charity Walk, this is our 'proof of concept' event to give us momentum to create these events up and down the county in the coming years.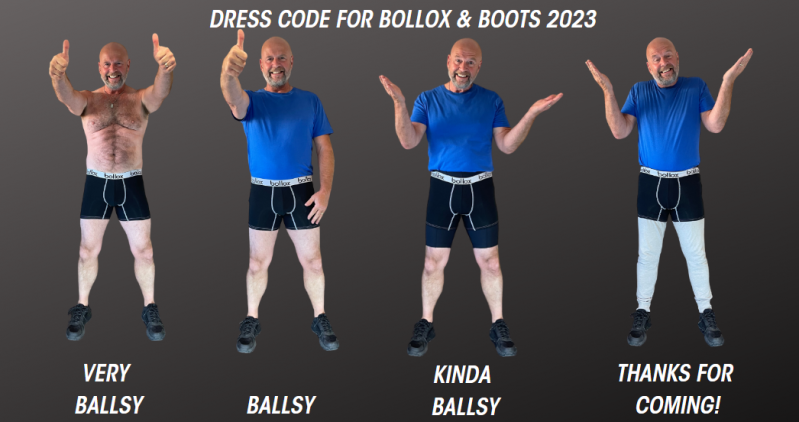 We've based it on the walk for Breast Cancer Awareness for the girls, this one is for the guys! 100's of guys walking the walk with a pair of bollox undies and a pair of boots for charity and for menkind. But don't worry if you are not an extrovert or a little shy, you get a Bollox & Boots t-shirt as well! – you can also wear your undies over your shorts or trousers. Just come along and join this event so we can kick men's cancer in the balls. It's simple to get involved by following the link: Bollox & Boots 2023 – bollox (mybollox.co.uk)
The event is being held at the Harwell Campus, on 2nd September 10am til 2pm starting and finishing at the famous Dish Street Food Venue.
Depending on your fitness there's 5km & 10km circular walk so you can choose which is best suited for you. We are aiming to muster individuals to join Team Bollox or if you're a business that wants to support the guys in your business then muster a team together! You could win the sort after Ballsy Business Winner 2023 trophy.
It'll be fun, you'll be a warrior for men's health for a few hours and a worthy cause to walk for, you may well be at the start of something big!