When you think of Medieval castles, one usually associates them with having a moat and impressive entrance. Broughton Castle, located just seven miles south-west of Banbury in North Oxfordshire, has just that. The majestic historic house stands proudly on an island, surrounded by a 3-acre moat and within the castle walls, you will find one of the most beautiful historic houses in Oxfordshire complete with magnificent ornamental gardens covering 3.7 acres, situated within a 92-acre landscape park.
 For those who love exploring beautifully designed and maintained English country gardens, a visit to Broughton Castle is an absolute must. For the past six hundred years, Broughton Castle has been – and still is – the family home of Lord and Lady Saye and Sele. The Castle started as a Medieval Manor House, the barn-like Great Hall and domestic quarters including the Chapel constructed by Sir John de Broughton in 1300. In 1377 the property was sold to William of Wykeham, Bishop of Winchester, Chancellor of England and founder of New College in Oxford and Winchester College and it passed by inheritance to his great-great-great niece, Margaret, who marred the second Lord Saye and Sele in 1448. In 1554, Richard Fiennes, sixth Lord Saye and Sele enlarged the property leaving it almost as it is today. Some decorative work was added in the 1770s and further major restoration has taken place since the second World War, with the aid of Historic Buildings Council and English Heritage. The house and gardens are now open to the public on a regular basis.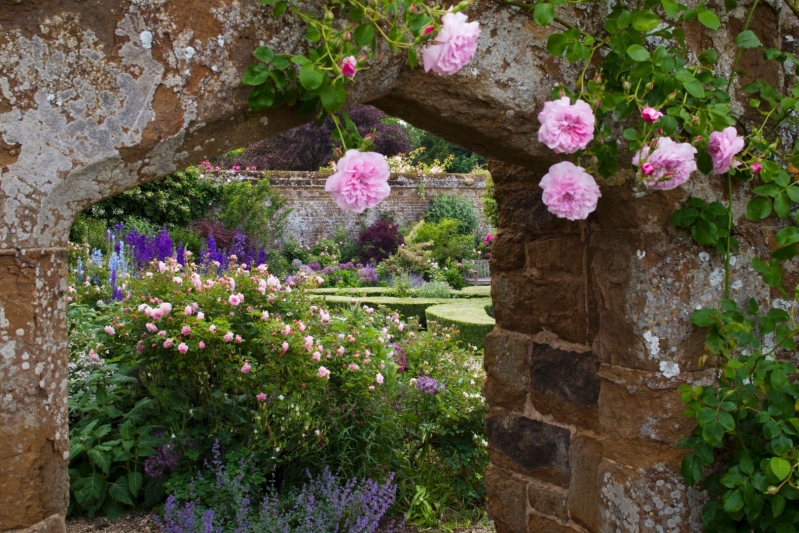 Occupying the area to the west and south of the house, the garden is mostly laid to level lawns running down to the south and west edges of the moat. However, the walls of the former Medieval Castle kitchens provide shelter for a picturesque Ladies' Garden, established in the 1890s by Lady Algernon Gordon-Lennox; whilst in residence, together with the aid of four gardeners and a boy or two, she created various garden features including a rose garden where the topiary lawn now stands, and possibly the terrace walk on the west lawn.
 The Ladies' Garden contains a design of four box-edged fleur-de-lys beds, set in gravel with a central circular camomile lawn, and perimeter mixed borders. The fleur-de-lys beds are planted with Rosa 'Lavender Lassie' with its double rosette-shaped lavender-pink flowers and cream and flesh-pink Rosa 'Gruss an Aachen', whilst the blooms of a silvery pink Rosa 'Felicia' provide a hedge against the castle. Other beds in the Ladies' Garden are stocked with other varieties of old English roses, herbaceous plants and flowering shrubs, such as philadelphus and deutzia.
 On the west side of the Ladies' Garden wall is a mixed border with pink being the dominant colour. Amongst the roses in this border, you will find 'Fantin-Latour' with its delicate fragrance, 'Fritz Nobis' full of musk scent, 'Frau Dagmar Hastrup' a rugosa rose, 'Marguerite Hilling' a shrub rose with pink open blooms and climbing roses 'Albertine' and 'Purity' with delightful creamy-white flowers lightly dusted in the centre with pale apricot and peach.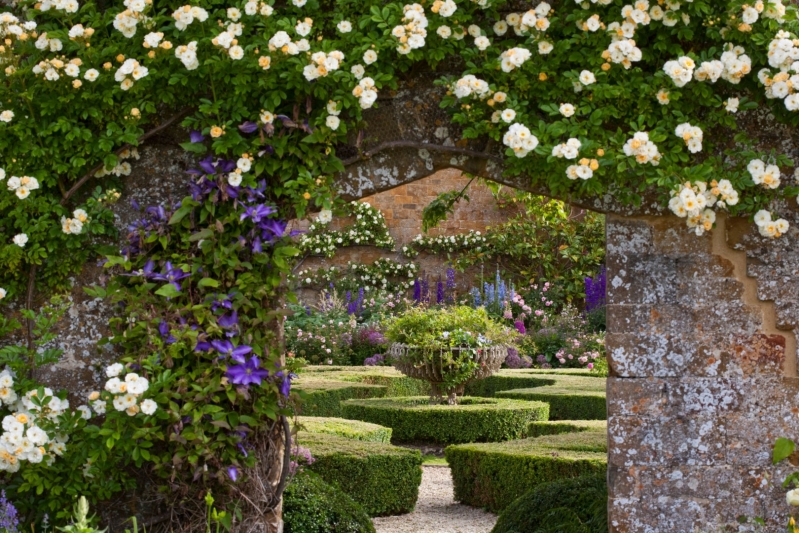 In 1970, the current Lord and Lady Saye and Sele commissioned American landscape architect, Lanning Roper, to advise them on the layout of the garden. This resulted in the west border near the Gatehouse being remodelled into a mixed border. The colour scheme here has a theme of blue, grey and yellow, which adds a soft contrast to the pink themed borders. Using shrubs such as berberis, flowering potentillas, yellow hypericum and white campanulas, you will also find a collection of fine yellow roses. These include climbing 'Maigold' with its yellow-orange flowers and a rich musk fragrance; shrub rose 'Golden Wings' with its large, almost single, yellow flowers with rich mahogany coloured stamens and a refreshing perfume; 'Windrush' another paler yellow shrub rose; and 'Schneezwerg' with its small, pure white semi-double flowers and pale yellow stamens.
 The parkland outside the Castle's moat covers the valley and hillside to the west of the house and village. This was laid out in the mid to late 18th century by Sanderson Miller, an English pioneer of Gothic revival architecture and landscape designer, who lived in nearby Radway. The 14th century parish church located just 150 metres north of the house with its own churchyard is worth a visit, too.
 When you wander around the Castle and its ground, you may recognise some of the features as both have been the location for many films and TV programmes, including Three Men and a Little Lady, The Madness of King George, Shakespeare in Love and more recently, Jane Eyre and Wolf Hall. Be sure to allow time to enjoy the gardens as you wander around; and dogs are welcome provided they are kept on a lead. 
When you have done exploring both the house and garden, you can enjoy a refreshment from the wonderful tearooms, charmingly located in the old stables with a wonderful view across the lawn of the castle. Providing both indoor and outdoor seating, with last orders by 4.30 pm, you will be able to round off a perfect afternoon.
  Broughton Castle is open on Wednesdays, Sundays and Bank Holiday Mondays from 1  April – 30  September 2022.
To book your tickets in advance visit broughtoncastle.com