After an impressive run and five-star reviews at last year's Edinburgh Fringe, we're really excited to see Brown Boys Swim back at the North Wall in Oxford. We got in touch with writer Karim Khan to find out more about the creation of the play, starting with how it was shaped by the Oxford setting…
The North Wall has been instrumental in bringing the show to life, could you delve into how this partnership, and the use of local venues like the Leys Pool, has shaped the production?
I started working with The North Wall as part of the Catalyst programme in 2019 – in which a group of writers, directors, actors come together to workshop new pieces of writing. Since then, they've been incredibly supportive, and offered me a rare opportunity during lockdown to write something new, which led to this piece. I'll always be grateful to the North Wall for showing so much faith in me as a writer. I'm so proud of them as a venue, and thrilled that it exists right here in Oxford – it's a fundamental part of the fabric of the city, serving its community and audiences. The play references several other spaces in and around Oxford, like the Leys Pool, and Cowley Road, hopefully painting a picture of Oxford we haven't quite seen before on TV or the stage, which for so long has been oversaturated with imagery of the university. Except this wasn't the Oxford I ever knew, or encountered, and it was important for me to depict a different side, through a different set of eyes.
Brown Boys Swim has heavy themes of identity, societal pressures, and resilience; could you discuss the role that comedy and humour had within the play when addressing serious topics like Islamophobia?
For me, humour and comedy were always essential to the play. It's a coming-of-age story about being a teenage boy and I wanted to capture the humour and craziness of that experience, but specifically through the prism of being South Asian and Muslim. It was also important for me to capture the joy of that experience – and for the audience to feel that joy and exhilaration too. Inevitably beneath those moments, there's lurking a darker underside of what the characters are also grappling with.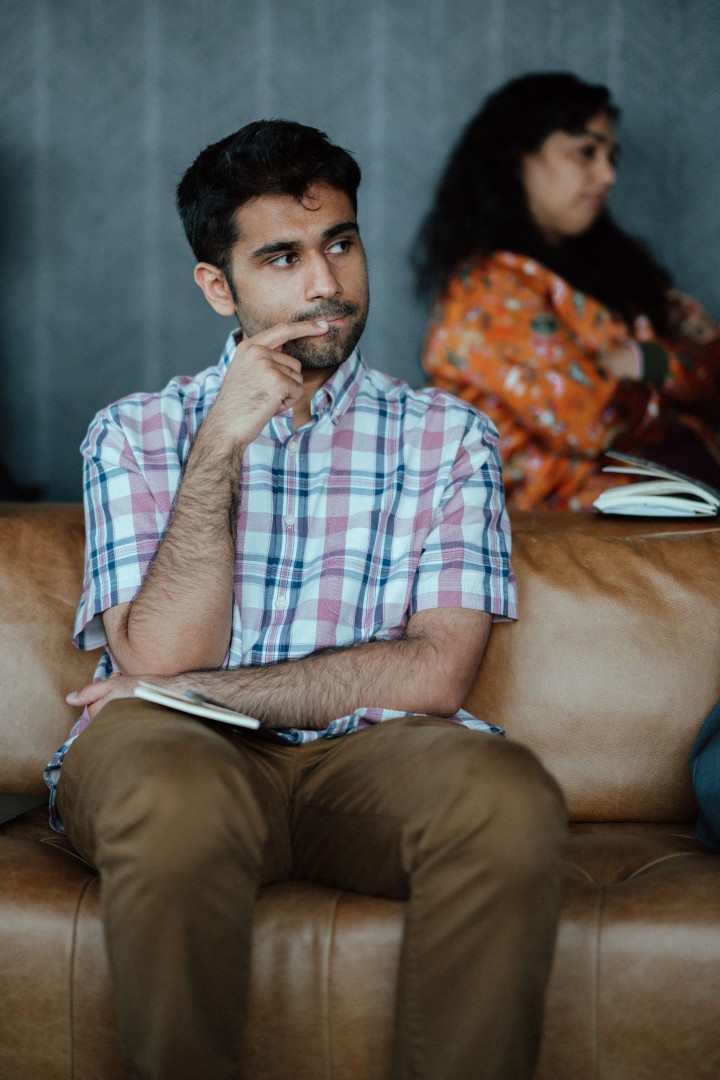 The play's main characters embark on a journey to learn swimming despite societal obstacles. Do water, pools, and the act of swimming have metaphorical significance within the story?
When I first wrote the play, I became really interested in the metaphorical significance of swimming. Beyond the play grappling with the experience of South Asians and their relationship with learning swimming, I think swimming itself is an important metaphor for what it means to survive and thrive when the systems around you make it difficult to remain afloat.
What were some of the most rewarding and challenging aspects of bringing Brown Boys Swim to life on stage?
I think one of the most rewarding and challenging aspects was bringing the swimming and the pool to life – this is something that our director, John and designer, James responded to with such ingenuity. I was amazed with what they created. That's one of the joyous parts of the process – writing something and seeing how other people bring it to life.
The play sheds light on issues related to systemic racism and microaggressions – are there specific conversations or actions you hoped for the play to inspire, and were they reflected in feedback you've received so far?
It's been lovely to see how much the play has connected with audiences, and made them feel seen, and made people think about their own teenage friendships or their time growing up and navigating the world.
How do you hope this play makes your audience feel?
I hope the show is enjoyable and gives people a fun night out. I hope it makes people feel seen. I hope it makes them think a little deeper about a couple of things.
What's next for you?
I'm working on a new piece with Soho Theatre and Tara Theatre. I was lucky enough to be invited to be a part of the Soho Six. I'm really excited to write something new, and to see what I do next.
thenorthwall.com/brown-boys-swim-oxford
Image Credits: © Geraint Lewis, © Ali Reza Malik