Musical theatre star, author, and vlogger Carrie Hope Fletcher is coming to the New Theatre Oxford this May with her debut UK Tour of An Open Book – a show full of theatre's best-loved songs as well as chat about Carrie's life and career. We wanted to find out more about this open and honest 'amalgamation of musical theatre and vlogging' as well discussing career highlights, International Women's Day, and bucket-list ticking.
First, what can we expect from your first solo tour? 
Me being completely terrified for a start, but it's going to be a mixture of songs that I've sung before in roles that I've played and really loved, but then also a mixture of songs which I will probably never get to sing because that's just not my casting: I'm never going to play that part, so it's a little bit self-indulgent. Also, lots of stories from my ten years in theatre, some which I've told before, but some which I've kept back because maybe I've not had the right time. This is my opportunity to go through my backlog of slightly more secretive stories. 
This is quite different to what you've done before. What are you most looking forward to and what are you most nervous about?
I'm excited about the creative aspect of it. From the start I said I didn't want to do just another concert. I've done concerts before and as much as they are amazing, they do terrify me. I'm treating this like it is a show that I'm going to put on; there will be a script and there will be a set list and I will have a costume and I will be playing more the character of me as opposed to actual me because otherwise I'll never get through it. It's the terror of being yourself on stage. Usually, I have a cast around me and people that I interact with, and we all rely on each other to make the show happen but when it's just you, all of the pressure is on you to get it right. Also, I am just being myself so it's kind of terrifying and quite daunting just to be you in front of thousands of people. I kind of have to think of myself as a character or else I think I'd melt on stage.
Do you have a bucket list role, and will it be appearing?
I do have a bucket list role. I don't think it will be appearing in the show actually because I am hoping that one day I'll be able to play it, I'm just too young at the moment. It's Mrs Lovett from Sweeny Todd – I love that part and that show is one of the first that I ever properly fell in love with. Fingers crossed one day I'll make it. 
You'll be giving the audience an insight into your career and some of your personal life as well which is almost like bringing your vlogs to the stage. You've lived quite publicly in your vlogs, has that provided you with support throughout your career?
Yeah, I'd say so. I feel like it's a little bit like a catch 22 though, because the more public you make your life, the more support you tend to need if that makes sense. It's just wonderful though, being able to share something that I'm so passionate about and finding this community of people who also love it as much as I do but maybe aren't able to travel to London or aren't able to see shows for whatever reason.
It's always a terrifying thing putting your life out there and there's that sort of illusion that people know more about me than they actually do but I guess that's just one of the magical things about the internet.
This show is going to be a weird amalgamation of musical theatre and the way that I vlog and share my life. It's been fun trying to pick songs that feel personal. All come with a story and so I'm trying weave all those things together; some of them come really naturally because I have the perfect story to go with it but there are other ones which I do have stories for but probably shouldn't tell quite yet – I'll wait a bit before I let those ones go.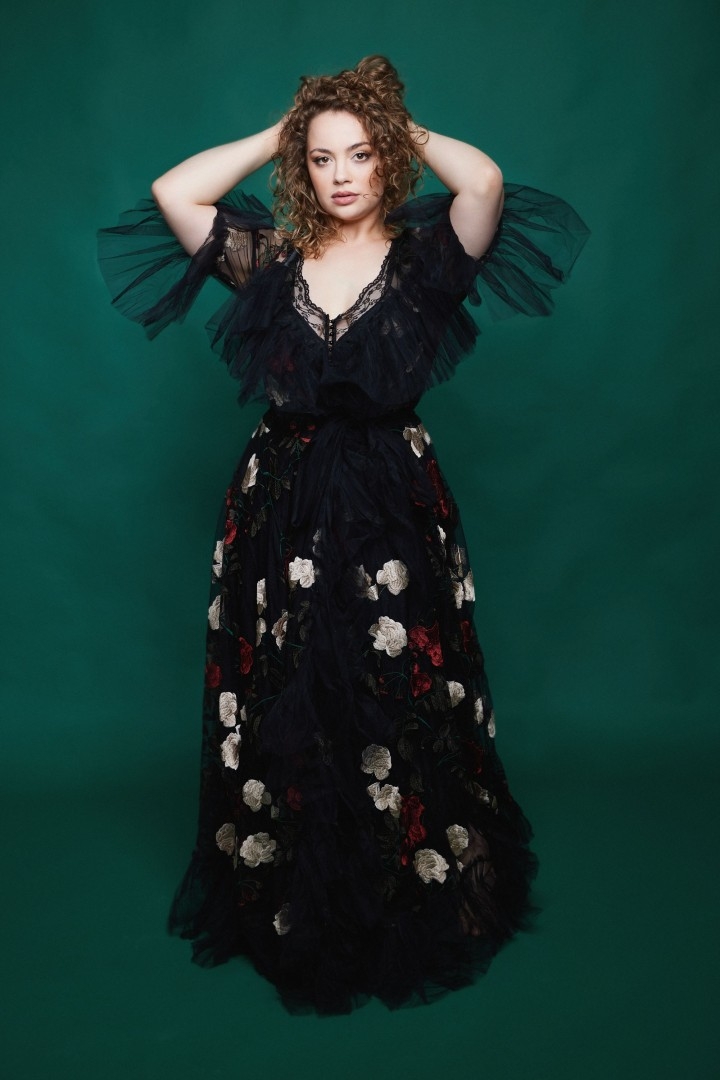 You once played the role of Wednesday in the Addams Family, what do you think of Jenna Ortega's portrayal?
It's so good. I mean the whole show is unbelievable I was completely hooked on it while I was in a panto in Canterbury – just couldn't stop watching it. She's an incredible actress and I love that they've gone back to the Charles Adams cartoons as opposed to looking at other portrayals. We did a lot of work on the cartoons of Charles Adams when we were doing the show so it's so nice to see the originals given a life because I feel like every time a new adaptation is done of anything you tend to work from the last adaptation that's been made.
So, then I suppose it moves further and future away from what it was.
Exactly, so it was nice. Gomez for instance, he looks exactly like the cartoon, but he looks so unlike the other people who have played Gomez. 
I've seen people complain that Luis Guzmán doesn't look anything like Gomez.
Yeah, and people criticise the casting, but if you put the cartoon side by side with the actor, they are exactly the same – it's perfect casting in my opinion.
What has been the proudest moment in your career?
One of my proudest moments was the 30th anniversary of Les Mis which I couldn't believe I got to be a part of anyway. Not only that, but they did a new tube poster campaign, so we all went in for a photoshoot which was plastered across the London Tube for like three months leading up to the anniversary. That was so surreal, to be on my way to work and see myself on these posters. When we did the actual show, they did a special finale where they invited the original cast of Les Mis to sing with the current cast, and so I got to sing with Patti LuPone and Francis Ruffelle. All these names that I had looked up to ever since I was a child and now, I was holding hands with them singing my favourite musical theatre songs. I don't think anything will ever live up to that moment. I peaked way too early.
You were recently named Best Performer in a Female-Identifying Role in a Musical for Cinderella – what did this mean to you?
The What's On Stage awards are always such an amazing event because it feels like you get all of the West End community in one theatre all just celebrating each other, and it never feels competitive. It's one of the only award ceremonies I've ever been to, but it always feels like whoever wins, everyone is cheering and just so thrilled for them. Also, because it's audience-voted for, when you win it's so wonderful to feel like so many people came to watch the show and loved it so much that they actually bothered to vote. It's this amazing mixture of having all of your peers in one room cheering for you but then also knowing that the award came from the audience who came to watch the show that you were in. 
What are you reading, watching, and listening to at the moment? 
I've recently found this adaptation of Steven King's 11.22.63. It's about a guy who accidentally time travels back a few years before the assassination of JF Kennedy and is tasked with trying to stop it. We were looking for something interesting to watch and me and my fiancé like more historical, mystery, crime type things, but I couldn't watch another crime documentary – we watched about three in two days, and I was like, starting to have nightmares. It's good so far – quite cheesy, but its good.
What does International Woman's Day mean to you? 
I love International Women's Day. It's an opportunity to talk about all of the amazing women in the public eye who you look up to who are doing ground-breaking work, but also, it's so important to recognise your own female support networks. The people around you who might not be doing ground-breaking things in the grand scheme of the world but who are doing ground-breaking things in your life. The ones who are there for you when you need them, who were there for you in your darkest times, who raised you, who brought you up, who taught you all of your values and morals and beliefs.
What's next for you?
The tour runs from 18 May until 11 June. It's absolutely amazing [that we've had to add extra dates] and it means I get to travel the UK a little bit more. I'm doing a concert of Once on 12 March so that's also coming up, but the tour has been all-consuming because it's such a big undertaking. I'm doing a bit of travelling this year as well. I'm going to Disneyland Paris on Monday. I go to Disney a lot; Disneyworld is like my favourite place on the planet so any time I get for a holiday, and I've saved up, I'm like, 'Disney, let's go'. After that I move onto Iceland and I'm doing a couple of bucket-list things like the Blue Lagoon and seeing the Northern Lights. I'm going to Pompeii a little bit later in the year where I've also never been. I want to go and see a bit more of the world this year, that's one of my aims. 
Image Credit: © MICHAEL WHARLEY