Amanda Hanley describes one of the hottest trends out there and how we can all incorporate a taste of it into our own homes.
"From sumptuous and soft saffron to gorgeous golden turmeric, I'm very taken by the current trend for spicy shades, whether used as an accent, a bold focal point, or layered up into a deep, rich and striking scheme. Using these warm colours creates an allure, evocative of exotic places and whimsical travels to lands far far away."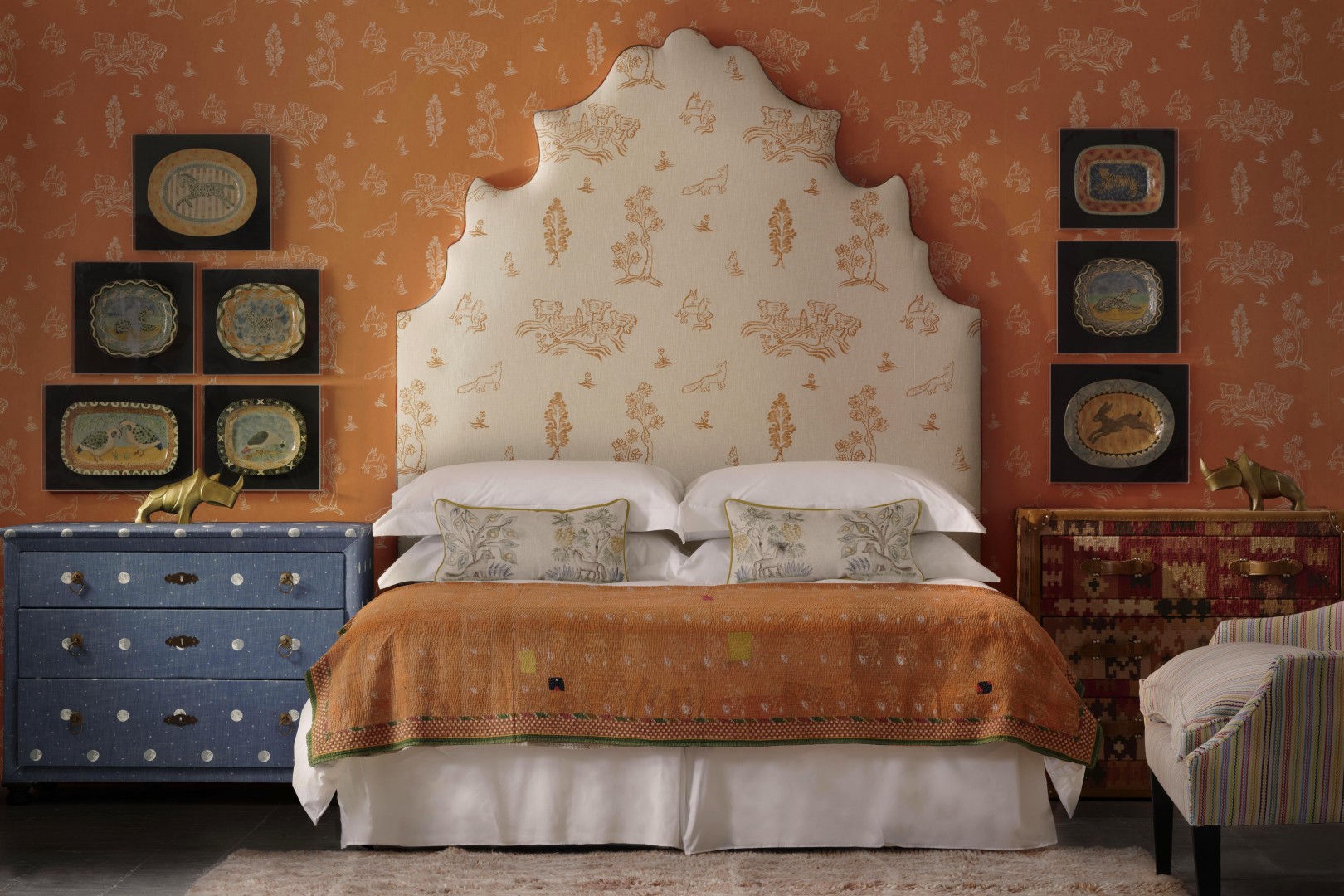 We love the new Kit Kemp collection, designed for Andrew Martin. Mixing fabric and wallpaper designs, and marrying traditional designs with a contemporary colour palette really excites the eye.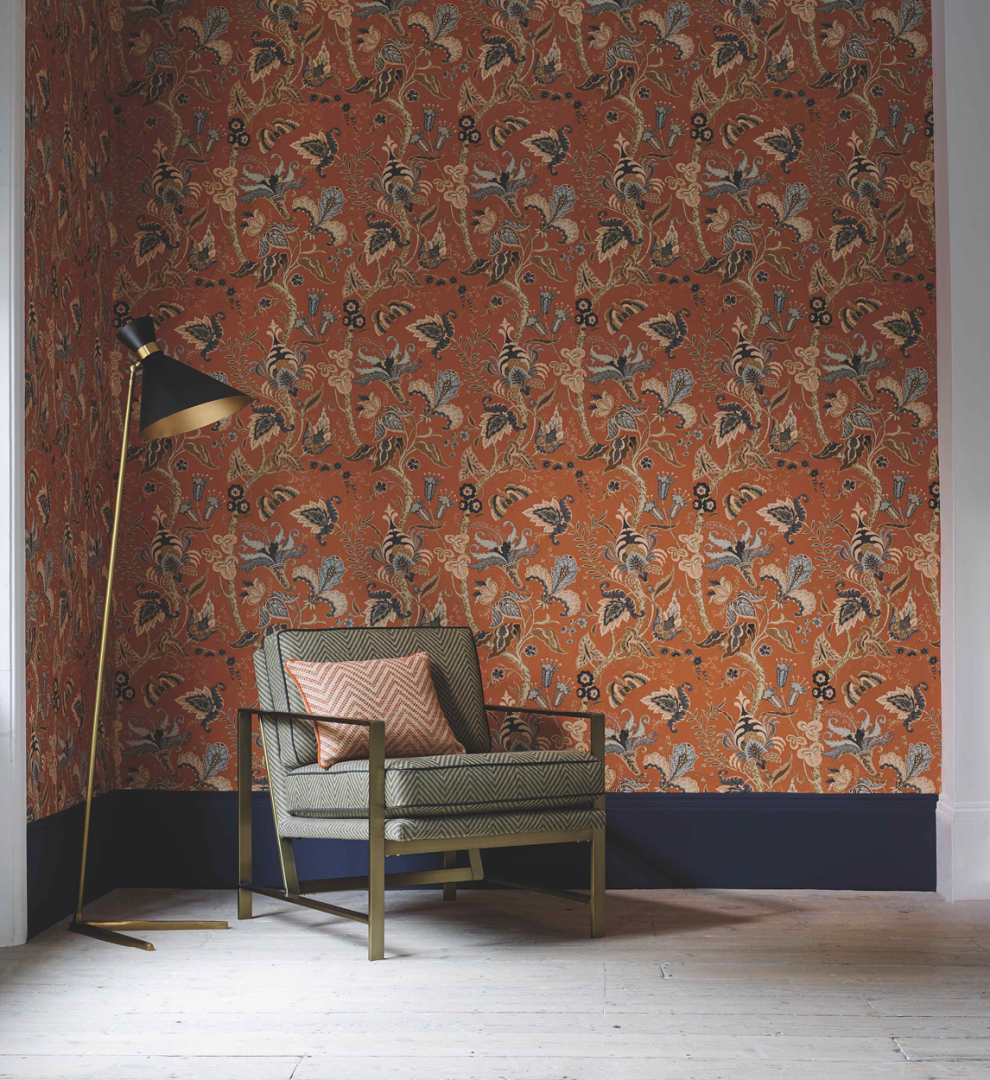 Linwood shows a very modern and smart use of a deep burnt orange, contrasted and offset beautifully by a navy blue skirting board. Opposites on the colour wheel, orange and blue make a very striking and stylish combination, showing that you can use warm colours alongside cool to great effect.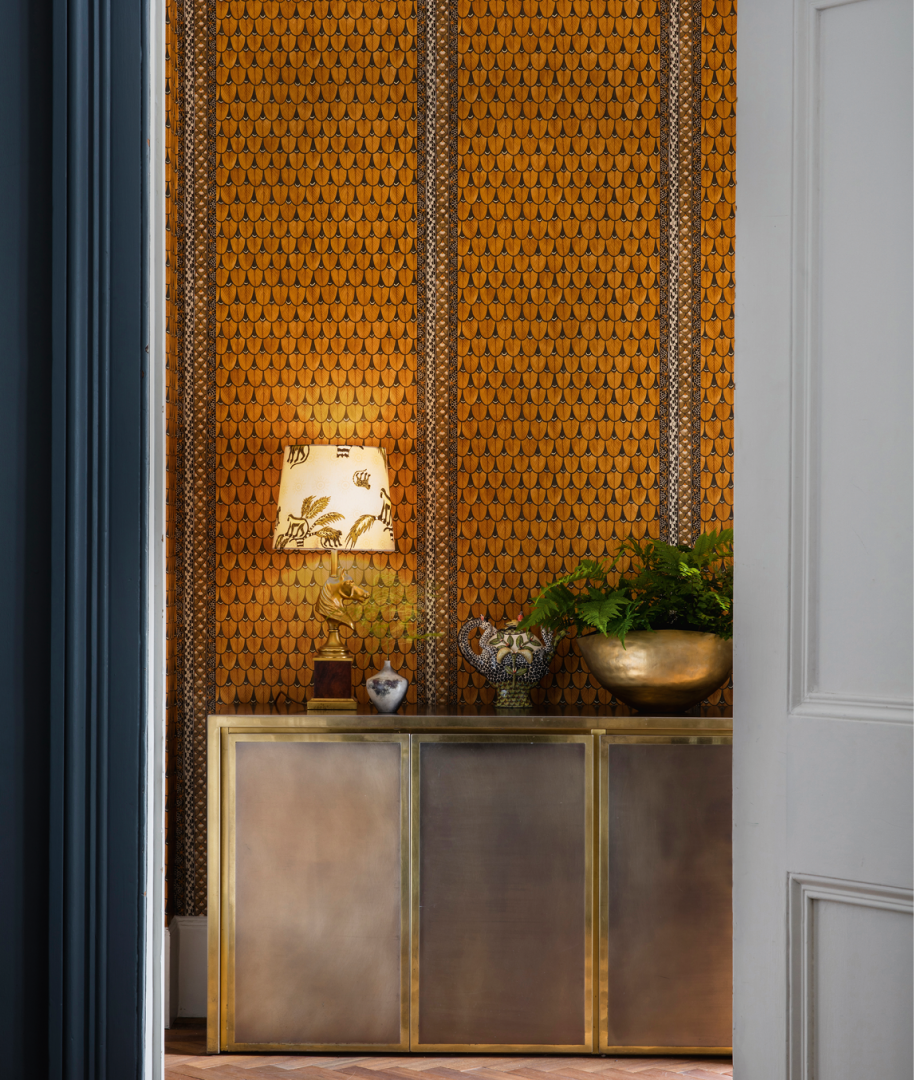 Dare to be different… This wallpaper looks wonderful with the hammered gold metals, and warms up the hallway to create an unexpected entrance, sure to make your guests smile. Narina and Ardmore Border by Cole & Son.
Feel the heat
With a bold and non-conformist feel, tones of terracotta and rust have begun to blaze a trail in many homes over the last year. There are plenty of ways to work these colours into your room, from simple accessories, such as a vase, to a large rug. With a myriad of colours, depths and variations, from rich rust to ochre yellow or vibrant orange, choose one to suit your style or mix them all up for the full effect.
If you find it too much having such hot shades on your walls, try toning the look down and swapping for a more neutral backdrop, such as honey or sand, and use that as a canvas for bolder soft furnishings and accessories.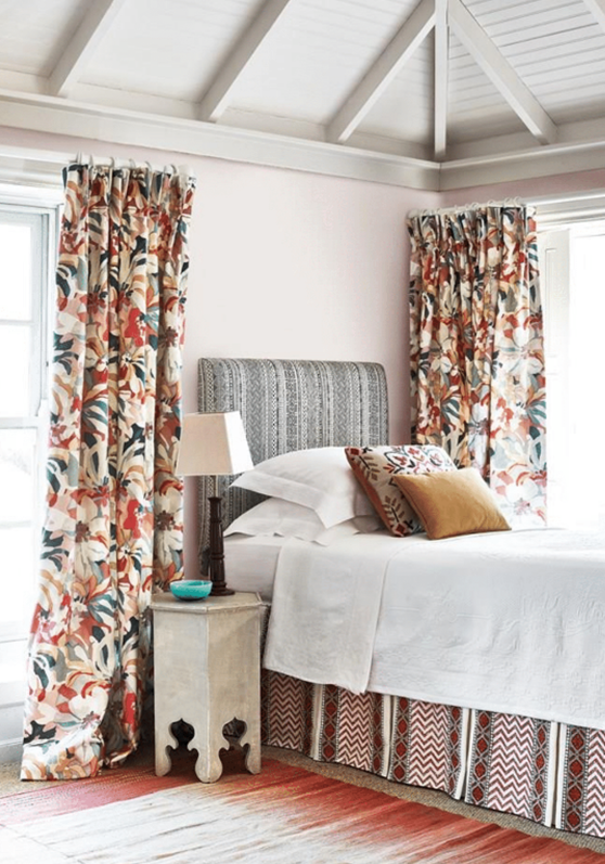 Jane Churchill has combined the pretty English style, which the company is known for, with a modern colour palette, including mustard yellow, deep reds and oranges, tied in with pinks, and cool blues and greys. Complex and interesting, Jane Churchill's Indira Collection shows how patterns can be combined successfully to build up a look that is a feast for the eyes.
Tribal-inspired patterns
This trend is an extremely diverse and eclectic celebration of patterns inspired by travel all over the globe, taking our own homes on a journey of their own. Bringing together intricate Ikats, paisleys and decorative Indian block prints in harmony, it is a complex, but extremely heart-warming and laid-back look.
Admittedly, the rich and layered Boho style never completely went away, but took a backseat in favour of a more stripped-back minimalist look. But the tables are now taking a turn, and making a big comeback in 2019 are cosy tribal prints. "Cool" minimalist schemes have been in the spotlight for a while now, with "warm" minimalist creeping in over 2018, but this year we see more life, pattern and longed-for character coming to our decorating, that has been sidelined for such a long time. There is definitely something very appealing about becoming less restrained, and instead, free and uninhibited.
As with all trends, the look is adaptable to suit your own tastes and levels of bravery. If the full-on, bold layered look is not for you, think about small ways to introduce the relaxed feel with decorative cushions and throws, and other accessories, such as rugs, or even a chair, that you can easily swap over as your tastes move on.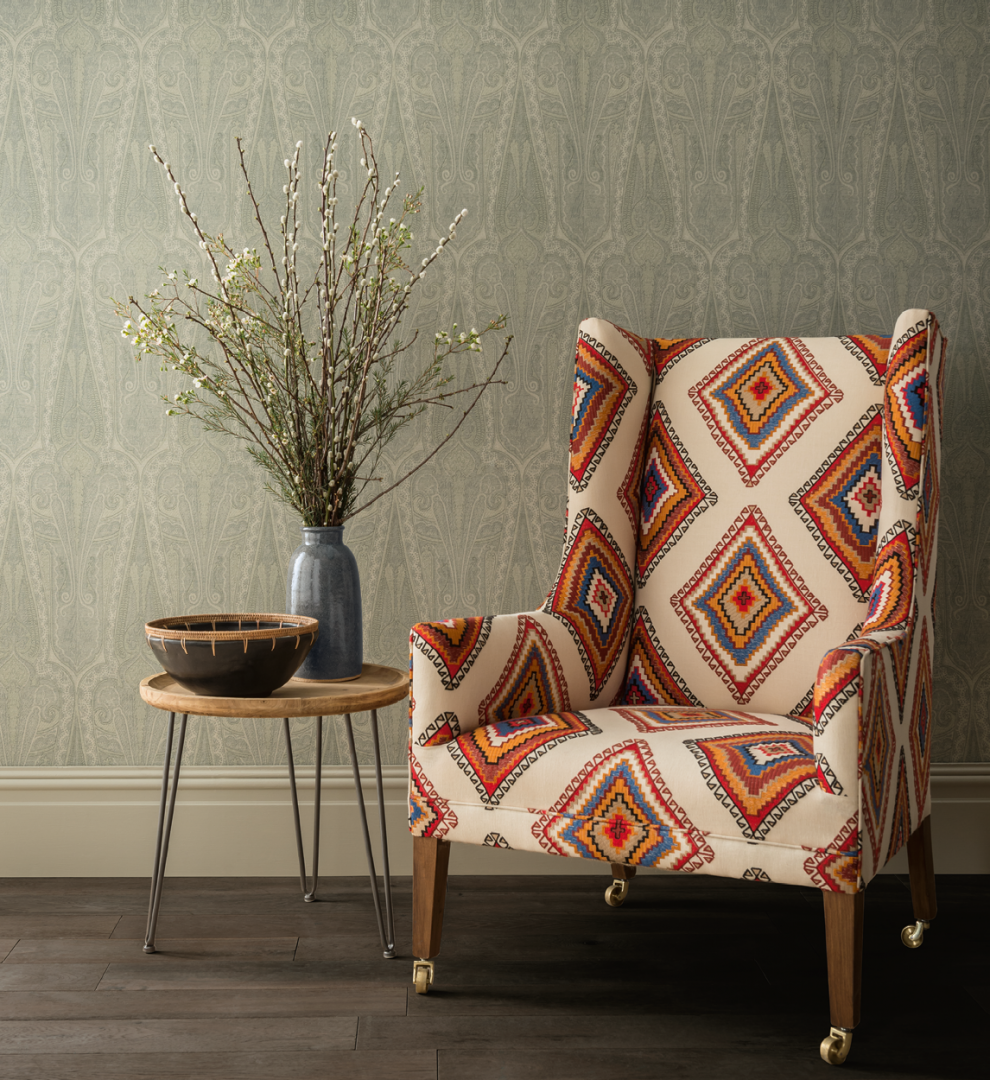 Wallpaper and upholstery fabric by Mulberry Home. The bold tribal print on the chair really stands out as a statement piece against the cool and calm background, and is a great example of how to get the look with one or two pieces, without a large commitment.
The great thing about this trend is that it can be easily introduced by building upon what you already have, simply by adding in additional pattern and layers of colour, giving a sense of warmth, comfort and fun.
When it comes to texture, more is more…
Rich tones and rugged textures are a critical element to the handcrafted style of this global trend. Hand-dyed textiles in rich earthy pigments work really nicely, as well as handmade pottery, where each piece unique. It's all in the detail – add trimmings; think tassels, pompoms and macrame detailing, and add it to anything you like, from cushions to curtains, chairs or other accessories, such as picture frames.
Key to this cosy look is, of course, the humble rug. Kilim rugs, in particular, are now to be found everywhere, with modern adaptations displaying wonderful, eye-catching graphic patterns in every colour under the sun. Although they've been around for thousands of years, their designs still look contemporary today. Kilim patterns provide a layer of colour to modern interiors, with a worldly sophistication and an eclectic edge.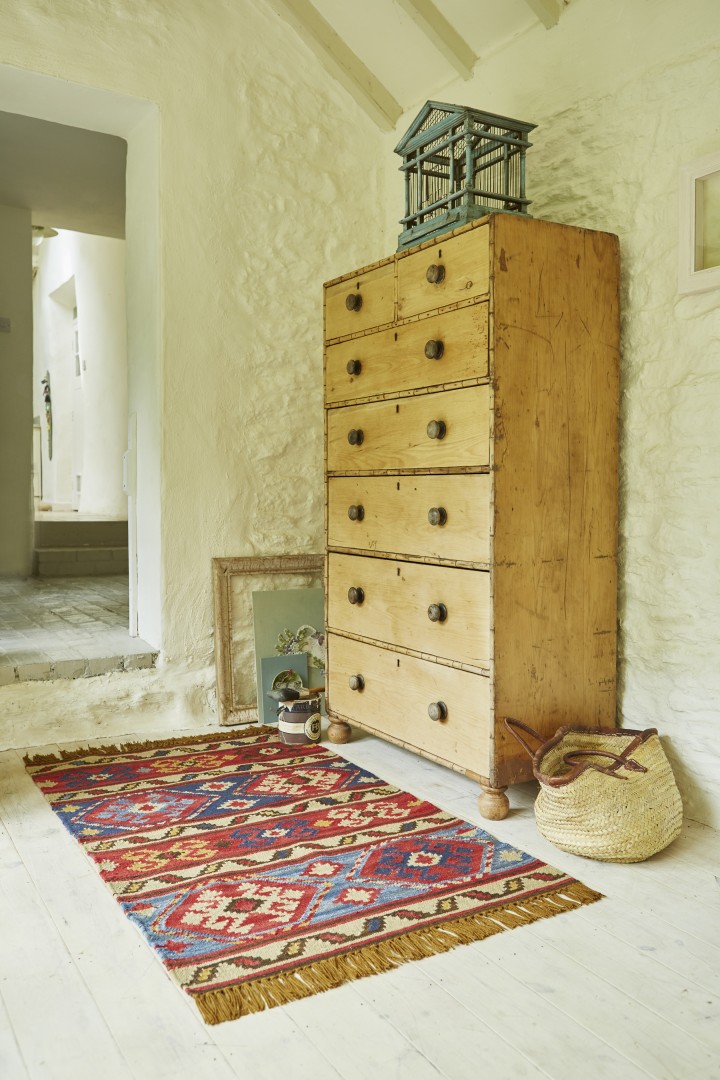 Weaver Green Rugs are made from 100% recycled bottles.
Cook up your spicy scheme with these key ingredients:
Colours
Materials
Earthenware
Woven textiles
Carved wood
Gold and brass metals
Patterns
Ikat
Paisley
Indian block prints
Amanda Hanley's Team Awards
Most Exciting Collection
The new Kit Kemp Collection from Andrew Martin combines both wallpaper and fabrics together in one book. Inspired by the romance of folk tales, this collection encapsulates youthful imagination and the magic of design. With one eye in the past and one in the future, it is founded on harmonious contrast, forging a scheme that is fresh with surprise and tells a new and exciting story of its own.