When Porsche 'step out of the box', we have learnt to take the brand seriously. You see, Porsche are the world's most commercially successful mass-market luxury brand, achieving revenues of 5.8 billion euros in 2019, making it by far the most profitable in the VW/Audi group.
It wasn't always that way. Whilst the Porsche brand is indeed a sporting legend, post millennium it needed to survive in a global economy where not enough people wanted to drive various reiterations of pedigree sports coupes. Porsche were thus quick to jump on the SUV bandwagon and quickly silenced critics with the introduction of the Cayenne, which subsequently became its bestseller. Its more compact SUV, the Macan, is currently its bestseller with the Cayenne now trailing a close second.
Investment
It's hardly surprising then that there was not a murmur of surprise when Porsche announced an investment of £6 billion to ensure 50% of their new vehicles are electrically powered by 2025. "Ummh," I hear you say, "so what of the romanticism of the traditional Porsche enthusiast? That deep throaty roar of an engine, the muscular solid stance, world beating ride, handling, and acceleration…"
"Can battery powered silence do justice to a brand with such pedigree?"
Porsche's answer to that in the affirmative is the Taycan. If you're in any doubt of the commercial logic, at launch Porsche were holding over 30,000 pre-production orders, and that's before a single customer has driven one. It is Porsche's most technically advanced car in the whole of its 80-year history.
The Taycan is produced at the Zuffenhausen production plant in Germany, with capacity to produce 20,000 cars annually. It was launched in 2019 in two motor form, with e motors in two levels of tune.
With the range topping Taycan Turbo S, Porsche have set some exceptional benchmarks. Here's a few: 0-62 mph acceleration time of 2.8 seconds (just one second slower than a Formula 1 car); a top speed limited to 161 mph; a real-life travel range of 240 miles; and the capability of achieving 90% of its charge in just 25 mins. It is the electrifying performance, range, and chargeability that no doubt play a big role in creating that long customer waiting list.
Seriously fast
Yet it's the sporting character of the Taycan that will ultimately make it a Porsche. Some of my colleagues have argued it is unduly fast, possibly at the cost of losing that engaging sporting feel. No doubt Porsche beg to differ. There's no question however, that the behind-the-wheel experience is indeed pure Porsche. Whilst the dash is flanked by state-of-the-art electronics, there is a tight sporting driver-focused feel behind the wheel.
Comfort and space are no longer incumbered by the need to house a combustion engine. Instead, the flat battery platform allows Porsche to focus its efforts on aerodynamics, space and comfort – all within the dimensions of a sharp looking machine of comparative size to a BMW 3 Series, and certainly not a smaller Panamera by any means. Yet that bulky muscular look of a Porsche is still there – and sitting with the lowest centre of gravity of any standard production Porsche, there's not a chance of mistaking it for something like a Tesla.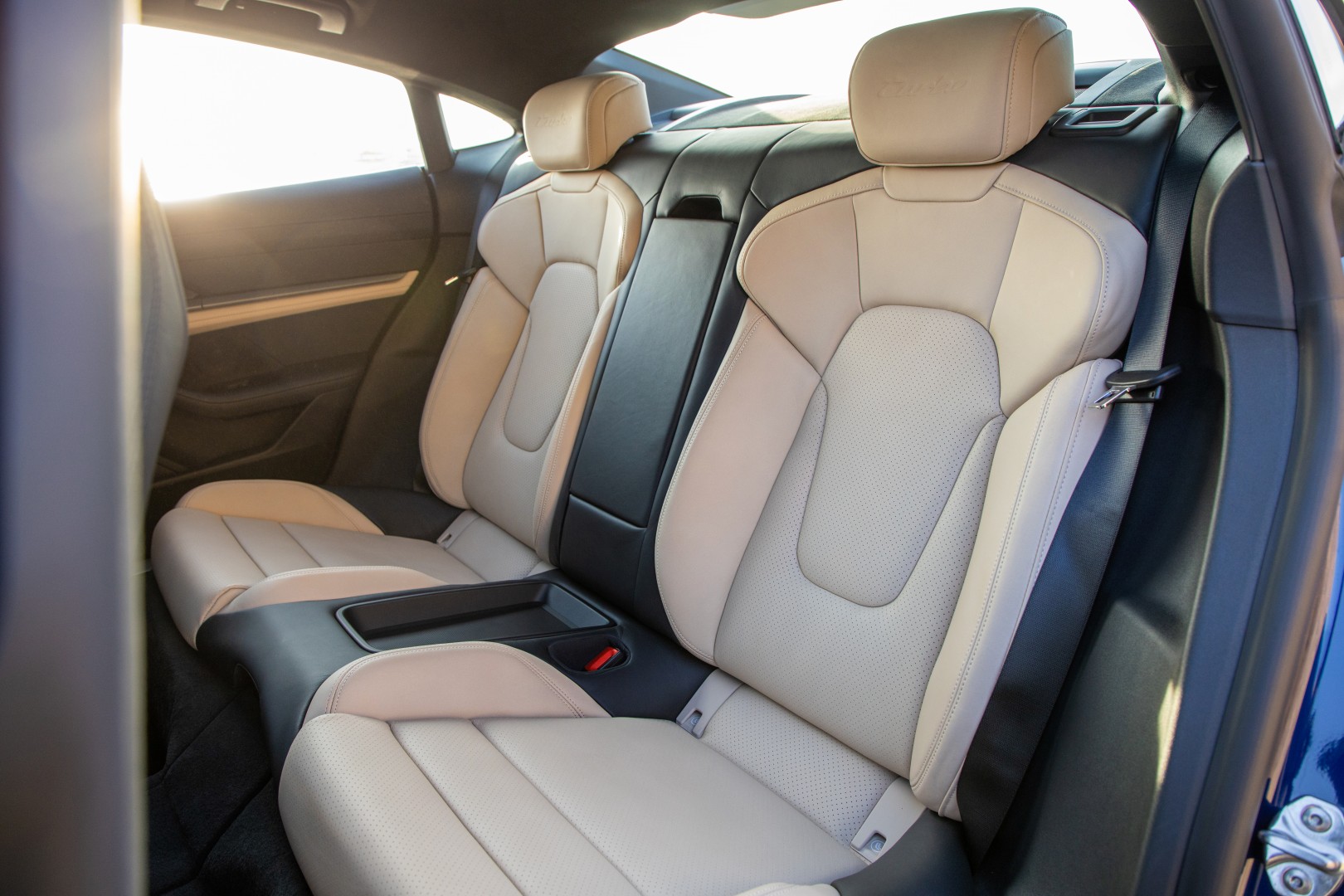 The more you learn about the Taycan, the more it grows on you. Its simply massive performance is excitingly outrageous and that makes it compelling. Four-wheel drive is achieved courtesy of two power trains front and rear. There's a two-speed transmission to the rear; first gear is acceleration focused rocketing you to oblivion, whilst second gear takes you up to the 161-mph self-imposed limit. The front motor has single speed gearing, yet when both motors join up on launch control the Taycan generates a crazy 750 bhp, and no other current production Porsche matches its 774 lb of torque. Add to that a drag coefficient of just 0.22 and you can see that this is maybe an over serious performance machine.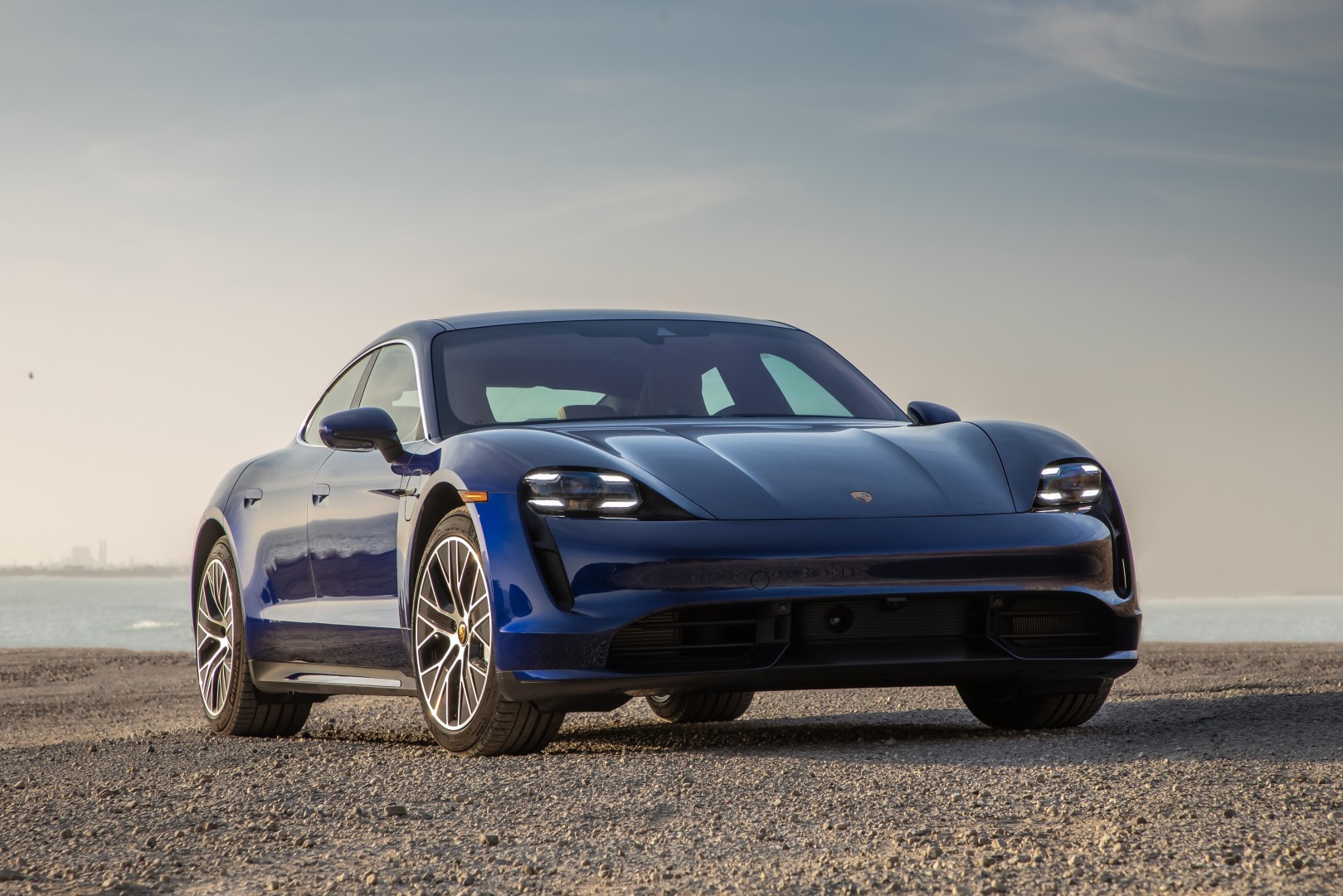 Porsche have always been very good at the subtleties distinguishing a fast car from a driver's car; steering feel, brake feel, and suspension composure to name but a few. Some say the Taycan requires a little too much steering effort, but it is after all a sporting machine whilst no GT2, so the issue remains one of debate.
Brakes are courtesy of carbon ceramic discs; 420 mm to the front and 410 mm at the rear which means, along with Porsche's refined ability to master brake feel, stopping shouldn't be a problem. And neither should handling, for that is courtesy of Porsche Active Suspension Management, providing that subtle combination of comfort and prodigious grip that is born of experience, competence, a love of driving, and intrinsic knowledge of the wants and needs of the sporting driver.
Defining the future
Did Porsche need to make the performance of the Taycan this quick and powerful to prove that it is really a Porsche? Maybe not, but hey I don't mind, do you?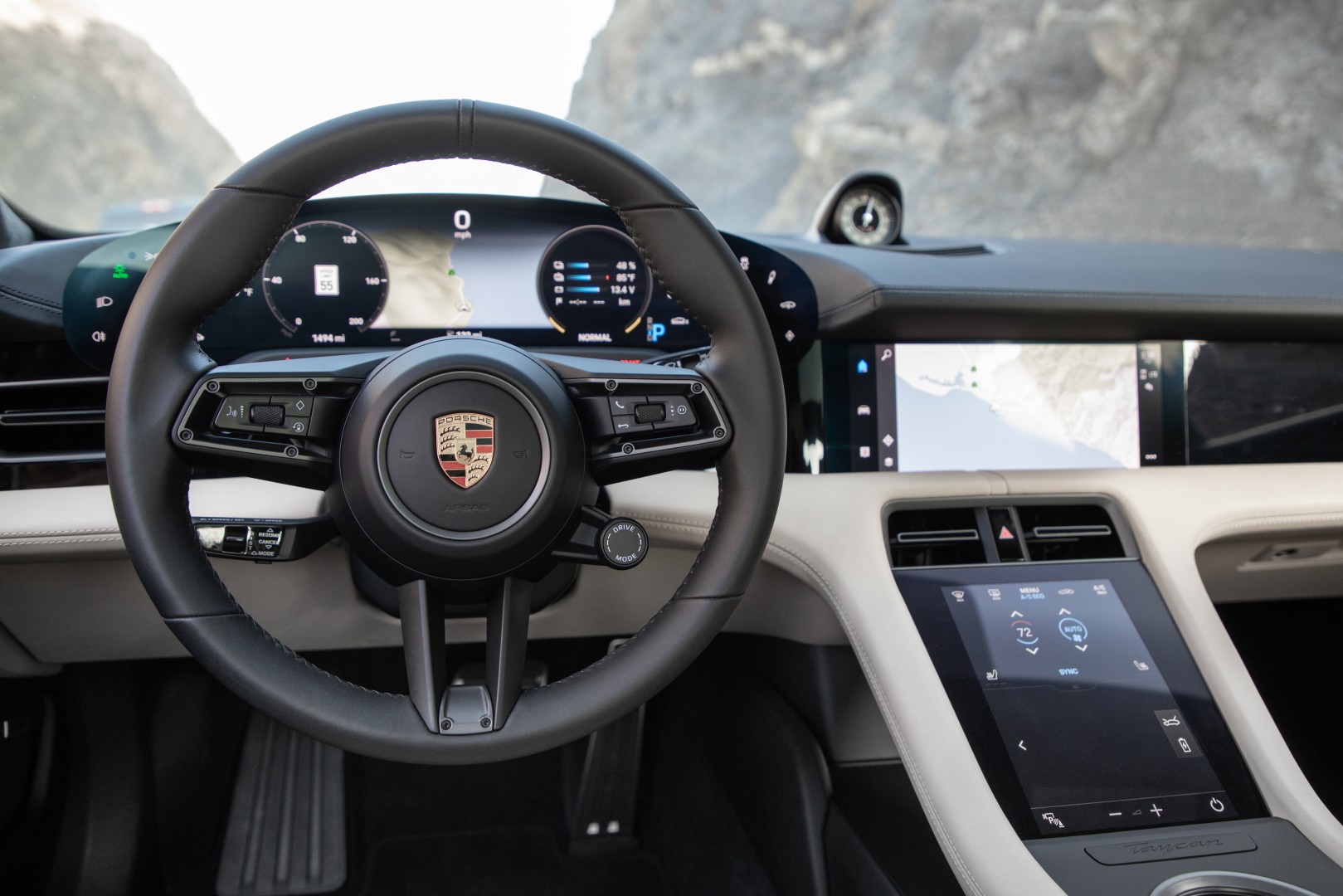 The more I write about this car, the more convinced I am that it is defining the performance road car of the future. OK, so it does it in relative silence bar road noise, and maybe us petrol heads will at heart miss the audible music of a tuned exhaust note… and if you miss changing gears and the purity of a well sorted chassis powered by a combustion engine, you will of course have another toy discretely locked away in the garage with which to play when no one is looking. In the meanwhile, living in the 21st century won't prevent a smile and a grin every time you accelerate away from home in the Porsche Taycan.