For our Autumn issue we are thrilled and delighted to be welcoming sustainable bridal and eveningwear designer, Sanyukta Shrestha, to the spotlight. Shrestha has won multiple awards for her swoonworthy designs – most recently the 'Luxury Award, Peta Vegan Wedding Award 2021', a feat which coincides with the label's 10th anniversary, making for an incredible milestone to add to her already impressive collection of accolades.
The Nepalese designer has based her atelier in London, but her appeal is international and her designs have been seen on some of the world's most beautiful women. Her innovative approach to sustainable luxury is constant throughout her designs, always championing the use of ground-breaking eco-friendly fabrics. Her latest collection, The Vegan Dream, takes her ethos of cruelty free fashion to the next level using 100% vegan fibres to create Narnia-inspired dresses and separates which effortlessly tap into the zeitgeist. We caught up with her to find out more.

Your latest collection, The Vegan Dream, is simply breath-taking. Do you have a favourite Piece?
It is hard to answer, as each of them highlights the vision in an individual way. Each design embodies the essence of the modern bride, who's looking for effortless elegance with sustainability. Still, out of all, my heart set on the very first design Aslan gown which was the source of inspiration for 'Narnia's lead character'. The Aslan gown is the perfect balance between comfort, strength, hope and fantasy. Aslan is a very versatile two-piece gown and can be transformed to more than 5 different looks made from 100% cruelty free vegan fibres. Brides can live out their fairy-tale dream in a dramatic vegan ball gown or enjoy the slinky silhouette celebrating their curves or looking every inch dream girl in the most fluid silhouette or dance around her reception in silky palazzo trousers or short mini embracing the rebel within in one Aslan look.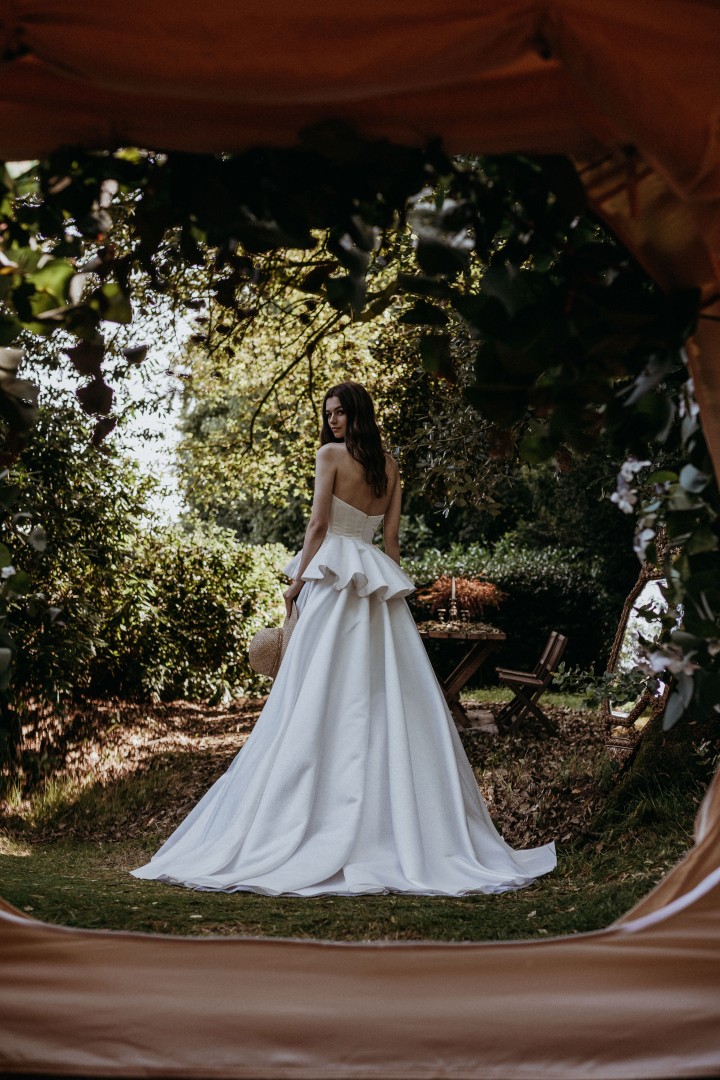 Oxford prides itself on its C S Lewis connections, can you tell us more about Narnia as your inspiration?
The Vegan Dream was inspired by the whimsical world of Narnia, from the fantasy novels written by British author, C S Lewis. The collection sets out to depict the deep connection and harmony between humans, nature, and animals. The Vegan Dream is entirely vegan made. It stands up for animal rights and the fight against animal cruelty and it has been produced with the preservation and nurture of our precious planet in mind. While I was putting the collection together for my 2022 Bridal, one morning I woke up seeing Aslan, the lion, in my dream with the Narnia's background. That's when my inspiration took a sharp and clear direction not just only realising my vision into a cruelty-free collection but also designing the whole set for the campaign in a Narnia Style which gave birth to the 'Narnia Retreat'.
These campaign images were taken in my private woodland, now named 'Narnia Retreat', where peace and serenity reign – a space that surrounds my home and inspires my creativity every day. The woodland is home for many unique birds that live in harmony with seasonal visitors like muntjac deer, wild rabbits, pheasants, owls, badgers, hedgehogs, bats, dragonfly, and many other beautiful fauna. This set took a month to complete, and every little detail was repurposed, giving a new life they deserve. Many pieces were restored, and hand crafted very sympathetically with labour of love by our amazing team. So, the scene featured has as many natural and upcycled elements as possible, from the beautiful tree chandelier, created from naturally fallen tree branches to a Narnia-inspired doorway, created by using a 200 year-old wooden door. The eco canvas tent, 'Lotus Belle', was adorned with antique and luxury vintage furniture. Chairs were crafted from fallen and broken wood and an old lamp post was resurrected to add a touch of The Lion, The Witch and The Wardrobe magic.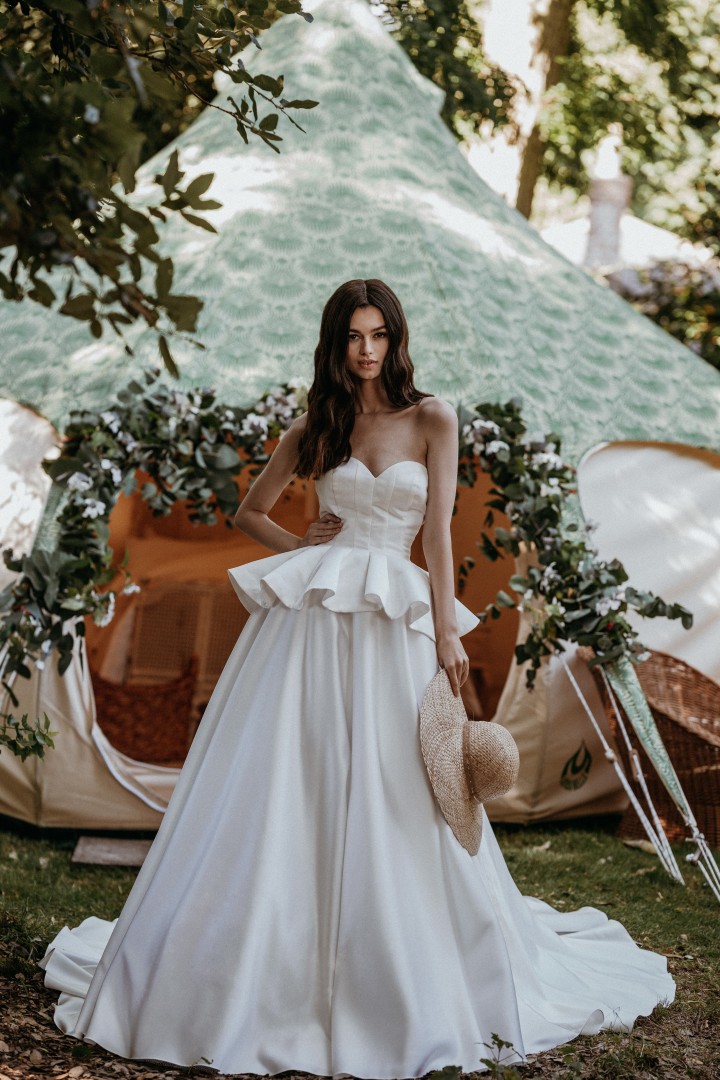 Your commitment to sustainable fashion has defined your label for many years. How does it impact on the design process?
For me, it is the fabric that gives birth to the design. After receiving the fabric in my atelier, I allow it to speak for itself – twisting and turning it to the desired level of tactility before I begin to sketch. As many of the sustainable fibres we use are unique to the bridal world until I understand the totality of fibre, I would not make a design. This process is much lengthier than the usual design process which starts from mood board but that's what I am passionate about; delivering the desirable and beautiful designs while also taking care of its core source.
As a sustainable designer, my fabric choices were, at first, very limited. However, through researching and working with ethical materials over past 10 years, I have certainly seen the scope and choices grow. Awareness of sustainable practices has been building in the UK and around the world, and I am very hopeful that there will be an abundance of sustainable materials choices available in near future.
For many, the past year or more has forced a change - for some this has been a chance to reassess and regroup. Have you made any positive changes this year?
Yes, the past year has been an incredibly difficult and unexpected year for us, and for the whole wedding industry. The situation was so harsh that it was easy to switch off and change the direction. However, the most powerful thing that kept us focus was our ethos, that is 'Compassion'. So, no matter how difficult the situation was, we have been continuously supporting our team, our brides and we kept our focus on helping others whether making PPE for the NHS or providing masks or food supplies to the homeless in Nepal and in the UK whichever capacity we could. So, we did not make but felt the positive changes this year, and the brand is growing much stronger.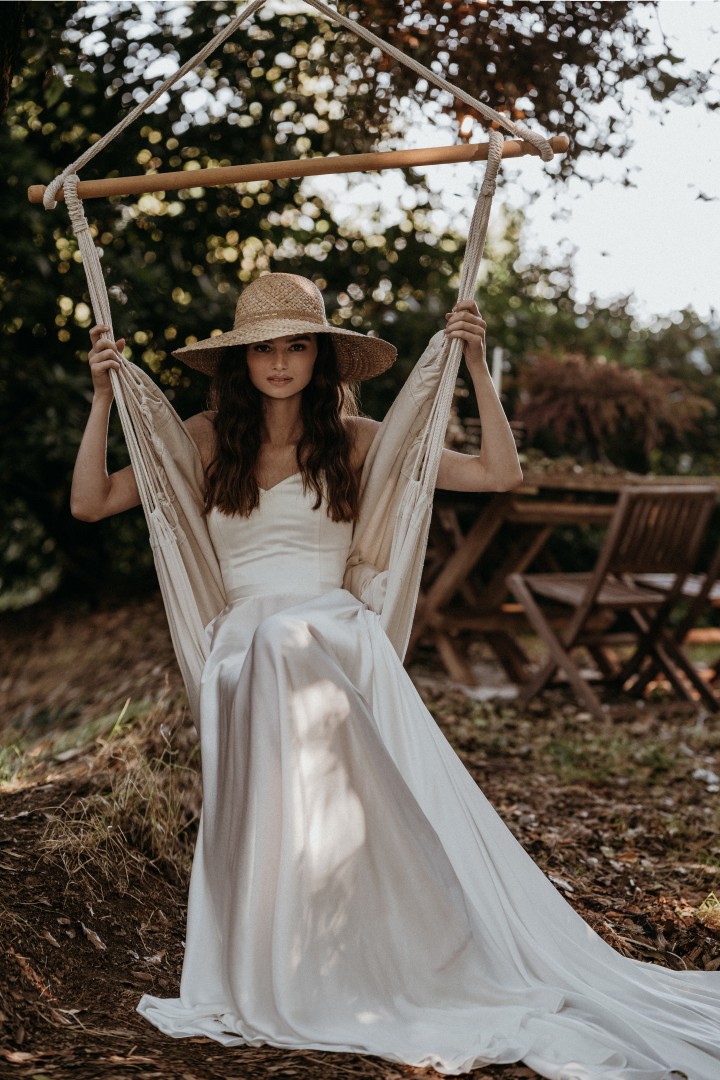 As someone who has achieved so much in terms of both your exquisite designs and your humanitarian and environmental commitments, of what are you most proud?
Bringing smiles to women weavers in villages and seeing them gratified with their skill to earn a living and gaining a sense of independence makes me happy and proud. Hand looming in Nepal has a thousand years of history. The reality is that small cottage industry and hand looming is actually on the verge of extinction – not just in Nepal but in the world as a whole. The women of the village have been hand-weaving fabrics for centuries and I am personally very connected with them as these weavers make the beautiful organic fabrics used in my wedding dress collections. All these remarkable women are given the chance to employ their traditional skills in their own homes to generate extra income. I feel incredibly privileged as a designer, to be able to put their inspirational skills to good use while also protecting our environment.
Can you tell us more about the craftswomen you work with in Nepal?
The core beauty of any Sanyukta Shrestha gown is its handspun and hand loomed organic fibres that preserves Nepalese craftsmanship which has existed for over 1000 years in Nepal. By setting the artistic value of these ancient techniques as a foundation to create distinctive unique bridal designs, we preserve an over a century old, exquisite way of working on a garment. For the past 10 years we have been collaborating with a fabric producer that is a certified Fair Trade Group Nepal and a WFTO Guaranteed Member. We work closely with Mahaguthi, an organization that supports more than 1,000 Nepali artisans working in 150 workshops. Mahaguthi's parent organization was founded in 1926 by Tulsi Meher Shrestha, with the objective of making the deprived women self-reliant. The founder was exiled to India and worked with Mahatma Gandhi before returning to Nepal to do rehabilitation work with deprived women and their children. Mahaguthi began marketing crafts in 1984 to support a program for destitute women and children. Most of the artisans are working remotely and among them 85% percent are women who use their traditional craft skills while staying in their home. The Ashram's focus is to secure the well-being of these amazing craftswomen, provide employment and embrace the principles of fair trade.


Is there a 'typical' Sanyukta Shrestha bride?
'Sanyukta Shrestha Bride' is a contemporary muse who doesn't follow trends, but rather prefers to make her statement by embracing her own nature and individuality. So, each of our designs reflects the core beauty to SS women, not the trend.
Our brides want to feel naturally stylish, comfortable, and confident while staying true to her personality and respecting the world around her with compassion.
I believe in reflecting the individuality of my brides through my designs as 'trends change but truly good designs should stand the test of time'. I think, ultimately, that is what I aim for every time I begin work on each bridal piece for my bride. My brides can expect a soulful design that tells a special story about herself.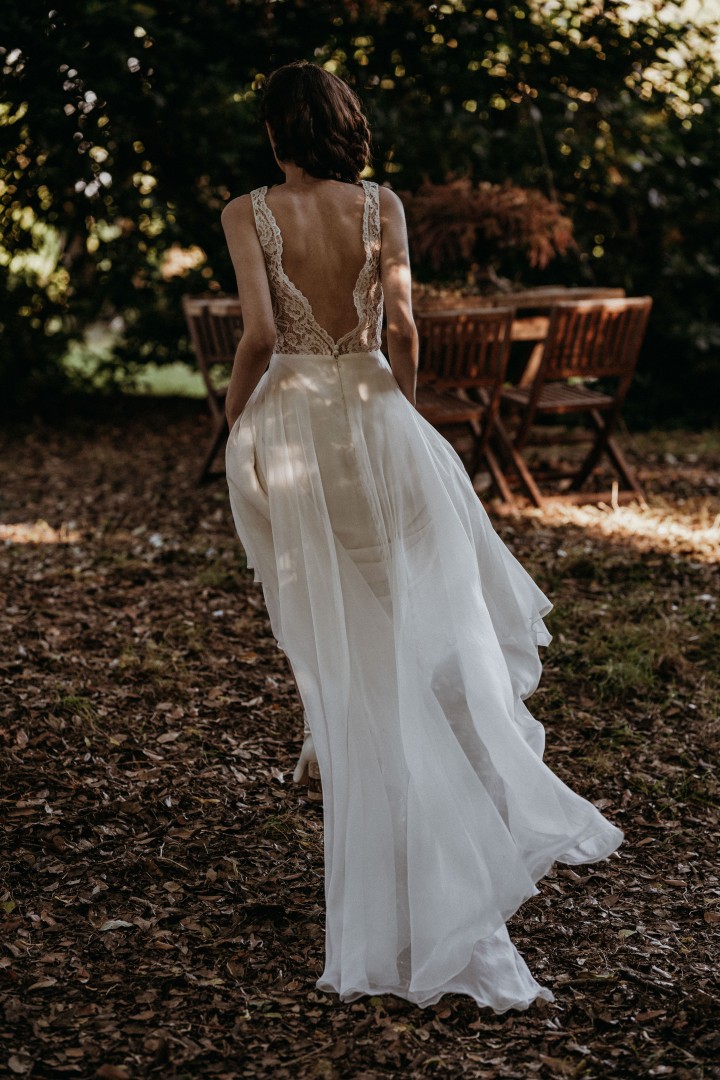 Finally, who would you love to dress? (real/fictional/present or past).
In the past, undoubtedly Princess Diana.