It's going to be hard to stop myself rhapsodising over the first Annual RuPaul's DragConUK because – in the words of the fangirl teen I found myself morphing into upon arrival at Olympia – I had the best day ever. However, the growing awareness inside the venue and the trending hashtag on Twitter was increasingly telling another story: one of thousands of disappointed fans, queueing for hours, only to be refused entry to an event which had, allegedly, been oversold.
That the queues were ginormous was apparent when I arrived, and at this point (around 9.30am) they consisted of a glorious hotch-potch of drag queens happily mingling and chattering with the normcore in the crowd, some of whom may have been wearing a little more makeup than usual or a daring splash of colour. Although there was an element of display and show, this was a place for all-comers. Non-competitive and appreciative but nonetheless always checking, always assessing.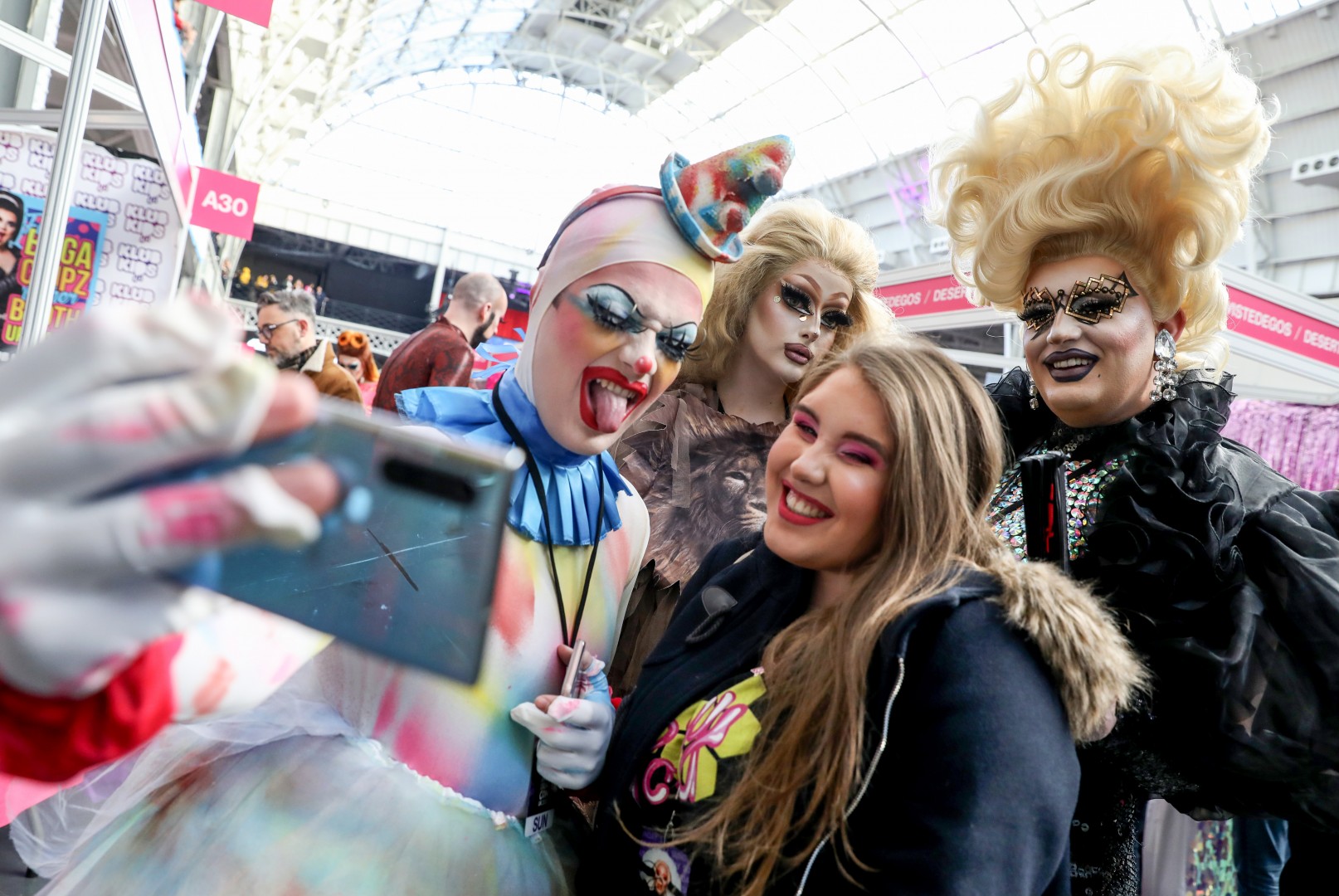 Inside the queues continued, with fans lining up to spend precious minutes with their own ruling queen at the individual booths lining the main galleries. Special mention must go to Michelle Visage, who had eschewed the platform heels and was sporting a pair of Minnie Mouse slippers. Her queues were, without question, the longest throughout the day and her daughter (who was manning the stand) confided in me that her mother hadn't taken a break and not so much as a cup of coffee had passed her lips.
In addition to La Visage there was a fabulous selection of past competitors from Ru Paul's Drag Race; the show which arguably brought drag into the mainstream, and has now been running for eleven seasons, the twelfth rumoured to be screened sometime in the next month or so. And, of course, each queen from the first UK Drag Race, which was shown on BBC3 late last year, was in attendance. Reigning queen, The Vivienne, kicked things off on the main stage once RuPaul had cut the massive pink ribbon and declared the event officially open.
The traditional red carpet was reimagined in bubble-gum pink and the opening ceremony saw the talent sashay down from the main stage, sissy their walks down the main aisle before lining up on the specially constructed staircase, where there they shantayed and stayed until each queen had been announced, at which point RuPaul (who was standing a mere metre from me prior to this!) descended, greeting each and every one and werking it for all he was worth. And he was a constant presence throughout the day: wandering through the halls, manifesting on the merch stalls, popping up on the mezzanine stage to DJ at midday on both the Saturday and the Sunday.
His official quote – "DragCon has always been a safe space where people can discover and bring to life their true and unique self, and I am honoured to have hosted this in the UK for the first time. Thank you to everyone involved for making DragCon UK a home for all this past weekend" – sums up the spirit of the event as it was experienced by those fortunate enough to be inside the bubble of gorgeous unreality.
A glittering rainbow of celebration with all genders, bodies, ages, skin tones and abilities. Panel talks were accompanied by interpreters in sign language, areas were designated for those using wheelchairs, I noticed a group of fabulous decked out queens, all of whom had Down's Syndrome, receiving a great deal of love from the crowds as they joined the coltish fey unicorns, the other-worldly realness, the hirsute-and-working-it, and my personal favourites: those with – shall we say – 'lived in' faces and a wicked, knowing gleam in their heavily made-up eyes.
Despite the obvious issues outside, the atmosphere inside the centre radiated positivity, love and acceptance. Stars from Drag Race walked alongside us mere mortals, stopping for the odd air-kiss (with a polite distance of around 5cm observed at all times to accommodate for breadth of wigs, eyelashes and padding and to keep that incredible make-up intact, of course).
By the end of the day I was utterly star-struck and nursing a slight crick in my neck having spent the past seven hours gazing upwards at these statuesque visions of beauty, all of whom were unfailingly polite, attentive and gorgeously wicked to their myriad and adoring fans.