Fish and chips. Roast beef and Yorkshire pudding, the great British fry up. Or… how about quinoa and avocado salad, pumpkin soup with wholemeal bread, or even a veggie stir-fry? We know we should opt for the healthy option, but you can't beat a good occasional plate of fish and chips. Now turn the same debate to cars.
The big push for environmental health and clean air encourages our showroom choices to be hybrid or electric. No more the big, powerful, noisy petrol-engined cars we once knew and loved. Many of us car buffs yearn for the days when cars were powerful, fast, noisy, sexy and mean. Yet just as we are about to resign ourselves to a life of new car model boredom, the V8 Lexus LC500 is born, and powerful muscular cars are back in style again.
Credentials
Whilst there are four seats, the LC500 cannot pretend to be anything but a two-seater – for adults. It's a big car (for a two-seater) and is comfortable and beautifully laid out inside. There's lots of in-car gadgetry, but the touch regulation feature is fiddly at best. Despite its brawn the LC500 is not an irresponsible car, with an environmentally friendly right foot on a good day, even 35.3 mpg is achievable. It has attention seeking looks and noise, and has the biggest front grille the world has ever seen.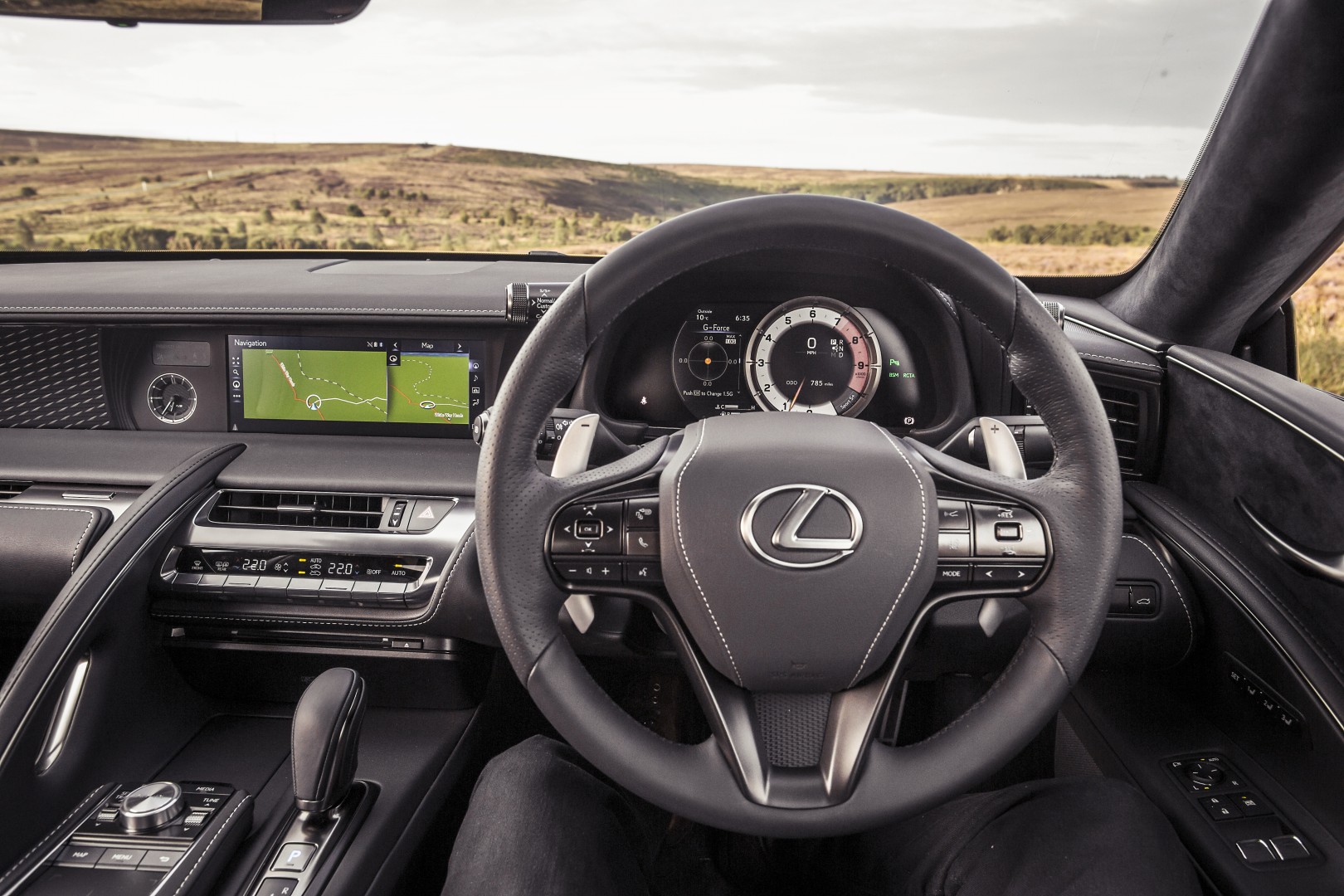 It's all there under the bonnet though; a naturally aspirated V8 engine. 0-62 mph in 4.4 seconds, a top speed of 168 mph, and 471 bhp. The magic is delivered through a 10-speed Sports Direct Shift auto gearbox. Multiple drive options – Eco, Comfort, Normal, Sport and Sport Plus – are at the press of a button so you can drive in the mood you feel. There's a massive 540 Nm of torque too. Throw in a 13-speaker Mark Levinson sound system (£1,000), head-up display (£995), and silver metallic paint (£675), and this LC500 is yours for a whisker over £79,000.
On the road
Oh, but what fun you will have. The LC500 is easily a usable everyday car for business and pleasure. The ride is firm and whilst there is arguably scope for better damping, the ride/ handling compromise proves acceptable when exploring the car's capabilities at speed. It's also an excellent long-distance motorway cruiser; it'll purr along with minimal soundtrack in Normal and Comfort ride settings, but just a hint of throttle says, 'Ok – time to work it.'
When 'working' this big car hard on crosscountry narrow lanes, size is an issue; yet the car feels 'smaller' when pushed hard due to a well sorted chassis and fine grip, and whilst the ride is stiff the LC turns in with both accuracy and confidence. For high performance driving the biggest issue is sorting out a decent gear change strategy, if you choose to use manual application via the steering column-mounted paddle shift; ten gears are just too many and it can all get pretty complicated. The solution of course is to leave it to the auto gearbox to sort out in Sport or Sport Plus.
The brakes do their work admirably and at night the main beam lights are fantastic – when set to automatic not once did anyone give a remonstrating flash to suggest the automatic dimmer was not auto dimming when it should.
The Contender
The LC500 is not a purist driver's machine, but a great compromise between stonking performance, long-distance high-speed cruise-ability, day to day usability, and comfort. If you want dropdead gorgeous looks, massive straight-line performance, great acceleration, and relish in the powerful front engine/rear drive setup of one of the best V8 soundtracks on the planet, you will buy this car.
Whilst this is all about the V8, there is a petrolelectric hybrid version with a naturally aspirated 3.2 litre V6 if you must. Fish and chips versus quinoa and avocado salad; the choice is yours.