We are food-obsessives and we're proud of it. Oxfordshire is a county stuffed with culinary delights; from Michelin-starred and award-winning pubs and eateries to some of the finest farming the UK has to offer, and nothing takes as good as 'fresh from the field'. Plus, locally produced means less air miles and peak ripeness.
We asked Sandy Lane Farm in Tiddington near Thame, how we could eat with the seasons without relying on the same old roots and shoots. George Bennett and his team grow a huge variety on their 45 hectares of organic land. The farm's veg box delivery scheme and traditional farm shop's popularity relies on keeping choices interesting. Crop diversity is key to successful harvests; as George explains: 'On an organic farm you grow your own fertility, rather than adding it. We rely on the diversity of our crops and the biodiversity above and below ground to try and keep nature in balance and the soil healthy'.
Whilst we'd never condone food one-up-manship, there is a certain thrill which comes from knowing your kohlrabi from your kalettes. Here are a few of our favourite lesser known veg from the farm – and how to make them delectable:
Kalettes:
A cross between kale and a Brussels sprout, these are very new veg on the scene . They look like mini purple cabbages and grow in the same way as sprouts - up a sturdy stalk. Harvesting takes place in January-February and, as with anything 'purple', they have a higher resistance to pests and are packed full of antioxidants. Cate, George's wife, recommends drizzling them with oil and roasting until the leaves are slightly crispy.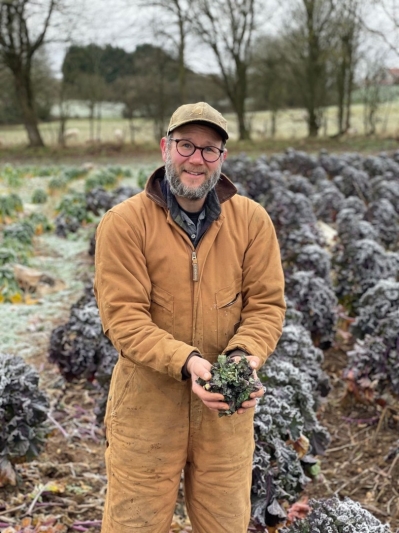 Sprout Tops:
An early winter 'bonus crop' - sprout tops resemble cabbages but are in fact the 'hat' that grows on top of the Brussels sprout stalk. Pigeons love pecking at these, so they have to be harvested before the birds get their beaks into them. George's favourites, they're nutty with a sprout flavour but none of the bitterness. Best cooked lightly in a pan with some butter or oil and garlic – delicious.'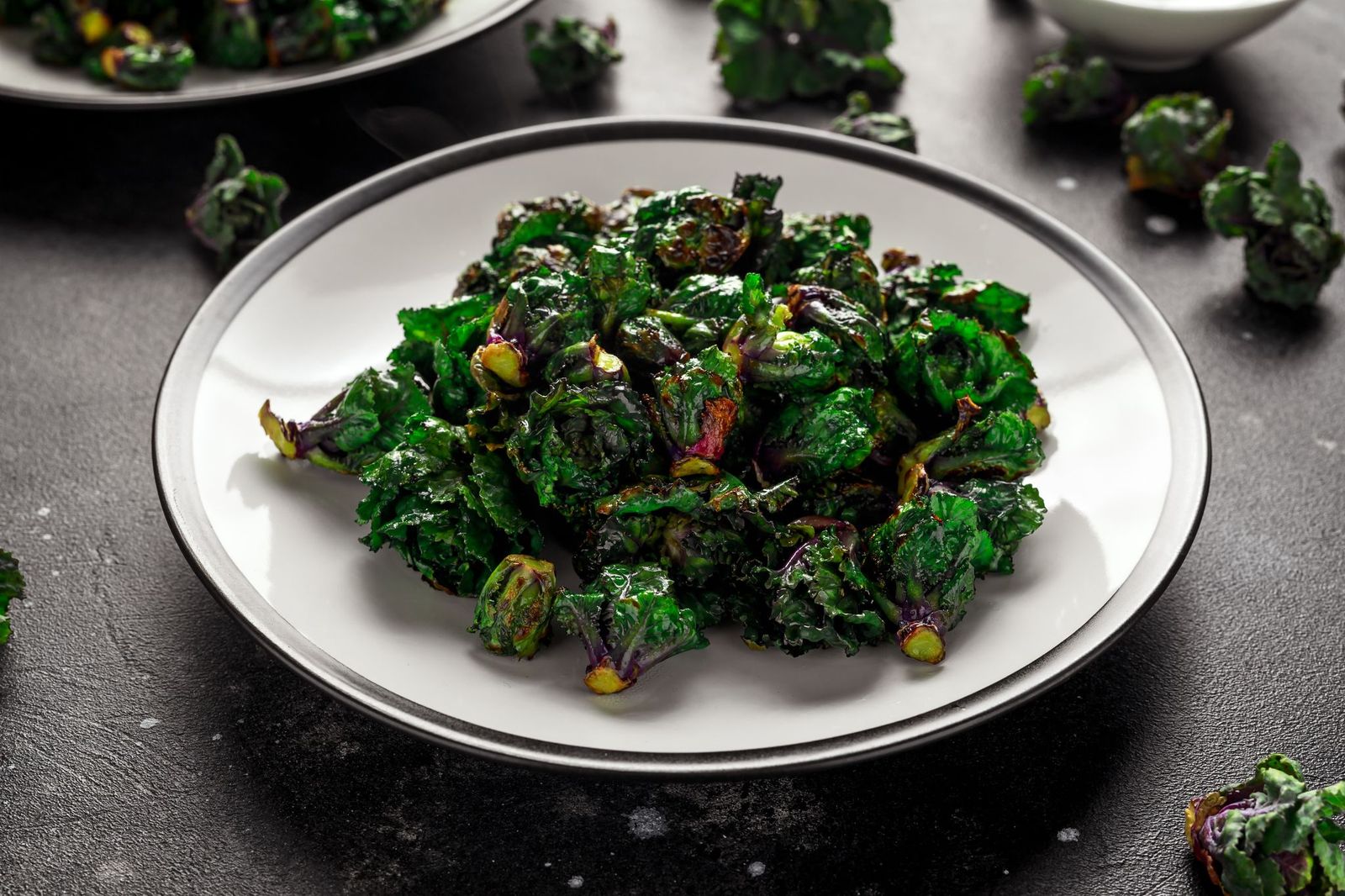 Agretti:
Sometimes known as Monk's Beard, this veg has green, needle shaped leaves which are succulent, savoury and often compared to samphire (although much less salty). Agretti is hugely popular in Italy where they harvest it early summer. At Sandy Lane Farm, George and the team pick the Agretti weekly from June to September, using the 'cut and come again' approach, harvesting little and often to make the most of the season. It's not an easy veg to grow but very much worth the effort and can be added to pasta, stir fries or salads. Cate recommends blanching briefly in boiling water or frying until tender, then drizzling with olive oil and lemon.
Kohlrabi:
This is the veg the team get the most questions about - and it's not hard to see why. The summer variety is very purple or green in colour and looks rather like an alien spaceship. Kohlrabi translates from the German as 'Turnip Cabbage' - which doesn't make it sound particularly appealing butit's versatile and tasty with a texture a little like a water chestnut and a mild radishy flavour. Once you peel away the skin, grate it into coleslaws, stir fry it or slice thinly and add to a cheese sandwich for a satisfying crunch.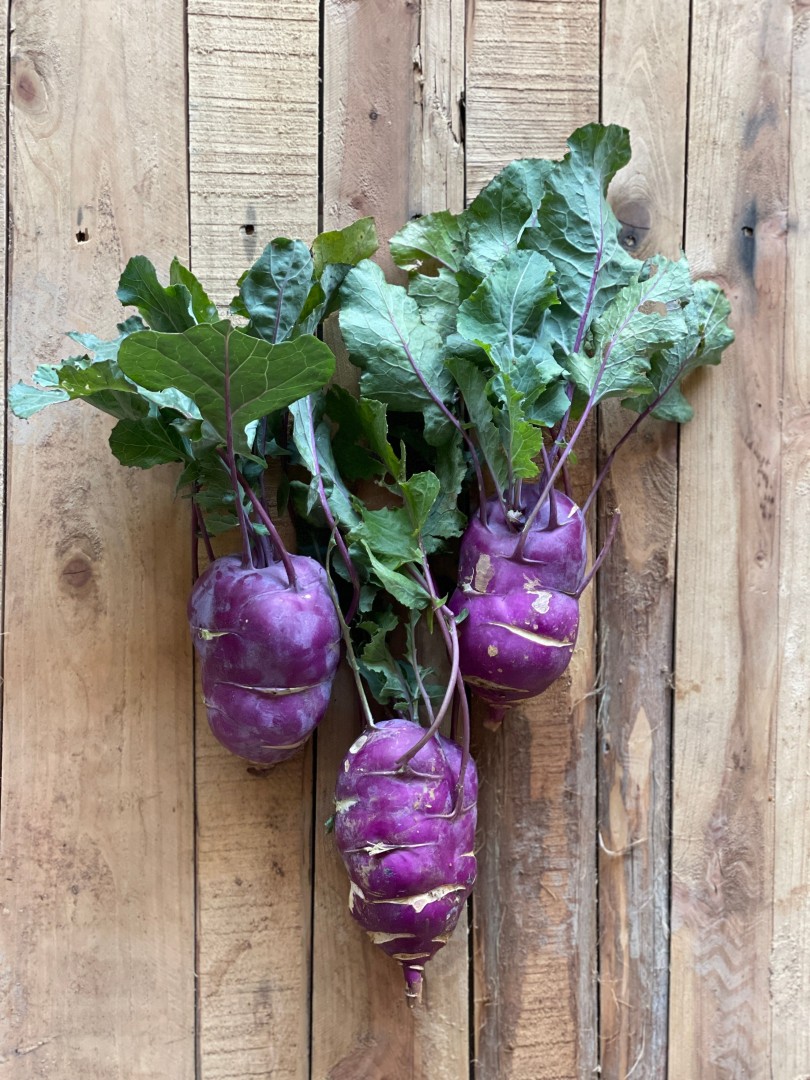 Sandy Lane Farm deliver organic veg boxes in and around Oxford every week. Their farm shop is open on Thursday, Friday and Saturday