'I ask you to pass through life at my side—to be my second self, and best earthly companion' –
Jane Eyre, Charlotte Brontë

Did you know that you only need to wait a notice period of twenty-nine days before you can elope to your dream destination? (Subject to venue availability and licencing rules of course). For so many of us, the pandemic has reaffirmed our values and encouraged us to treasure and support our companions. We have been shut away for so long that many significant milestones have either been put on hold or cancelled completely. Elopements were once widely viewed as an escape from family tension or pre-marital pregnancy, but today many people are keen to elope to prove that love is not cancelled, and the show must go on. Some couples also choose to elope because they feel like large-scale weddings are heavily 'party focused' which detracts from the real reasons the couple have chosen to tie the knot. Therefore, deciding to elope with a specific destination in mind is exciting and advantageous because couples can have an 'all about us' day with minimal planning and without a hefty bill waiting for them at the end. Celebrations with friends and family could then take place later down the line.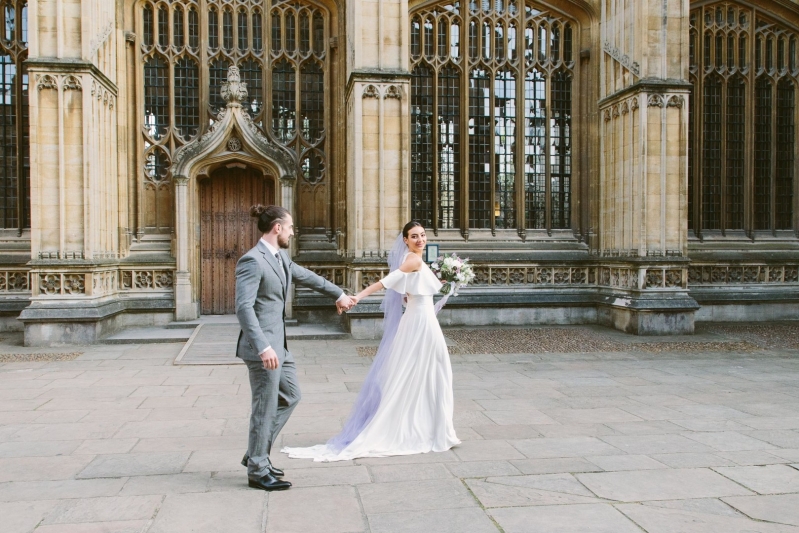 Oxford is a magical place for a destination wedding where romantic memories are destined to be written. In-keeping with a small stress-free elopement, the medieval city has an abundance of secret locations – from hidden cobbled lanes, to secret gardens – it is bursting with places to be discovered. The Bodleian Library lies within the heart of central Oxford where many previous hearts have found each other, fallen in love, and then returned to the University town to officially tie the knot. While varying in grandeur, these ceremonies have all been equally unique in their style and feel.
At the Bodleian Library, Convocation House is an ideal place to escape from the general hubbub of the city. For elopements, we recommend having 6-8 people in the room which would include you (the couple), and your witnesses. The advantage of escaping to Convocation House is the simplicity. The room does not require copious amounts of decoration, nor does it need to be filled with lots of people to create a moving ambience. During your ceremony you will be surrounded by intricately carved fixed wooden seating dramatically contrasted by the creamy stone walls and a fan-vaulted ceiling. The silence of the library fills this space, providing it with a beautiful church-like presence. During your ceremony, and when the officiant warmly welcomes you into the room, you will have the opportunity to navigate this space as you wish, whether that means walking down the aisle together, separately, or choosing to drop the grand entrance entirely. The Bodleian's dedicated wedding team will work with you to make it a moment to remember.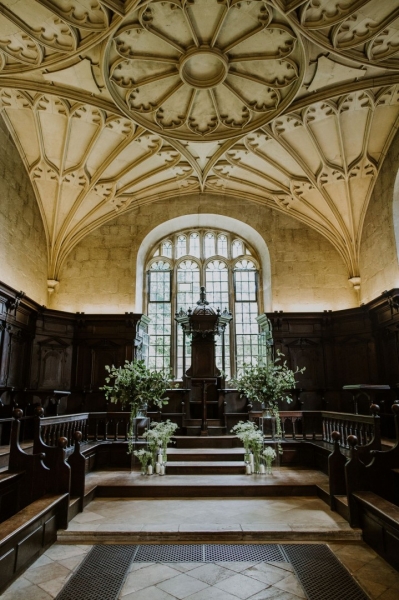 To make the most of the unique space, you may decide to hire a professional wedding photographer. Through their lens, they can watch you walk back down the aisle together, side-by-side, ready to depart via Chancellor's Court and beyond. You may choose to have photos taken in beautiful outdoor spots like the Wren door, Bridge of Sighs and the Radcliffe Camera. Or perhaps you want this to be a private moment, rather than one to be shared with your wider friends and family. Remember, this is your get-away day, so it can be entirely planned to meet your wishes and desires.
Your elopement needn't be a one-day affair. In fact, after marrying at the Bodleian, you can easily spend at least two to three days exploring Oxford city centre at your own leisure. Traditional activities are not to be missed, so, depending on the season, why not unleash your inner punting skills and spend time romantically floating down the River Cherwell (it is a well-known fact that strawberries and something bubbly improves this experience!). After this, take the time to stop off at Great Britain's oldest Botanic gardens – a charming location for a photo opportunity. During your stay, you might also decide to engage in some sight-seeing and visit some of Oxford's most famous landmarks like the Radcliffe Camera, the Natural History Museum, or the Ashmolean. Finally, when all your whimsical wanderings come to a natural pause, hotels like the Old Bank or the Courtyard by Marriott could host your stay. There, you can reflect upon your wonderful time in Oxford and enjoy your dreams filled with spires.
Elopement is not to everyone's taste, but here at the Bodleian Library, we believe that our elopement package will be best suited to those who just want to escape and share a day that truly celebrates their love, support and devotion to one another.

Please contact weddings@bodleian.ox.ac.uk for further information.