The UK's number one premium gin brand, Whitley Neill has launched two new festive flavours, Black Cherry and Mince Pie just in time for Christmas. Both handcrafted gins are available across the country now, so gin lovers can get set to enjoy a particularly festive tipple.
The new Black Cherry Gin, with aromas of cherries, almonds and a faint wisp of chocolate, makes an excellent gifting choice or a relaxing Christmas drink with family and friends. Inspired by the brand's founder Johnny Neill's travels to Africa, Black Cherry Gin captures the flavours of South African cherry orchards and is available to purchase at Tesco, ASDA, and Sainsbury's for £22. The rich and slight tartness on the finish of the Black Cherry Gin works perfectly served in a Black Cherry Woo Woo, or over ice with a Mediterranean tonic in a highball glass with lemon and cherry to garnish.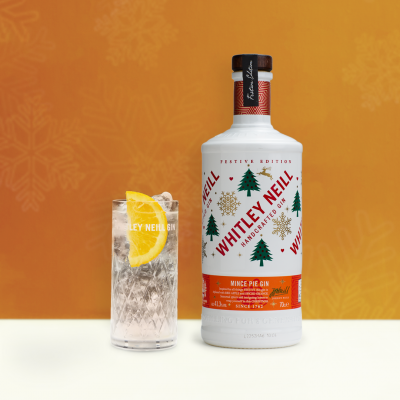 For gin fans wanting to get their hands on a gin inspired by the flavours of a classic Christmas treat, the Whitley Neill limited-edition Mince Pie Gin, is now available exclusively at B&M and selected Greene King Pubs across the UK. A flavour to stir up a conversation, the Mince Pie Gin is packed with aromas of rich mince pies and a touch of citrus, there's also a subtle hint of pine Christmas trees. On the palate, the Mince Pie Gin is sweet with hints of raisins, cloves, cinnamon, and nutmeg all adding to that delicious festive taste. Best served in a Mince Pie Gin Fizz, or sipped on the rocks in a tumbler.
For those who prefer the taste of a more traditional G&T or a smooth martini, the Whitley Neill Distiller's Cut and the Whitley Neill Connoisseur's Cut offer a refined London Dry expression. Additionally, those looking to enjoy a refreshing G&T but with a delicious twist, Whitley Neill's most popular gins - Raspberry, Rhubarb & Ginger, and Blood Orange, are also available and work perfectly served with a mixer or tonic.
Whitley Neill has also recently expanded into the low and no category, with the launch of two new 0.0 variants. The new launches provide consumers with great tasting, alcohol free versions of Whitley Neill's award-winning core range – Rhubarb & Ginger, and Raspberry. The 0.0% variants also make a great choice for Christmas celebrations or gifts, ensuring everyone gets to enjoy the distinctive flavours and characteristic top notes of Whitley Neill.