Summer is here and the beautiful Cotswold countryside is in full bloom, making our interiors envious. Few decorative styles can compete with the beauty of Mother Nature, so it is no surprise that the natural world is the most enduring subject of all time in interior design.
Bringing the joy of the outdoors can be challenging so we turn to the help of striking floral fabrics, wallpapers, and silk flowers, which provide us with a cornucopia of interpretations; from detailed and accurate through to more abstract and subtle forms.
Cushions are always a good starting point when introducing a new colour or pattern into your home. They provide softness and the same pop of freshness into your home as a bouquet of fresh flowers would. Green can act as an excellent neutral base with which to start, after which you can mix your greens with bright colours, pretty pastels and vibrant tropical designs to create a more dramatic effect.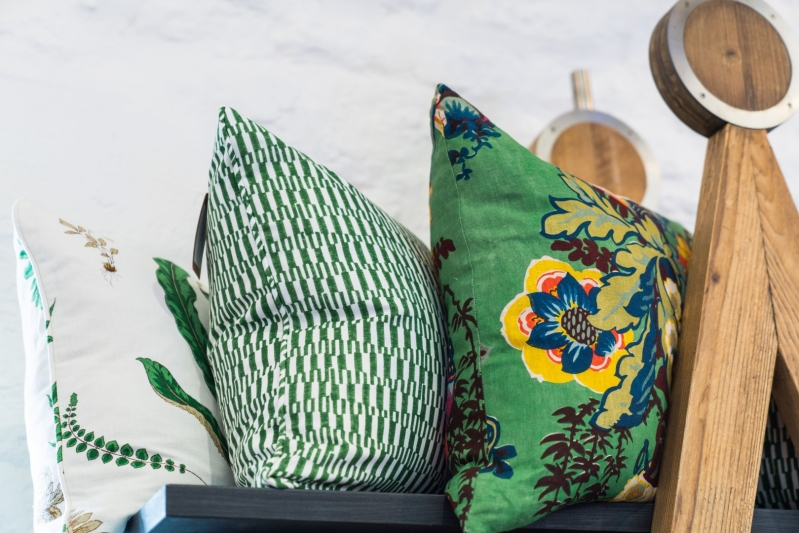 The freshness of GB & J Bakers Ferns (left) brightens the trio, whereas Anna French's Fairbanks (right) brings contrast and colour to the combination. Thibaut's Gogo works perfectly in the middle carrying the two worlds together in harmony.
On the other hand, wallpaper is a brilliant way to transform a whole room. Like Cole & Sons Midsummer Bloom wallpaper, a vibrant floral pattern can make a warm and happy welcome in a hallway entrance or stairway. Pretty never goes out of style. Alternatively, the fresh greens in Thibaut's new Eden Collection will match your cushions, making your room flow and feel connected.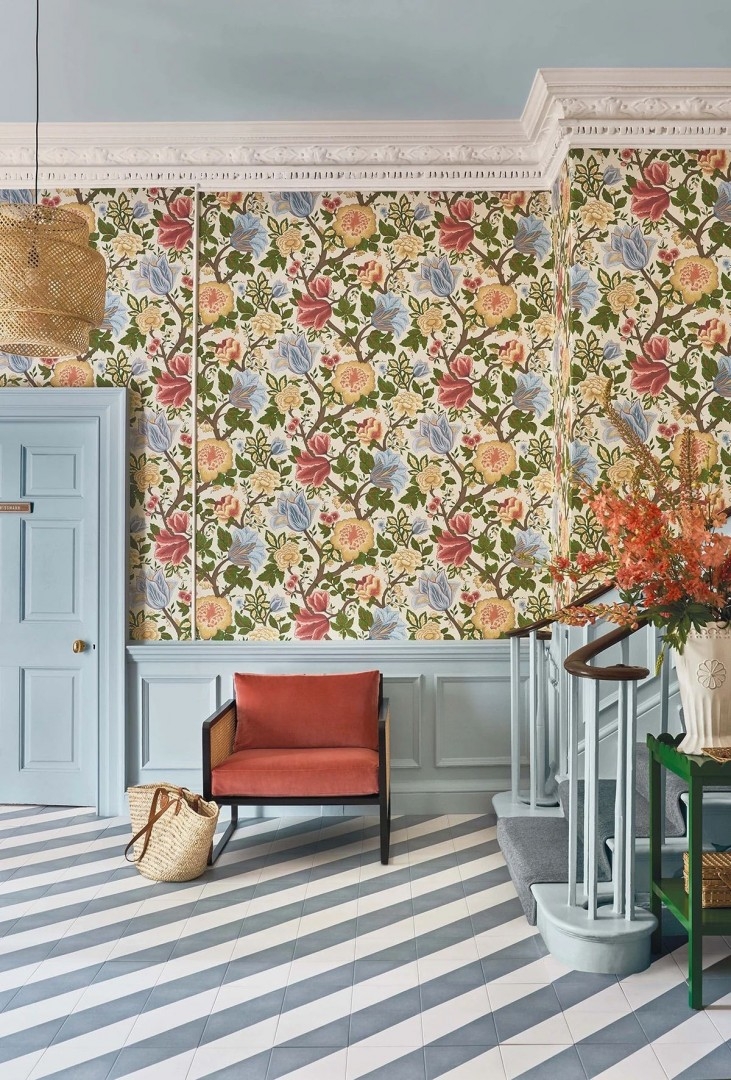 The yellow background in Cole & Sons Midsummer Bloom feels like a ray of sunshine behind the beautiful flowers while complimenting the rich, lavish, trailing floral. Photo Courtesy of Cole & Sons
Including a hint of botanicals in your curtains can bring your bright floral theme together, adding functionality and warmth. Perfectly mixed prints are also hot on-trend, with bold, patterned and textured interiors causing a storm. Anna French's Zola fabric in white gives the perfect nod towards your botanical floral theme without being too overpowering. Combined with the Yukio wallpaper, the bright and airy curtains add just enough interest while still complimenting the bold wallpaper.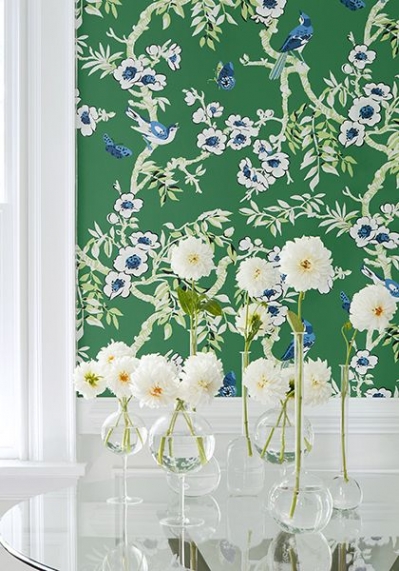 The blue birds singing on the blossoming tree branches in Thibaut's Yukio wallpaper make any home feel full of life and song. Photo Courtesy of Thibaut
The icing on the cake is floral-inspired lighting. The natural shapes complimenting the patterns in your home make the space feel more elevated. Pendant bedside lamps are the current go-to in bedroom design, all for a reason. They free up valuable space on your bedside tables and make your bedroom feel airier. Pendant bedside lights also make your ceilings look higher, creating the feeling of a grander living space.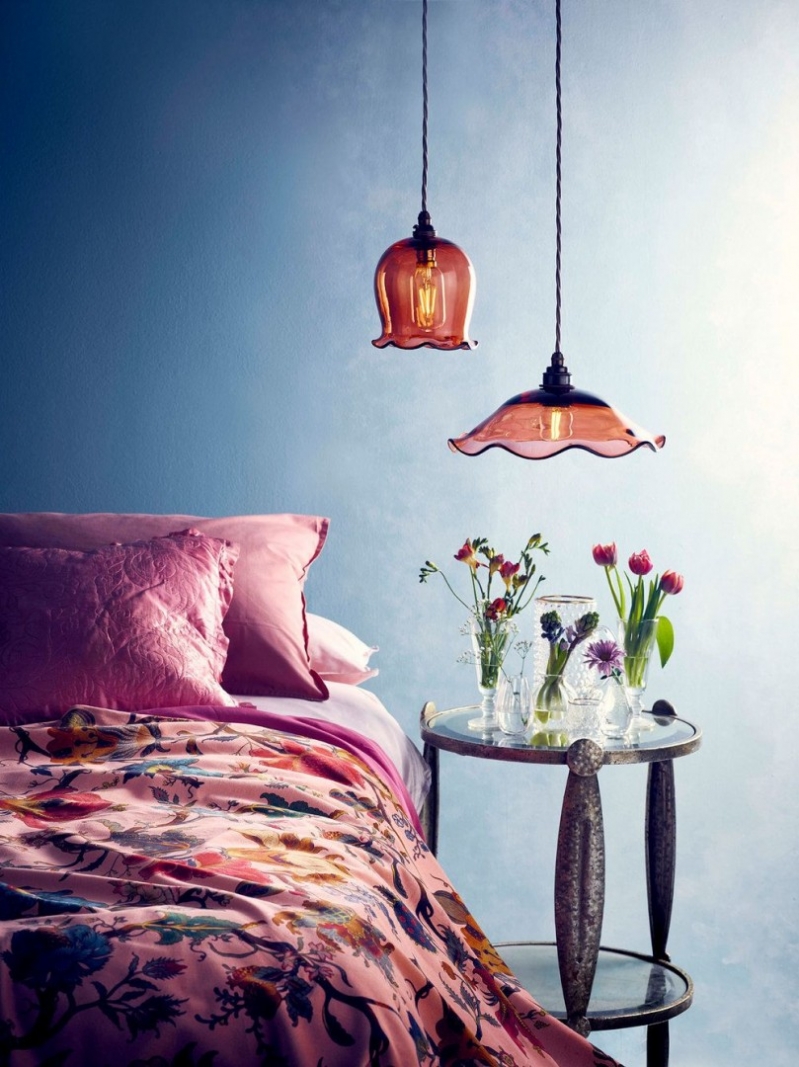 Curiousa & Curiousa's beautifully crafted Chintz Pendant Lights seem to mimic wild bluebells and bring interest into functionality. What could be more special than that? Photo Courtesy of Curiousa & Curiousa
While it is inspiring to bring wild florals in, it can be equally exciting to take fabric florals out. Connecting our interiors to our gardens and the outside world creates synergy. These floral deck chairs help create a relaxing atmosphere that flows between indoor and outdoor spaces.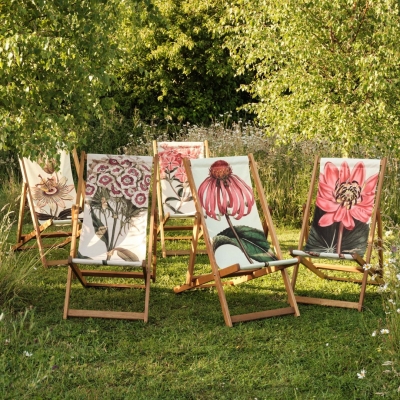 Floral deck chairs make creating flow and synergy a piece of cake.
The botanical trend continues to be relevant on social media, in interior design magazines, and in the chicest homes, hotels, and social hubs. The curated floral theme, as well as being stylish, makes a room feel finished and loved while bringing a breath of fresh air and an instant lift. All in all, making florals a fail-proof go-to.