Hidden down a small track amongst hedgerows and farmhouses – a stone's throw from Minster Lovell – Freedom of the Press typifies the kind of exciting English winery that has become prodigiously more commonplace over the past decade.
Self-described as "a micro-winery with grand ideas", the small winemaking operation is run single-handedly by Gavin Carver, who exudes the kind of playful enthusiasm for his craft that you can't help but admire. Gavin fluently jumps from point to point whilst explaining how his project has grown to fruition, regularly pausing to add context to a technical detail or give credit to those who have helped him along his journey.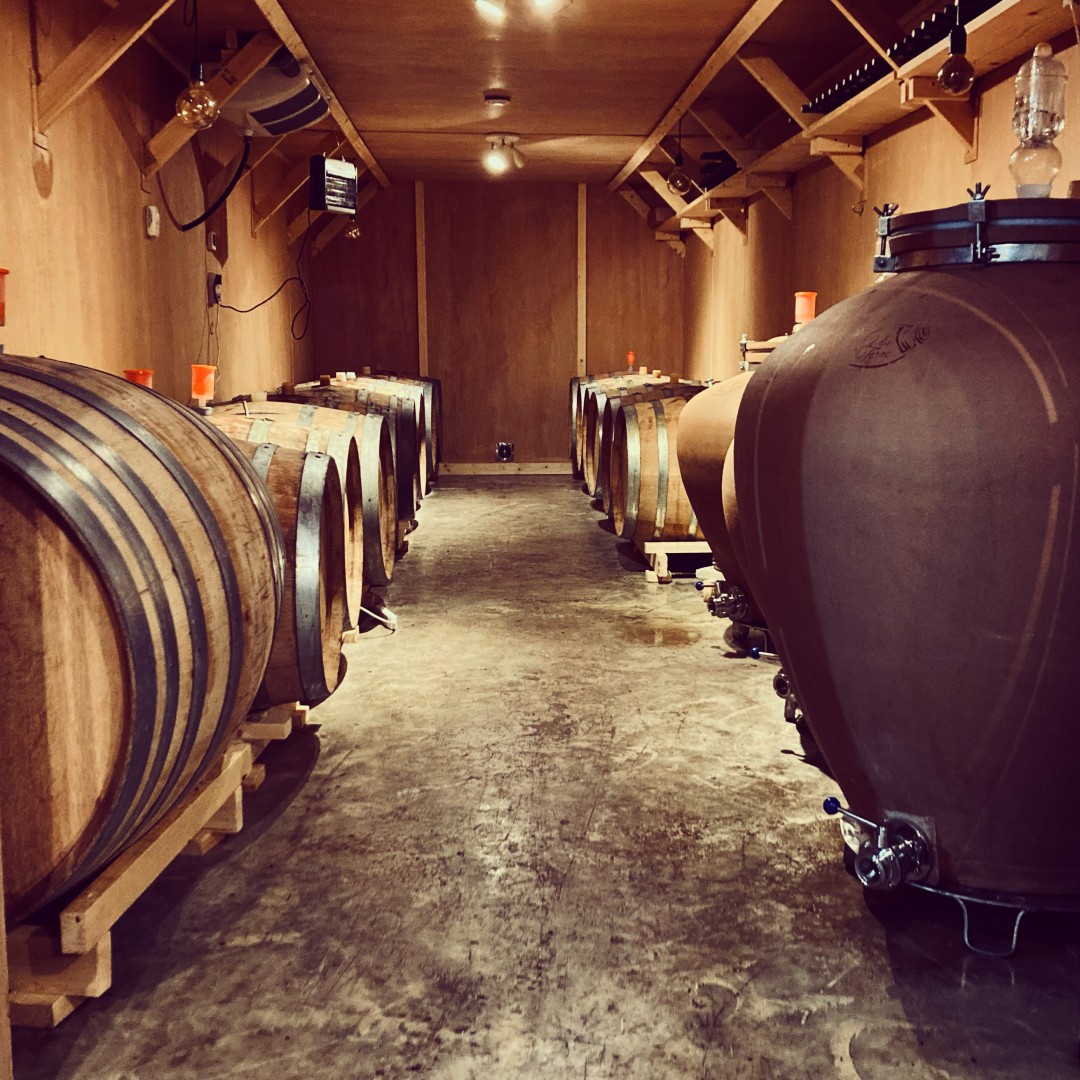 Working as a theatre lecturer, then importing wine from France before - as he describes in typically modest fashion - opening his winery as a symptom of a 'midlife crisis', Gavin began making wine from his charming Cotswolds locale in March 2020, taking guidance from legendary Australian winemaker John Worontschak. Gavin credits John with "almost single-handedly" bringing English wine to the exciting and fast-developing boom which it's currently enjoying. He has taken John's expertise and applied it to his own vision of what can be done with English grapes.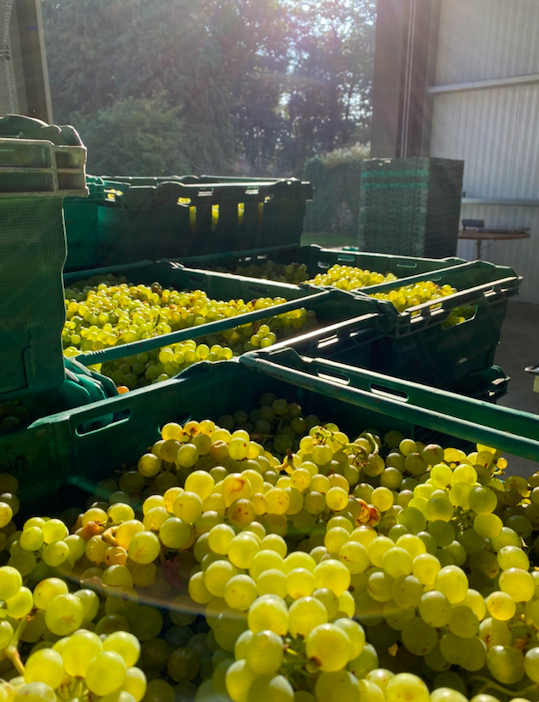 Despite being relatively new to the art, Gavin had a clear idea of what he wanted his winery to achieve and how it should function. A small-scale operation such as Gavin's is unlikely to reliably turn a profit purely through selling to third-party vendors, so he opens his space up to the public on Fridays and Saturdays, as well as hosting concerts, Sunday aperitifs and tastings. Gavin is effortlessly endearing and tells his story in terms entirely comprehensible to the layperson, but with a level of detail that only comes from years of passionate focus on a creative endeavour.
So, what of the wines themselves? Using oak barrels, stoneware amphorae and concrete eggs, Gavin currently bottles three varieties of still white wine, each with its own character and profile. The first of these is a Bacchus - arguably English wine's flagship grape – Bacchus is of German origin, developed in the 1930s, and a hybrid of Riesling-Silvaner and Muller-Thurgau. It's often described as England's answer to Sauvignon Blanc, and on tasting Freedom of the Press' Bacchus, it's easy to see why. Huge elderflower flavours and a touch of citrus make this a wonderful wine to enjoy with charcuterie or a cheese platter on a later summer afternoon.
Second, we have a Pinot Gris which is a little more complex - lightly floral but with a rich pear and peach flavour that would allow the wine to handle spicy food, mushroom pasta, or game. The wine was fermented in a combination of Burgundy oak and earthenware, then aged in stoneware vessels for seven months.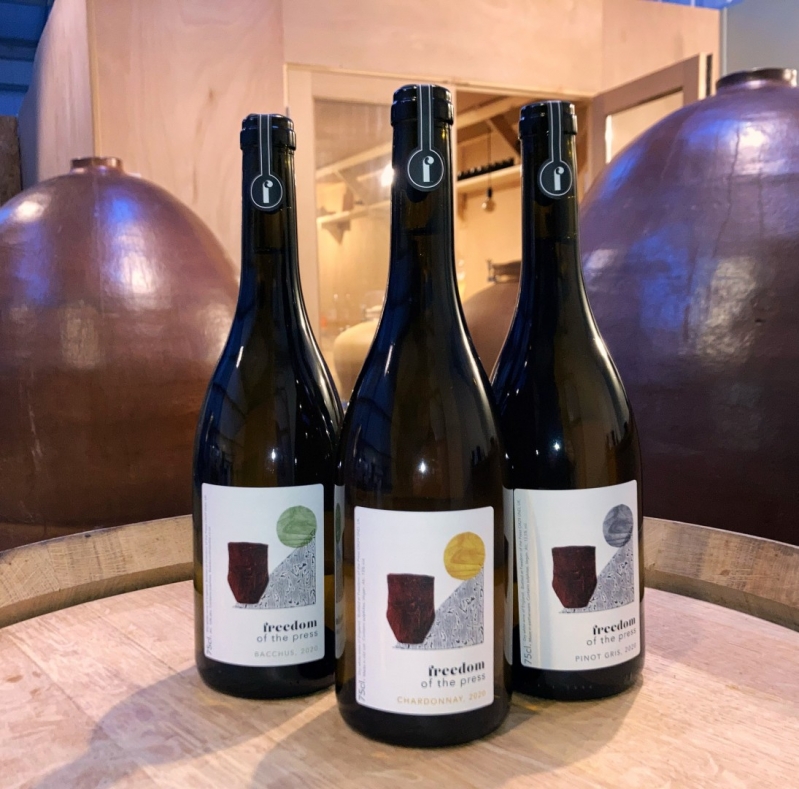 Finally, a Chardonnay, made with particularly ripe grapes from Crouch Valley in Essex. Golden in colour, the Chardonnay is likely to develop in the bottle for several years but is perfectly drinkable now. Fermented in three-year old French oak, it has notes of wild flowers, tangerine, citrus, stone fruits and honey.
Buy wine, book a tasting, check event schedules and see more information at freedomofthepress.co.uk
A History of English Wine
43AD
Grapes were first introduced to Britain by the Romans.
11th Century
The Domesday Book recorded 42 vineyards across England, as far north as Lincolnshire. Much of the wine produced during this period was used as communion wine for the Eucharist.
1509
139 vineyards were recorded in England, including 11 that produced wine solely for the royal household. Wine was still very expensive at this point and wouldn't commonly have been drunk by the majority in England.
Mid-19th Century
Epidemics of phylloxera and powdery mildew, brought back from English colonies in the Americas, destroy a huge section of commercial English winemaking. Taxes on foreign wine were massively reduced, and English wine was almost entirely outcompeted by cheaper and superior product from abroad.
1914
The beginning of World War I meant that agricultural capacity was appropriated to produce crops for the war effort. No English wine was being produced at all, for the first time in two thousand years.
1936
Small-scale winemaking resumed in southern England
1960s
More vineyards began to appear across Kent, Devon, Somerset, Sussex and Wales
1970s
Increasing average temperatures improved the potential of many English areas for growing grapes. German-style, English-grown wines like Liebfraumilch and Hock became popular.
2000s
This period saw a huge expansion of English sparkling wines. A 2004 panel on European sparkling wine gave most of the highest accolades to English products. Quality English wine becomes more widely recognised, and a greater number of wines make it to market.
Now
Increased consumer preference for local produce (amongst other factors) has seen a huge spike in sales of English wine. Widely grown varieties currently include Chardonnay, Bacchus, Seyval Blanc and Pinot Noir