Upholsterer Kerry takes antique or vintage chairs– mostly mid 20th century, and often those that would otherwise be overlooked – and finds great satisfaction in giving them a complete makeover so that they become, instead, 'the belle of the ball'.
"I'm inspired by textiles," upholsterer Kerry Spurry explains. "Previously I ran a vintage clothes boutique in Tetbury selling amazing clothes that dated back to the 1920s, 30s and 40s. The quality of the fabrics that were used for clothing in the early 20th century was mouth-watering. You really can't get new clothes in that same quality fabric anymore."
Kerry moved from working in vintage fashion to upholstering to become more creative herself and also to make pieces that are more sustainable for the long-term. It's a shift that mirrors the societal trend for casual clothing rather than dressing with the elegance and sophistication of the past, and to focus increasingly on using the home as a reflection of the inhabitants' characters and ethos. Having moved to Oxfordshire from Gloucestershire, she was also inspired by the renovation of her own 300-year-old home in Buckland, where she is exhibiting during Artweeks.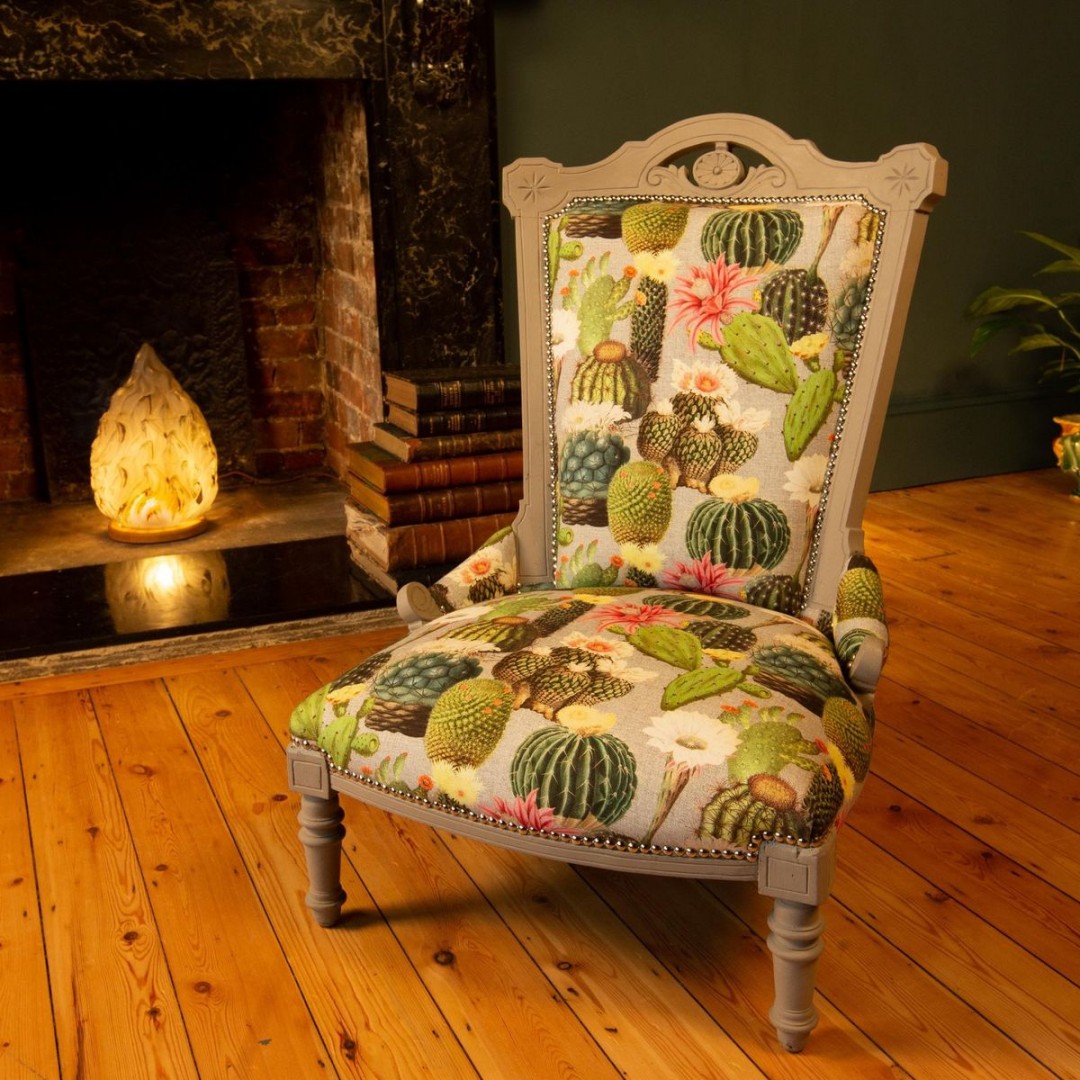 There, in the stunning private chapel of Buckland House which is rarely open to the public, alongside ceramics, paintings, photographs and art by seven other artists and makers, Kerry is showing a selection of her latest creations, statement pieces for the home.
"I have a particular passion for velvet," she continues. "For furniture it works remarkably and is luxurious, glossy and sumptuous. Most velvet people see today in clothing is actually synthetic but my passion stems from the silk velvet of old [velvet made from silk] which was used much more commonly in the 1920s and 30s. It was much finer and even softer than cotton velvet, so it draped better, and I particularly love the printed velvets of that era. With my furniture, I like to use printed velvets, too. Although velvet is quite a hard fabric to work with, the outcome is always stunning and worth all the effort in my opinion."
Kerry chooses stylish patterned velvets to reinvigorate her chairs and other pieces of furniture, picking the pattern depending partly upon the style of chair. "One of my favourite designers is GP&J Baker who has some amazing signature velvets, specifically the Royal Garden collection which is wonderful (and romantic). However my tastes vary from prints by Fermoie, Lewis and Wood, and Rapture and Wright to the colourful and often whimsical designs from Mind the Gap", she adds.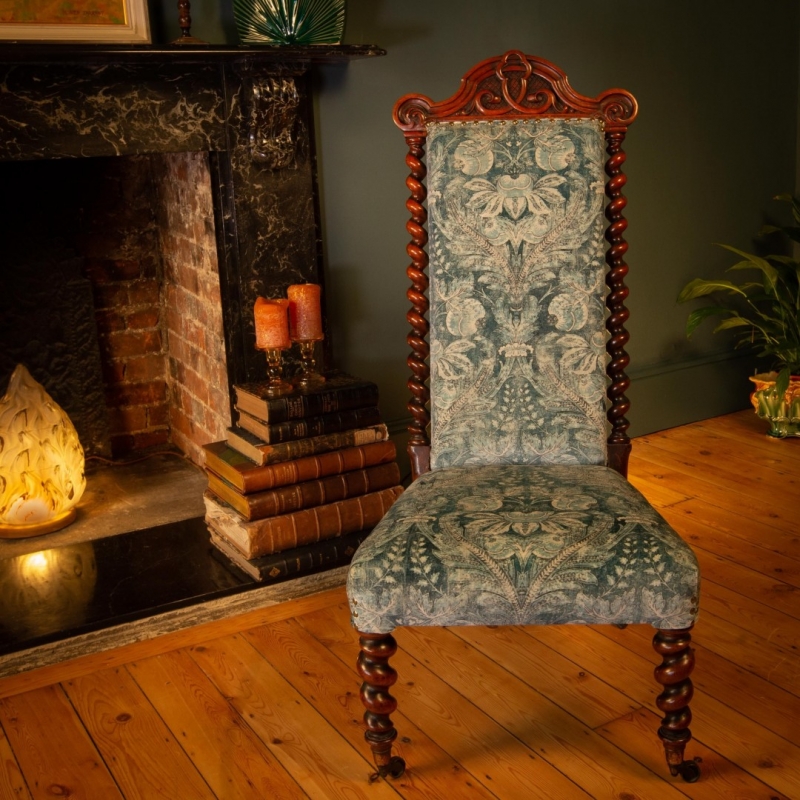 "I love a 'country house' feel; I tend to choose natural patterns in rich colours with drama and personality. I like a pattern which is classic yet has a contemporary feel, so that it is both sympathetic to the original piece of furniture but also accords with modern tastes. I also enjoy using textures, such as an ivory Icelandic sheep fleece which is very long and fluffy, soft, fun and yet surprisingly durable, and I'll have a leather swivel stool in the exhibition too.
I fall in love with my chairs as they progress through the process of transformation - it's hugely satisfying work!"
Image credit: Min Reid