Creating a beautiful home that can withstand muddy boots and pawprints can be a challenge, but is entirely possible with a little extra consideration and forethought. Amanda Hanley talks us through where to start…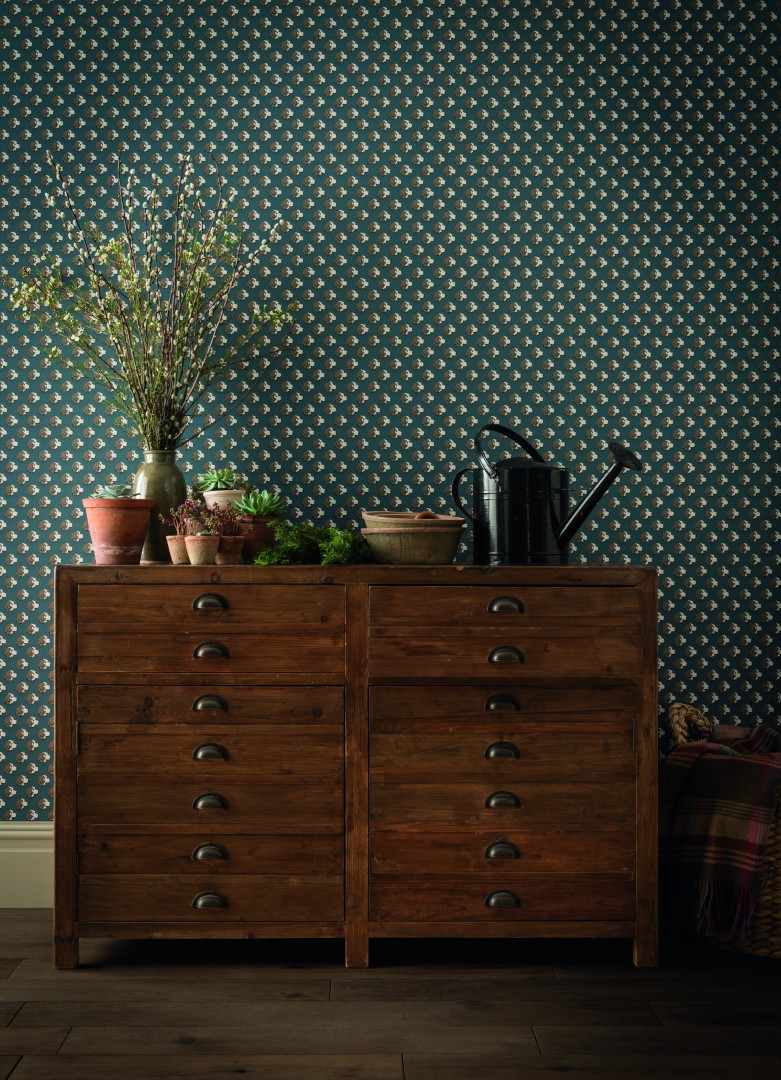 Start at the beginning
From a very practical point of view, most of the mud and mess that is brought into a rural home is at the entrances: the front and back doors. Finding a way to avoid the dirt coming further than this point is the key. The ideal solution is to have a separate porch or bootroom, where family and guests can remove footwear before they come into the rest of the house. Here, bootscrapers, wellies, bags and peg rails can be kept out of sight. A top priority should always be a really good doormat, and then durable rugs beyond that.
Bootrooms don't need to be boring; they can become a stylish room in their own right. There are many ways you can inject personality: think quirky wallpaper, such as Mulberry 'On the Scent', chunky and textured basketware, rustic rugs and clever carpentry; adding a built-in, padded storage bench with an upholstered seat is both useful and looks smart.
"Wallpaper in a porch, bootroom or entrance hall, adds personality and interest. It is also practical as it is more forgiving than a painted surface."
Walls and flooring throughout
It is the lower half of walls that are likely to get the most damaged with splashes and scrapes. To counteract this, you could add wood panelling that has been painted in a tough eggshell, or even tiles, which can be wiped down easily.
GP

&

J Baker – Wood panelling and wallpaper is a practical and good-looking combination.
Flooring that can be cleaned with a mop is essential. Most in keeping with a country home would be stone, granite or slate flagstones, or even terracotta tiles, favoured by the Victorians. Choose a finish that is not slippery when wet, to avoid falls and accidents.
Timber floors are extremely charming, but require maintenance, as they wear over time and require regular treating. It is, however, possible to protect them with a hard-wearing rug – think washable, patterned or heavily textured. Weaver Green do a great range of water and stain resistant rugs that are available in both contemporary and traditional designs; they are made from 100% recycled plastic bottles, and, as a result, are highly durable.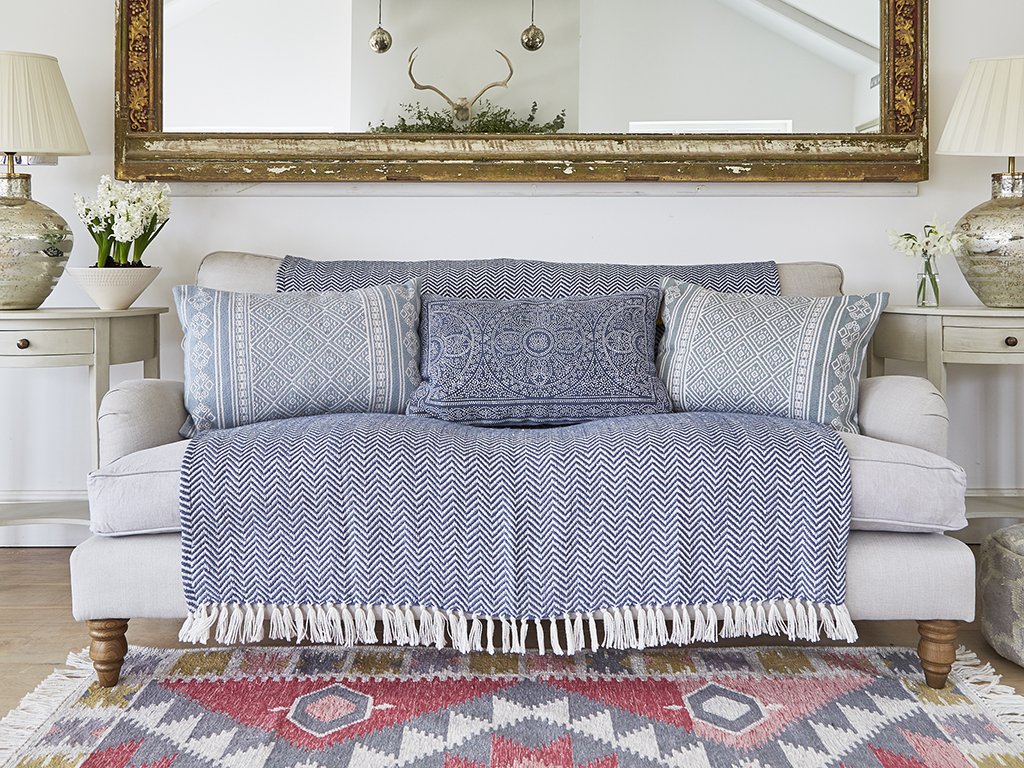 Keeping warm and cosy
Whilst many country homes are lovely and warm, some rooms can suffer from draughts. To counteract this and keep your heat in, use interlined, heavy curtains at both doors and windows – as well as retaining heat, they can be highly decorative. Don't forget that your poles and tracks need to be able to carry the weight of the curtains. 'Portiere' rods are a brilliant way of hanging a curtain over a door, as they move with the door when you to open and close it.
Also consider:
Draught excluders that fit the exact width of the door
Shutters on windows – also useful for soundproofing those early morning bird calls
Blankets and throws – a pile of beautiful, warming throws are lovely to look at and practical at any time of year.
Storage, storage and more storage
Lots of storage helps your home to work hard, but look effortlessly tidy. As a general rule, you should aim for 10-20% of your home to consist of storage. For a country home, you'd need more, especially when life includes animal husbandry, rural pursuits, home businesses, and, of course, young children. Dedicated storage rooms are ideal, but if that isn't possible, a higher level of ingenuity will be required, using built-in or freestanding storage of all sizes, from dressers to plate racks and hooks. To make storage as attractive as possible, choose materials that have details corresponding to the overall architecture and interior style of the house.
Working spaces
Almost always, the kitchen is the heart of the home, and it can also double up as a useful workspace. A large, chunky table can be used as an extra worksurface area for baking, preserving and general food preparation, but can also function as an office space, a place for children's activities, flower arranging, arts and crafts, sewing and also as an informal dining table. For a busy, working kitchen, a big, classic ceramic sink is a must, and is very much in keeping with the country look. It can take not only dirty dishes, but is also useful for washing produce from the garden, and maybe even plucking the odd bird.
Decorative tips
Regardless of whether your home is a manor house, a thatched cottage or a townhouse, there are some key ingredients to creating a stylish and practical country look:
Use a range of patterns to create a relaxed and cosy feel. This has the added benefit of detracting the eye from any marks there may be on the walls or floor.
For upholstery, including sofas, chairs, footstools and headboards, choose a durable upholstery fabric that has a rub test of at least 30,000 rubs. This increases the furniture's resistance, withstanding the daily wear and tear of country life.
For an extra robust finish on walls, panelling is perfect with a gorgeous wallpaper above.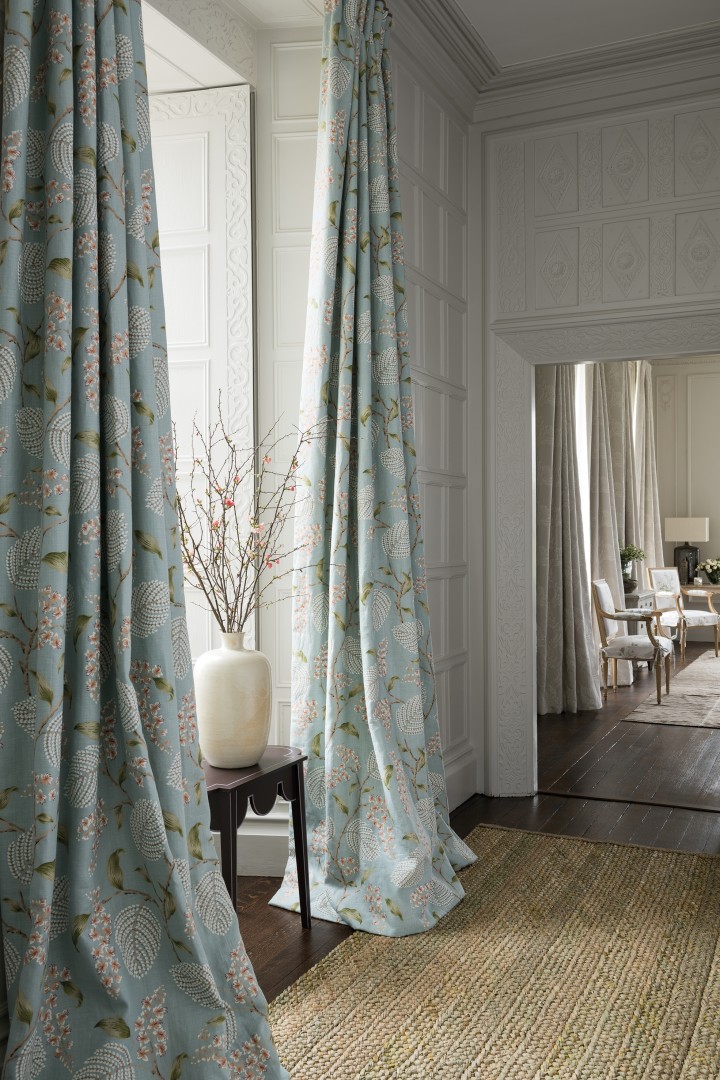 Colefax and Fowler – pattern, texture and hardwearing surfaces are essential in a rural home.
Amanda Hanley's Interior Awards
Best pattern fabric
We adore GP & J Baker's 'Barcelona' in teal from the Rio Velvet collection. A riot of colour, the fabric is an extraordinary patchwork of fantasy blooms divided by bands of small decorative motifs. It looks fabulous on upholstery and cushions, and is highly practical too.