There is one essential job to do in your garden as the temperatures rise, and that is to make sure your garden gets properly watered. Water does not always have to come out of your garden tap: there are ways of conserving water during wetter periods to prevent overuse of clean household water and ensure that when you water you do so correctly. 
Get the soil right: 
adding quantities of well-rotted farmyard manure and garden compost by lightly digging it into the soil in the winter and early spring months will help retain moisture during the dryer months. 
Apply a mulch:
Before the temperatures start rising and the ground is damp from the winter and early spring rainfall, apply a 10cm mulch of garden compost or bark chippings over the ground to prevent evaporation.  
Install a water butt: 
Huge amounts of water run away down downpipes but it could be harvested in correctly positioned and fitted water butts. They can collect water from your house, garage, shed and/or greenhouse. Rain water stored in a butt is warmer than tap water and many plants prefer it.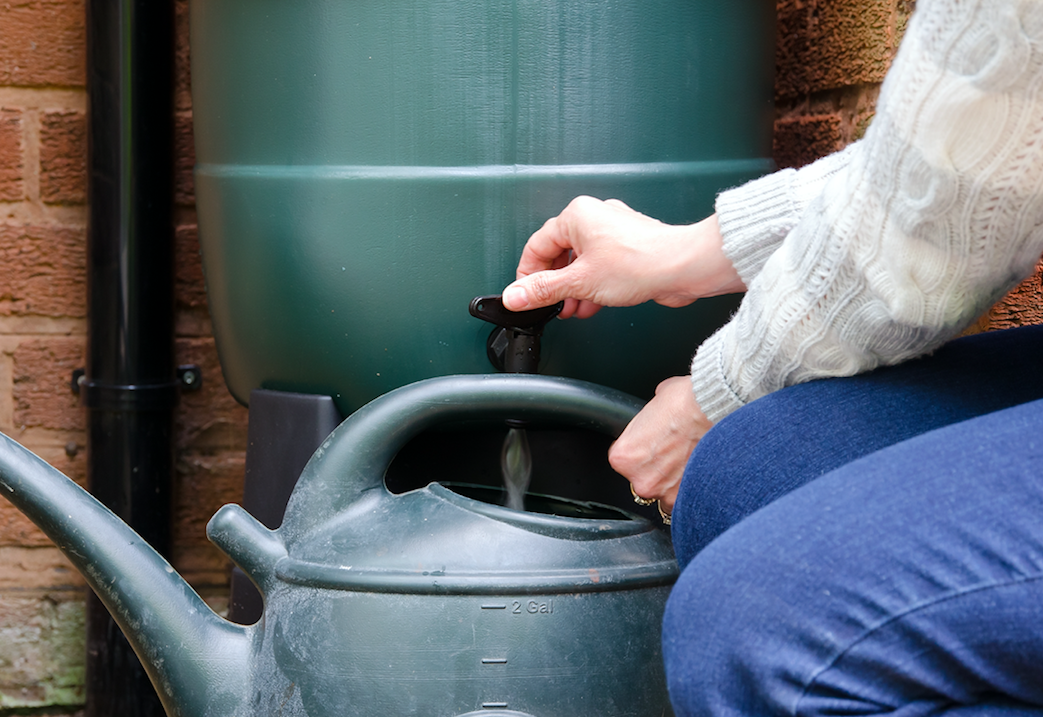 Add water-retaining granules:
When planting pots and hanging baskets and other containers, simply mix some water-retaining granules to the compost. Doing so helps the plant's roots draw moisture from the granules as they grow and helps prevent the soil drying out so quickly. 
Make a channel for your plants:
 Simply cutting the top off a plastic bottle and inserting this end into the soil allows you to fill the container with water which will slowly drain into the root system. For pot grown tomatoes, bury a flowerpot into the soil and fill that with water. Again, it will slowly drain into the roots. 
Capture water from your kitchen tap when waiting for hot water: We can waste a considerable amount of water running the tap waiting for it to run hot. Collect it in a bucket, jug or watering can and use it in your garden. 
Get your timing right:
 Just because your plants are looking hot and thirsty in the middle of the day or whenever the sun is hottest, don't be tempted to water then. Watering should preferably be done early in the morning or in the cool of the evening. Containers and hanging baskets will probably need watering twice a day and make sure you're not filling your containers to the brim with soil otherwise water runs over the edge. 
Where to water: 
Don't be tempted to sprinkle the plants leaves although in a well-packed border this can sometimes impossible to avoid. Instead, water the base of the plants so it can soak down into the roots. Give each plant a good soak, a water can full, every two to three days, particularly in extremely hot weather. Roses need to be watered this way otherwise they can get blackspot and mildew if water collects on their leaves. 
Invest in the right equipment:
there are many different watering systems available, so we picked a selection to help get you started. 
You will need a good watering can with a rose attachment, particularly useful when you need to feed your plants and for containers. A large plastic milk carton with holes pierced in the lid can also do the job very effectively. 
For larger areas you will need a quality hose pipe with a spray gun with a controllable flow rate attached to the end that can be turned off at the attachment end when you are moving around to prevent water wastage. NB: Ensure that your hose is correctly fitted to your tap and does not leak. 
When you have spent money on a good quality hose, invest in a hose reel or a wall-mounted box. Look for a decent length hose which rolls up evenlyand offers 360o turning. The advantage of such fittings is that you can simply pull the hose out to your desired length at short interval stops. When you have done, a short tug on the hose triggers the automatic roll up at a steady speed. 
If you are without an outside tap, don't despair as we found a new Tap Connector from Gardena for indoor taps which allows a hose to be easily connected to any household tap. Once fitted it can remain in place as it is heat-resistant to 60oC and continues to provide a light water stream.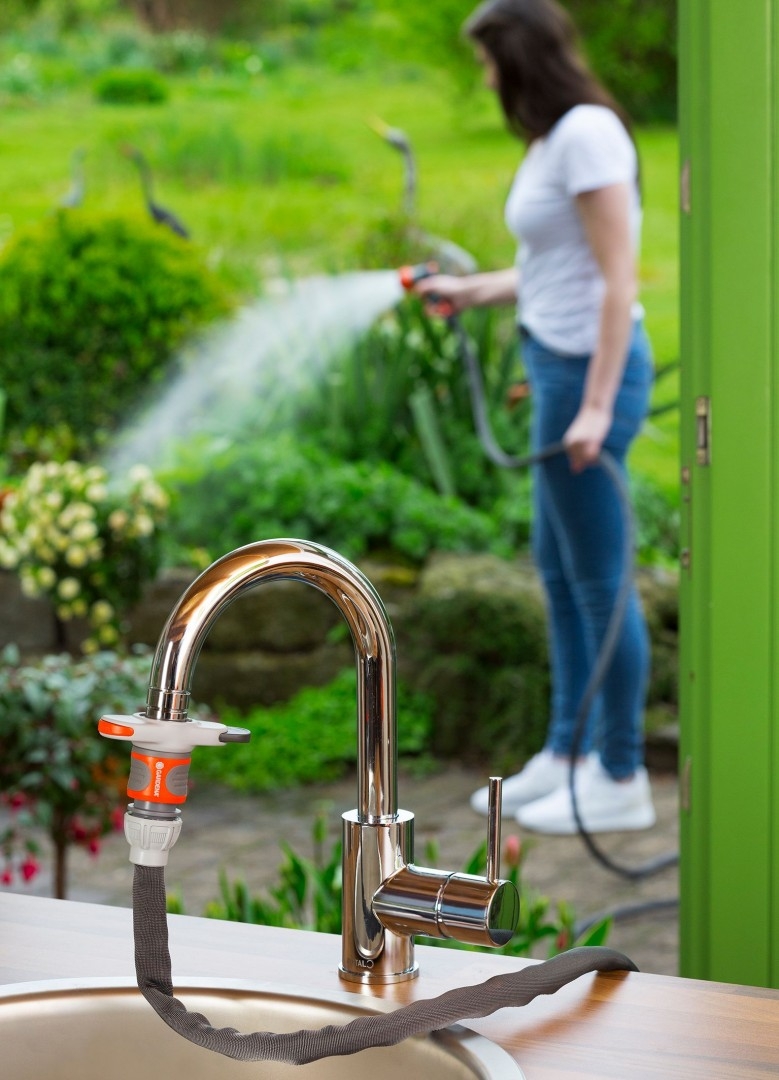 Scheduled automatic irrigation systems can be determined by soil moisture at the roots and by soil temperature. Irrigation is only carried when required, preventing over-watering. By fitting such a system, both your plants and lawn can be kept looking good. With a large measuring range, the sensor can be placed in flower beds, vegetable patches and deeper areas of the lawn and at shallower depths in flowerpots.