Graven Hill is one of the country's most innovative self- and custom-build villages. Built on former Ministry of Defence land in Bicester, the 188-hectare site will see up to 1,900 homes built over the next decade with the aim of creating a unique community where homes can be designed to accommodate individuals' lifestyles. Earlier this year it appeared on the Channel 4 series, Grand Designs: The Street, as presented by Kevin McCloud. Six episodes followed the diverse stories of ten 'pioneers' as they took part in the biggest self-build project the UK has ever seen. Here we check in with a couple of them to see how they've settled.
Terry Brown-Waite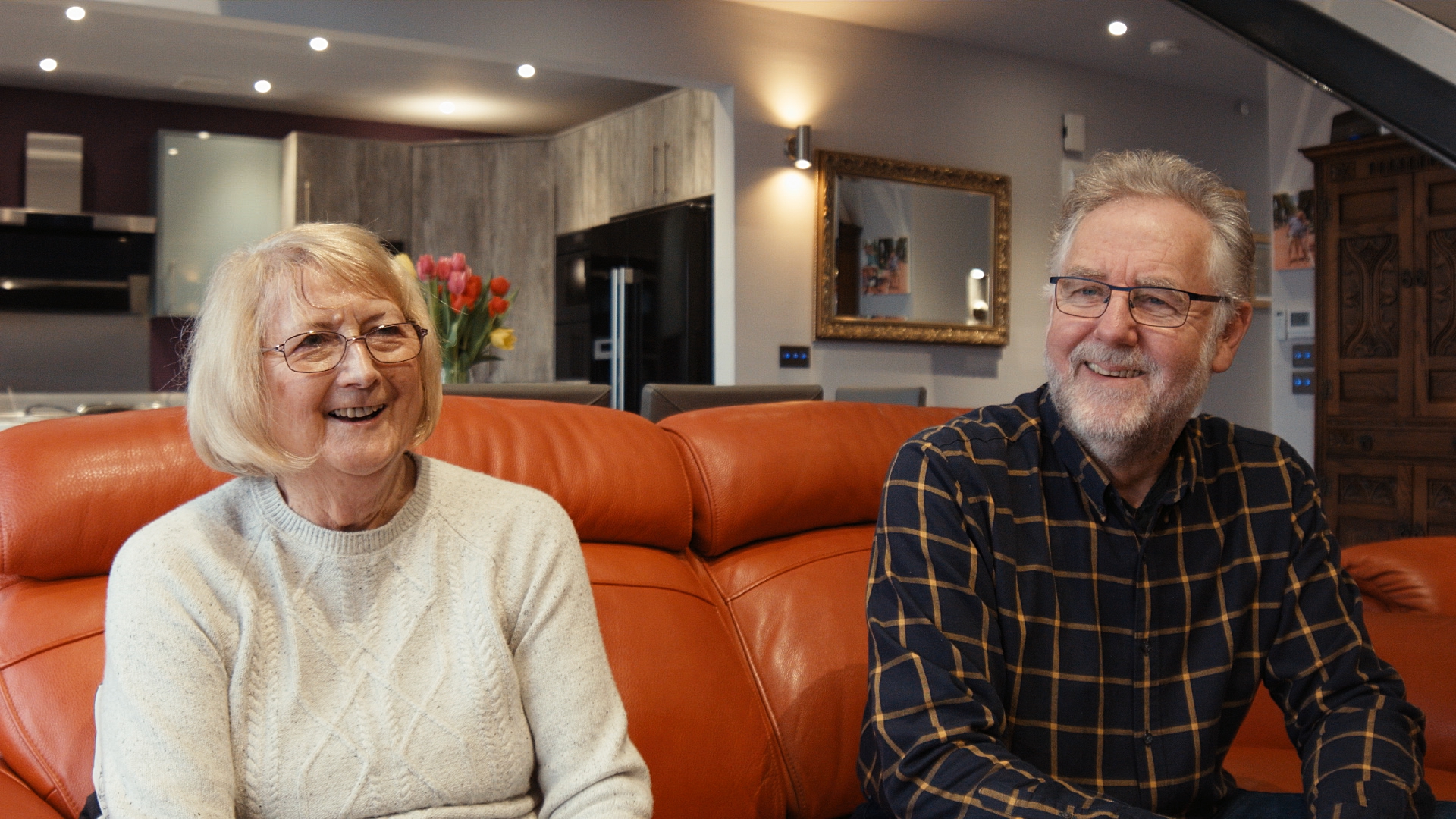 "I wanted to prove self-build is doable, even at our ripe old age, and I would love to encourage as many people to take up the challenge. It is hard work, it is stressful, the bureaucracy is unbelievably difficult, but the rewards are insurmountable. We're just so happy with what we have achieved and looking forward to our dotage in this property of ours."
The oldest couple on the street, Terry and Olwyn made the move to Graven Hill from a small village near Daventry. From Spain, where the pair has been holidaying for years, Terry talks more about their bespoke, future-proofed 'wedge' home.
PLOT 1: THE BLUE HOUSE
NAMES: TERRY, 61, AND OLWEN, 73
BEDROOMS: 3
BATHROOMS: 2
STARTED: APRIL 2017
FINISHED: SEPTEMBER 2018
BUILD ESTIMATE: £280K
FINAL BUILD COST: £335K
We hope you're enjoying your holiday – where do you stay when you're in Spain?
We bought a little holiday home over here about 15 years ago and we're now trying to sell it. We've tried to bring the Mediterranean lifestyle and bits we like about Spain to our house in England – so perhaps the holiday home is now superfluous.
How are things at your new UK property?
We have now finished the property, house and garden. We designed a house that is perhaps a little bit off-mainstream and I have to say we were wondering ourselves whether it would suit us; we've always had older-style properties and we've moved to something ultra-modern. But we absolutely love it.
It was a big decision to do the self-build, but you also agreed to the process being televised – what was that side of it like?
I had said I wasn't building a house for the television, I was building a house for myself, and if people wanted to film the process I'd be happy with that. I just carried on building. It was a little bit disruptive; I'm not a team of builders, so when the crew turns up and want me to redo something, then effectively work stops for the day. But other than that, everybody at Boundless Productions was very friendly and became part of the family at the end. It wasn't really intrusive and there have been benefits – suppliers can be more generous with what they offer when you say you're going to be on television.
The building did a lot of good for your fitness, have you replaced it with anything to maintain that fitness?
I turned myself from Mr Blobby into a racing snake, as I said on the programme, and in so doing reversed the diabetes which I'd contracted. I'm not doing so much physical work now so we've bought ourselves some bicycles. Part of the reason for moving to Bicester was the fact the ground's more level than where we used to live. We've got the town centre and shops close by, so we are hoping to do a lot more cycling rather than using the car to do everything. And we're hoping to join a tennis club or a gym shortly. In the background to this, my daughter (who helped out with the build) is in the process of buying an older property, so I have a feeling Dad's DIY skills might be required again. On a treadmill it's all pretty boring, knocking down walls and building stuff is far more interesting.
Could you extend your house?
I think we're allowed to and we've got sufficient space to do it. But the house suits us down to the ground. We designed it specifically for us and have not even contemplated any form of extension. I do wish we'd put a basement in; my friend who came over to help from Canada couldn't understand why we didn't have one. Plots are getting smaller; basements give you the opportunity to build a bigger house on a smaller plot. Everyone says 'you can't build basements, they're wet, damp places' but technology has moved on. I'm afraid to say the building industry hasn't. If we had any issues while we were trying to build, it was because we were building with new technologies. If you build out of what I call bricks, blocks and candy floss, everybody understands what you're doing. But because we were trying to use new methods – to be more eco and efficient – builders don't know about it, building control are not quite sure what's going on, structural engineers aren't quite sure how to do the calculations. I suppose that's why we had to do it ourselves.
Do you miss anything about your previous home?
We lived in Pailton for four or five years and we got on with all our neighbours. We miss them now – they do keep coming to see us, mind you.
How are getting on with your new neighbours?
We really all get on well. It's amazing, actually, when you think we're a large demographic range with different backgrounds. We got to know everybody over the build, and we've all helped each other out one way or another – physically, mentally, lending of tools. Only a week ago we had the whole street round for a barbecue in our back garden – it was wonderful.
Paul Troop
"We've got a real community like I haven't had since I grew up in a village, where everyone says hello to each other and lends a hand if someone gets stuck. We signed up to build a house, we didn't realise we'd also be building a really warm, generous, close-knit community."
Barristers Paul and Blanka, along with their two young boys, once lived in a rented house in Oxford. Here Paul talks about the eco-home they've created out of hempcrete, and envisions a UK where most of the homes are self-built.
PLOT 6: THE HEMPCRETE HOUSE
NAMES: PAUL, 42, AND BLANKA, 35
BEDROOMS: 4
BATHROOMS: 3
STARTED: JUNE 2016
FINISHED: AUGUST 2018
BUILD ESTIMATE: £160K
FINAL BUILD COST: £300K
How have you and the family settled?
Really well. It's beautiful here and the house is so comfortable. This morning I woke up at 6.30 and saw my wife having a cup of tea on our balcony, in the sunshine looking out over the grass. She'd opened the door so I could hear all the birds singing – it was very bucolic.
That balcony's got something of a rustic look.
It's fairly temporary – I think we'll need to do something to it to get building control sign-off. It does the job even if it's perhaps not the most elegant balcony in the world.
One thing that came across in your episode, though, was how subjective beauty is.
Yeah, and beauty sometimes comes from pure function. I'm not necessarily very good at choosing the most attractive things but if there was ever a doubt we'd just always choose the most practical or the most functional.
Has the new house benefited your working life in any way?
Definitely. I work from home quite a lot and in all our previous houses it was always really chilly – my feel would always be cold. Our present house is bone dry, there's loads of space, it's nice, light and airy. It's just a brilliant atmosphere in which to sit down, think and concentrate.
How much of self-building is about belief?
One thing I've noticed is people who build their own houses are a little bit eccentric. They are prepared to take risks and do things that other people wouldn't. So there is a bit of an exceptional belief that you can pull it off, or at least start along the track. Then once you're on there's really no looking back – you can't just stop building a house. So you take on the commitment and have to see it through.
You remained really quite calm and well-mannered during the whole process.
I can't pretend I wasn't very worried at different stages and quite stressed about various things. The thing about houses is there's always a solution which is reassuring, and there are always people around to help. You have to face problems with a sense of humour otherwise you would definitely give up. We had the bi-folding doors delivered, and they were slightly scratched. I was chatting to the driver about them after about eight people had carried them into the house, and then a huge gust of wind blew the whole lot over and smashed them to pieces. That was a nightmare but I had to laugh, I didn't know where we were going to get a replacement from or how we were going to pay for it – but you have to shrug your shoulders sometimes.
Do you have a favourite episode from the series?
Obviously we're biased: we like ours a lot. Some of the earlier episodes were very much about the personal stories and the stresses, a bit like a soap opera in some respects. Whereas I think there's a story to be told about the problems with building in this country and the advantages of self-build, which maybe doesn't make quite as good television but is really important. So I did like the fact that the focus of our episode was the choices we'd made and why we wanted to build like that. Although there was some drama in it, it explained the nitty-gritty of the alternative ways of building a house.
Are their enough eco-homes like yours being built?
There's a real problem with housing in this country. The focus is very much on making profit for the house builders, not on making a decent home for people and not on the environment. The amount of greenhouse gases produced by the building industry is one of the highest from any sector. It's totally wasteful and almost totally unnecessary, but it's cheap for the big companies and they make a massive profit by doing this. The sooner some government grasps the problem and starts to refocus the house building industry on making well built homes for people, the better.
Can you envisage a UK in which the majority of the houses are self-built?
I can. It would be challenging because there would be a lot of opposition from the commercial house builders, but it would just take some fairly simple changes to planning laws. For example, allowing councils to buy land on the edge of towns at the unimproved rate and making sufficient provisions to store self-builders – one of the main obstacles to self-build is the lack of availability of plots. The big companies buy up huge swathes of land and build a huge amount of houses which no-one really wants, but people who need houses are forced to buy them because there's very little choice. The Conservatives talk about the Big Society, one way to create it would be to do things like Graven Hill – that's essentially what's happened by accident rather than by design.
Find out more on the Graven Hill Website: gravenhill.co.uk
Or visit the Graven Hill OX Loves Page