Last month saw the annual Love Your Gut week take pace (21st – 27th  September), an annual reminder of the importance of maintaining your digestive health. Working in collaboration with Dr Joan Ransley, the site is a goldmine of mouth-watering, seasonal recipes which makes the doctor's tips a piece of cake to follow – or in this case, a spoonful of crumble!
 Simple Red Lentil Dal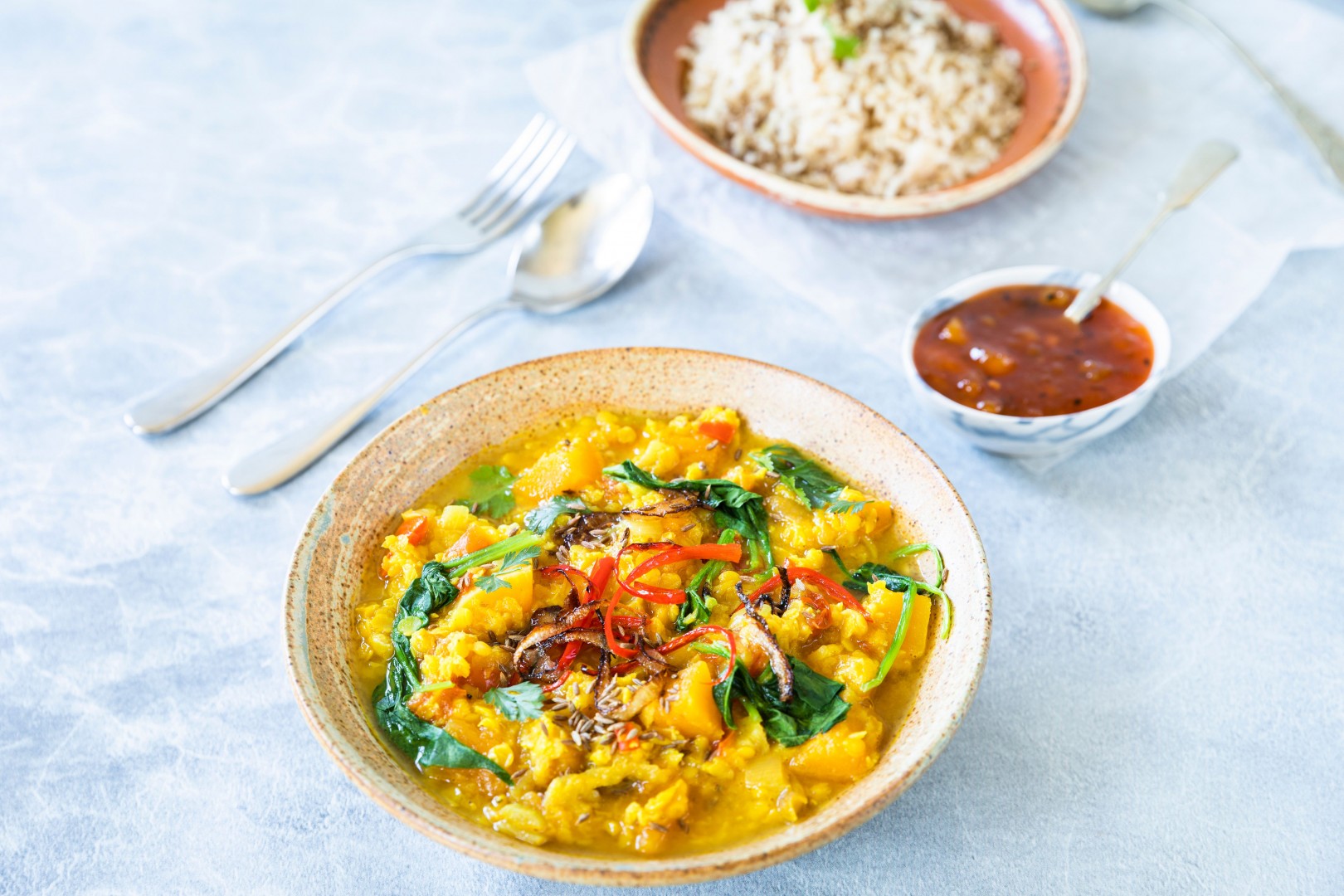 Dal is one of the fastest, most delicious, and economic meals you can prepare. This version is also nutritious and sustaining. It promotes gut health through its key ingredients; lentils, spinach, tomatoes, onion, garlic, ginger and turmeric.
 Serves 4
 Ingredients:
1 large onion, finely chopped
500g peeled and de-seeded butternut squash (approximately half), cut into 2cm cubes
2 tbsp sunflower oil
5 regular tomatoes (150g) fresh tomatoes, chopped
2 cloves garlic, finely chopped
30g fresh ginger, peeled and finely grated
2 tsp ground cumin
½ tsp ground turmeric
1 fresh, long, mild red chilli, deseeded 
225g dried red lentils
100g baby spinach leaves
2 tbsp chopped coriander leaves to serve
  Method:
Sweat the onion and butternut squash with a little oil for 10 minutes until they begin to caramelise. Add the tomatoes, garlic, ginger, cumin and turmeric.
Finely chop one half of the chilli and add to the pan. Turn the other half into fine strips and reserve to finish the dish.

Add the red lentils and 1 litre of water, then bring to the boil. Reduce the heat slightly and cook for 20 minutes.

Add the spinach, which just needs to wilt for 2 minutes. By this point, the dal should be thick and the butternut squash tender.

Add a little oil to a frying pan and quickly sauté the chilli strips.

Serve the dal in bowls scattered with coriander and strips of chilli.
French Toast with Wild Mushrooms, Spinach and Sweet Tomatoes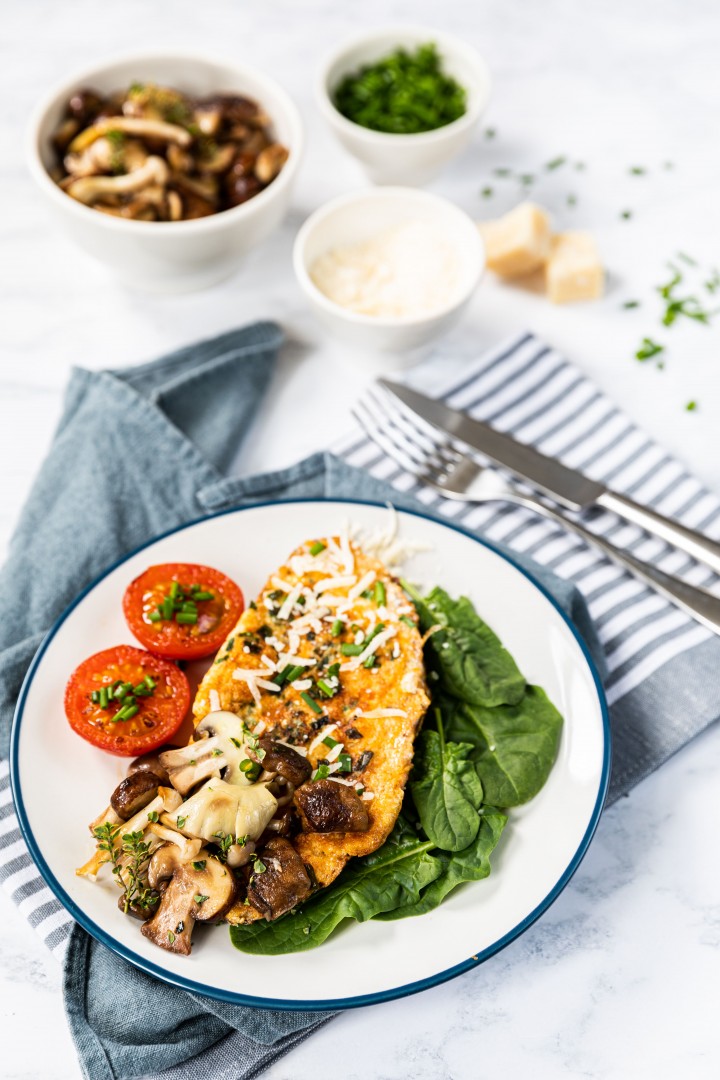 If, like us, you find yourself bored with soup and sandwiches at lunchtime then try this sophisticated, savoury take on French toast.
Serves 4
Ingredients:
4 large free-range eggs, lightly beaten
50ml semi skimmed milk (plant-based also works well)
2 tablespoons chopped chives  
8 small slices of wholegrain bread 
4 small tomatoes, cut in half  
200g mixed sliced mushrooms
25g Parmesan cheese, finely grated 
2 springs of thyme
4 tbsp olive oil 
50g baby spinach leaves
Method:
Preheat oven to 100°C/Gas mark 1/4
Whisk together the eggs and milk and stir in the chopped chives. Pour into a shallow dish for dipping the bread. Drizzle a little olive oil over a non-stick pan and heat gently. 

Using tongs, dip a slice of bread into the egg mixture, ensuring both sides are soaked. Pick up the bread with the tongs, place it into the frying pan and cook for three minutes each side, until golden brown.

While the bread is cooking, sprinkle a little Parmesan cheese over the bread to get an extra crisp, cheesy surface. When cooked, place it on a baking tray to keep warm in the oven while you cook the remaining slices. 

In a second non-stick pan add another drizzle of olive oil. Add sliced tomato halves face down to one side of the pan and mushrooms to the other.

Scatter finely chopped thyme, over the mushrooms and stir until soft. Cook tomatoes until the cut surfaces are just beginning to brown.
   Chicken with fennel, olives, capers, and thyme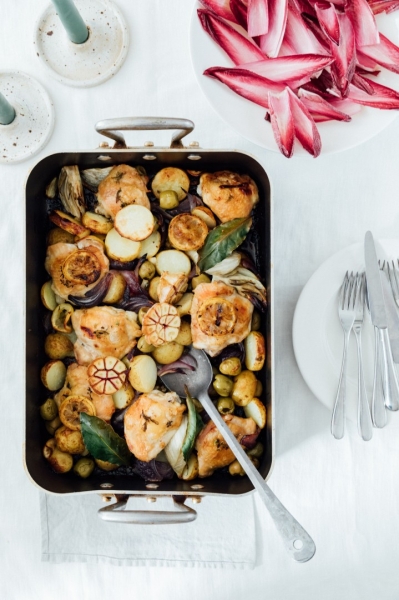 This is an ideal special occasion dinner to cook for family and friends. It can be prepared in advance and left cooking slowly as guests arrive.
Serves 4
 Ingredients:
400g small potatoes, scrubbed and sliced thickly
2 red onions, peeled and cut into wedges
1 bulb of fennel, cut into wedges
2 unwaxed lemons 
2 tbsp capers, rinsed and dried
150g large, green, queen olives
8 skin-on, bone-in, chicken thighs, excess skin and fat trimmed
5 thyme sprigs
2 bay leaves
3 small heads of garlic, cut in half around the middle
3 tbsp extra virgin olive oil
Method:
Preheat the oven to 200°C Fan/gas 6.
Place the sliced potatoes in a roasting tin, followed by the wedges of red onion and fennel.

Finely grate the zest of one lemon over the vegetables. Squeeze the juice of half of the lemon into the roasting tin and scatter the capers and olives over the vegetables. 

Place the trimmed, chicken thighs skin side up on top of the vegetables. Slice the second lemon and tuck the lemon slices, thyme and bay leaves under the chicken and the vegetables.

Place the cut garlic in with the chicken and vegetables. 

Drizzle the olive oil over the contents of the roasting tin and turn everything over with your hands. Make sure the chicken pieces are skin side up on top of the vegetables and there are no lemon slices sticking out as they will burn quickly in the oven. 

Roast in the oven for 30 – 40 minutes until the vegetables are cooked through and the skin of the chicken is crisp and golden. Make sure the chicken is cooked well by stabbing with a skewer and checking the juices run clear.

Serve this dish straight from the roasting tin to plates or transfer everything to a large, warmed serving dish to serve at the table.
Baked Mixed Berry Pudding with a Coconut and Almond Crumb topping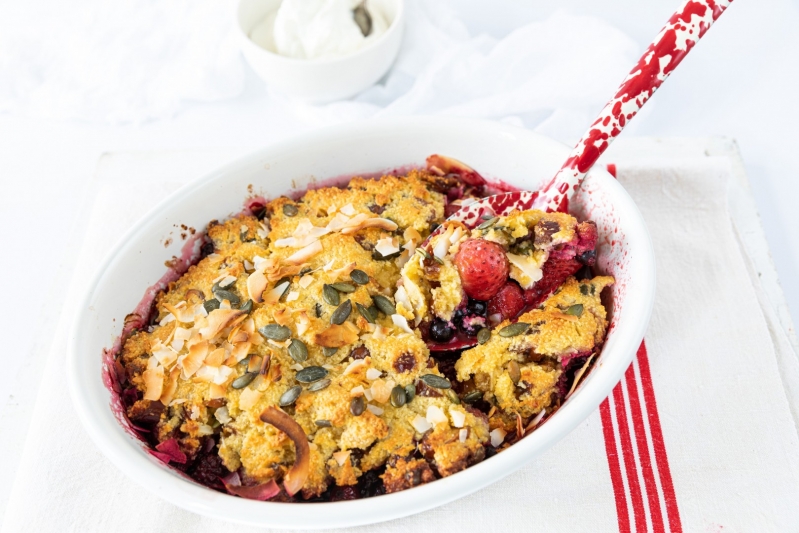 We usually have some berries in the freezer after a few weekends of blackberry picking but mixed bags from the supermarket are just as good, when it comes to preparing this simple, quick and not-too sweet crowd-pleaser.
  Serves 4
Ingredients:
  450g frozen berries, defrosted
½ tsp ground cardamom seeds
50g butter/non-dairy fat
2 medium sized free-range eggs
100g ground almonds
100g pitted dates, chopped
1 tsp baking powder
20g coconut shavings
15g pumpkin seeds
 Method:
Preheat the oven to 200°C.
Place the fruit in an ovenproof dish measuring approximately 25cm by 20cm. Sprinkle over the ground cardamom seeds.

Mix the fat and eggs together with a fork – it may look a little lumpy but that is okay.

Stir in the ground almonds, dates, baking powder, coconut shavings and pumpkin seeds until well combined.

Dot the mixture on top of the defrosted berries.

Spread with a fork as best you can; it does not need to look perfectly even.

Bake for 20 minutes or until the topping is golden brown and the fruit is bubbling. 
 About Love Your Gut 
Love Your Gut is an initiative of Yakult UK Limited, in association with Guts UK Charity, Bowel Research UK, St Mark's Hospital Foundation, The IBS Network and the Primary Care Society for Gastroenterology. 
For more information and useful resources including those below, visit  loveyourgut.com