Keepers have been busy creating Halloween treats for the animals they look after at the Park. Award-winning Oxfordshire photographer and Fellow of the Royal Photographic Society Philip Joyce took these brilliant HQ photos featured in this article.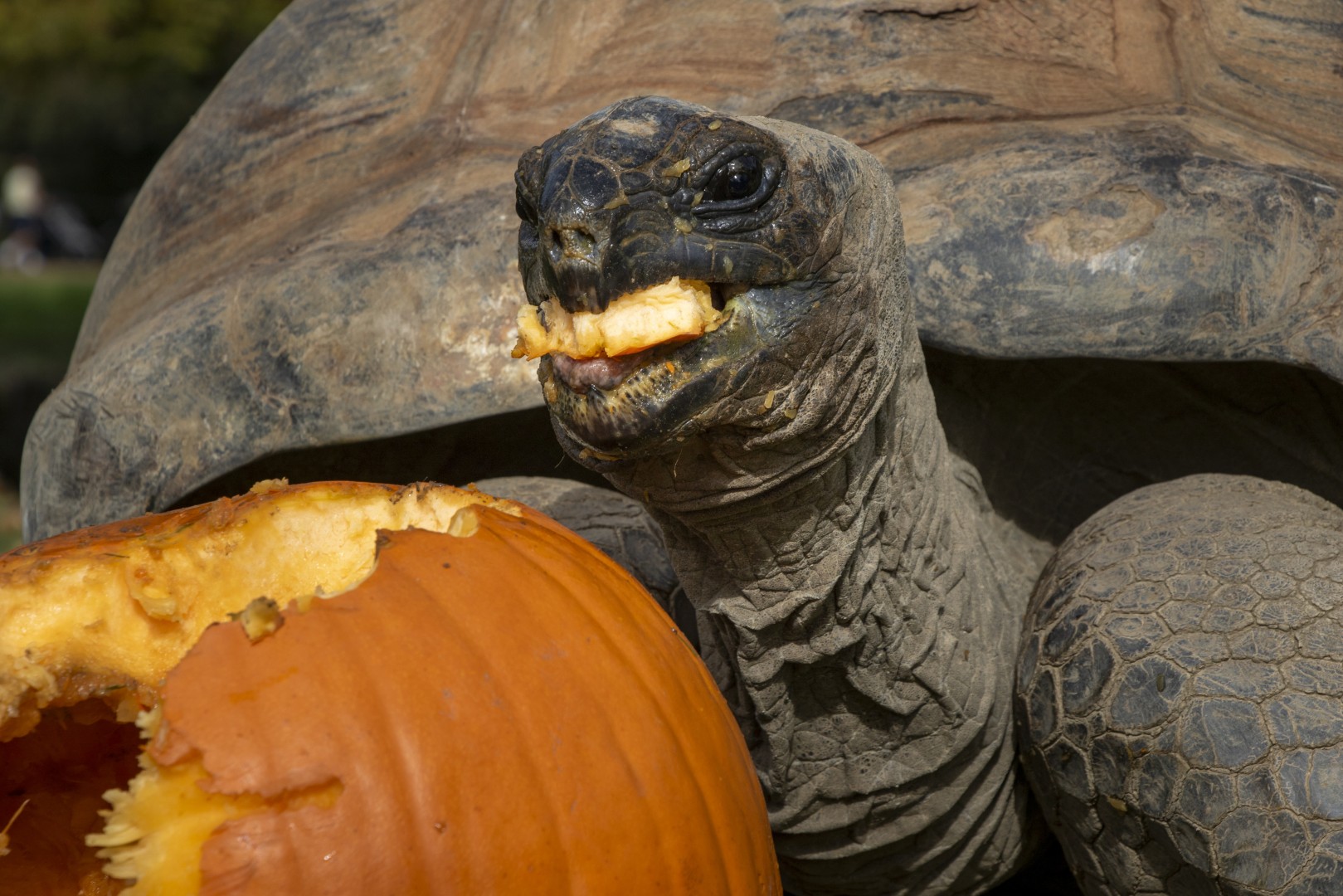 For the first time, the Park's very own Ghost, a Bush Baby with completely white fur, was given a Ghost pumpkin (the official name of a variety of white pumpkin). The White Rhinos also curiously investigated their first pumpkin enrichment. Head Keeper Mark created a 'pumpkin within a pumpkin' eyeball design so it was robust enough to survive a Rhino's curiosity! The Park's trio of Giant Tortoises were the most voracious and devoured their pumpkins in no time. Aptly for Halloween, the collective noun for a group of Tortoises is "a creep". Fact: The Park is home to a Capybara named Frankenstein as he was born on Halloween.
Section Head of Primates, Small Mammals and Bird, Natalie Horner, said: "Halloween always provides the keepers with an opportunity to treat our animals with some novel, 'spooky' enrichment as part of their daily husbandry. This year, we provided pumpkins, which had been lovingly carved by their keepers and filled with some of their favourite treats. Our Bush Babies Ghost and Flynn enjoyed some tasty mealworms in their pumpkin. They both engaged with the enrichment instantly and looked to get a lot of enjoyment out of it. Ghost is named so because he is leucistic, meaning he has white fur due to a partial loss of pigmentation. Our Striated Caracara and Ruppell's Griffon Vultures had some yummy morsels of meat within their pumpkins. The Caracara had shredded their pumpkin to bits by the end of the day! Enrichment is an important part of our daily husbandry provision for most of our species. We provide enrichment to promote and encourage natural behaviours, and help to keep our animals mentally and physically stimulated".
Image credit: Philip Joyce