From Medieval superstition to nineteenth-century names, the context in which ghosts emerge is influenced by culture, philosophy, religion and science of the time. Look carefully and secrets of social history can emerge from the gloom, illuminating truths other than those found in formal archives…
During this month's IF Oxford science and ideas Festival (6-29), the thought-provoking walking tour organisation Uncomfortable Oxford brings you a fresh and original analysis of the city's ghost stories based on scientific and cultural research and encourages a discursive approach. Known for digging deep and questioning traditional narratives, they ask first, why do we even tell ghost stories, why do we care about them and why does Oxford have so many?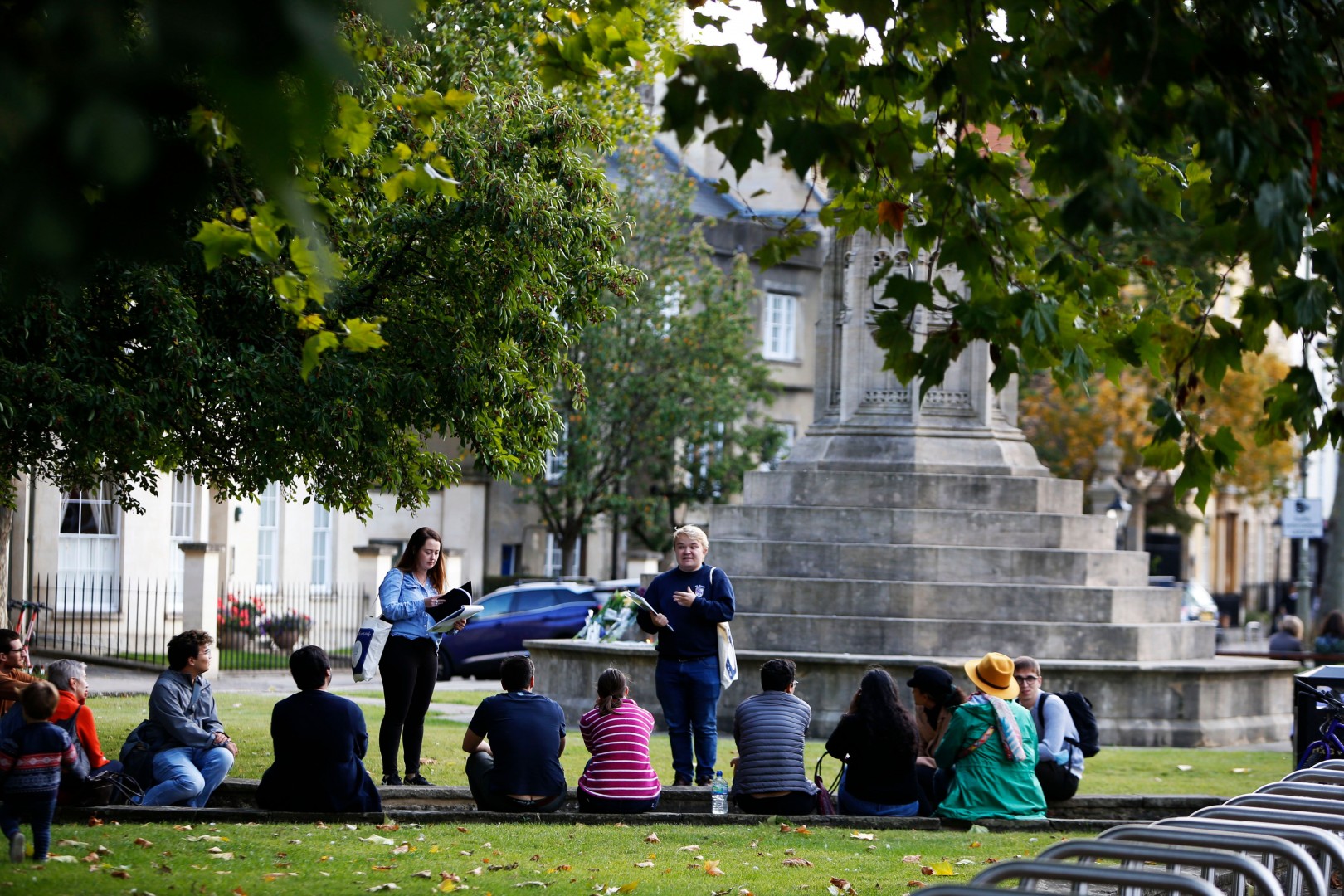 "Ghost stories are an interesting source of information", explains Olivia Durand, co-founder and director of Uncomfortable Oxford and researcher at the Centre for Global and Imperial History at the University of Oxford. "Transmitted over generations, they are often about people whose existence is only recorded in place-based oral histories rather than in the written records; often they're unexpected or transgressive characters, but we can also find a trace of those who would otherwise have been forgotten. It's interesting to question therefore whether oral histories, and especially when they take the shape of ghost stories, should be taken more seriously even if they are seen as creative and biased. Perhaps these revenants – the ghosts that come back to haunt us – are just as important as the 'regular' or official history, offering a different window into the past. We're investigating what we can learn from them that is not found in history books or archives, keeping in mind that texts, too, can be quite subjective."
Uncomfortable Oxford co-director Waqas Mirza adds, "As an organisation, we have a reputation for addressing issues of inequality, discrimination and imperialism, and a tour called Haunted Oxford perhaps sounds rather different. You might however be surprised to discover that the topic of ghosts is not unrelated to those other issues we raise in our other trails. The central figures in ghost stories are often women and people from minority groups and sectors of society that are less well-represented in the more formal history – they provide a lens into histories 'from below' that contrast with official records which commonly showcase wealthy male characters. Ghost stories can be a great way to glean information on the position of women, and how gender intersects with class, ethnicity, or religion. Quite importantly for Oxford, we see more 'town' than 'gown' characters in these tales."
"We've critically analysed some of the traditional stories that are typically told in Oxford, of legend and folklore, as well as lesser-known ghost stories we've unearthed ourselves. Clearly some of the stories are less plausible than others and where we can, we're trying to identify what is the underlying truth and the possible social, economic or political reasons why these stories stuck. We ask why have some stories survived, and others petered out? It is possible that Oxford's ghost stories are a way of remembering people who would otherwise simply be forgotten. While our other tours often engage with official memorials, these haunted tales are an informal and popular way of commemorating a real death."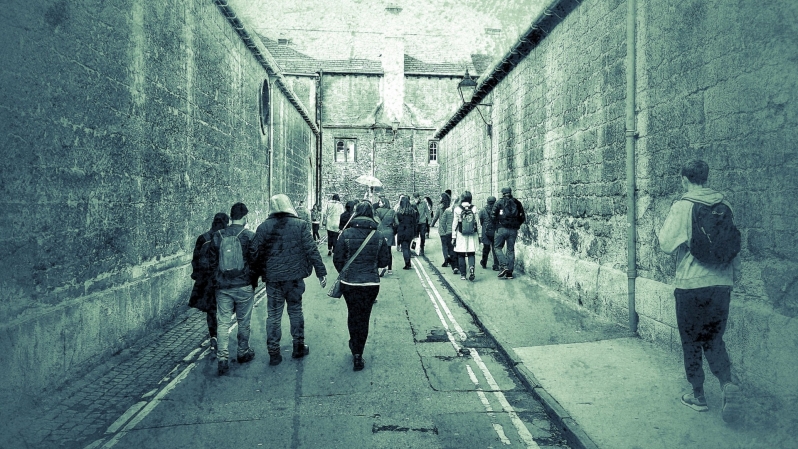 "A common thread," continues Olivia, "is that many of the ghosts died a traumatic death – some due to gender violence or the desperation of poverty, often meeting an unjust ending. Could a ghost story be a victim's way of getting vengeance from beyond the grave? If an account of their violent demise is perpetuated by their friends, families, or community so that they are not forgotten then the person and the incident that caused their death is remembered for a long time afterwards."
One famous and classic Oxford ghost story concerns an appearance of the devil as a tall, hooded figure seen in Brasenose College Lane who claimed the life of a student, drawing him through the bars of a window. It is told in different versions by different narrators, however, all revolve around a student social club called The Hell Fire Club, a men-only members' society focused on drinking and driving religious rights. Many of the students apparently professed atheism.
"There seem to be two deaths that may have caused the legend, both of which are associated with the College and excessive drinking," comments Olivia. "The first is a boy who was found dead in 1834 who is believed to have died from alcohol withdrawal and he was a member of Hell Fire. The second is a darker and more violent death that took place in 1827 when a young local woman Ann Crotchley was found dead on a nearby street, Blue Boar Street close to The Bear pub on a cold December evening. She had been seen with a friend on Brasenose Lane the previous evening, with students of the college offering her and her friend a large brandy through the window – about a pint according to different archives. She passed out and was attacked in Blue Boar Street, where she was found the following morning, dying the next day of internal injuries that local papers refused to name 'from motives of delicacy'. We ask the people on the tour to consider why some narratives might last for centuries or more, and why some aspects of old tales are selected, and other elements are lost or forgotten in the retelling and why sometimes, different events blend together, even when they take place years or even centuries apart."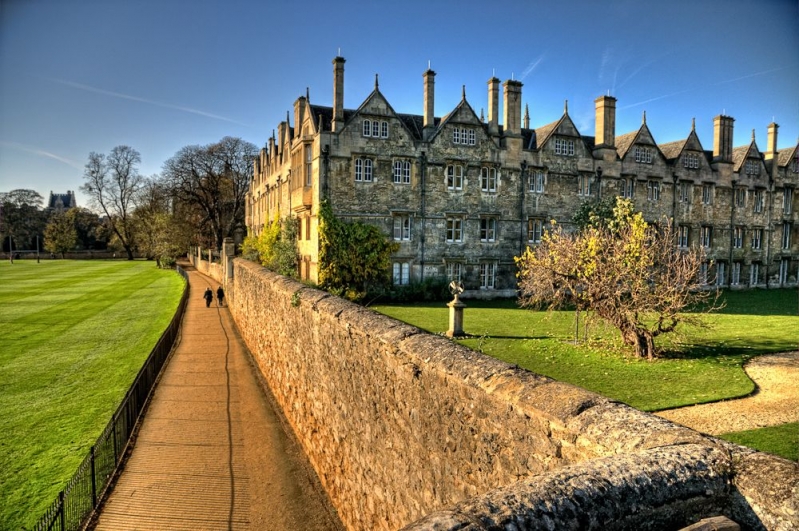 "We also look at how locations connected with death and burial gather ghost stories," Waqas comments. "There's a pathway along the old wall of the city called Deadman's Walk. It runs south of Merton College's imposing buildings through Christ Church Meadows with its glorious Brideshead Revisited views: however, the path is the location for sightings of one of Oxford's most famous ghosts, Colonel Francis Windebank. He was a royalist officer who commanded 200 troops and died during the English Civil War's siege of Oxford. It is said he surrendered Bletchingdon Park Manor to the Parliamentary forces (Roundheads) rather than engage with the Parliamentarian troops and as a result was tried for treason and shot against the city wall – below which runs the path today.
Waqas continues: "It's a haunted story that's unquestionably based on historical events. Colonel Windebank did exist and was executed for his failure as a military man. His story, however, erases other narratives, as the Deadman's Walk appellation long predated Windebank's execution centuries before, and at least until the end of the 13th century, it was the route of medieval funeral processions from Jewry Street (now Pembroke Street) where a synagogue was located to the old Jewish burial site, which was at the site of the modern-day Oxford Botanic Gardens." In 1290 all Jews were expelled from the Kingdom of England, removing them for centuries from Oxford's history – and their legacies, in the built environment or through place names, slowly being erased from the record.
The Haunted Oxford tour will ask participants why certain places 'draw' death to them, with the overlaying of multiple and contrasting ghost stories, and why we – as old and modern listeners – have a fascination with death and the stories that resonate in these places for reflection.
Haunted Oxford: Wondering Stories, begins at the Martyr's Memorial, beside St Mary Magdalen Church on Magdalen Street, and covers the city centre to Christ Church. Book via if-oxford.com