Peter James Carroll, more commonly known as Henry Normal, is a writer, poet, TV and film producer, founder of the Manchester Poetry Festival (now the Manchester Literature Festival) and co-founder of the Nottingham Poetry Festival. Oh, and he also set up the multi-award-winning Baby Cow Productions with Steve Coogan and was Managing Director there until he retired his position in 2016.
Let's take a moment to consider the impact he has had on our cultural lives: this is the man who (with some of Britain's best writers and comedians) brought us, amongst others, The Royle Family, Gavin and Stacy, Red Dwarf, Nighty Night and The Mighty Boosh, as well as critically acclaimed films such as the Oscar-nominated Philomena, starring Judi Dench and Steve Coogan. Since retiring he has re-focused on his poetry. He has written multiple books and performs regularly on radio and stage. He is touring this autumn with his latest work, a new collection Collected Poems and Other Landfill.
I start by rather self-consciously thanking him for his 'entire career' to which he speedily responds: "I'm hoping it's not my entire career, I'm hoping there's a bit coming up." My heart drops. Have I inadvertently caused offence? Apparently not, as Normal carries on, and on; he's a generous interviewee. With characteristic warmth, intelligence, humour, perception and pathos, we talk poetry, comedy, culture and class.
Why did you change your name to Henry Normal?
Ah yes. You know there's a lot of reasons but the most practicable was I was in my 20s and I was an insurance broker and I got the opportunity to do some [poetry] gigs with Pulp. I was in a suit from work and I was on stage and I thought if I call myself Henry Normal then I've sort of deflected the criticism before they throw it at me. That's one of the reasons.
I've always felt slightly uneasy about what is normal. Strictly speaking [my name] should have a question mark at the end of it. I think one of the things creative people do is stand slightly outside the world and try to make sense of it. I've done that from about the age of 11 when my mumdied in a car crash. It was very sudden. She was only 39, so hardly lived really. It changed my life I think if my mum had been here I would have been a greengrocer and probably very happy, but I became very introspective, read a lot, went to the library. When I was 16 I read a book by Spike Milligan, thinking it was a comedy book, called Small Dreams of a Scorpion, and it was a serious book and it made me cry and I thought he's somebody who is so funny yet so moving. 

That could be a description of your poetry…
I don't just want to be funny. I was talking to Steve Coogan who I've worked with a lot, about the whole idea of comedy and we were talking about the idea that it's a bit like sugar or salt. If you add it to things it gives great flavour but you wouldn't necessarily eat it on its own. So, I like doing the poetry, and I would hope a lot of the TV programmes I've been involved with have some heart, as well as just comedy.
Oh, absolutely. At what point do you declare I am a poet, rather than I am someone who writes poetry?
That's a great question. So, I started writing when I was 14. If you think about when you're 14, lads really just want to impress girls, play football and sleep, eat – that sort of stuff – but I spent a lot of time reading and I spent a lot of time writing poems and I'd sit on my own and write them. I'd obviously got some desire to express myself and I didn't know anybody in my school or anybody on the council estate that wrote, so my perception of what a writer was it was based on, you know, going to library and seeing picture of people with pipes and grey hair. When I was 19 I joined a writers group at the central library in Nottingham and I saw all the working class writers and all the people trying to express themselves in different ways, whether that was short stories, or novels, or playwrights. Whatever, and it was at that point that I thought to myself well I can call myself a writer. It was really that revelation of that everybody's got a story to tell and you are an expert in your own landscape. If you think of The Royle Family, Caroline Aherne, Craig Cash and myself, we were brought up on council estates, so it was very easy for us to write it.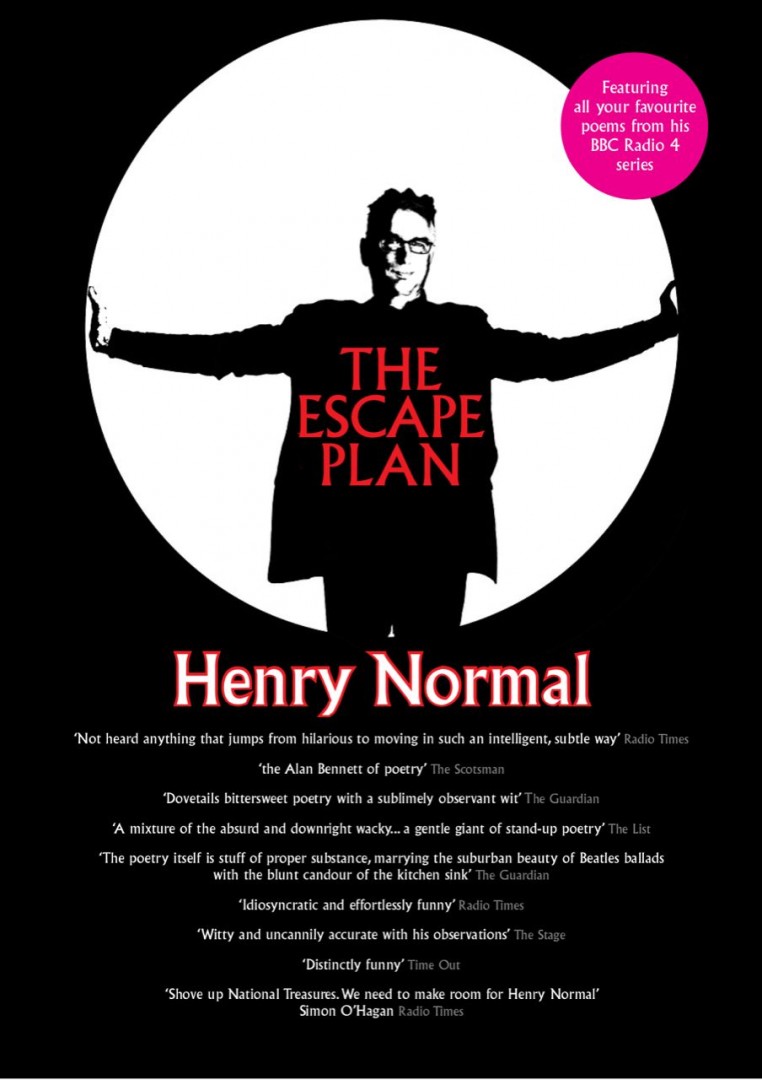 Let's talk about your show at Chipping Norton. You will be appearing with Nigel Planer. 
I used to tour with Nigel Planer in the late 80s and I met him when we were doing a book festival recently. He's got a book coming out, a full load of new poems, so I said would you like to do some gigs. We're going to try and be a bit experimental with it. We're going to ask for questions from the audience and just try and make it a bit more exciting than just two old blokes reading from a page. I'm thinking that we could do…they call it a rap battle, don't they? That would be good, I'd like to do that with both Nigel Planer and Brian Bilston. I've got a couple of rhymes for Bilston because it rhymes with stilton and it also rhymes with Milton which is the baby steriliser so I'm going be hard-hitting with him.
Right! You're going to be on stage with Brian Bilston in Oxford next March. 
I think he's known as the Banksy of poetry because people don't see his face. I could stand in front of him but then you'd have to look at my face. I'm very lucky – it's just a jolly really, for us to have a bit of fun and hopefully people come along and they can have a bit of fun as well. It's sort of a win win situation. 
It feels as if you are all making poetry much more accessible – and relatable.
You know what, if you look at anything from say 600 years ago, or even a few years ago, it takes some deciphering, but at the time when Shakespeare was writing 'Shall I compare thee to a summers day' that was racy stuff. Chances are he was writing it to another bloke so you know it was sort of daring. Similarly, look at a lot of Byron – there's no lack of passion and there's no lack of passion with the war poets in the 1920s. I think what we try and do is be accessible to our generation. I'm sure we're exploring the same themes as all the poets in the past, it's just making it ring true to people's lives as they are today. 
Your tour is well timed for National Poetry Day on 5 October. This year's theme is Refuge and I was thinking of your poem, Ladies and Gentlemen Please Lend Me Your Ear Defenders. Seems appropriate for the theme?
My son is autistic and he gets overwhelmed by things. Sound is one of the things, he's very sensitive to, so he wears ear defenders when we are out and about. I think we all seek refuge or find little escapes, don't we? I think that's one of the reasons I went into poetry. When you're doing something creative, it's just you and the world that you create. Quite a nice little oasis. 
Henry Normal be at Chipping Norton Theatre with guest, Nigel Planer on 10 October. Tickets are available from seetickets.com.
Henry regularly posts his poems (often accompanied with artwork by his son, @johnnycarrollpell) on Instagram (@henrynormalpoetry) and Twitter (@HenryNormalPoet).