Our resident Interior Designer, Amanda Hanley, answers your questions.
Now that Christmas is over, I'd like to have a good clear up and refresh my home. Can you advise on ways to de-clutter?
Storage solutions definitely don't need to be dull and can be a great opportunity to add style to your home. Invest in lots of baskets and beautiful boxes to keep your bits and pieces organised, but also adding interest to your rooms. A simple basket, whether wicker, leather or metal, can be used for neatly storing rolled up towels, linens, toiletries, shoes, hats, gloves and scarfs… The possibilities are endless. Alternatively, try some gorgeous trunks, which can be kept closed if the contents are unsightly or fragile. Trunks are a great space saver too, as they conveniently stack on top of each other.
TIP: Invest in beautiful storage.
Now that the decorations are down, and we're still in the depths of winter, my house is feeling like it needs a lift. Any ideas?
A great way to bring your home back to life in the New Year is to fill it with greenery and flowers, and to stimulate the senses with luxurious scented candles and diffusers, lifting your spirits the moment you walk through your door. Massively popular right now are silk flowers, which can be used on their own in an arrangement of any size, or mixed with natural greenery from the garden. A bundle of simple silk eucalyptus sprigs looks very stylish and elegant in a tall vase. Also available are silk houseplants, which look incredibly realistic and are a doddle to look after!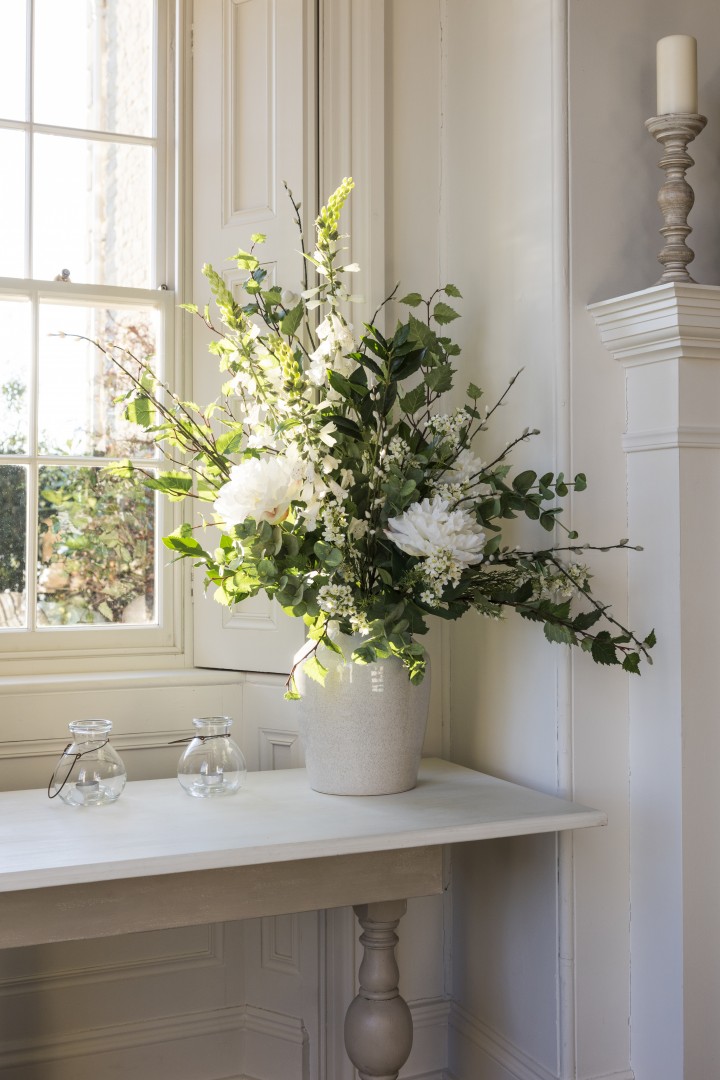 TIP: Mix silk flowers with natural greenery from your garden.
The Gallery, 69 High Street, Burford OX18 4QA
01993 822385 | amanda@amandahanley.co.uk