The use of lights inside our house transforms the look and feel of a room; exactly the same is true when it comes to using lighting in our garden.
Nowadays, we have the option of lighting run off mains electricity and also using solar powered lighting, which is much more reliable than it used to be. Adding lighting to your outdoor space makes your patio or garden a more usable area long after the sun has set. It even enhances a garden in winter when you have structure of plants but little else happening. If you are planning a redesign of your garden, it is worth adding to your budget to ensure that you can have electricity installed with an invaluable outside plug. This is also useful when it comes to pressure washing the patio or cutting the lawn with an electric mower.
To use lighting connected to mains electricity, your electrician will install three core steel-wired armoured cable (SWA) and with circuit RCD-protected. To ensure you do not accidentally cut electric cable used for outdoor lighting, it is sensible to run it through plastic piping buried in the soil which will give an additional degree of protection.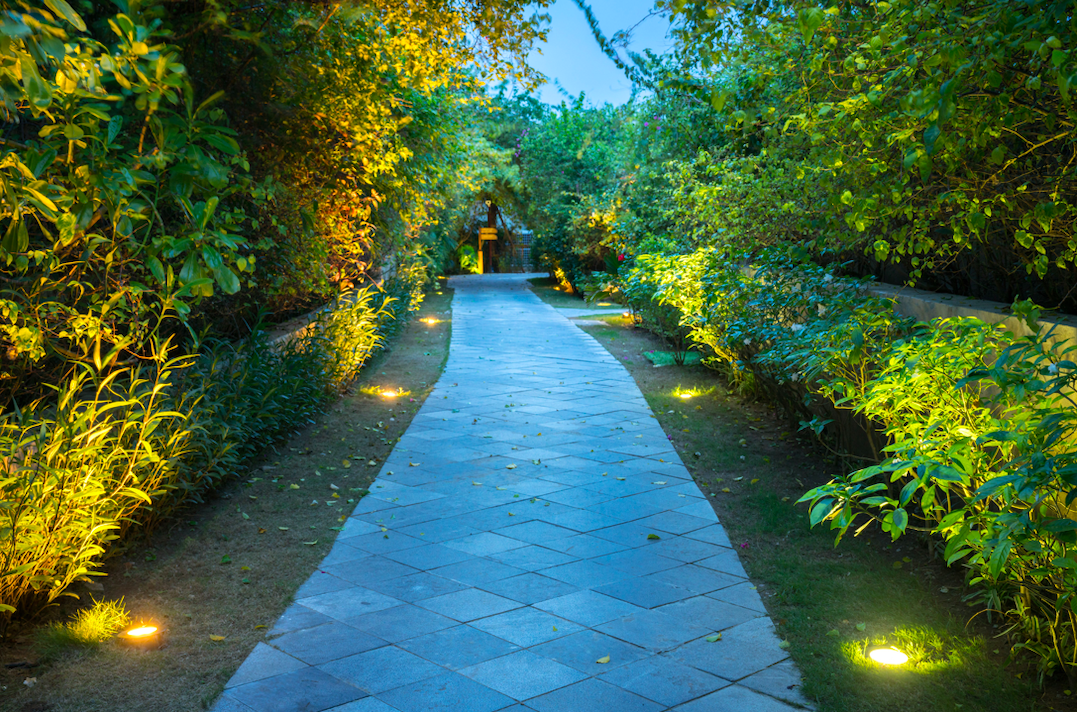 Once you have your cabling installed in your planting area, use outdoor spotlights as uplighters to enhance specimen trees or shrubs. The effect is stunning. Subtle lighting installed in planted garden areas brings the whole garden to life in a most dramatic fashion when darkness falls. Choose warm white LED lighting wherever possible as it is less harsh and kinder to wildlife. 
 If you are laying a patio or building a deck, consider installing outside walk-over lights or outdoor decking lights. They provide a soft warm light at night and also enhance safety along the edge of decked areas. You can, of course, opt for the equivalent lighting in solar power, provided the area you wish to illuminate gets sufficient sun to charge during the day.
Using lighting in gardens effectively requires you to layer the lighting at various heights; from walk-over patio lighting to high level spotlights shining down, and uplighting to create drama when it comes to highlighting key features. With a wide range of lights to attach to your house walls, you can be creative. Not only do outdoor lights work for additional security but some PIR lights are actually designed to look attractive and not just functional. They are made in a range of materials, from stainless steel and graphite coated aluminium, to more traditional copper and brass. To plan the most effective location of outdoor wall lights, use a wide beam torch at night to work out how the light will be best placed.
 Solar powered lighting is ideal for strings of fairy lights or copper wire lights around pergolas, along garden arches, into trees and other structures. All will add drama and ambience to your garden. And, of course, the simple use of candles and tea-lights can offer a simple solution to providing mood options outdoors. Use these with a range of garden lanterns and glass candle lanterns to add a decorative feel to your patio or courtyard, especially pleasant when you dine al fresco.
 If you have space for a water feature, try to find one that can be lit at night. The sound of water combined with the illumination, adds both relaxing sound effects and a focal point to your garden area.