Picture courtesy of William Yeoward
Most rooms will feel and look better with a rug. Adding a rug can be a simple way to update your floors and interiors and to bring a room together, making it feel welcoming and complete. You can choose a bold statement design, a more muted contemporary style or even a shaggy sheepskin rug. But depending on your room size and the overall theme you want to create, there are many options to consider before buying a rug.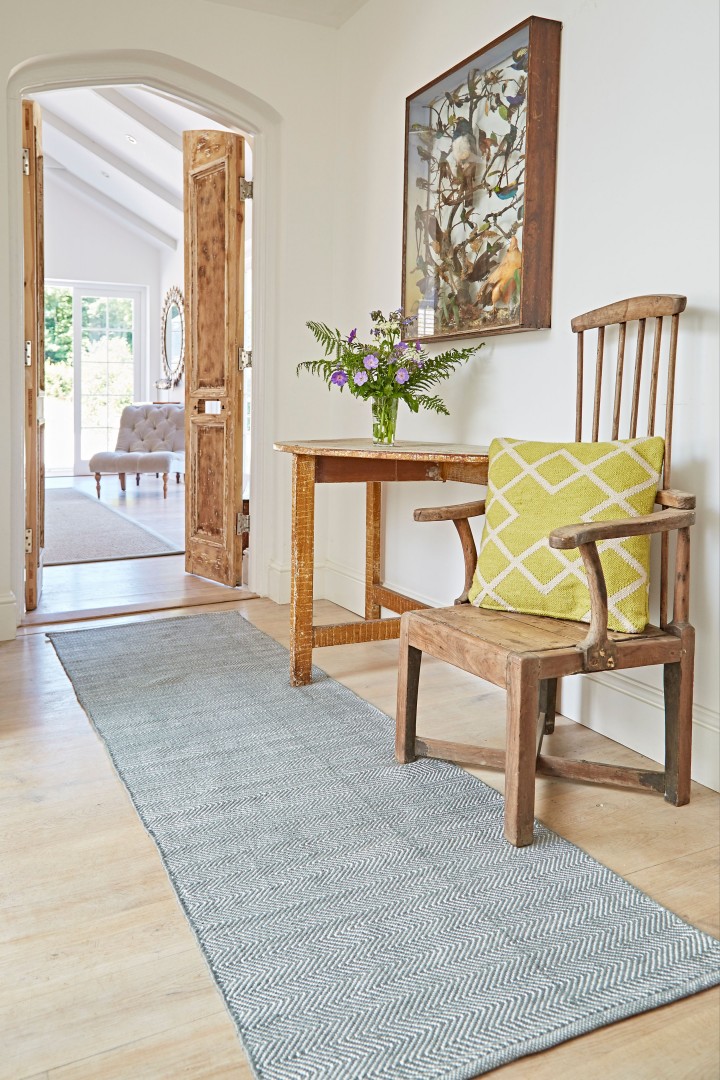 Picture courtesy of Weaver Green
Weaver Green's range of washable runner rugs are a brilliant way to protect wooden, tiled or even carpeted floors. Beautifully soft like wool, each runner is made entirely from recycled plastic bottles, making them hard-wearing, stain-resistant and entirely uninteresting for moths, dust mites and other household critters.
The right style for your surroundings
When selecting your rug, it is important to consider the surroundings and make sure that it is suitable for that area of your home. For example, kitchens and hallways tend to have considerably more footfall than living rooms or bedrooms. It is therefore wise to choose a rug that is hardwearing and easy to maintain. A darker shaded or more patterned rug will be a good choice as this will be less likely to show footprints and dirt in between cleaning.
Picture courtesy of Jacaranda Carpets & Rugs Ltd
Size matters
Rugs can be an expensive investment for your home, so it is crucial not to guess the shape and size you need. Measure, measure and measure again! There are a few rules that you can apply to choose the correct shape and size rug for your room:
1. Select a shape that works with your space. Circular rugs can help soften a square room, and runners are great for hallways and long, thin areas.
2. Your rug size should be based upon the dimensions of your room, not just the size of, for example, a coffee table. To visualise what your rug will look like in situ, a top tip is to place newspaper as a template on your floor to evaluate the best possible dimensions and style for your rug.
3. Take your time considering the many shapes and styles available before you decide. Seek professional advice if you feel unsure. If your room is already decorated, bring carpet, fabric and wallpaper samples with you when buying your rug. It is often possible to borrow samples from retailers to try your chosen style in place before committing to buying it. 
4. Stay clear of 'the floating rug' look where you have a small rug in the middle of the room, not in contact with any furniture. Besides incorporating colour or pattern and texture into your room, a rug's purpose is to bring your existing furniture together and complement it.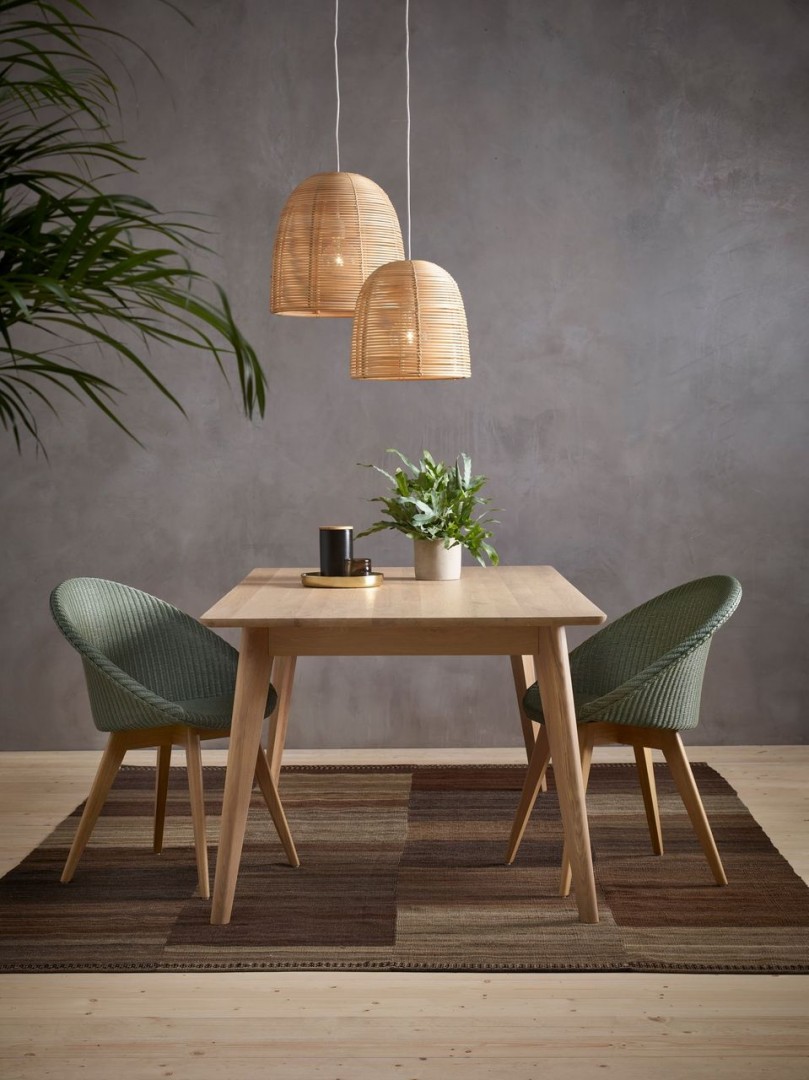 Picture courtesy of Vincent Sheppard
Your choice of material
Nowadays rugs are available in a vast selection of materials, including plant-based fibres such as linen, cotton, sisal, bamboo and jute. Super soft, natural fibres like wool, mohair and silk, and synthetic materials including nylon, dyed acrylic and even recycled plastic bottles! Each material has different characteristics of style, feel and usage, making it more suited to specific areas in our homes. Consider the amount of time you spend in that room, what style of decor you hope to achieve and whether the room will be used by children and even pets
Colour & Pattern
Don't be afraid to make a statement
Statement rugs have the power to allow you to showcase your creativity and express your style. They can also highlight the colour scheme and purpose of a room. For example, many clients visit our showroom with a picture or sample of their existing rug. They hope to determine what colours and patterns to include when updating their interiors. In most decorating styles, statement rugs are most prominently used in living or dining rooms. As these rooms tend to be larger they can create an element of surprise. A statement design doesn't necessarily have to mean bold and bright colours; interesting shapes and patterns are sure to catch and impress the eye of the most style-savvy visitors. Just remember to choose the largest rug you can fit and the best quality you can afford.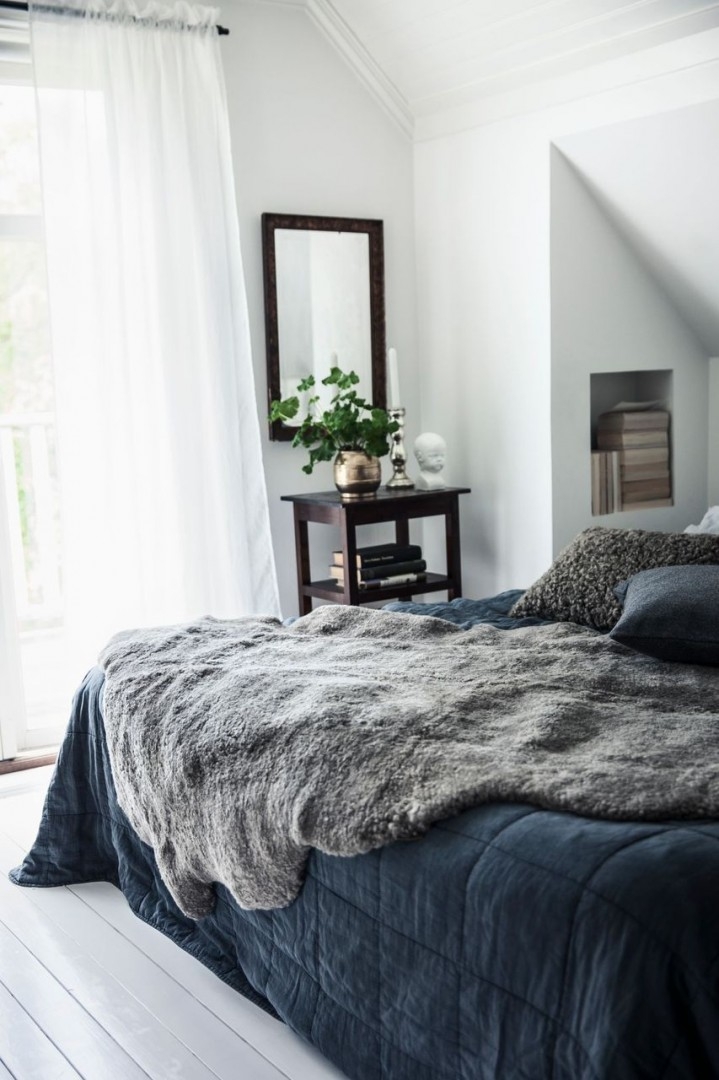 Picture courtesy of Shepherd of Sweden
To make your bedroom a cosy inviting retreat, a large sheepskin draped over the bottom can add texture and interest to a bed, which will also keep you warm and toasty on the coldest of nights.
Add natural charm with sheepskin rugs
Sheepskins are a wonderful hassle-free addition to our homes, as they naturally contain lanolin. Lanolin is a wool wax that comes from within the wool and has a unique protective and cleansing effect . Sheepskins are a classic addition to any home, as they are natural, timeless and extremely versatile. Available in a large range of wools – curly, straight, and different natural colours – they are a fantastic way of adding texture and interest.