As we head into autumn you may be looking for ideas on how to transform your garden space so that you can include a Japanese maple and a flowering cherry, both giving stunning autumn leaf colours. Perhaps your garden is not large, but you would like to transform it into an area intended for passive recreation and quiet enjoyment? Creating a garden which includes aspects of a traditional Japanese garden may provide the ideal solution.
 Above all, keep it simple and natural. Combining water, rocks, wood, stone and carefully selected foliage-dominant plants and feature ornaments, will give you a sense of Japan whilst requiring minimal upkeep once developed. A key element of a Japanese garden is to create vistas which cannot all be viewed at once. With a simple winding path made using various textures of material from gravel to cobble stones or steppingstones, you can walk around the area with new spaces unfurling as you go. Using stepping stones in a pathway, allows you to pay more attention to your surroundings as you carefully manoeuvre from one stone to the next. And, when planning your garden, ensure you allow places to sit and relax with simple seating placed to capture the various views around the garden. Choose simple lines and fuss-free design: a wooden bench made from recycled pallets can provide the perfect stopping point.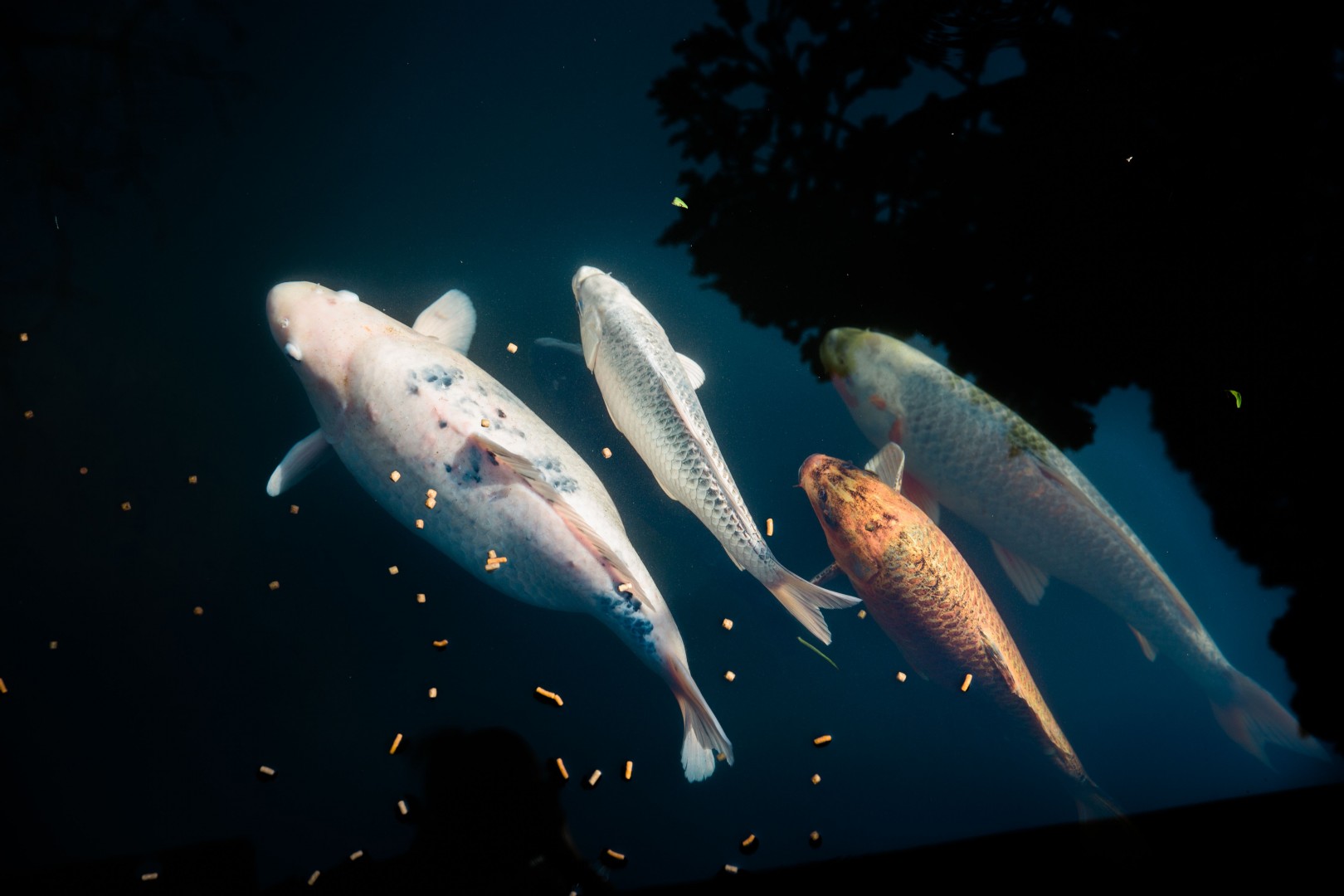 As Japanese gardens are calm places to be, water is an important element. This can be a stone bowl or Shishi Odoshi (deer scarer). Made of bamboo, water flows from the spout into the end (a pivoted length of bamboo) which tips forward. As the water runs out the bamboo falls back onto a stone to create a knocking noise. Placed at the edge of a pond or stream, it is the perfect way of adding serenity to your garden. Of course, if space permits, a pool with pebbles and rocks placed around its edge and planted with Iris kaempferi (Japanese water iris) with flowers of rich violet-blue will provide a soft, green contrast to the hard stones and rocks. If your pond is of sufficient size, create a traditional wooden zigzag bridge. Legend says such a bridge protects you from evil spirits as they can only travel in straight lines. Traditional Zen gravel gardens with raked gravel interpret water ripples representing dry rivers. Rocks are strategically placed to resemble mountains, or 'islands' rising from the 'water' below. This type of garden will have plants carefully placed around its perimeter to complete the overall effect. 
Whilst it is not always practical to build a traditional Japanese tea house in your garden, many of us already have summer houses which can be transformed by painting them a bold crimson or even black. Fences painted black have the ability to make plants really stand out, creating a stunning feature. Garden sheds and other storage areas can easily be transformed using bamboo screens. 
Choosing the correct plants for your garden will ensure that all the hard landscaping elements are pulled together. Plants are chosen for their form and texture with only splashes of colour in spring and autumn to highlight the various shades of green within the scheme. Should you select a Japanese maple, there are many varieties to choose from with different shapes and leaf colour. Some have a dramatic spectrum of colour throughout the seasons. Acer shirasawanum (Jordan), a small slow-growing upright tree will reach three metres in height and spread. Foliage opens pale orange in spring, turning lime green for summer and orange-red in autumn. It also bears tiny, purple-red flowers in spring and red winged fruit in autumn. Where space is limited or you want to grow in a pot, a good flowering cherry, is Prunus incisa (Kojo-no-mai). Growing up to three metres tall but with only a two metre spread, the blossoms are very pale pink, with glorious autumn colour. If budget permits, why not opt for bonsai trees grown in pots?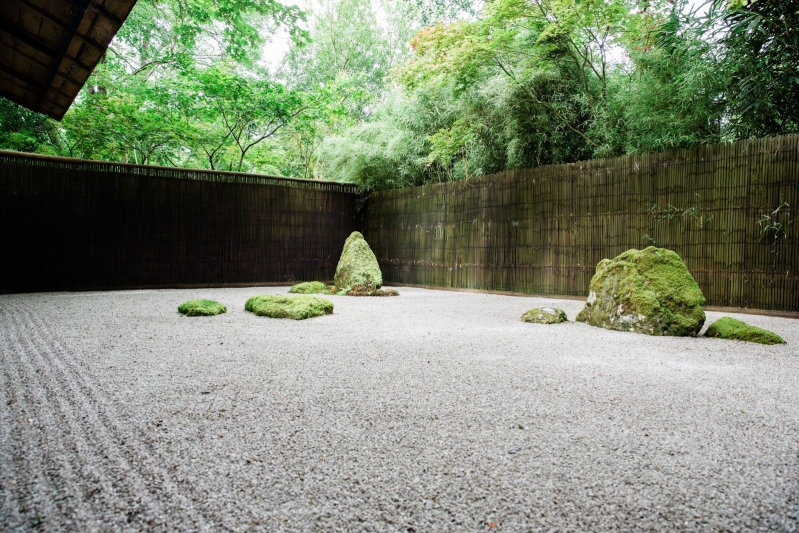 If you already have box, yew, Japanese privet or pine trees growing in your garden, 'Cloud pruning' is a feature of Japanese gardens: trees, shrubs and hedges are clipped closely and neatly with curved, sweeping, billowing shapes representing cloud formations. 
 Bamboos are obviously a traditional choice. Ensure you select clump forming varieties, so they do not become rampant across your garden – and the neighbours, too. They require moist, well-drained soil and can create a lush evergreen screen or be used at the back of borders for height and interest. Ornamental grasses are also extremely useful to add foliage colour and texture. Low growing Ophiopogon (Nigrescens) has striking purple-black leaves with tiny mauve flowers in early summer. Hakonechloa macra (Japanese forest grass) forms low mounds of bright almost lime green foliage each spring, ideal for the edges of paths. Imperata cylindrica (Japanese Blood Grass) provides spectacular late summer into autumn foliage colours.
In shady parts of the garden, Hostas provide both foliage colour and texture, with flowers in early summer. They like damp conditions so encouraging moss to grow in soft carpet-like mats around the plants will add to the atmosphere of your garden.
To add splashes of colour in your garden, include Azaleas which will also grow happily in pots, Rhododendrons, Magnolias, Nandina domestica or Sacred Bamboo which is actually not a bamboo but has attractive foliage, flowers and fruit. Climbers such as Wisteria floribunda are essential if you have a pergola or other suitable structure. 
Finally, when placing your plants, plant in uneven groups – unless you have selected a feature plant such as a tree or feature shrub. Any plant with Japonica in the name will also be suitable for any Japanese inspired garden.
Calm the Mind and Relax Through Contemplation and Reflection
 If you have been inspired, there is a wonderful garden for you to visit near Newquay where you can see an authentic Japanese garden design in an idyllic Cornish setting.
 Cornishman Robert Hore was living in London where he had been practising the art of Japanese Bonsai since the mid 1970s. However, he and his wife Stella wanted to return to Cornwall to create a Japanese inspired garden and bonsai nursery. In 1985 the couple discovered the perfect setting in the picturesque village of Mawgan, close to the north Cornish coastline near Newquay. The site, a former small-holding, had the ideal tranquillity and ambience for what they sought. They began cultivating bonsai trees in open ground in 1986, importing stock from Japan, China and Korea, enabling them to offer a diverse range of indoor and outdoor varieties. Robert's personal passion for Acers also ensured that new varieties were constantly being added.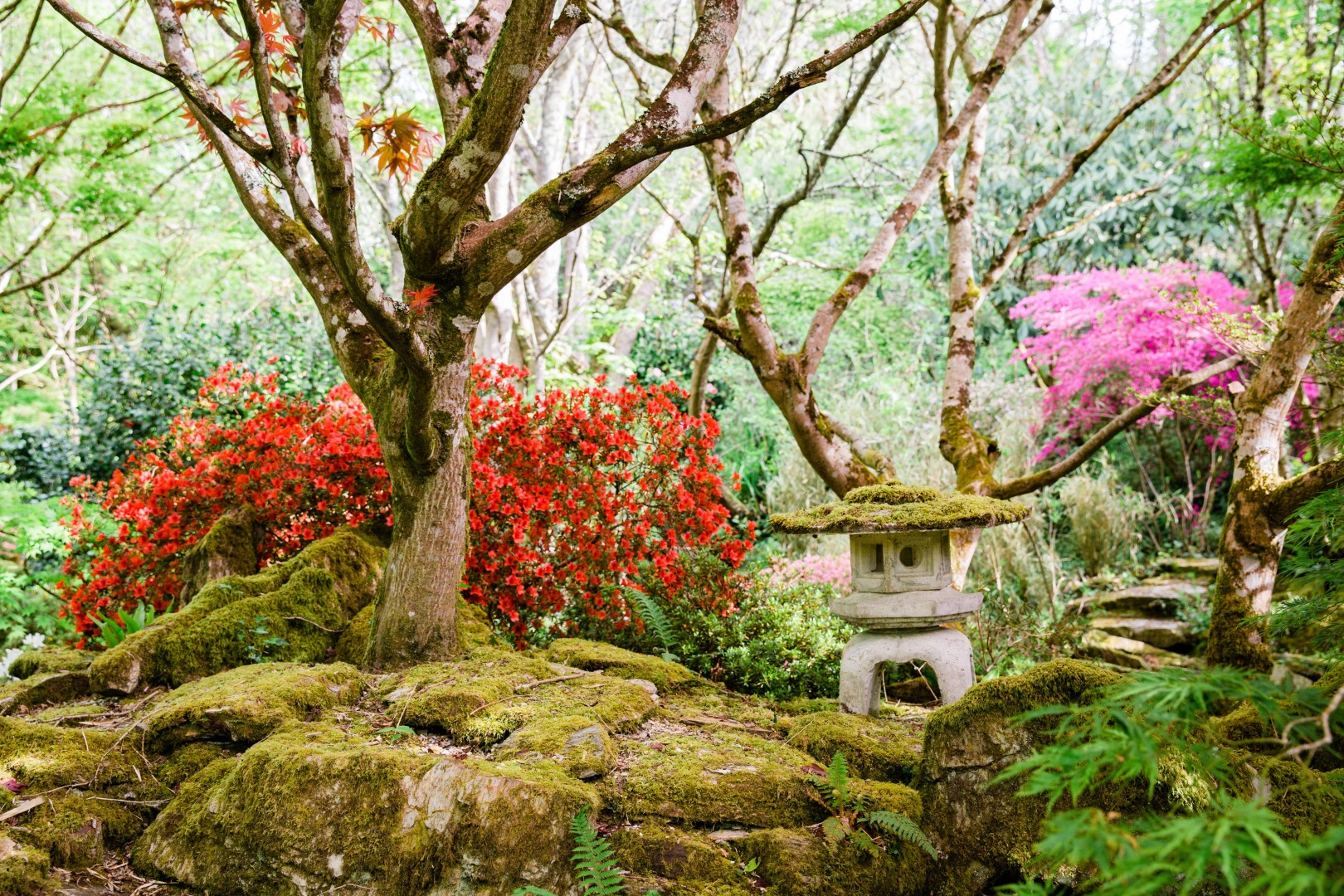 Once the nursery was established with a growing reputation, they turned their attention to what became a six-year project to create a magical, traditional Japanese garden. Visitors enter the garden through a Torii Gate, a sacred Shinto structure which denotes that the space beyond is both pure and revered. As you walk through the gardens, you are taken on a physical and sensory experience. You look at the stone paths and surroundings, you hear your footsteps as you walk, the overhead willow canopy creates an enclosed, protected space where you feel relaxed and safe. The sound of running water stimulates your senses, whilst the sky above is gently reflected in the pools of water. This calm, yet vital environment, connects one's soul to the universe and restores the balance of the mind.
 A traditional Japanese garden would not be authentic without a Karesansui (Zen garden) and a symbolic Cha-Seki Teahouse). Waterfalls are celebrated in Japanese gardens and the main waterfall in these gardens tumbles down the rocks close the balcony of the Teahouse.
 When you sit in the Zen Viewing House, birdsong fills the air, leaves rustle and chimes tingle as the breeze gently blows through the foliage. A bamboo grove with many interesting varieties including Phyllostachys nigra and Phyllostachys aureosulcata adds stature to the garden. The pathways lead you to a small Buddhist shrine. Between the bamboo grove and the Zen garden, is a small moss garden which symbolises a stream running through moss covered stones. Surrounded by the vertical forms of the bamboo, the moss offers a soft textural appearance and is a stark contrast to the rockscape of the Zen garden.
 Viewing points are essential and Robert planned these with meticulous care; placing plants, trees, rocks and ornaments to attract attention and provoke reflection, or obscuring a view to create an element of surprise. Each offers you the chance to pause and view, ensuring that you want to see more.
Two types of traditional Japanese fence have been used as boundaries or separate areas within. Itabei (plank wall) made from solid wood and bamboo and Yotsume-Gake (lattice or four-eyed fence), using bamboo bound together with black cord knotted in one of numerous traditional Japanese styles.
 In terms of the actual plants, the acid soil in the area ensures that Azaleas and Rhododendrons – frequently found in Japanese gardens – grow in abundance. By selecting mature specimens, together with keeping the old trees in the garden, it soon became established with early to late flowering varieties. A highly fragrant Rhododendron luteum, with bright-yellow blooms, fills the air with perfume. These colourful shrubs contrast with the dark, sharp-needled pine, prostrate conifers, glossy leaved magnificent camellias full of blossom in late spring and fastigiate yew trees. The whole reflects the concept of wholeness: In and Yo. Unlike Western gardens which tend to use the symmetrical concept of balance, in Japan they use opposites to create harmony. Mixing hard and soft (rock and foliage), dark and light, horizontal and vertical lines and complimentary textures (pine needles and maple leaves) creates the perfect garden for relaxation and contemplation.
 The Cornish Japanese Garden created by Robert and Stella was developed as a meditative garden where one can calm the mind and unwind, through contemplation and reflection, from the stress of day to day living. Having fulfilled their ambition, the garden has now been handed over to the care of their daughter Natalie and her partner Stuart. Together they have taken on the challenge of maintaining and developing this unique Cornish garden whilst Robert and Stella enjoy their retirement.