Didcot's Cornerstone Arts Centre have been working with illustrator Jess Bolam to shine a light on the experiences of Oxfordshire's LGBTQ+ community. Following a series of friendly, conversational interviews, various queer stories have been translated into beautiful illustrations by Jess for a gorgeous keepsake book, as part of a project (funded by Arts Council emergency funding) entitled Invisible: Visible. The artist has tried to reflect Oxfordshire's LGBTQ+ community as a whole, she tells us, all the while creating work specific to the people she listened to over the course of four Zoom meetings. Is Invisible: Visible unlike anything she's done before?
Yeah definitely, even just from an illustration point of view because I actually did a degree in animation to start with, so most of the freelance work I've done is background for adverts, animated shorts and things like that. It's nice to be at the forefront of something and do a lot of illustration work which is more of my passion anyway. I've also never worked on something this personal to people. Generally, a lot of the work I get is quite corporate, whereas this one is very personal to everybody involved. I'm illustrating lives, essentially. It's nice to be able to do something with a bit more heart.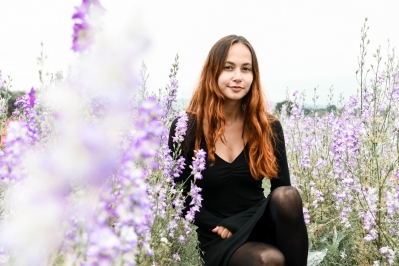 Describe your creative process.
I make notes throughout the meetings but there are certain things people say which will jump out at me – if somebody uses a metaphor or particularly visual language, for example. I'll then go through my notes with my good old highlighter and make a note of the bits that really stood out to me. Then I just take it from there, sketching everything out and once I've got something I'm really happy with, I scan it and take it to photoshop which is where I do most of the actual artwork.
The LGBTQ+ group, whose stories you've illustrated, is fairly diverse in age, isn't it?
I have to admit I was surprised in the first meeting to see two guys who are still in school. It's lovely that we've got people from different parts of the age spectrum because you get a reflection of all the different kind of experiences that people have had. They were saying that in their school being LGBTQ+ is not really an issue and they've got a big community that they can relate to, whereas some of the older members in the group were saying that they really struggled to find anything like that when they were younger – and they're still struggling now. 
Why is Invisible: Visible important?
As I've been working on it, it's made me aware of how much I don't know about some things, and that probably applies to everybody. I've always considered myself an LGBTQ+ ally and I think a lot of people do, but it's only when you really get into it and talk to people of that community, that you realise how many things you haven't even been thinking about or wouldn't consider. It's important to give these people the voice that they should have but don't always necessarily get. It's important for the older generations too because I think our generation is generally a lot more accepting and there isn't anywhere near as much of an issue when it comes to accepting everybody for who they are, but for people who are perhaps more set in their ways, it's important to open them up to a future where nobody has to feel invisible or marginalised.
Are you your own biggest critic?
I'm naturally a perfectionist, I like things to be the way I have them in my head. I think there's also added pressure in this case because I'm not part of the LGBTQ+ community, so feel like I'm working on it from an outsider's perspective. I'm very conscious of portraying the right message and making sure everything is respectful to everybody.
Do you have a favourite artist at the moment?
I'm going to go with Oliver Jeffers, he's a children's book illustrator from Northern Ireland. I've always really liked his work and he's who made me want to go into illustration in the first place. He's really good at telling stories from a child's perspective – they're not stereotypical at all, they're all weird and wacky things that children can actually relate to. Some of the stuff is very simple but there's something really quirky and individual about it. That's where I want to get to: where somebody can look at my artwork and recognise it as mine.