Colour trends come and go, but others are undeniably classics and defy the test of time. Blue, in all its hues, brings calm, cool freshness to our homes, creating an effortlessly stylish look.
Ranging from dramatic, deep, dark navy to soft and gentle pastels, blue is a versatile colour that can be used in a wide range of homes, from the ultra-modern to the country classic, in any room of the house. In its many shades, it can be layered up and mixed like no other colour.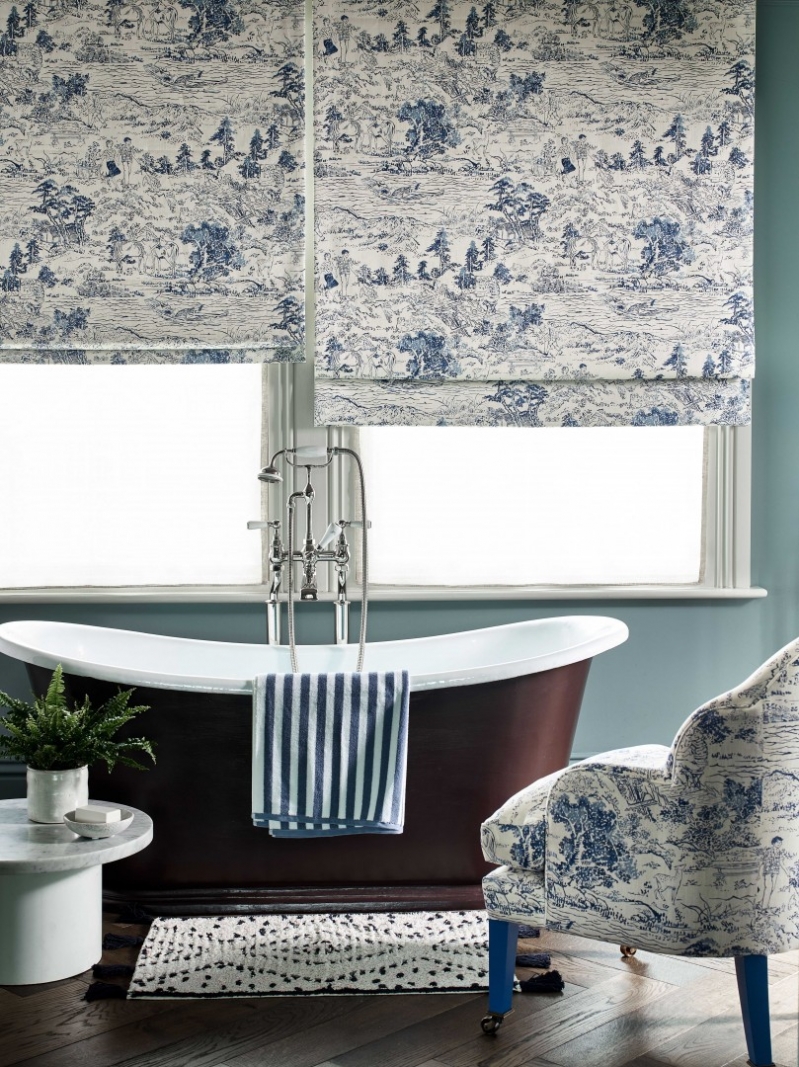 Colefax and Fowler
Creating balance
If your colour palette is really drawn to blue, but you find it a little cold to live with, try balancing it with some warmer elements in a room; a complementary colour such as orange, yellow, coral, pink or red for a striking look. A predominantly blue room will often benefit from an accent. There is no need to be heavy handed with this – less is more – and the accent may only appear in one, or a small number of objects. The key to success when adding a complementary colour is to choose a shade of equal tonal weight i.e. pastel with pastel and strong with strong.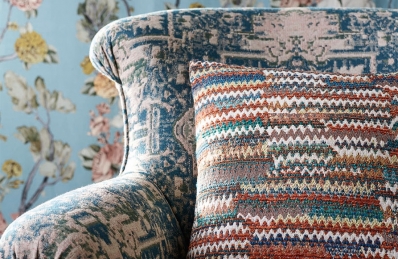 Mulberry Home
As well as colours that are opposite on the colour wheel, blue also marries well with secondary colour combinations (colours that are next to it on the colour wheel/rainbow), such as uplifting green or pretty purple.
If this is too bold, try adding in gentle natural textures and warming woods. Put beautiful natural oak next to blue and it suddenly comes to life, preventing your scheme from looking flat. Also try adding in plants, wicker and baskets, furs and tan leather. A fashionable combination that also serves the same function is to pair blue with gold for a seductive, dramatic and glamorous space. Mixing up the tones of blue in a room, and layering pattern will add interest, depth and character, allowing for a more subtle variation and a less forced feel.
A timeless combination
Arguably the most classic and timeless partnership when it comes to blue schemes is blue and white. The clean contrast can be used in different ways, from a dynamic statement to a pretty and airy feel.
Put white against darker shades of blue and it accentuates details giving crispness and definition. A white fireplace, shelving or fitted cupboards painted white against a blue backdrop is a beautiful way to give depth and contrast. Conversely, blue pieces against a white background create a crisp feel, and can look contemporary or classic, depending on the style of the room.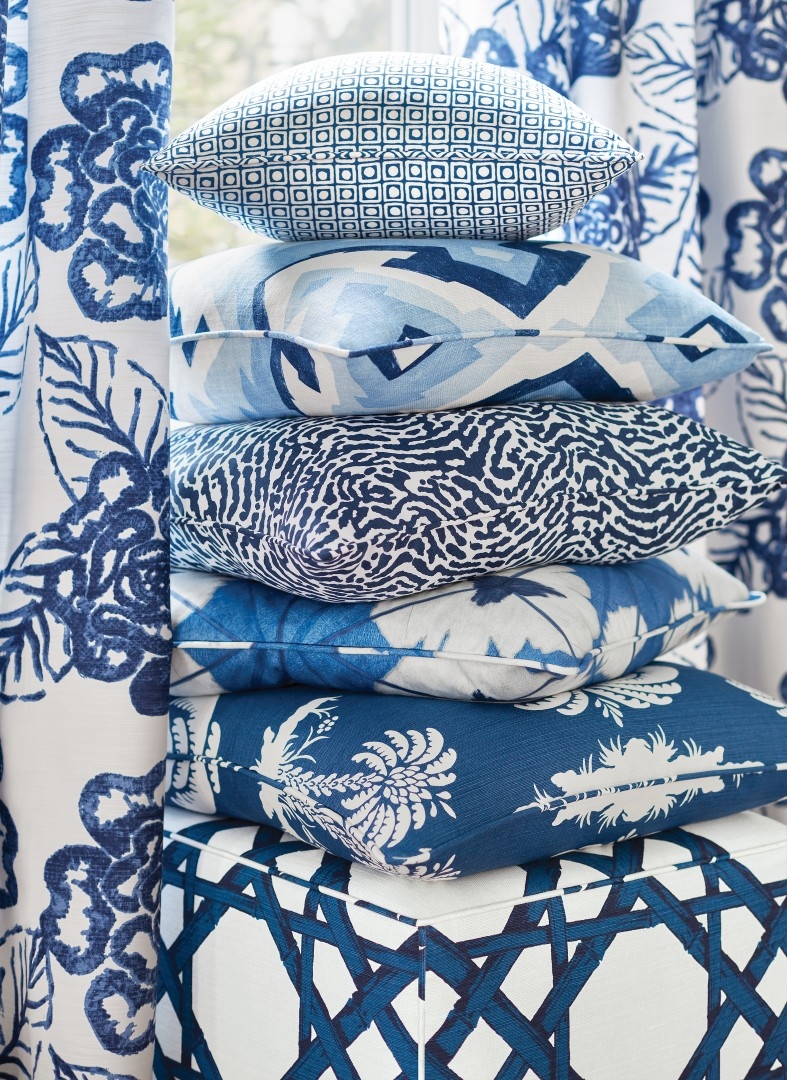 Anna French
Setting the mood
Calming, romantic, uplifting or dramatic? Colour is a powerful tool for building up mood in a room, and there are many different moods you can conjure up with shades of blue.
Calming/peaceful
For a soft and gentle scheme, choose soft and silvery blues for a restful space to sooth the soul. The palest of blues are perfect to create calm, as they are often associated with the natural world; faded skies and seas. Pale blue is a great choice for bedrooms because it recedes to the eye, rather than grabs our attention, making it restful to look at. Always consider the natural light of the room, as very pale shades of blue can look dull and flat when light is low, such as in a north facing room.
Positive/uplifting
Unashamedly, confident, bright and fresh sky blues can give a room energy and feel uplifting. However, under lamp light or low light, have the opposite effect of feeling deeply peaceful – also a positive attribute making sky blue a versatile colour that is suitable in most rooms, from bathroom to living room.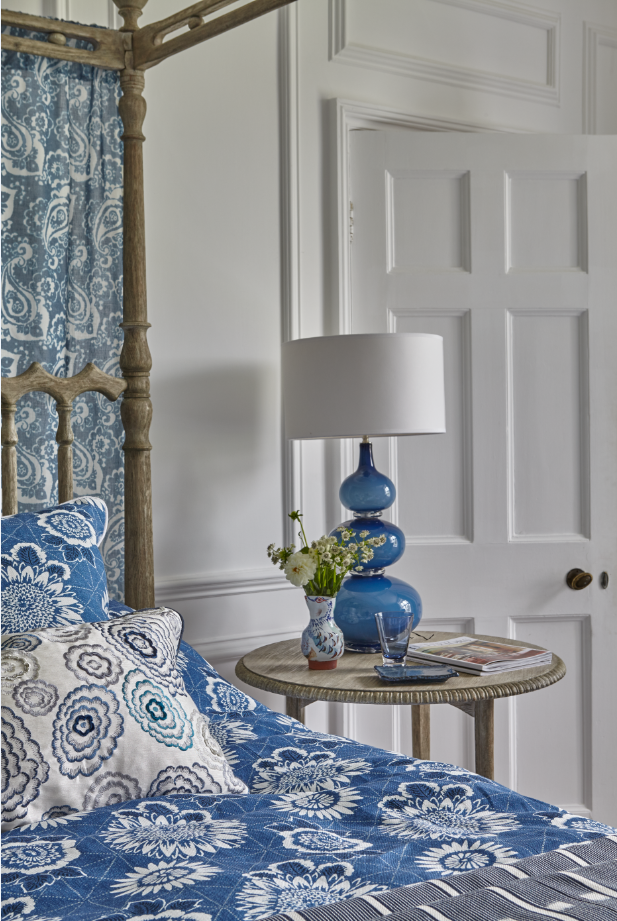 William Yeoward
Pretty/romantic
Powder blue has a delicate beauty, and is a more subtle way to create a pretty atmosphere other than the more obvious pastel shades. However, when used in botanical/floral prints and toiles, any shade of blue can take on a romantic but sophisticated quality.
To successfully build up a pretty scheme, these patterns should be used alongside natural textures. Combining and mixing the textures adds layering and a smart formality.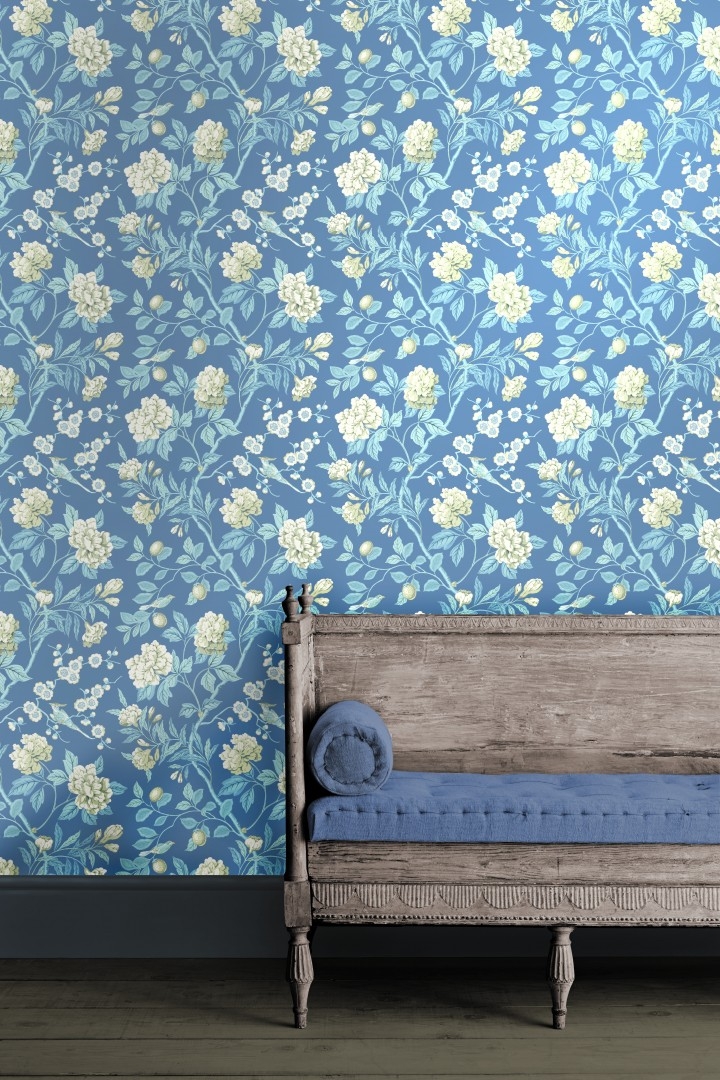 GP & J Baker
Dramatic and artistic
Dramatic can be achieved with electric shades as well as deep and dark. Think 'impact' and look for deeply saturated tones. Closeting yourself in a rich colour feels sumptuous and historically is associated with luxury. Try using it on woodwork as well as walls and soft furnishings for a really contemporary finish, or with crisp white for a high contrast statement. Cobalt can be a good choice for adding drama without getting too dark. Turquoise and bright aqua work well alongside deep and dark.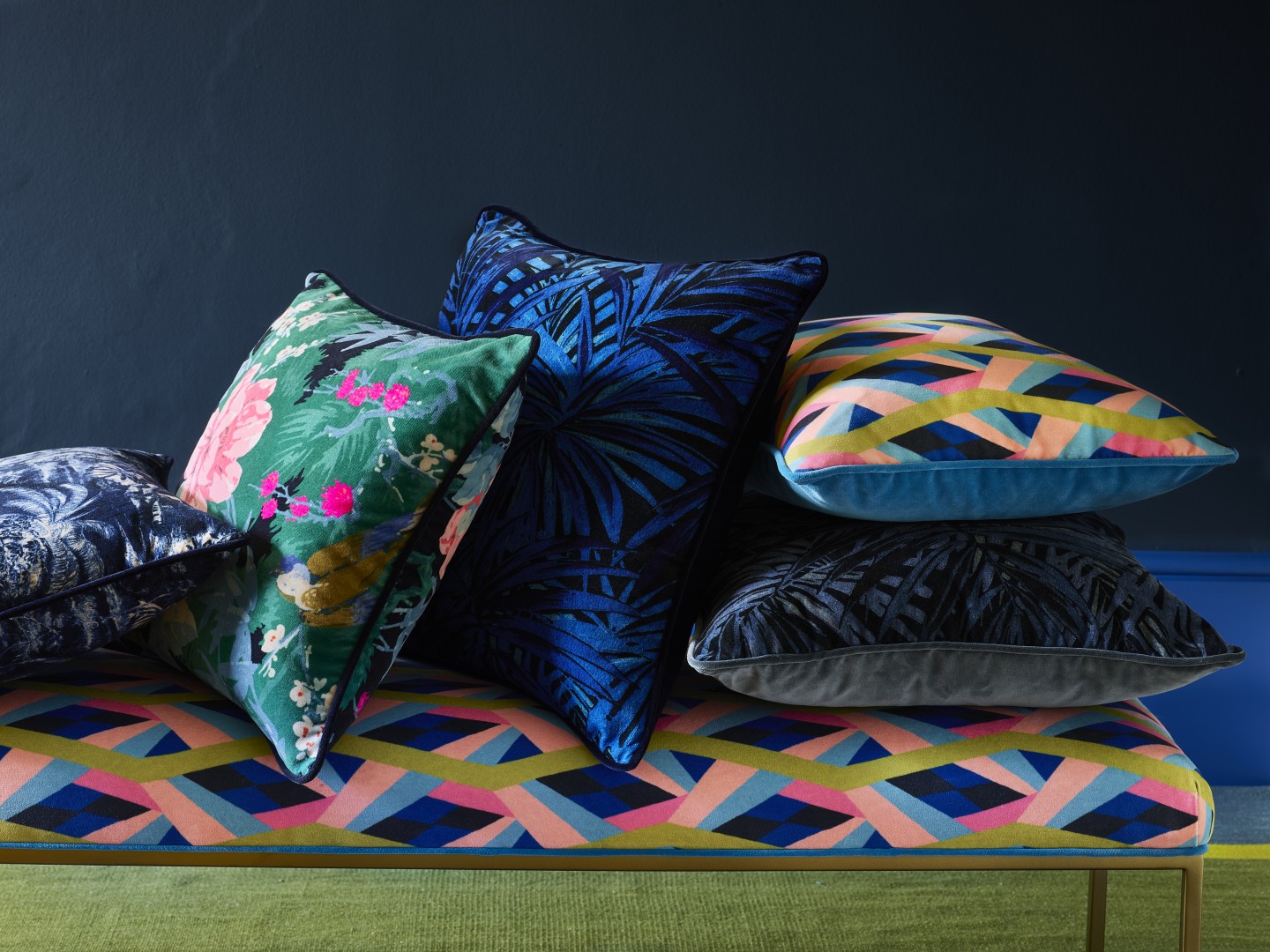 Linwood