Martin Fry's chiselled jaw and floppy blond fringe were pretty much ubiquitous on magazine covers in the early 80s and his crooning tones set the gold standard for the best in UK pop. His gold suit achieved iconic status but what really made Fry were ABC's insanely catchy hits like Look of Love and Poisoned Arrow.
Forty years on, his voice is just as velvety as proved by the live recording of Lexicon of Love at Sheffield City Hall, to be released later this month. We were thrilled speak with Martin and learn more.
What led to releasing Lexicon of Love as a live album?
Live albums are probably the most unfashionable thing out there at the moment but it came from doing an orchestral show, going back and looking at the ABC catalogue of songs that stretch back to the early 80s. When somebody pointed out to me that it was 40 years since the original album out and we were playing Sheffield City Hall it felt right to record that night. Whenever we play Sheffield it's a magical feeling. The songs mean a lot to the audience because some people, kind of grew up with them.
People talk a lot about nostalgia to me because I've been around, but whenever you climb on the stage you've got to just pull it together in that moment. It's called the Lexicon of Love but it features a lot of other material. It's a good entry point for ABC, I suppose.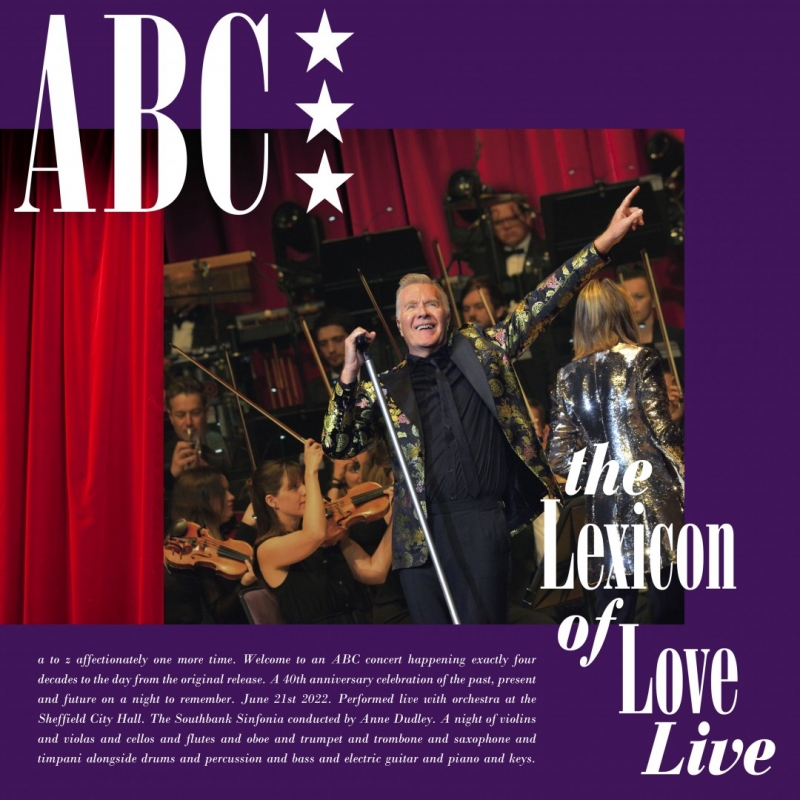 Where does ABC fit as part of the Sheffield sound?
When I landed in Sheffield to go to university it was very experimental. There were bands like Def Leppard, some incredible rock bands and heavy metal bands and there was Cabaret Voltaire. There were so many great bands and as a bohemian with no money in my pocket I could go and see a band every night. So, to answer your question, the great thing about Sheffield and Yorkshire and that part of the world is not fitting in. Beating to the rhythm of your own drum you know what I mean and be as original as you possible could and that served us very well in ABC.
At what point did you think; this is it – I've made it!
Andy Warhol came to a gig once and then said I could come down to meet him at the Factory in New York, this was the early 80s, and he's just chatting away about films and stuff and pop videos and I thought yeah, this is great, you can't buy this.
I think the public perceive music and art as separate, but clearly your music is an expression of your art.
A three-minute pop song reaches into people's consciousness; it is kind of multimedia, I suppose you'd call it these days. There is a lot of art in there in the greater sense of the word; good art, bad art, pioneering art. It fires on all cylinders really when it's done right. The Stones or Bob Dylan singing something from 60 years ago still has a passion and power to it.
Are you working on any new music?
It would be nice to make another record. About six years ago I finished a new studio album with all new songs on it. It is my ambition to write some more songs though, to put out some new music even if it is for a smaller audience. 
Finally, what would 2023 Martin say to 1982 Martin?
That's an interesting idea. What would I say? Enjoy it, because back then you got to number three on the chart and you thought why aren't we number two? It was never like open the champagne and have some fun. Chill and enjoy it because it doesn't last forever. I'm more interested in what he'd say to me though. If he came to one of my shows, now that would be interesting. 
Do you think he'd be delighted?
Yeah, he would be. He'd turn around and look at that audience and be like 'wow, look at this.' 
The Lexicon of Love Live is released on 19 May 2023