Do you have a taste for tassels? Are you fancying fringes, or have a passion for pom-poms? You aren't the only one! The catwalks are full of them, as is the world of interiors. Expanding rapidly into beads, studs and jewels too, this love affair is growing stronger and is here to stay for the long term...
---
The comeback
After a long period of mid-century, modernist style dominating the interior design scenes, we are seeing a new yearning for more dramatic looks, with the return of bold colour, statement ceilings and, best of all, fabulous trimmings (otherwise known in the trade as "passementerie"). No longer considered old-fashioned and stuffy, the new generation of trimmings has a whole new feel: young, full of glamour and brilliantly contemporary, bringing joy and creativity back into our homes.
Traditionally confined neatly to borders and edges, we are now seeing trimmings used playfully all over cushions and furniture, as well as other pieces around the home, such as mirrors, picture frames or even tables and chairs. Your imagination is the limit.
The fringe benefit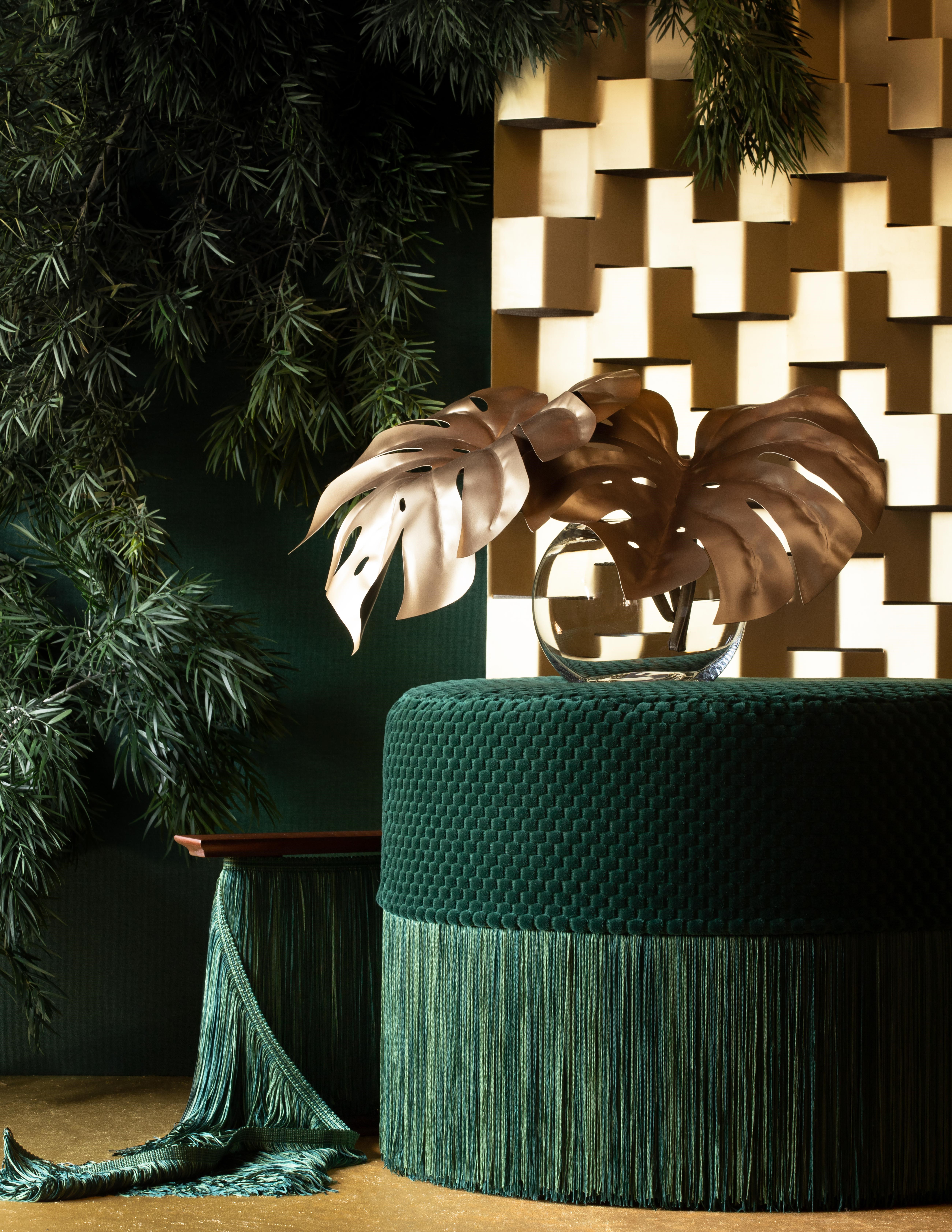 Whilst fringes have always had their place in the quintessential traditional interiors of country and stately houses, we are now seeing a rise in more contemporary settings, and demand for fringe is rising fast. What better way to add texture and quirky personality to sofas, chairs, footstools, curtains, pelmets, blinds, and lighting? I've even heard of it adorning a staircase; the ultimate statement! Used by the hottest interior designers to add a beautiful finishing touch, the return of fringes is a joy to behold and a world away from the stuffy, thick bullions of the past.
Fringes come in many forms, sizes and depths, but are essentially of three varieties: 1. the bullion fringe, made from single yarns attached to a fabric tape, designed to hang down, 2. the tassel fringe, made from groups of yarns woven together and attached to a fabric tape, and 3. the brush fringe, which is thick and fluffy, better suited to the edges of cushions.
Tip: Fringe is one of the simplest ways to take a simple item, such as a lampshade, and make it your own.
Forget "less is more"
Have some fun with your cushions and accessories – don't settle for plain when you can have something special. For those who prefer a muted look, the trimmings can be used simply to add texture and warmth, in materials and colours that blend with the rest of the scheme. Or to add something unexpected and make a statement, use an exaggerated trimming style, such as an over-sized tassel, or a bold contrast colour.
For the glamorous, adding details such as pretty glass beads, sumptuous rope braids and tassels gives a level of detail that is pivotal to this polished look. There really is something for everyone; passementerie adds an undeniable level of sophistication, no matter which design camp you are in.
A simple transformation
As well as looking wonderful, trimmings can also be a very practical option, used to cover up unsightly joins, and can convert a plain pair of curtains, cushions or bed linen into something unique to you. Adding a bit of magic to your interior that you cannot buy off a shelf, trimmings elevate from the ordinary to the extra-ordinary, and they are generally straightforward to add yourself too, with a small amount of know-how.
Up the wall
Rope braid need not be confined to soft furnishings and upholstery. One very ancient method of traditional decoration was to trim the edges of walls and ceilings with it. How fabulous would that look with modern geometric or botanical print wallpaper? Mixing up the old and the new is where we find new combinations that add a polished "wow-factor" to a room, blazing a new trail for interiors. You could even try customising cabinetry, such as a shaker style wardrobe by fixing fabric or wallpaper to the inset, then adding rope or braid around the edges for an original look that coordinates with your room.
A whole new world
There is a mind-boggling array of trimmings to choose from – it makes you feel like a kid in a sweet shop when you delve into the vast offerings. The range is huge, varying from "fashion" trimmings that you can buy without too much investment, right up to the very top levels of passementerie, fitting for the most beautiful stately homes. Miniature pieces of art in themselves, some are handmade with incredible details and techniques, using precious materials, for the pinnacle of luxury.