I first saw one of Jekka McVicar's herb gardens at BBC Gardener's World in the mid 90s and was impressed by the artistic way she designed her display using only herbs. The overall effect was colourful, attractive to wildlife – particularly pollinators – fragrant, and edible.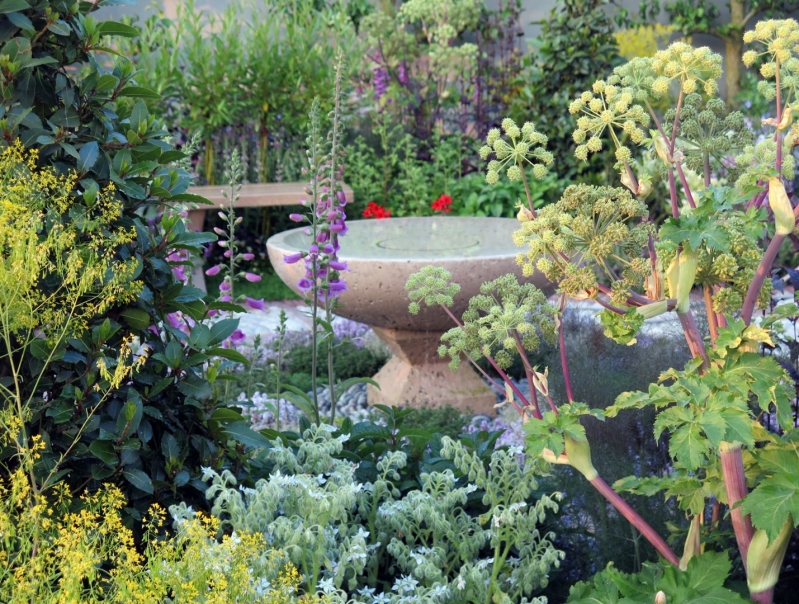 Since 1991, Jekka supported by her husband Ian (known as Mac), has exhibited at numerous RHS and local flower shows winning an impressive 62 RHS Gold Medals. In 2009, her Chelsea exhibit won the RHS Lawrence Medal for the best floral exhibit shown that year which was the first time Herbs and Organic plants certified by the Soil Association had been so recognised. Further awards were presented to her. In 2017, Jekka received the prestigious Victoria Medal of Honour (VMH) awarded for her services to Horticulture; she was also made a Vice President of the RHS.
As a 17-year-old, growing up in the Somerset village of Chew Magna, Jekka's interests were focused on the music industry rather than anything to do with horticulture. Having joined prog-rock band, Marsupilami, as a singer and flautist, Jekka appeared on the same bill as Bob Dylan at the Isle of Wight Festival and performed at the first ever Glastonbury Festival in 1970. However, in 1971, Jekka's career took a different path when she went to work for the BBC drama department in London. Her experience gained in early video technology then took her to Bristol where she started a video unit for Bristol Police. Having taken on a job which required physical stamina – sometimes having to hang upside down out of a helicopter to monitor traffic flow or being strapped to the back of a motorbike with a camera – this became difficult when she was expecting her first baby, Hannah. With maternity cover not an option in the early 80s, she decided it was time to try something completely different.
When cookery writer Elizabeth David extolled the virtues of fresh tarragon in a chicken recipe, Jekka and Mac decided to start growing herbs as, at that time, fresh herbs weren't available in supermarkets (and very few in garden centres). Together with Mac, the couple transformed the back of their suburban garden to start an embryonic business. By the end of their first year, they were selling to Fortnum & Mason. Needing more ground to grow a wider range of plants, the couple found a suitable plot of land along with a ramshackle cottage in Alveston, south Gloucestershire. With more space to grow their organic herbs, the business grew alongside the British interest in food and new culinary experiences.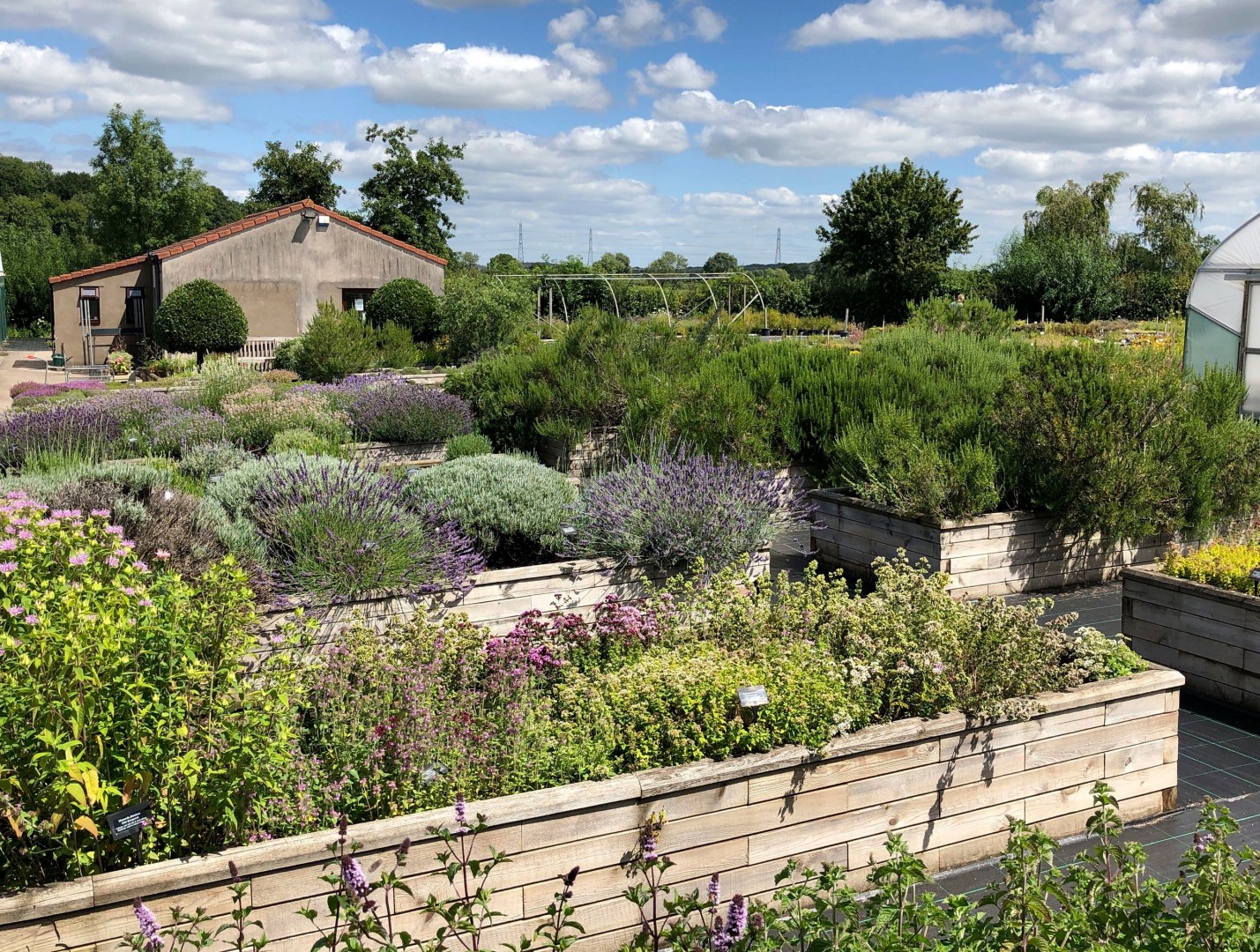 Leading British chefs were interested to learn more about the wide range of herbs Jekka was growing on the farm. Jamie Oliver had met Jekka at the end of the 90s at an exhibition, she explains: "I was on my way to fill up my watering can, and I went over to him saying 'You know absolutely nothing about herbs, and I'm an herb farmer.' He came over to my stand and was blown away. It was not long before he, together with a group of people, turned up at my herb farm. Photographs were taken and I ended up in one of his books. We have remained firm friends and I have designed his herb garden at his home in Essex, together with a vegetable garden which appeared in the 'Jamie at Home' series in 2007."
Other chefs who have sort advice from Jekka on how to grow and use herbs include Heston Blumenthal and Raymond Blanc. Raymond has gained a great understanding of how herbs aid digestion and he has worked with Jekka to develop an herb garden at Le Manoir, incorporating the herbs his mother used when he was a child.
Whilst many years ago, people would have perceived Jekka McVicar as a witch – she knows the medical properties of many of the plants she grows – she is, however, an herb grower and not an herbalist. Her Herb Farm, comprising of three acres of land, is not planted like an RHS exhibit. Instead, the plot resembles a giant aromatic patchwork quilt with herbs of varying sizes, leaf textures, colours, flowers and fragrance growing companionably together. Jekka has amassed the largest collection of popular edible herb varieties in the UK, selling over 35 different varieties of mint, 30 types of rosemary, 20 of oregano and 50 of thyme to name but a few. Both the public and the catering industry are her customers. "I desperately try to make herbs real, not twee or folksy," Jekka explains. "They look good, smell good, taste good and do you good. The plants are grown on a working nursery where we get our hands dirty. My mission is to widen the use and understanding of herbs beyond the kitchen garden. I have written eight books, both horticultural and culinary and I personally love cooking – although I tend to be a lob-it-in type of cook. I am adventurous, experiment with flavours, occasionally have a total disaster but among my favourites are bay ice cream and basil panna cotta."
Working with her family, Jekka has taken on a more formal role in educating people about herbs. The farm was downscaled whilst Jekka's 'Herbetum' was created. Since 2013, with a collection of over 400 different culinary herbs grouped into families in separate raised beds, the 'Herbetum' has become an educational resource, attracting a wide range of people to learn about the different varieties, their history, culinary and medicinal use.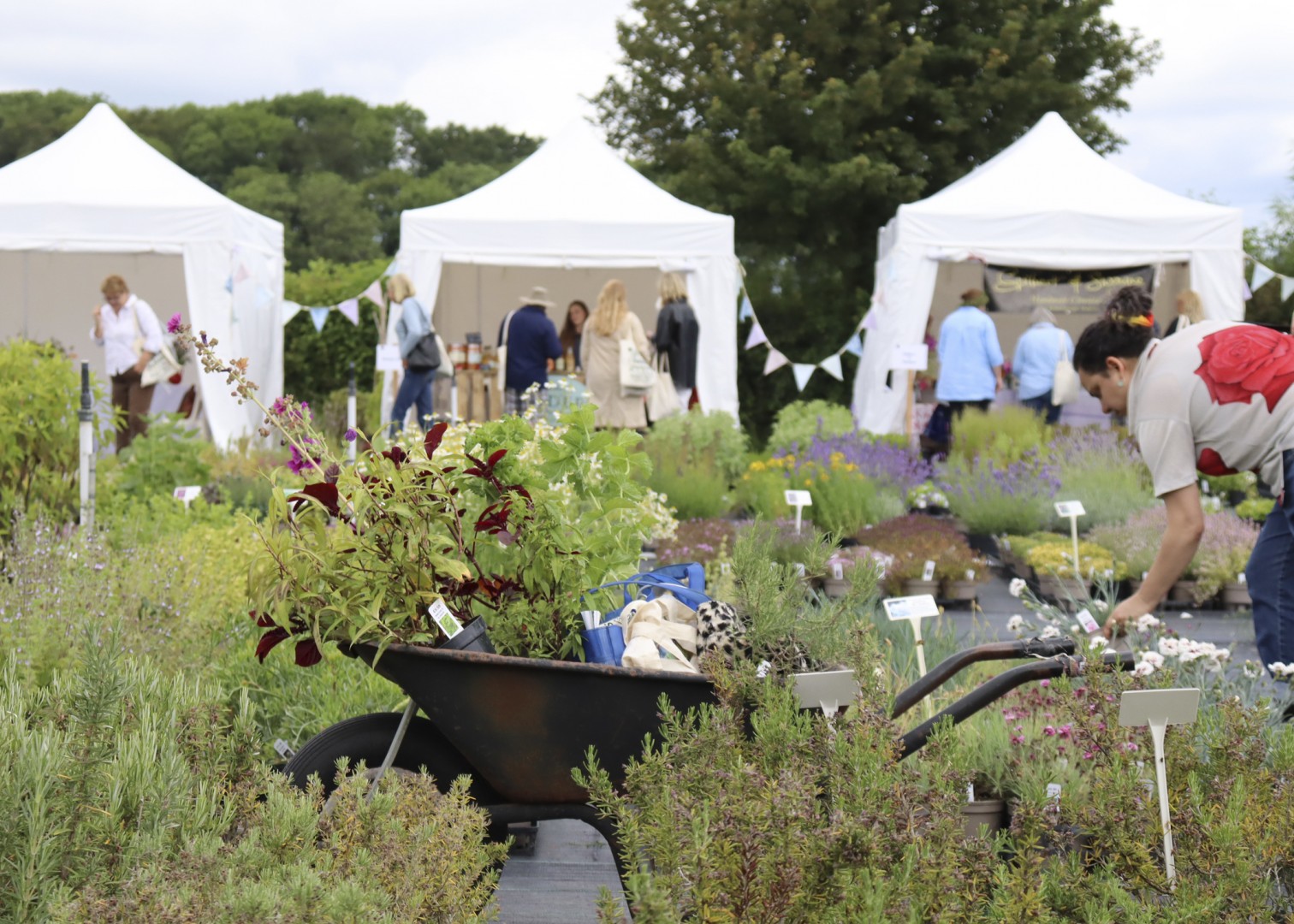 In July 2021, the Farm played host to a unique three day 'Jekka's HerbFest'. With chefs, garden designers, food writers, herbalists and garden experts, the event was filled with cookery demonstrations, talks, Herbetum tours, music and herbs, all set around Jekka's Herbetum. The next HerbFest will be held next year (30  June - 2  July 2023).
If, like me, you would love to learn how to use herbs in your own garden, either to cook with or enjoy as fragrant, pollinating bee-friendly plants, there are several horticultural masterclasses Jekka is planning for 2022. Her daughter, Hannah, runs art masterclasses and her son Alistair runs food masterclasses.
To find out more about Jekka's Herb Farm visit  jekkas.com