Alexandra Browne trained as an architect designing big buildings including government housing projects schools but found herself increasingly interested in the insides of buildings and interior design. For several years she then worked on big projects for well-known interior designer Rose Uniacke alongside many eminent designers and architects to bring modern luxury into classic Georgian houses, rockstar pads in the country and stylish homes all around the world, often for well-known household names.  
Over the last five years, Alexandra has once again refined the scale on which she works, and now produces a bespoke range of hand-painted ceramic tiles that bring a touch of this glamour and panache to any home with a playful twist. 
"I am always surprised when I hear myself described as a ceramic artist", says Alexandra. "In my mind, ceramicists throw pots and build three-dimensional vessels or sculptures from clay, experimenting with different glazes and revelling in the unexpected. In contrast, I am interested in surface design, and simply work on hand-cut ceramic tiles as the 'paper or canvas' on which I paint. I like the simplicity and scale of a tile, and I am creating characters on them with glaze. It's a very precise process and I have the finest brushes which I wear out, one a week. 
The first tiles I painted were monkeys, inspired by a House of Hackney wallpaper. The wallpaper was bold, busy and colourful, with monkeys scampering amongst palm trees and I wanted to take their shapes and charm from wallpaper and put it onto something more neutral. It's popular, the idea of having crazy wallpaper in a downstairs bathroom, but I wanted something to design something that was just as playful but less imposing.  
Then, as I have always loved life drawing and nude art, and I also enjoy relaxing on the beach in the sun, I began to paint a series of sunbathers. These became the Pampelonne series, which are still my most popular designs." 
Pampelonne is the beach most associated with Saint Tropez and the glamour of an A-lister lifestyle. Inspired by the timeless elegance of the French Riviera, Alexandra's Pampelonne tiles are classy –understated yet oozing style. On each a sleek figure sits, stretches or snoozes, evoking warm beaches and lazy days: this painted population is pretty and perky in stylised curves, the occasional nipple of a topless sunbather appearing as a simple dot. "I love to paint the classic woman's silhouette because it's simply beautiful," says Alexandra, although she muses whether it might be amusing to introduce the occasional lifeguard in Speedos into the mix and wonders, laughingly, whether he would be lean, like her women, or muscled in contrast. 
The sunbathers are almost all painted in three colours, a skin tone, a glossy mane of hair and a swimsuit, although the colours combinations vary – and can be chosen by a client to match their own, those of their family and friends or an interior design scheme. Alexandra uses a stencil for the preliminary outline to get the scale and positioning perfect and then colours each in freehand so that no two are ever the same. Every single sunbather is different and the slight texturing of the painted glaze on the tile makes it clear that these are bespoke.  
"I like the versatility of tiles," continues Alexandra. "They can be displayed on their own or in small groups or as a giant mural, and they're exciting because there's no need to have a symmetrical or repeating pattern. You can even position them in surprising ways if you choose."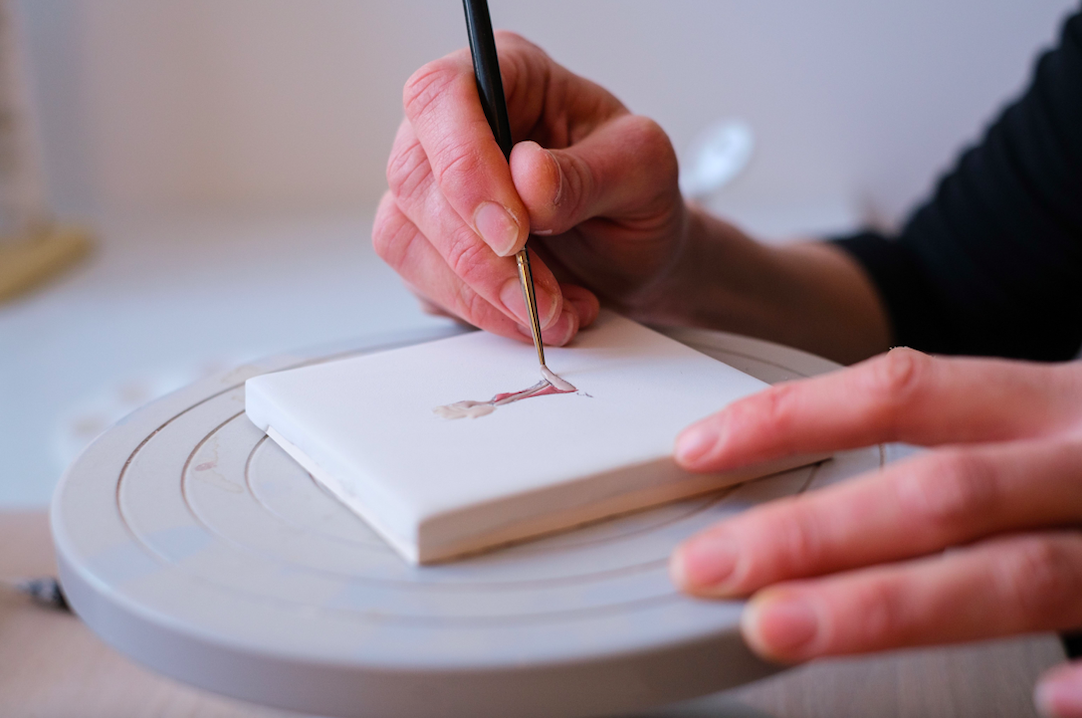 Taking you from the beach to the deep blue sea, Alexandra's designs also include swimmers, in several guises: a Baie series consists of lane swimmers, and a rogue shark – if you wish; an Amsterdam series was inspired by women's 'fancy' diving which was first allowed at the 1928 Olympics; and the Aquabelle series, inspired by the geometry of synchronised swimming which is both light-hearted yet sophisticated, and allows you to create your own unique performance. "Synchronised swimming is an amazing spectacle to watch," says Alexandra "and the tiles can be used to make distinct patterns that replicate the moves of synchronised swimmers. From a distance, the patterns look slightly art deco, and it is only when you are up close that you see that there are heads and arms and legs." 
From the warmth of the beach and the water on a summer's day, Alexandra's designs also extend to the ice-cold ski slopes of the Alps and the Antarctic. "I love skiing and I love the snow," she explains. "My sister spent some time living in the French town of Châtel close to the Swiss border and I loved to watch the movement of colour as on the slopes, as people gathered and moved together, or solitary flashes as a person skied downhill alone. This gave me the idea for the Châtel series of tiles, on which I paint a skier or snowboarder. I have recently painted 1,000 for a chalet wall in Utah: look carefully and you'll see a skier here or there on the cusp of falling over.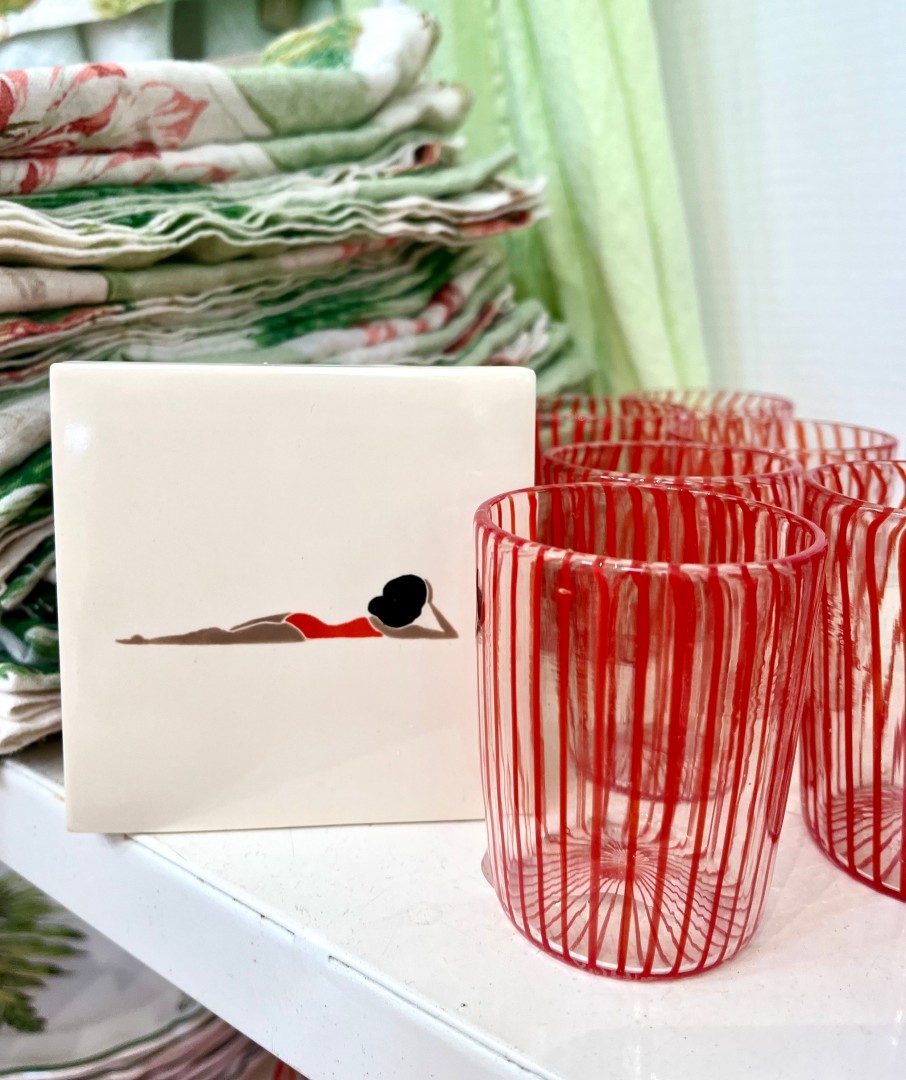 The white glaze of the tiles lends itself perfectly for snow, and I have also painted penguins, the Waddle series. As penguins have white tummies, I only use black glaze and then a touch of orange for beaks and feet, although I use a grey for the babies. I designed these for a mural, where the penguins can be grouped or spread out, or probably a bit of both. The idea came from those aerial images of planet earth where you can see a distribution of specks but you can't see what they are until you zoom in close. I like the idea of clusters and individuals, a story being played out, a lost baby penguin nestled in a corner for example, and every penguin is painted freehand." 
Although as she paints, Alexandra envisages her tiles decorating walls of beautiful bathrooms, pools, and other places, they are sometimes used as coasters or framed individually as wall art. "I make a small number of tennis player tiles," she adds, "and I'm considering a Yoga series." She'd also like to branch out into textile design, with three colours of thread embroidered onto really sheer fabric and, in a full circle, maybe wallpaper, too…in time.