For 125 years, the name Moorcroft has been associated with high quality, superbly designed pottery with surface designs and shapes and evocative, unique jewellery both of which are highly sought-after around the world.
William Moorcroft, a graduate of what is now the Royal College of Art in London, created his first pieces of fine art pottery in 1897 whilst employed at James Macintyre & Co in Burslem, Stoke-on-Trent. Moorcroft's range was soon bought by prestigious London stores including Liberty of London, Harrods and Tiffany & Co in New York. Today, early pieces of Moorcroft pottery are much prized and often achieve high prices at auction. In 2020, a rare 1912 three-piece William Moorcroft tea set, decorated with a band of pomegranates, achieved a record price of £15,400.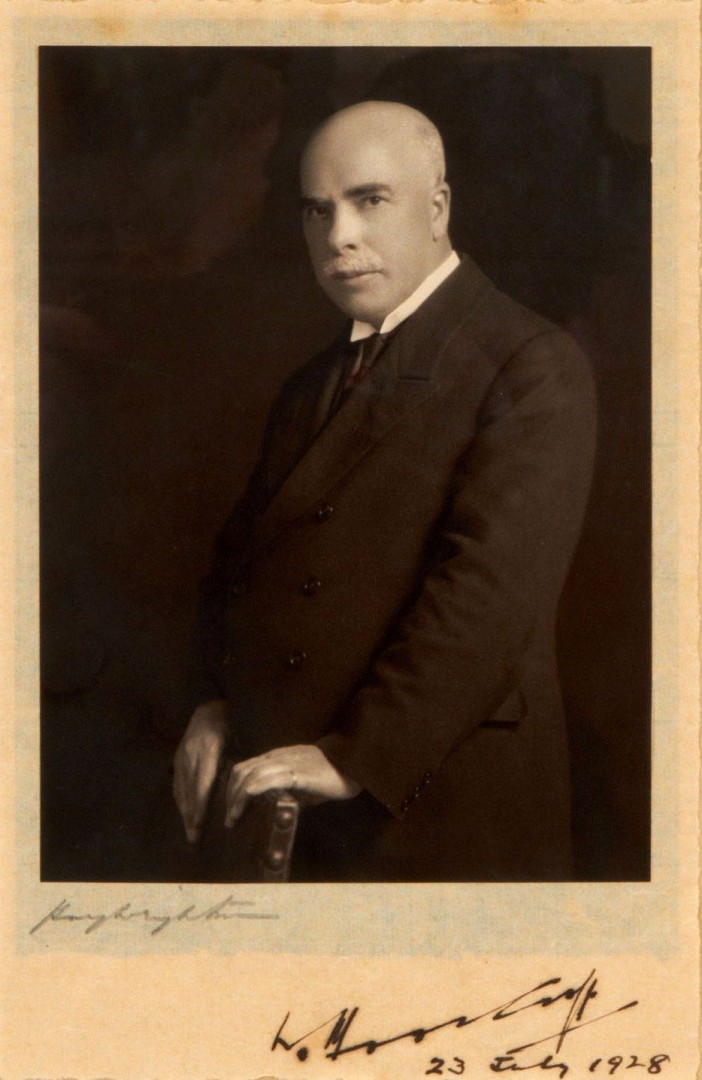 Today, Moorcroft Pottery continues to be made using the traditions established by the company's founder. Operating out of the original brick factory in Stoke-on-Trent, complete with its own Grade II listed bottle oven, Moorcroft use the proprietary glazes and distinctive slip-trailing methods William pioneered at the end of the 19th century. The labour-intensive manufacturing process, including hand painting and William's trademark 'tubelining' method (where designs are outlined with liquid clay slip to create a raised design image) produces an incredible range of designs, following the Arts and Crafts tradition, but with a modern twist which appeals to today's collectors.
The five members of the present Moorcroft Design Studio take their inspiration from the natural world – fruit, flowers and the landscape – just as William Moorcroft did. However, over the past thirty years, the 'design windows' have extended their creative palette. Animals, birds, insects, geometric patterns beyond that of Art Deco, people, transport and architecture are amongst more recent additions to their portfolio.
To celebrate special occasions and mark significant historical events, the Design Studio has created specific limited-edition ranges. To celebrate Queen Elizabeth II's Platinum Jubilee a limited-edition collection of vases and a wall plaque were produced. These were inspired by the late Queen's favourite flowers and also by her visit to Kenya, where she received the news that she was to become Queen. To commemorate Her Majesty's passing, senior designer Rachel Bishop has now created a vase celebrating Queen Elizabeth II's life. Entitled A Life of Duty, the vase is designed with classic English roses and sprigs of Lily of the Valley, both of which were included in the Queen's 1953 coronation bouquet.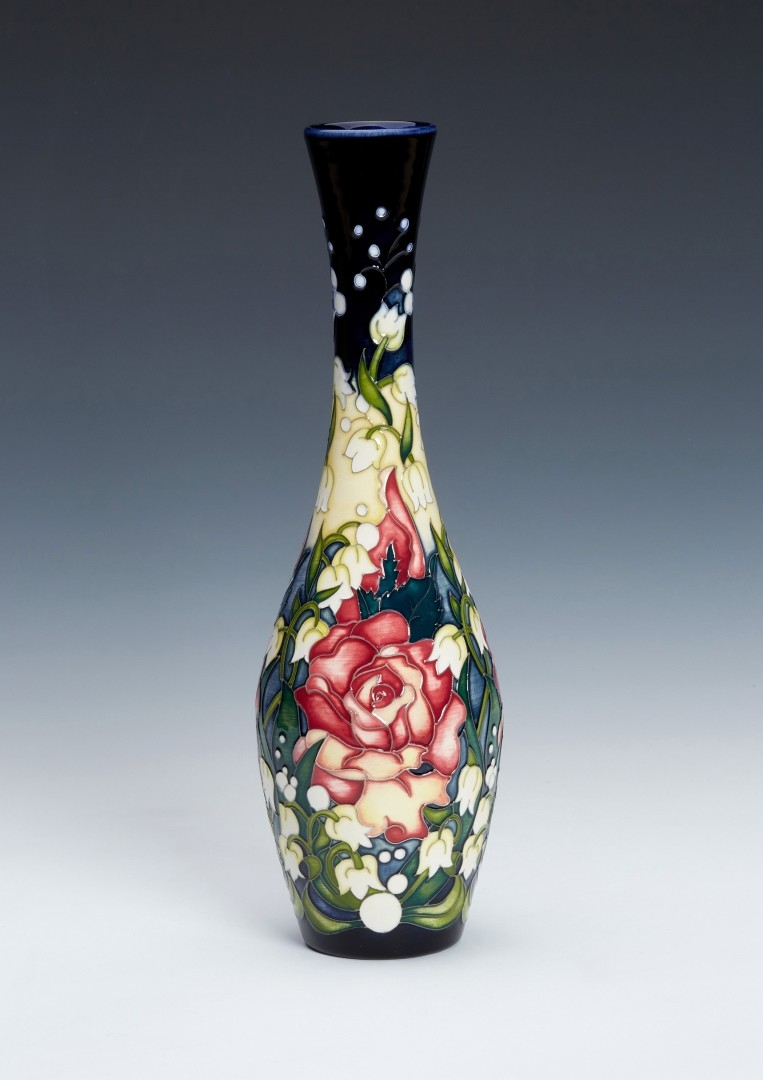 The heritage of floral designs was first created by William Moorcroft, inspired by his father Thomas, a botanical artist renowned for his Florian Ware celebrating British wildflowers such as daffodils and cornflowers. The tradition continues with collections linked to the Royal Horticultural Society. The RHS is the UK's largest gardening charity and is committed to transforming lives and our world through gardening. Over the years the Moorcroft designers have created a range of items to celebrate RHS events. In 2022, a unique collaboration between Moorcroft and the RHS took a range of five precious RHS watercolours from acclaimed RHS orchid illustrator, Nelly Roberts. Each piece of art pottery, made by hand in the Arts and Crafts tradition and designed by Moorcroft's designer Nicola Stanley, commemorated the joint 150th anniversary of the birth of William Moorcroft and Nelly Roberts in 1872.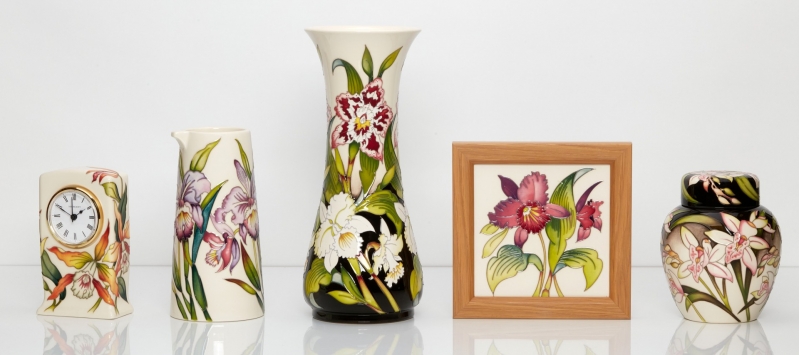 There has also been a collaboration between The Royal Society for the Protection of Birds (RSPB) since 2010. As an Arts and Crafts pottery, seeking to harness the mysteries and beauty of the natural world, the Moorcroft RSPB designs feature multiple species, rich in biodiversity. Designer Kerry Goodwin also created a special limited-edition collection to market the RSPB's 125th anniversary entitled A Homage to British Wildlife, and this Autumn saw a celebration of the biodiversity at Bempton Cliffs, on the spectacular Yorkshire coast, home to one of the UK's top wildlife spectacles
Supporting both national and more local charities is something that Moorcroft Pottery seek to do. Amongst their current charitable items is a wall plaque designed by Rachel Bishop entitled Golden Flower of Hope. For every plaque sold, £100 will be donated to the Disasters Emergency Committee in support of the Ukrainian refugees living in the UK. Other charity items include those supporting Cornwall Air Ambulance, Douglas MacMillan Hospice, the Haiti disaster and Back Dane Trust.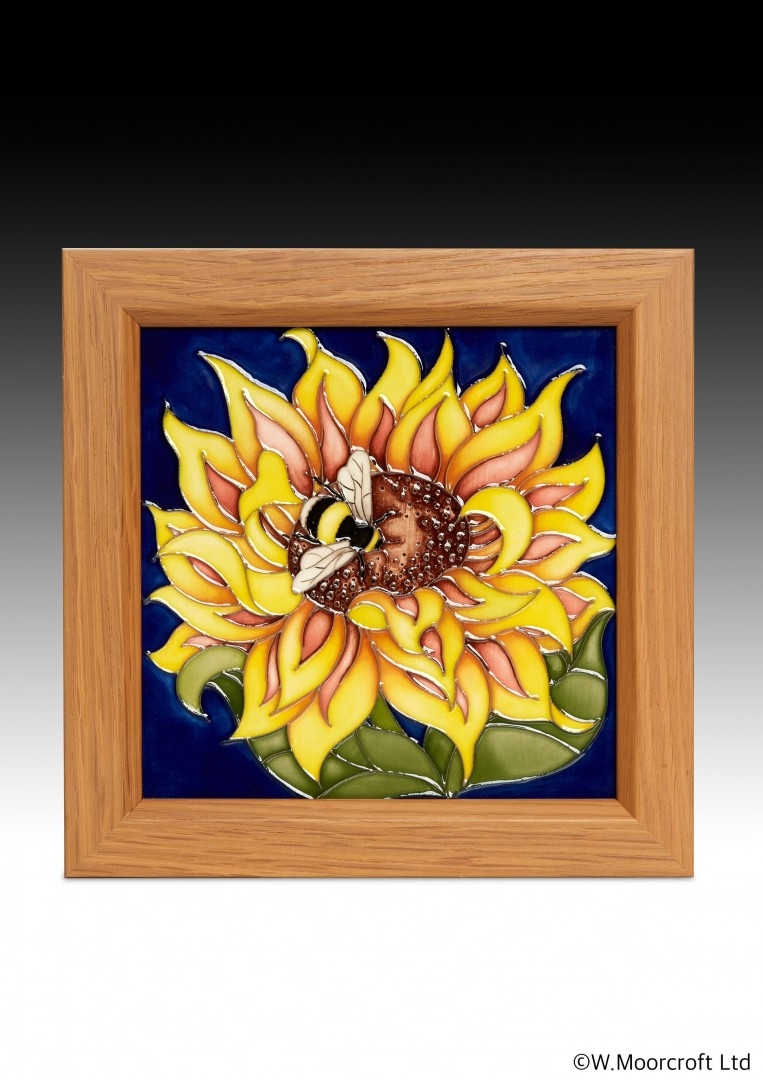 Visitors are welcomed to the Moorcroft Factory in Sandbach Road, Burslem, where you can visit the Heritage Visitor Centre, located under the vast shadow of the Listed bottle oven. A Museum housing fascinating pieces of Moorcroft, displayed in the original Liberty Cabinets, gives visitors a chance to admire the pottery created over the decades from Art Nouveau and Art Deco to the more contemporary designs of the 21st century. You can also pre-book a guided tour of the Moorcroft Factory where you can watch the unique way Moorcroft Pottery is handcrafted.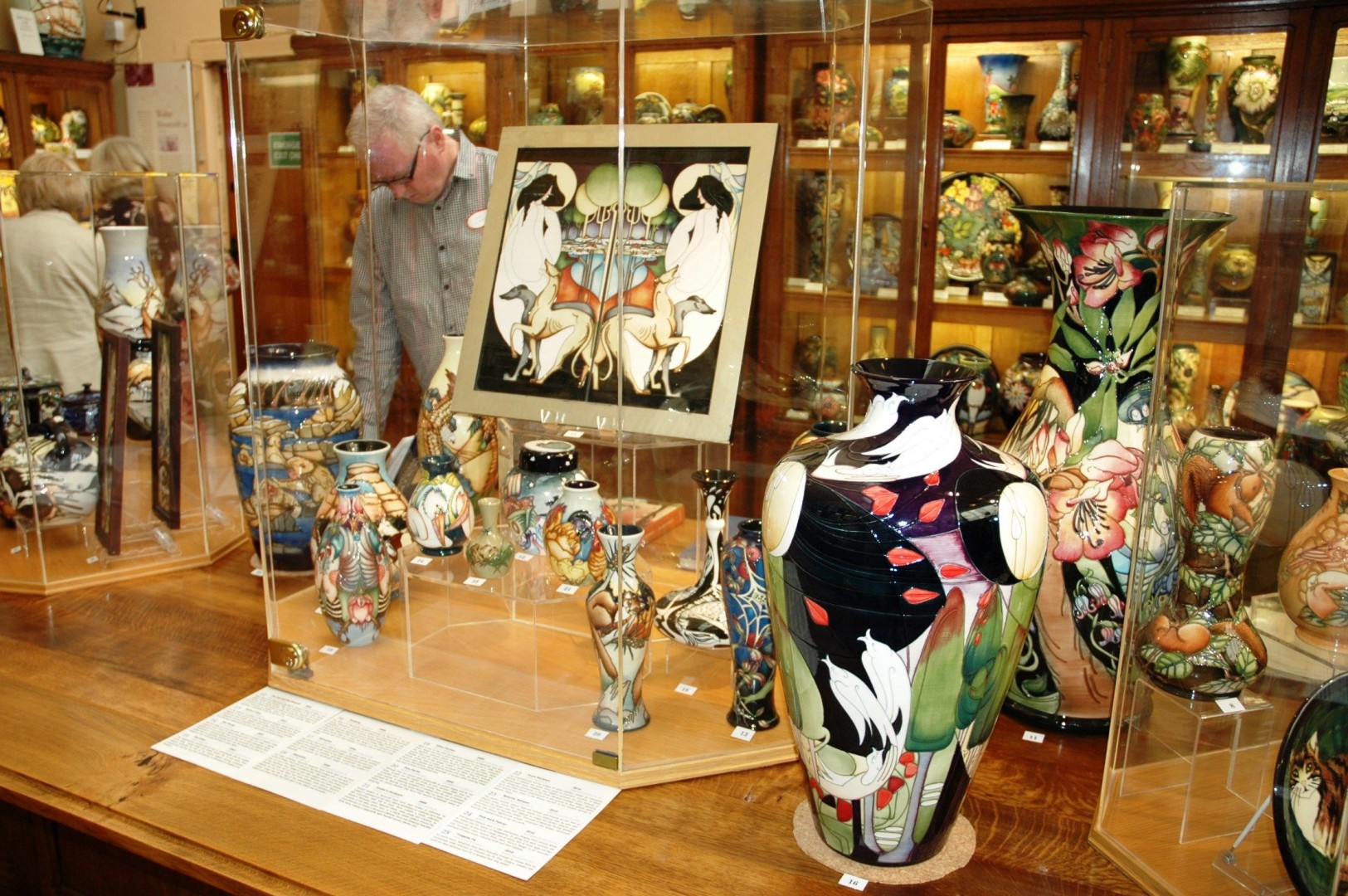 For further information and to buy items online, visit  moorcroft.com