Katie Melua presents The Silk Roads
28 April, 7.30pm | Sheldonian Theatre
A one-off musical performance of wholly original songs by students and young people, presented by acclaimed singer-songwriter Katie Melua and the University of Oxford. Inspired by stories from Professor Peter Frankopan's The Silk Roads, the musical works draw on Frankopan's account of these ancient trade routes, exploring journeys through time, geographies and cultures. Join us for an evening held in the iconic Sheldonian Theatre, that transcends musical styles, moving from pop to classical as Katie Melua frames the narratives of student song-writers, who will perform alongside the BBC Concert Orchestra and University players in a concert that embraces creative collaboration.
Book Now: https://bit.ly/MaO-SR
Chamber Music from the African Continent & Diaspora
8 May, 7pm | Sheldonian Theatre
We are pleased to present a concert in partnership with TORCH. Pianist Samantha Ege and the Castle of our Skins string quartet give the UK premieres of works by South African composer Bongani Ndodana-Breen (b. 1975) and African American composers Florence Price (1887-1953), Undine Smith Moore (1904-1989), and Frederick C. Tillis (1930-2020) in this illuminating concert. Samantha Ege is a musicologist and pianist, her performances and publications shed an important light on composers from underrepresented backgrounds. Castle of our Skins is a concert and educational series dedicated to celebrating black artistry through music.
Book Now: https://bit.ly/MaO-SECoS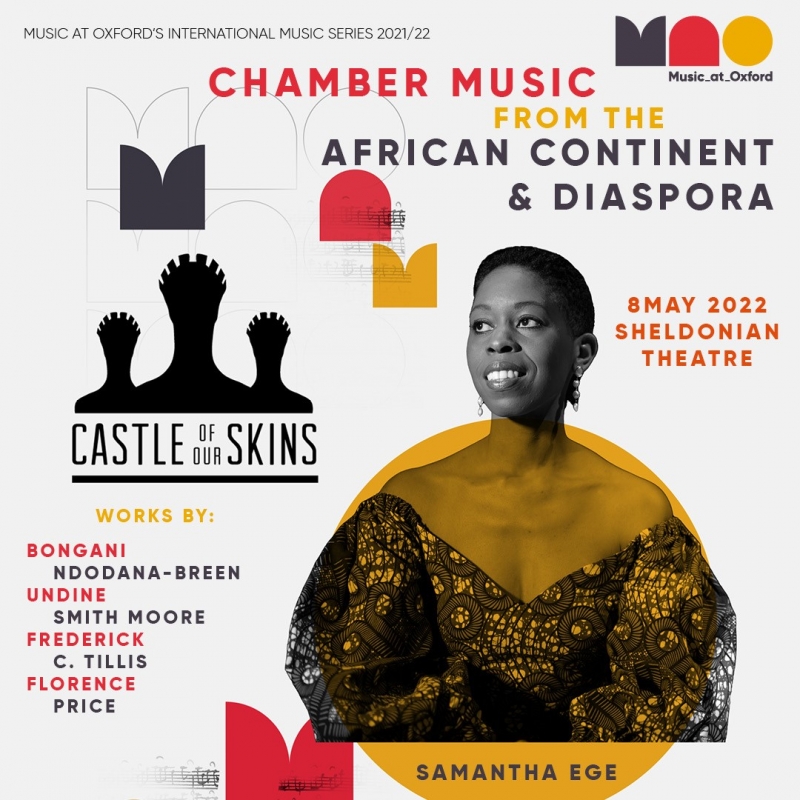 Rameau: Castor et PolluxRameau Project Orchestra & Choir, Conducted by Jonathan Williams
15 May, 6pm | Sheldonian Theatre
UK PREMIERE (abridged for semi-staged performance)
Jean-Philippe Rameau (1683-1764) is the leading French contemporary of Bach, Handel and Vivaldi, and his 30 lavish stage works composed for the Paris of Louis XV place him among the top three opera composers of the eighteenth century. This performance will be the very first chance in the UK to hear his Castor et Pollux in its original and revolutionary version of 1737 and there's something for everyone to enjoy: rousing choruses, toe-tapping dances and some of Baroque music's most beautiful arias.
Book Now: https://bit.ly/MaO-RmCP